8 Best Mics for Discord in 2023
Introduction
Most people who regularly use computers to go online will eventually need an audio device to have a two-way voice conversation with another person or group or even to record their voice for a video, a PowerPoint presentation, or interaction on Discord.
The general public places greater importance on visuals and lesser significance on audio. However, high-quality audio for speech and music can certainly appeal to our auditory senses and enhance the effects of good visuals.
Friends, gaming & NFT communities, and developers frequently ask you to "join their Discord." It is a multi-platform, fully-featured communications app.
Every day, millions of people use Discord to interact, share content, and play games with one another.
Here, users can join groups and speak to one another simultaneously. You and your friends can easily collaborate in games because it feels like everyone is in the same room. It makes playing multiplayer video games much more convenient.
While most users might be content with using a regular gaming headset, a good microphone for Discord will produce more outstanding sound quality.
If you are starting to engage in online activities that require high-quality audio, this article on the "Best Microphones for Discord" will be massive in helping you focus your search.
So let us get into our list of the best microphones for Discord and have a guided tour of what microphones on the market suit you.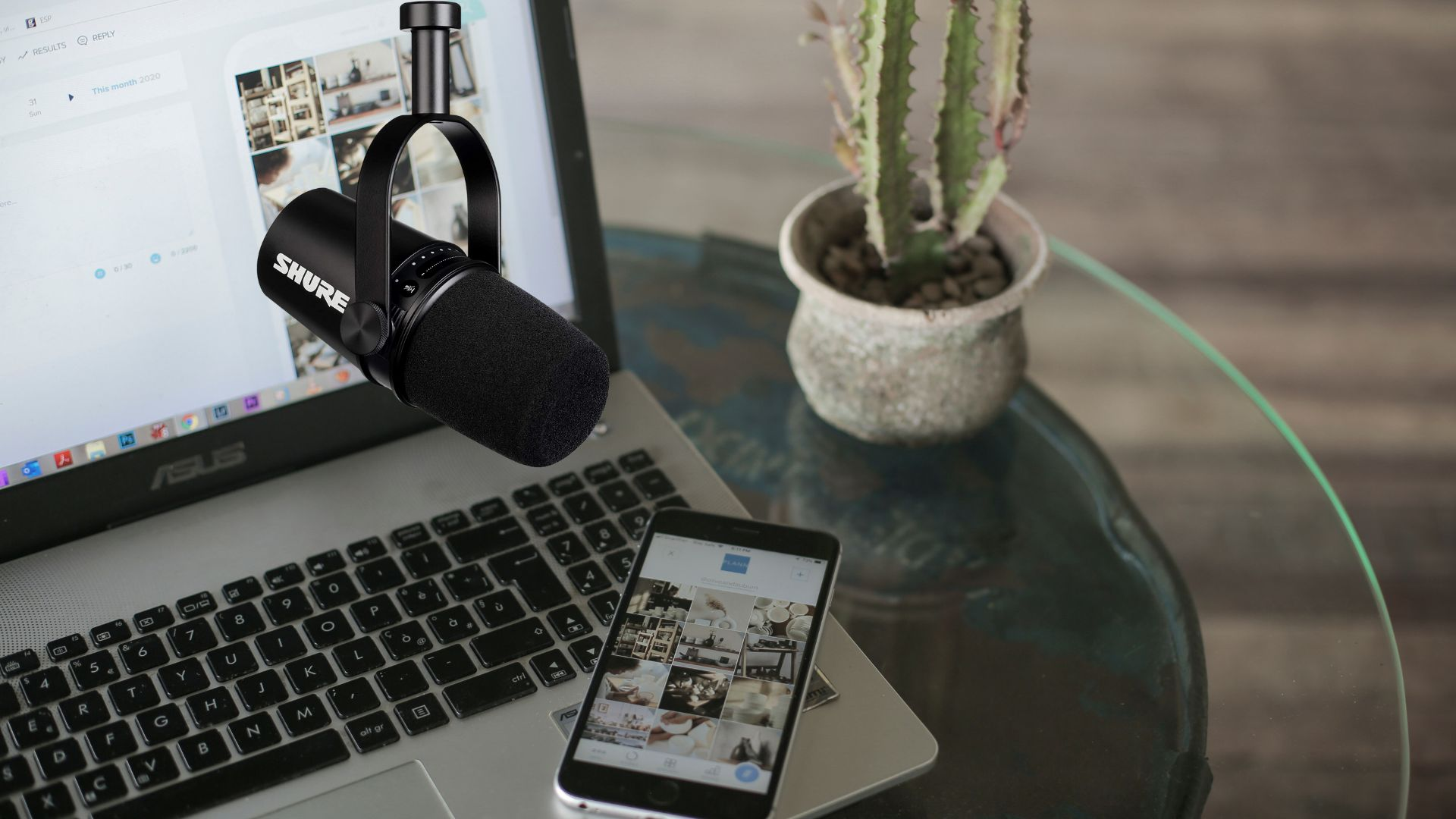 Overview:
In terms of a high-end USB/XLR dynamic microphone, the Shure MV7 is one of the best mics for Discord. It is perfect for close-mic situations requiring vocal clarity and a balanced tone.
There are very few options for a USB dynamic microphone in the market. The Shure MV7 is the USB dynamic mic to consider for any podcaster looking for a quality mic that gives good sound pickup and much better rejection of unwanted noise from the surroundings compared to most USB mics which are condenser mics.
Expand To Read More 🡫
A touch panel interface on the microphone offers Control over microphone gain, headphone level, monitor mix, and muting. And the versatile mounting yoke, adaptable for a wide range of microphone stands, highlights the stylish and sturdy all-metal design.
With the Shure MV7, you can use the ShurePlus MOTIV desktop application, which provides more settings than are available on the microphone touch panel. The ShurePlus MOTIV Desktop Application allows you to mute the mic and adjust the computer playback mix versus the headphone monitoring volume.
This desktop application also enables users to save their own presets or activate auto-gain, compression, and EQ presets for simple real-time audio processing.
One more feature available of the ShurePlus MOTIV is auto-leveling. If a user is at different proximity to the mic, auto leveling will be able to perform an auto compensation.
If you are looking for a superb dynamic microphone with both XLR and USB ports for streaming and gaming, the Shure MV7 is certainly the best mic for Discord.
Collapse To Read Less 🡩
---
Product information:
Connector Type: USB / XLR
Hardware Interface: 3.5mm Audio
Frequency response range: 20 Hz – 20 kHz
Sample rate: 48kHz
Bit depth: 24-bit
Hardware Platform: PC, Smartphone (Lightning cable not included)
Power Source: Corded electric
---
Features:
Dynamic mic
Cardioid pattern
Intuitive touch panel controls
ShurePlus MOTIV desktop application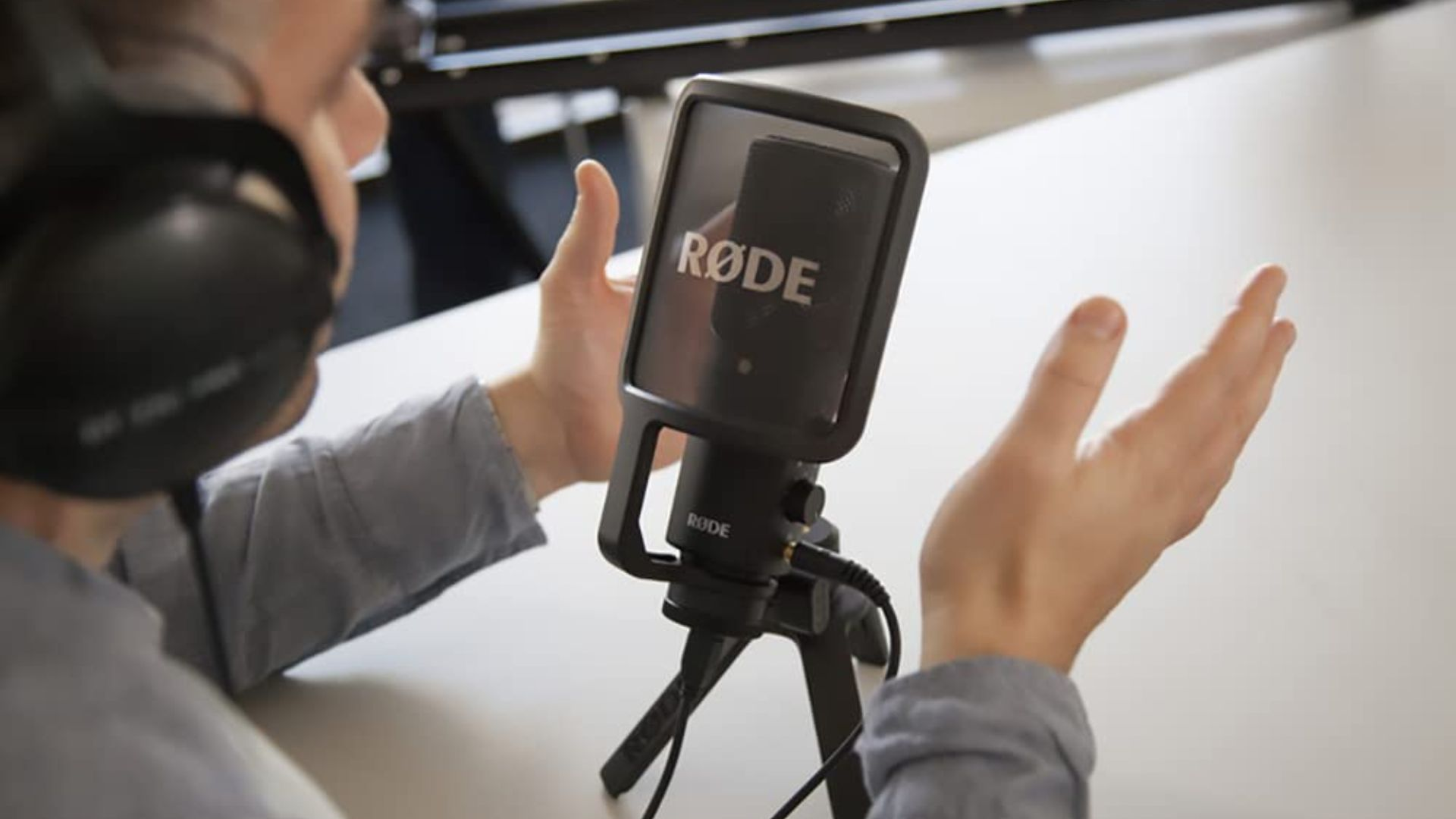 Overview:
When it comes to audio recordings, Rode is a household name. The Rode NT-USB condenser microphone is the best mic for Discord when it comes to high-quality recording using a USB condenser mic.
Expand To Read More 🡫
The packaging of the Rode NT-USB is designed with thick padding with the tripod stand and mic in a separate compartment to protect the mic during transportation. Inside the packaging, you will find, together with the mic and mic stand, a pop filter, a USB cable, and operating instructions.
Why might you choose the NT-USB? It is a professional USB condenser microphone that performs well for recording vocals and instruments, gaming and live streaming, podcasting, voiceovers, and other applications.
You get your RODE studio voice's signature sound quality, and practical features like an external pop filter will help, especially when speaking close to the mic.
On the mic side, you have the microphone port and the adjustment dial for the system audio and the microphone audio. These dials at the side and the port come in handy when you want to sample the audio or listen as you are recording the audio and making any fine adjustments.
Collapse To Read Less 🡩
---
Product information:
Polar pattern: Cardioid
Connector Type: USB Plug and Play
Headphone jack: 3.5mm jack Audio
Hardware Platform: PC, Mac, iPad, Tablet
Frequency range: 20Hz – 20kHz
Sample rate: 48kHz
Bit depth: 16-bit
---
Features:
Condenser capsule
Desktop tripod stand
Pop filter
Dials to adjust the monitoring level and mix between the computer/iPad audio and the microphone input
Gain control setting knob
Zero latency stereo headphone monitoring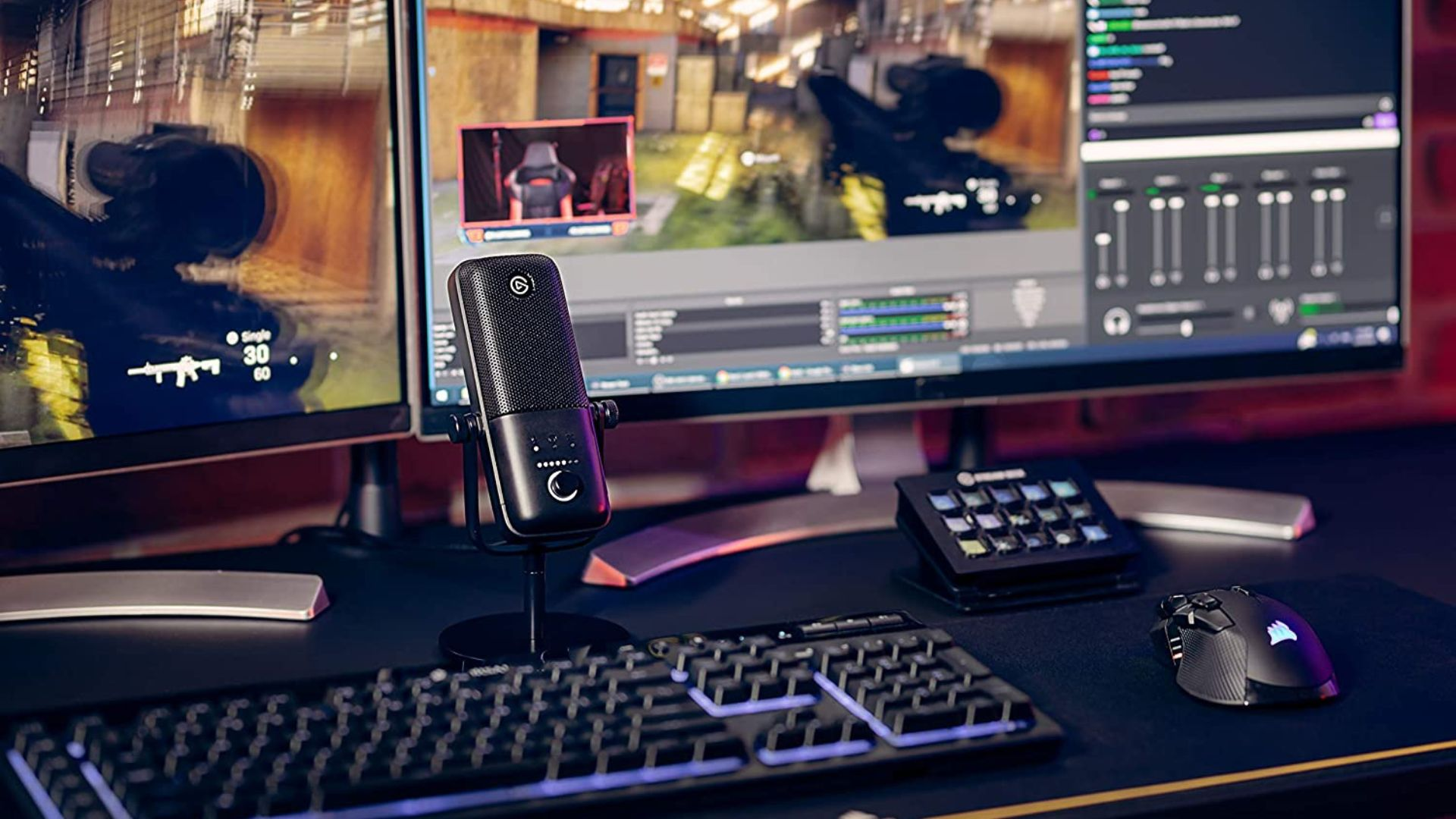 Overview:
The cool thing about the Elgato Wave:3 USB Mic is not just its sleek look but how simple it is to plug and play the device with minimum audio setup.
Expand To Read More 🡫
The Elgato Wave:3 USB Condenser Microphone and Digital Mixer with Shock Mount and Pop Filter (sold separately): Eliminates Pops and Hisses with an Anti-Plosive Noise Shield.
Distortion is almost unheard of using its exclusive Clipguard technology—this noise cancellation feature is a real plus for any live streamer.
The original desktop stand with the Elgato Wave:3 provides a quick and easy setup for the microphone although it is a little too short. A boom arm will be an excellent investment to allow your mic set up at an optimal distance to your face to cut out unnecessary background noises. 
The dial at the front of the mic makes it easy to control the mic gain, headphone volume, and mic/PC mixer adjustment. 
There is also a capacitive mute button at the top of the mic. This button is handy when you want to shout across the room but not let that shouting get into your streaming session.
With a ton of great features for live streaming, the Elgato Wave:3 makes the list as the best mic for Discord when it comes to gaming and streaming.
Collapse To Read Less 🡩
---
Product information:
Free Mixer Software, Sound Effect Plugins, Anti-Distortion,
Connector Type: USB Type-C
Hardware Interface: 3.5mm Audio
Hardware Platform: PC and Mac
Power Source: USB
---
Features:
Condenser capsule mic
Cardioid polar pattern
Microphone stand
Frequency response range: 70 Hz – 20 kHz
Sample rate: 48/96 kHz
Bit depth: 24-bit
USB output: Plug and Play
Volume, Gain, Mix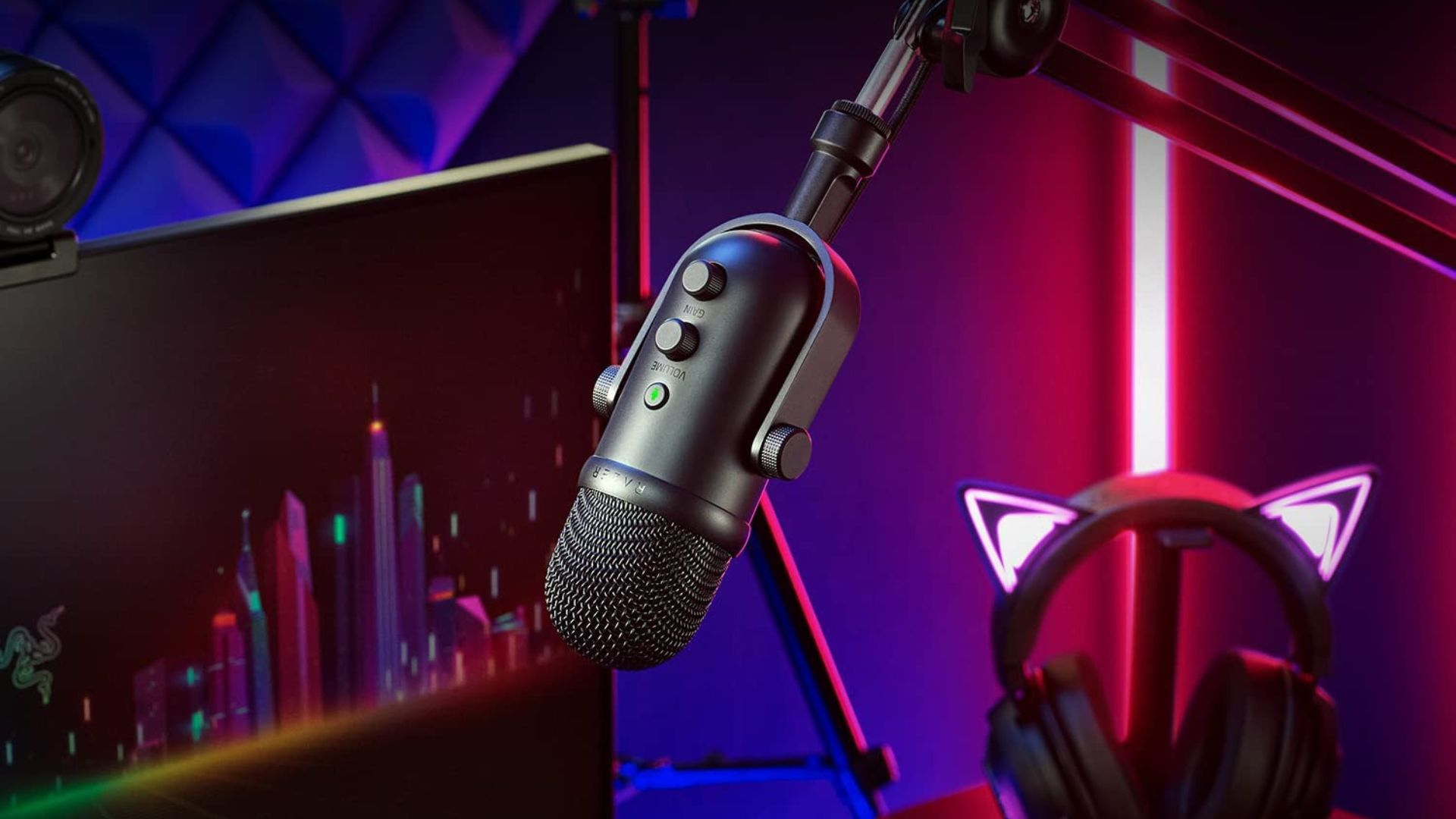 Overview:
For a USB dynamic microphone, the Razer Seiren V2 Pro is undoubtedly one of the best mics for Discord and you'll see why.
Most USB Mics are mics and very sensitive to the surrounding sound. The Razer Seiren V2 Pro, however, is a USB mic with a dynamic capsule. And it looks pretty neat too.
Expand To Read More 🡫
So for streamers in a live broadcast setting, the Razer Seiren V2 Pro dynamic mic would help pick up the main sound and ignore all the surrounding noises. It also makes the voice sound better with its low-end, thick broadcast-sounding voice.
One of the most outstanding features of the Razer Seiren V2 Pro is the Razer Synapse's complete audio control capability. In addition to controlling certain mic functions such as audio levels, stream mix, and playback mix, activating the Razer Synapse's High Pass Filter would cancel any background noise and the Analog Gain Limiter to automatically adjust the mic's gain to prevent clipping and peaking.
It also comes with a built-in shock absorber with mic windsock, mic monitoring, and gain control.
For the price, Razer Seiren V2 Pro's excellent low-end provides your voice with a rich, complete tone that keeps your audience absorbed. This voice quality is comparable to that of professional radio DJs and is deep and warm—a certain plus point for Razer Seiren V2 Pro for live streaming users.
Collapse To Read Less 🡩
---
Product information:
Capsules: 30mm Dynamic Microphone
Polar pattern: Cardioid
Connector Type: USB Type-C to Type-A Plug 'n Play
Frequency range: 20 Hz – 20 kHz
Sample rate: 96kHz
Bit depth: 24-bit
Hardware Interface: 3.5mm Audio
Hardware Platform: PC, Mac
---
Features:
High Pass Filter – Activated via Razer Synapse software to eliminate low-frequency noises
Analog Gain Limiter – Activated via Razer Synapse to stop clipping and peaking
Razer Synapse Software
Gain Control and Mute Button
Razer Seiren V2 Pro USB Dynamic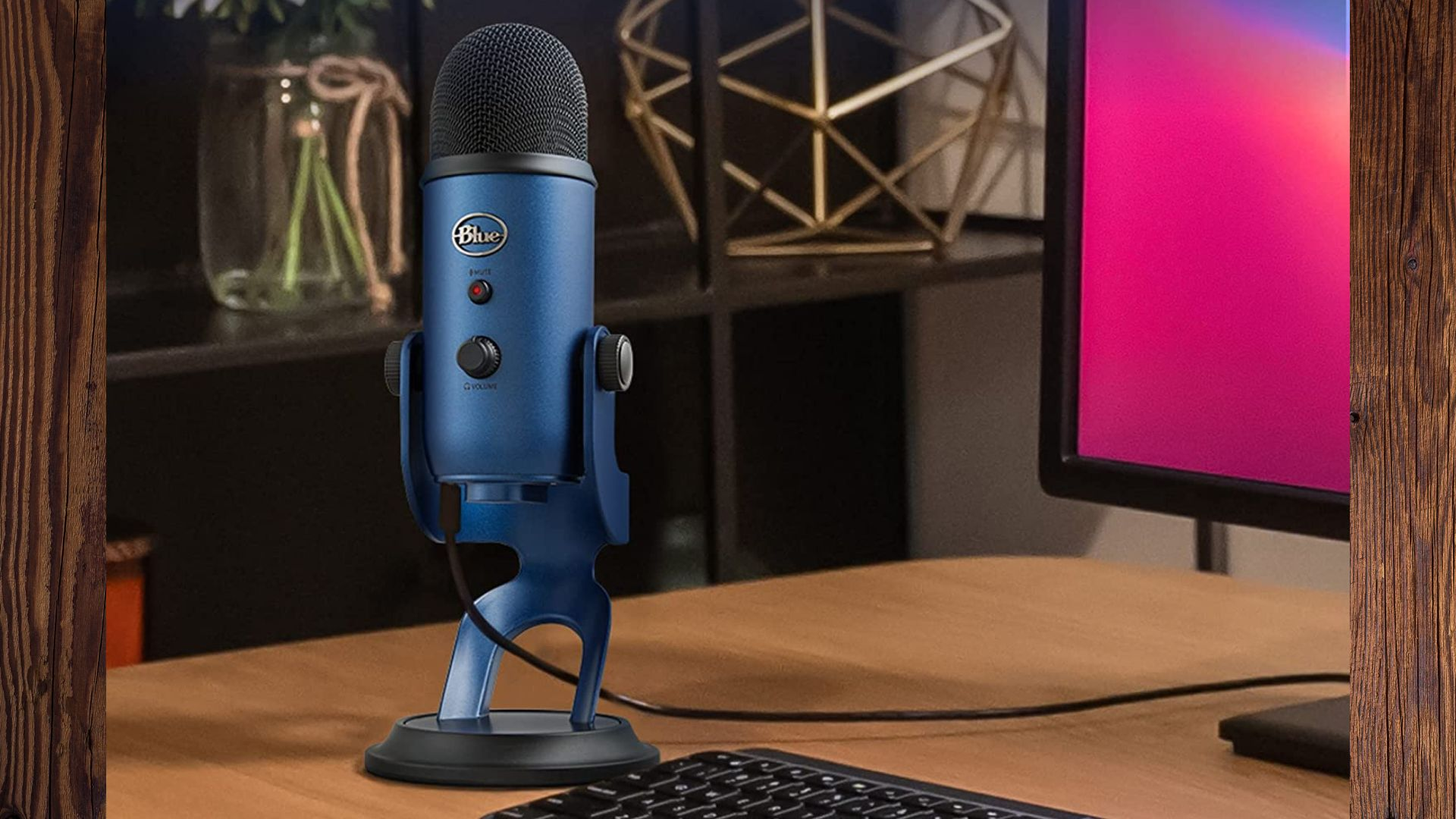 Overview:
The Blue Yeti USB Mic is the best microphone for every situation, whether it be a podcast, gaming, streaming, or used in a studio. This bestselling microphone line from Blue allows you to produce unmatched recordings on your computer.
Expand To Read More 🡫
The first impression you have when unboxing the Blue Yeti USB Mic is how robust it feels. Blue Yeti comes in 3 colors for your choice, has an excellent aesthetic look, and sounds great.
The front of the Blue Yeti has a mute button with an indicator light to show that it is powered on or flashing light when it is mute. Under that, there is also a volume knob.
The Blue Yeti USB Mic has a proprietary tri-capsule technology that allows you to switch between four pickup pattern modes – cardioid, stereo, omnidirectional, and bidirectional. This multi-pattern pickup is a fantastic feature for switching between gaming, podcasting, recording stereo music, streaming, or voice recording multiple people, which usually requires several microphones.
Blue Yeti does not require a driver to operate, but it does come with its Blue VO!CE software. With Blue VO!CE software, you can create the perfect broadcast vocal sound and amaze your stream audience with improved effects, cutting-edge voice modulation, and HD audio samples.
No matter where you record—at home, on the go, or at the beach—Blue Yeti enables you consistently deliver recordings of studio caliber, making it not only the best mic for Discord but also for every possible scenario.
Collapse To Read Less 🡩
---
Product information:
Polar pattern: cardioid, bi-directional, omnidirectional, and stereo
Connector Type: USB Cable Plug and Play
Headphone jack: 3.5mm jack Audio
Hardware Platform: PC, Mac
Frequency range: 20Hz – 20kHz
Sample rate: 48kHz
Bit depth: 16-bit
---
Features:
Proprietary tri-capsule technology that allows for four pick-up pattern modes – cardioid, bi-directional, omnidirectional, and stereo-polar patterns
Blue VO!CE Software that comes with filters, effects, and audio samples that allow for voice customization
Gain control knob on the back of the microphone
Instant mute button
Zero-latency headphone monitoring eliminates distracting echo.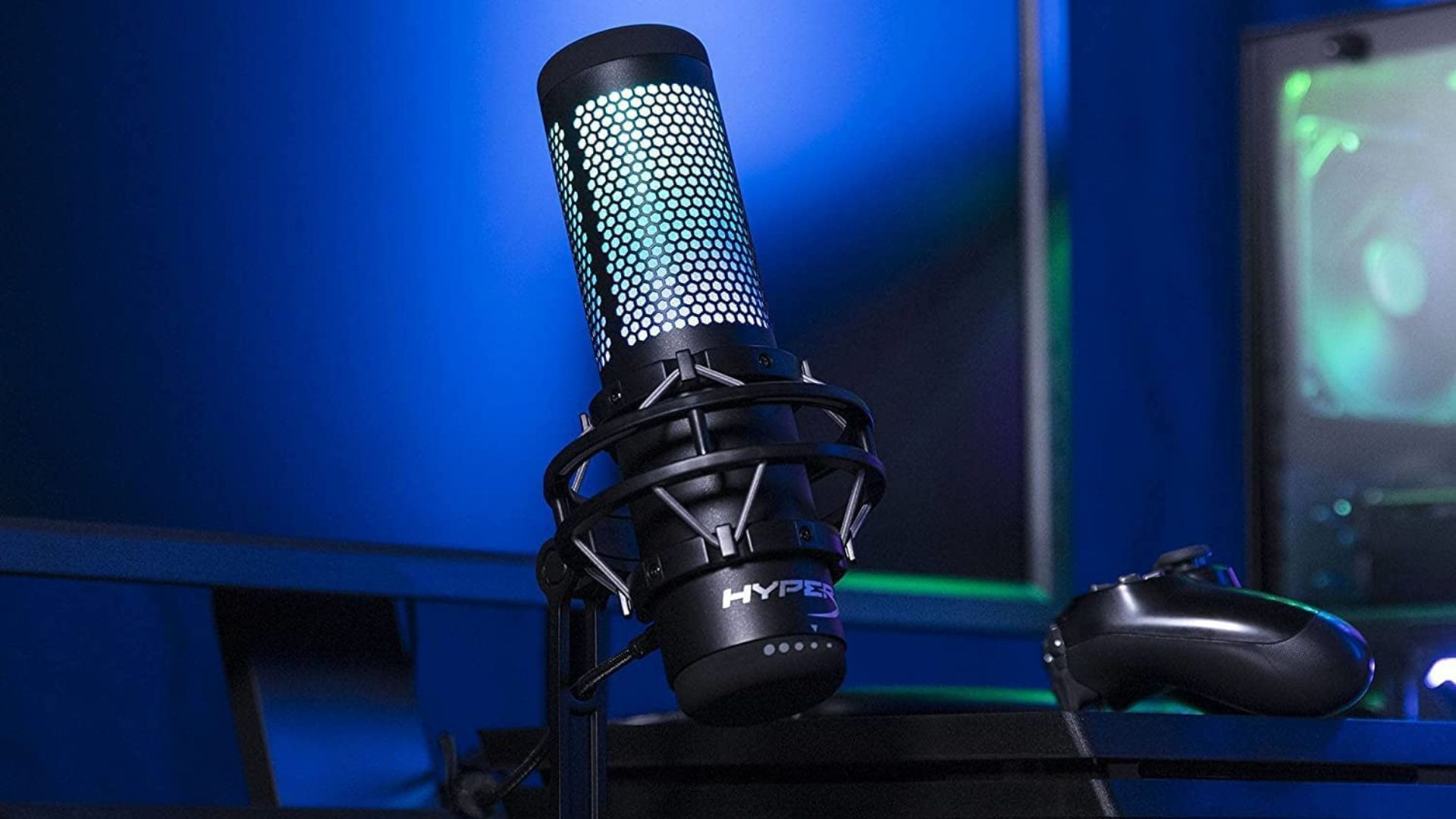 Overview:
In addition to its fantastic audio quality, the HyperX QuadCast S is a stylish USB microphone.
With the help of its HyperX NGENUITY software, the dynamic effects and breathtaking RGB lighting will bring character and flair to any setup or stream.
Expand To Read More 🡫
A built-in pop filter helps to muffle plosive sounds, and the QuadCast S is a complete microphone with an anti-vibration shock mount to assist in muffling background noises.
Its capacitive "tap to mute" button allows the microphone to be muted with a single tap, avoiding awkward broadcasting mishaps. Thanks to the LED indication, you can see your mic status instantly.
With the HyperX QuadCast S, you know you'll look great streaming, making it the best mic for Discord when it comes to looking trendy.
Collapse To Read Less 🡩
---
Features:
Three 14mm electret condenser capsules
Cardioid, Bi-directional, Omnidirectional, Stereo polar pickup pattern
Dynamic RGB lighting
Frequency range: 20 Hz – 20 kHz
Sample rate: 48kHz
Bit depth: 16-bit
Tap-to-mute sensor
USB output: Plug 'n Play
---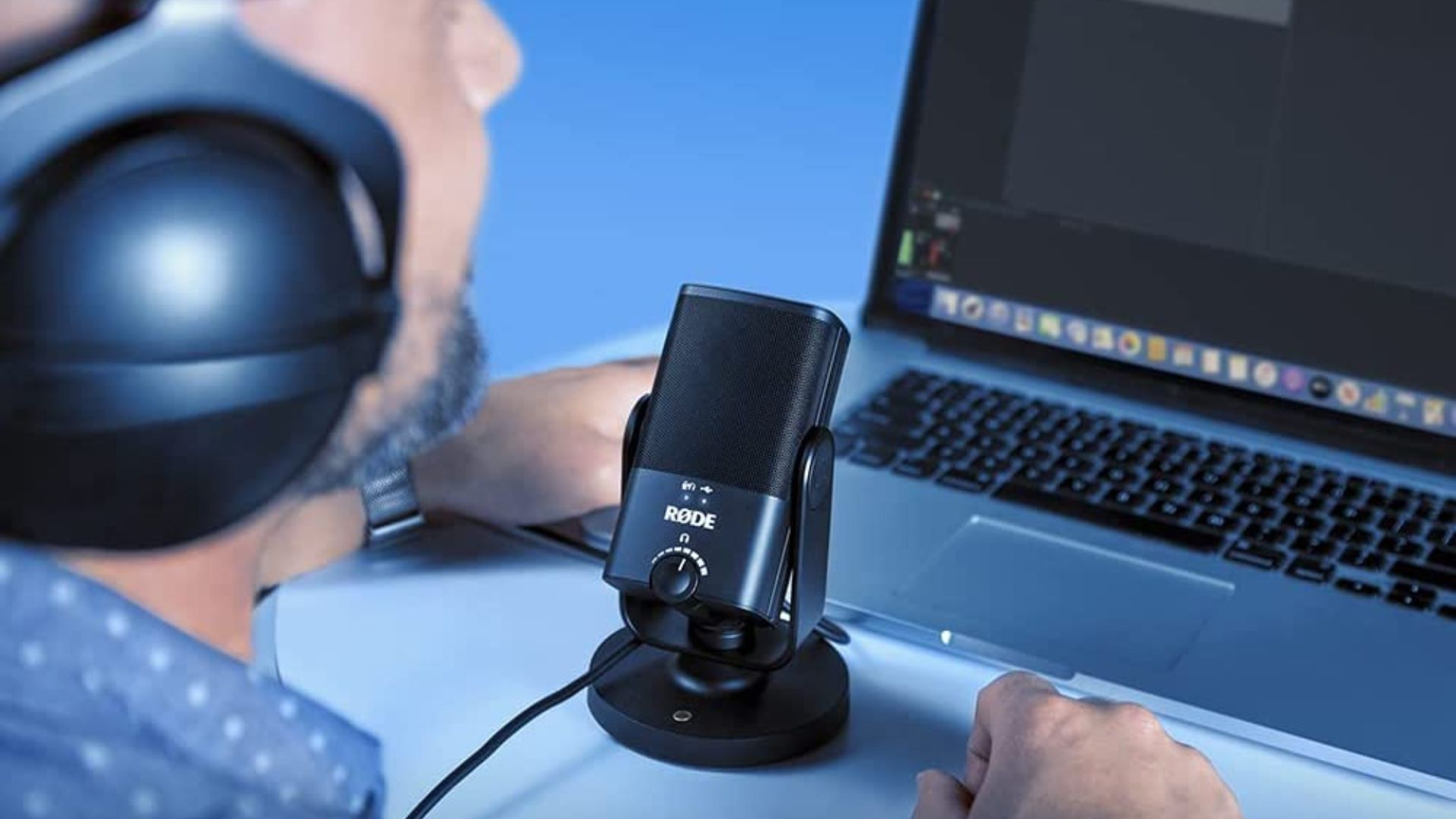 Overview:
When it comes to recording audio for content creation or VOIP communication, you may think that your laptop's in-built mic or web-cam microphone may be good enough.
The truth is, once you have experienced good-quality voice recording using a high-quality microphone, you will never want to go back to using the in-built mic or webcam mic.
With the RODE NT-USB Mini Mic, you can download the free compatible RODE Connect software, which enables digital signal processing for podcasting and live streaming. NOTE: RODE Connect is compatible with the BT-USB Mini, VideoMic NTG, AI-Micro, VideoMic GO II, and the Wireless GO II.
Expand To Read More 🡫
RODE Connect is connectable to up to four microphones on one computer. It provides a robust processing control such as noise gate, compressor, and the Aphex effect of Aural Exciter and Big Bottom, plus other features of an audio interface.
The NT-USB Mini is a small, user-friendly USB mic that offers the exquisite sound quality of RODE's top-tier studio microphones.
The packaging is small compared to its big brother, the Rode NT. Inside you will find the microphone, a desktop mic stand, a USB cable, and a quick start guide.
The great thing about this NT-USB Mini is its built-in pop filter. You don't have to struggle to clamp your bulky pop filter onto your microphone stand with this.
On the front of the microphone, you will find the adjustment knob for the microphone volume and amplify the voice's output. The sound quality is good, with such a compact design.
It's the ideal microphone for gamers, podcasters, musicians, streamers, and content creators who want to be heard directly from a computer or tablet in clear, professional-audio quality.
Collapse To Read Less 🡩
---
Product information:
Polar pattern: Cardioid
Connector Type: USB to USB-C
Headphone jack: 3.5mm jack Audio
Hardware Platform: PC, Mac, Tablet
Frequency range: 20 Hz – 20 kHz
Sample rate: 48kHz
Bit depth: 24-bit
---
Features:
Condenser capsule
Innovative removable magnetic mic stand
In-built pop filter
In-built digital signal processing: noise gate
Zero-latency headphone monitoring that eliminates distracting echo.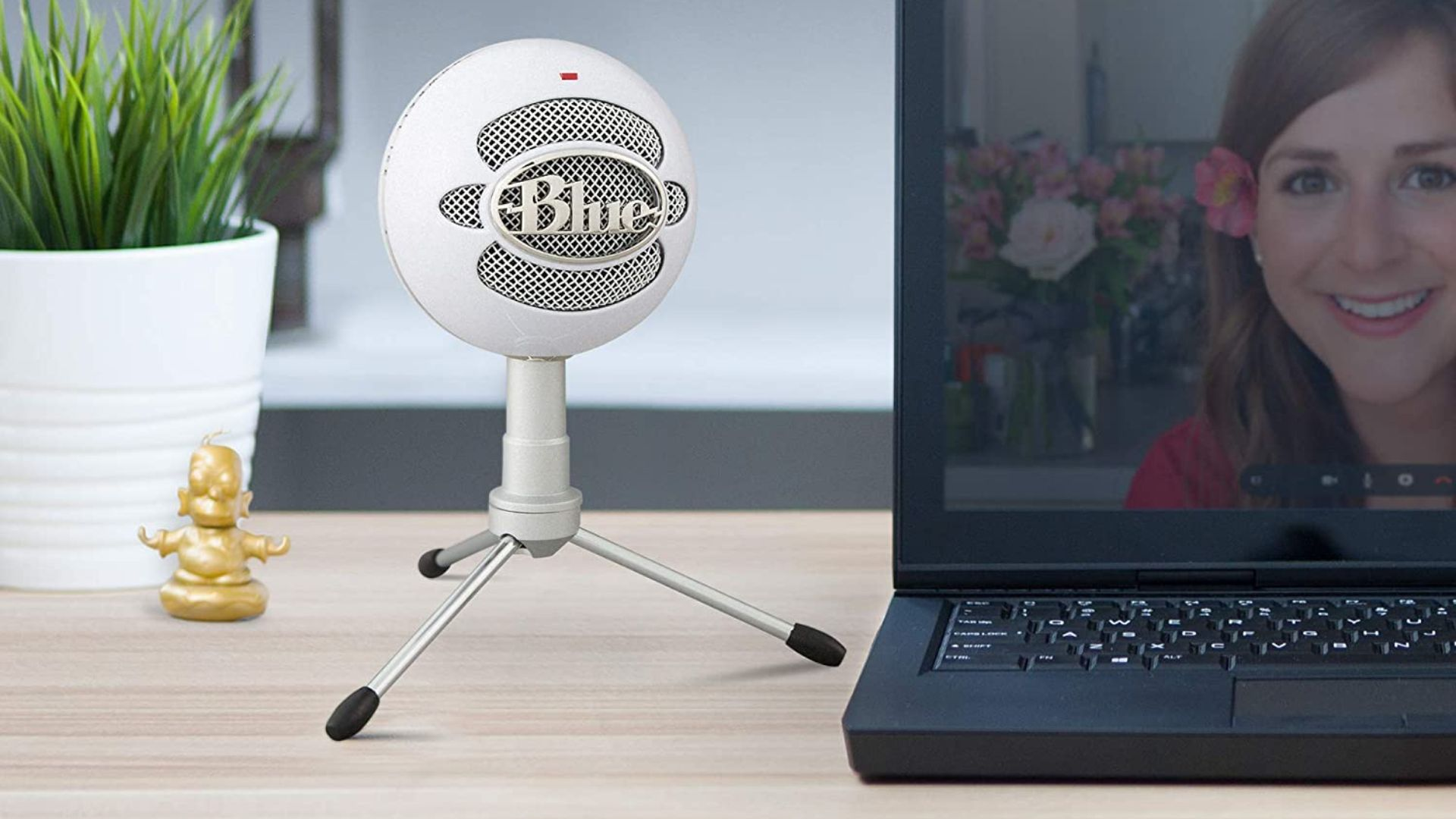 Overview:
If you upgrade from an in-built mic on your PC or any cheap audio recorder, the quickest and most straightforward way to acquire decent-quality sound for streaming and recording is using Blue Snowball iCE.
Expand To Read More 🡫
The features are Blue Snowball iCE's proprietary cardioid condenser capsule powers crystal-clear audio quality that surpasses any computer's built-in microphone. Even Skype and Discord have validated it, so using it at home or in the office will always produce great-sounding results.
So for the reasonably good quality of the sound, plus its aesthetic good look, the Blue Snowball iCE would be ideal for you if you are into streaming or youtube video.
Collapse To Read Less 🡩
---
Product information:
Pickup pattern: Cardioid
Connector Type: USB Plug 'n Plug
Frequency range: 40 Hz – 18 kHz
Sample rate: 44.1kHz
Bit depth: 16-bit
Hardware Platform: PC, Mac
---
Features:
Retro-style microphone
Desktop Tripod stand
What are the different types of microphones, polar patterns, and connections?
Knowing the distinctions between the many types of microphones, their features, and their characteristics will be helpful when choosing the best microphones for Discord.
1. USB microphone
If you aren't overly concerned with having top-notch sound quality, but something that is decent, a USB microphone would undoubtedly be sufficient.
USD microphones are condenser or dynamic microphones with an integrated analog-to-digital converter. They are fantastic plug-and-play options especially when you have a computer with internet access.
An audio interface (which can be quite costly) for converting the analog audio signal into digital format won't be necessary. Instead, USB microphones use a device driver to communicate with a computer's operating system.
USB microphones are also very convenient for various situations like home recording, live streaming, podcasting, and recording training video. You do not need complicated and expensive recording equipment like preamps, mixers, or audio interfaces. Also, you can easily pack your USB mic with your laptop if you need to travel.
Probably the only downside to using a USB microphone is that only one can be used at a time with a Windows operating system.
2. XLR microphone
XLR stands for External Line Return which is the electrical connector to an XLR mic.
This type of mic is most frequently used in stage lighting, professional audio, and video equipment. In general, XLR microphones are better than USB microphones in terms of performance.
Professionals in sessions for audio recording most often use XLR mics. In general, XLR microphones are better than USB microphones in terms of consistency and precision.
A three-part setup includes XLR mics as just one of its components (mic, pre-amp, analog-to-digital converter). Upgrades to components are more straightforward. If you want to utilize an XLR microphone with a computer, you must use an adaptor. An XLR mic will only work with dynamic microphones that don't need phantom power.
An audio interface device is also necessary when using XLR condenser microphones in order to convert the audio analog signal into digital format for a computer program to understand. This can often range in price from a few hundred dollars to thousands for a top-of-the-line model.
Choosing an XLR mic makes more sense if you intend to go into professional recording.
3. Dynamic microphone
Dynamic microphones are microphones that use electromagnetism to convert sound into an electrical signal.
They have a particular characteristic of being able to cancel background noise. This is great if you want to prevent keyboard clicks from making your Discord friends angry. It would be best to position it close to your mouth, so you'll need a microphone arm.
Dynamic microphones with a cardioid pattern reduce background noise more because of their coarser sound quality, but they may lose some performance details. They can also capture thunderous sounds, like drums, firearms, and explosions.
They are, therefore, excellent candidates for hosting podcasts, general voice recording, and recording voices outside for voiceover or interviews.
4. Condenser Microphone:
For most studio tasks, including voice acting, condenser mics work well. They give it warmth and presence while also producing clarity of voice. Condenser microphones are more delicate than dynamic microphones and capture soft sounds.
If you need more information on the essential studio equipment required for a recording space at home, check out our article on how to set up a home studio!
To prevent damage to the mic, many of the more expensive condenser microphones have a "pad" option that allows you to lower the dB level of a signal entering the device.
Condenser mics need power to operate. Thus, they'll need a power supply known as a 48-volt "phantom power."
4. Ribbon Microphone:
The ribbon microphone is a kind of dynamic microphone where a thin corrugated aluminum ribbon is used as a transducer placed between two permanent magnets.
Ribbon microphones have a dark, vintage sound as if you are listening to an old radio station. Audio recorded from high-quality ribbon microphones will sound very natural as if you're listening to real-life acoustics.
They were first popular in the mid-20th century, and have seen a resurgence in popularity in recent years for their unique sonic character.
However, they require careful handling and can be fragile, making them less suited to certain recording environments.
5. Polar pattern:
A microphone's capacity to pick up your voice from various perspectives is known as its polar pattern. There are three basic polar patterns, namely, cardioid, omnidirectional, and bidirectional polar pickup patterns.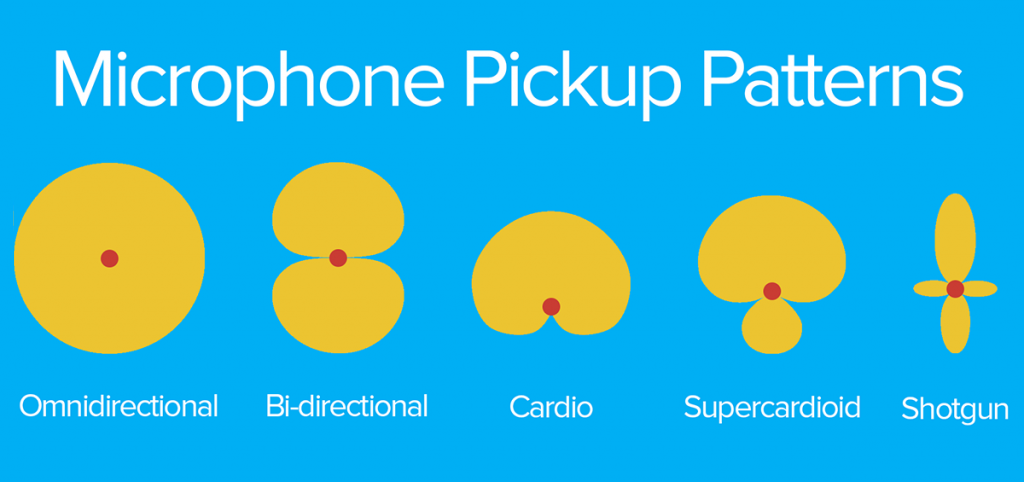 Cardioid:
The sound is picked up from the front by a traditional cardioid microphone. Cardioid microphones shield any undesirable background noise and other noises from the microphone's back.
Microphones with a cardioid polar pattern are great for ASMR recordings, live streams, and podcasts.
Omnidirectional:
Omnidirectional microphones can pick up sound from any direction with equal sensitivity. This omnidirectional pattern indicates that they equally pick up sound from 360 degrees.
Bi-directional:
The bidirectional microphones captured sound type in the shape of figure eight. A bidirectional microphone, then, will be able to pick up sound from both the front and the back of the device.
Applications Software to improve your audio output from your microphone
A USB microphone has an analog-to-digital converter built in, so all you need to do is plug the microphone into your computer and start your recording or communication software.
However, to improve the mic's audio output, some mics may come along with free software.
Microphone software is one of the most essential tools for recording and editing voice recordings. You can find many applications online which are available to help in processing your microphone audio.
A digital audio workstation (DAW) such as Audacity can be used for editing audio. You may edit audio using a range of tools available in most DAWs. For instance, equalization (EQ) can alter the sound frequencies or include effects like reverb or delay.
Some people who do not wish to do a recording of their own voice sometimes use text-to-speech AI voice software that can create realistic human-like voices.
Choosing between a Dynamic mic and a Condenser mic
If you use speakers and your preferred voice platform does not include echo cancellation, you need something that isn't overly sensitive. So it would help if you chose a dynamic rather than a condenser mic.
Additionally, you might want a microphone with a "cardioid" or "hyper-cardioid" polar pattern, which refers to the pickup angle of the sound.
It is crucial to prevent the sounds of other people's voices reflecting on them or the audio from your own game from reaching them.