Shure MV7 Review: A Versatile Hybrid Mic for Content Creators
Introduction
Shure microphones have been at the forefront of audio equipment for decades, and the Shure MV7 has quickly become one of the best mics for content creators across the globe since hitting the market in 2020.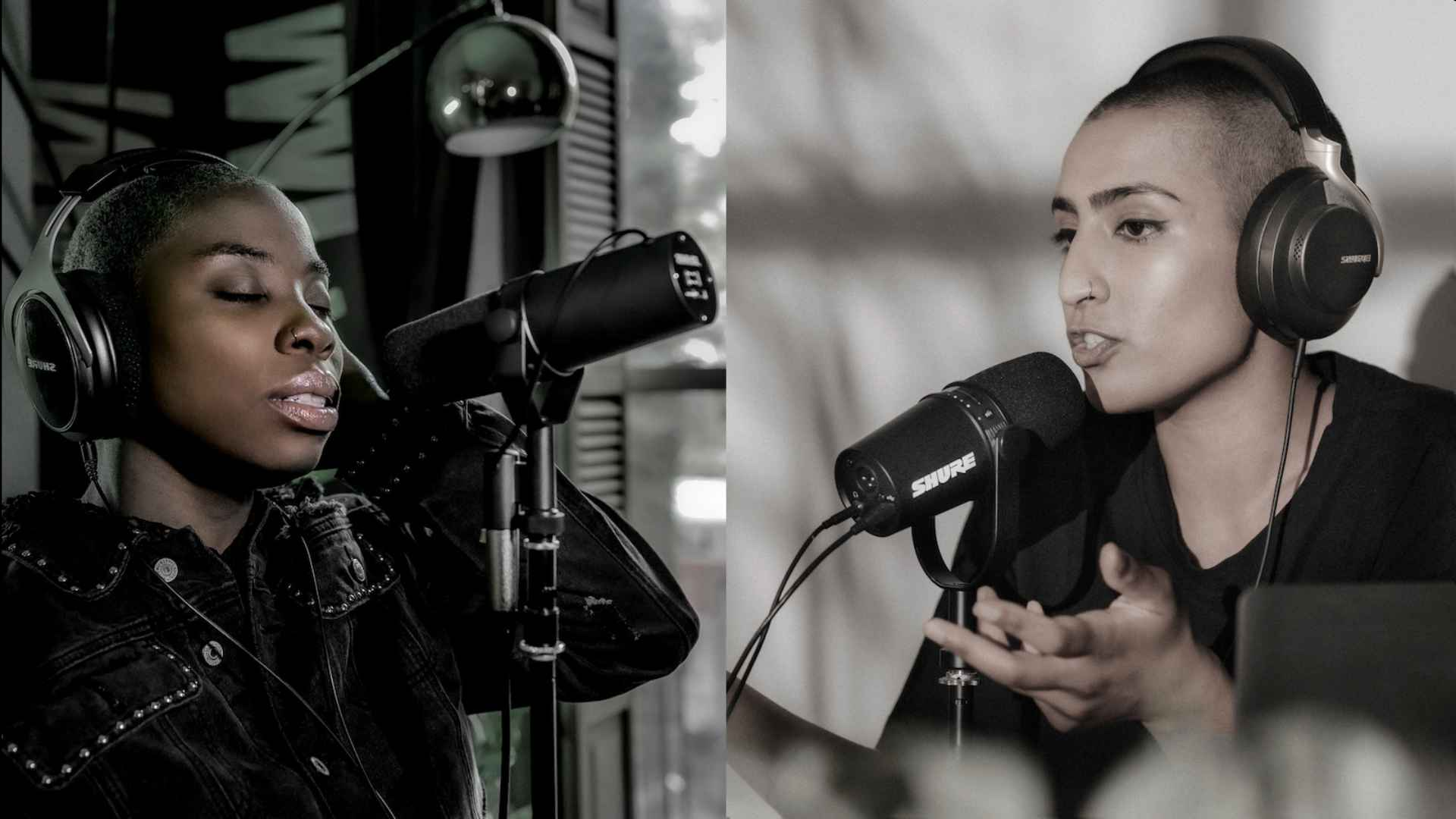 Developed as a USB version of the iconic Shure SM7B dynamic microphone, one of the best podcast microphones that were used by countless celebrities such as famous podcaster Joe Rogan, and John Mayer, its versatile design and high-quality sound make it easy to see why so many people have fallen in love with this device.
In this Shure MV7 review, we are going to take an in-depth look at what makes this XLR USB hybrid microphone such an incredible and versatile microphone for content creators.
Whether you're looking for a streaming or podcast microphone to up your audio game, or a mic for recording a cover song or an instrument, the Shure MV7 is worth considering.
At a Glance
The Shure MV7 stands out from other microphones on the market due to its ease of use, quality of sound, hybrid XLR and USB connection, intuitive touch controls, and simple audio processing software. It is designed with content creators in mind while retaining all the features of a great microphone, such as excellent sound quality and background noise rejection.
---
---
Design and Build Quality
A Sleek, Modern Design That Feels Durable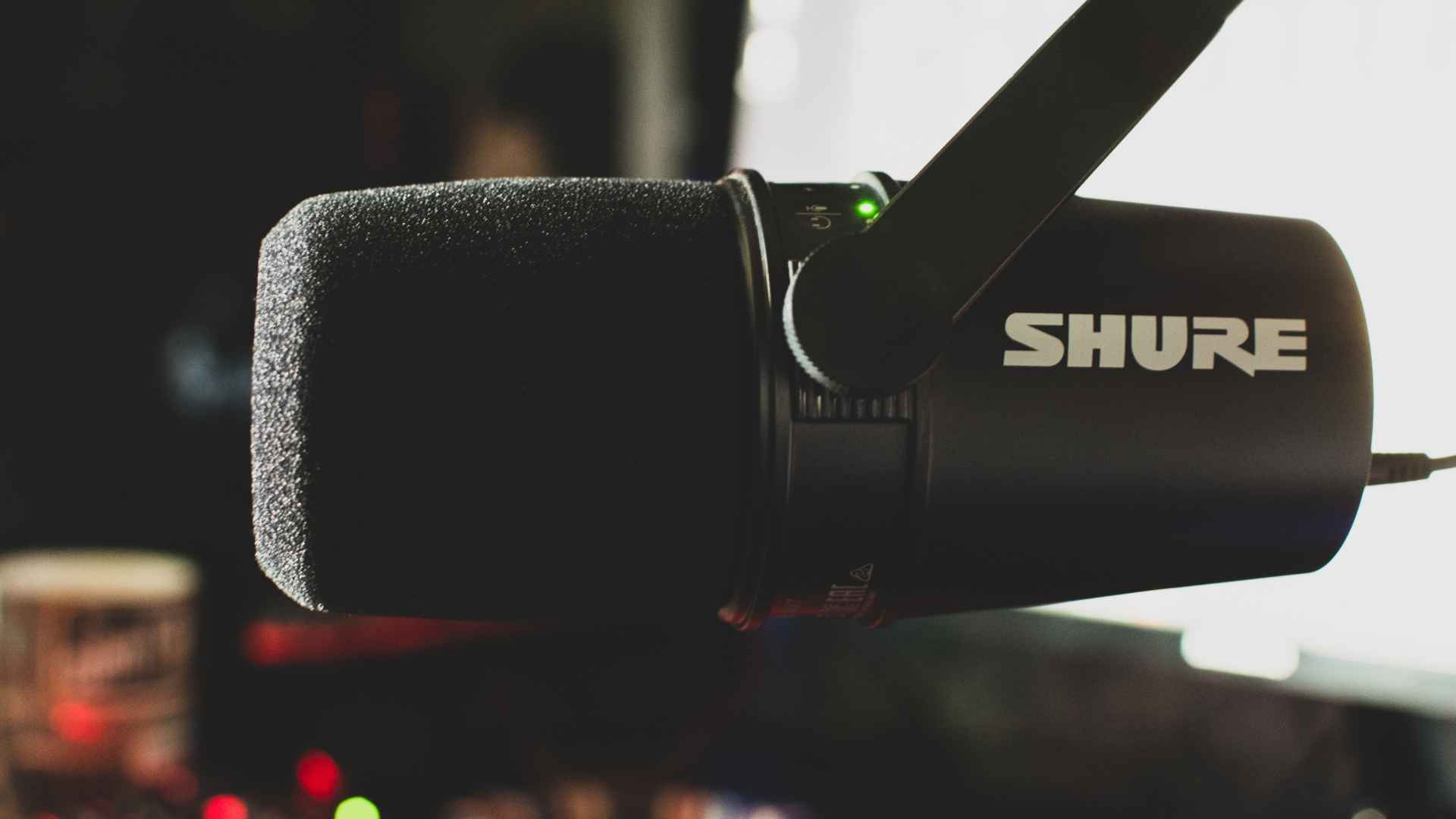 The Shure MV7 USB mic is more than just a sleek and modern-looking microphone – it's a professional-grade device built to withstand even the most rigorous use. With its all-metal design, this microphone exudes durability and quality, ensuring that you'll be able to rely on it for years to come.
But it's not just about looks – the Shure MV7 is also an incredibly practical choice, especially if you're short on desk space. It's thinner and shorter than some competitors, like the Blue Yeti X, making it an ideal choice for those who want a high-quality microphone without sacrificing valuable real estate on their desks.
The all-black aesthetic of the Shure MV7 is understated and professional, which makes it perfect for content creators who don't want to stand out too much with their USB microphones. Of course, if you prefer something a little more flashy, the HyperX Quadcast S might be more up your alley with its integrated RGB lighting.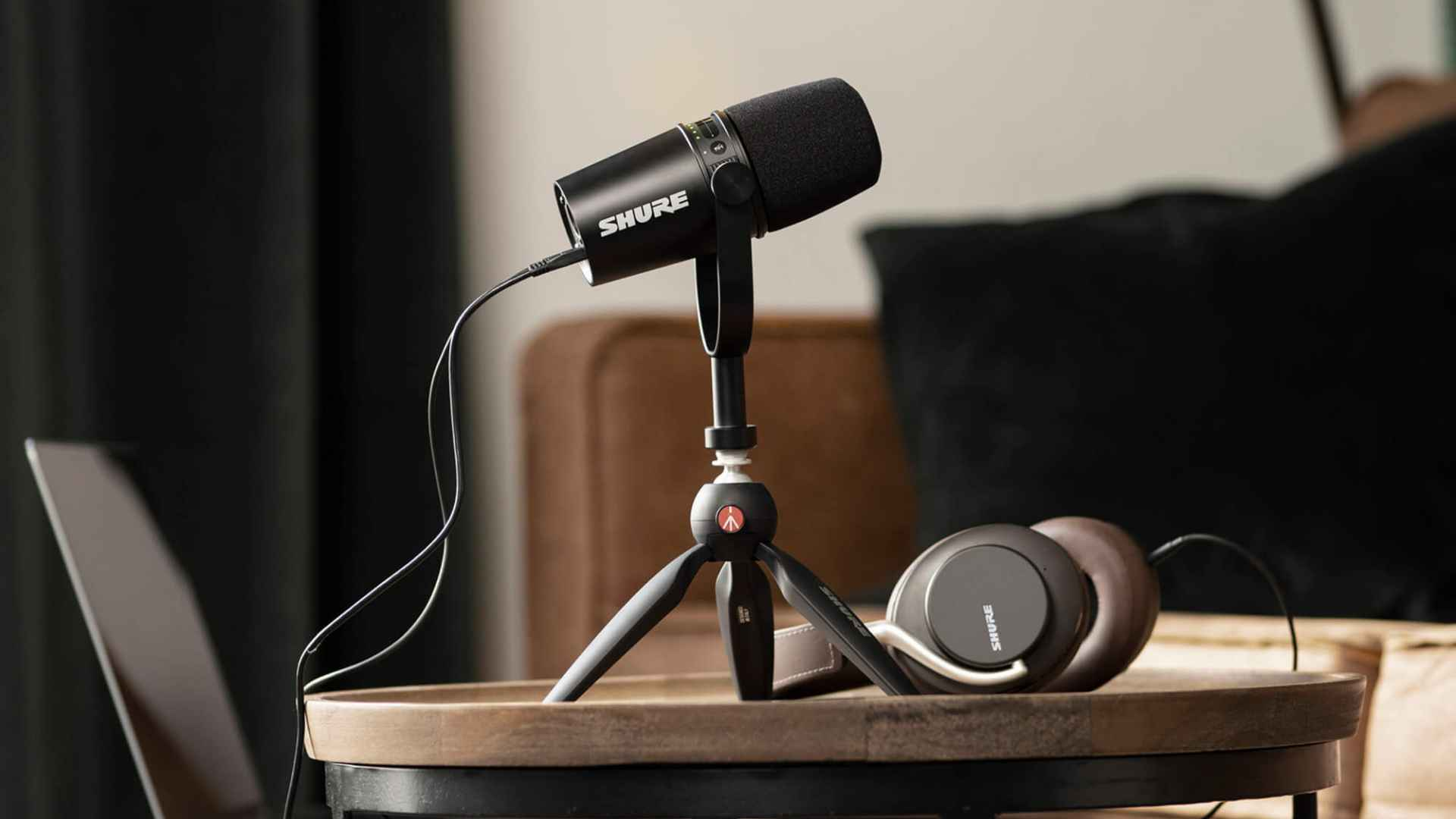 If you are using the Shure MV7 as a streaming or podcast microphone, you'll appreciate the 3/8″ adapter that comes in the box for maximum compatibility. It does not come with a mic stand, so you will need to purchase a bundle that includes a Manfrotto PIXI tripod. However, if you're serious about your content creation, we'd recommend investing in a dedicated boom arm for the ultimate flexibility and ease of use.
However, the Shure MV7 does not possess all the bells and whistles of its predecessor. For example, the windscreen used in the Shure MV7 is of lower quality, and it lacks the elongated metal cage that shields the transducer capsule from plosive sounds, a feature present in the Shure SM7B.
While the yoke of the Shure MV7 allows for easy angle adjustment, it doesn't have the same rotatable knurled knob as the SM7B. This means that removing the microphone from its stand can be a bit of a hassle. However, these minor issues are far from deal breakers.
Sound Quality
The MV7's Sound Quality for Podcasting, Streaming, and Recording Music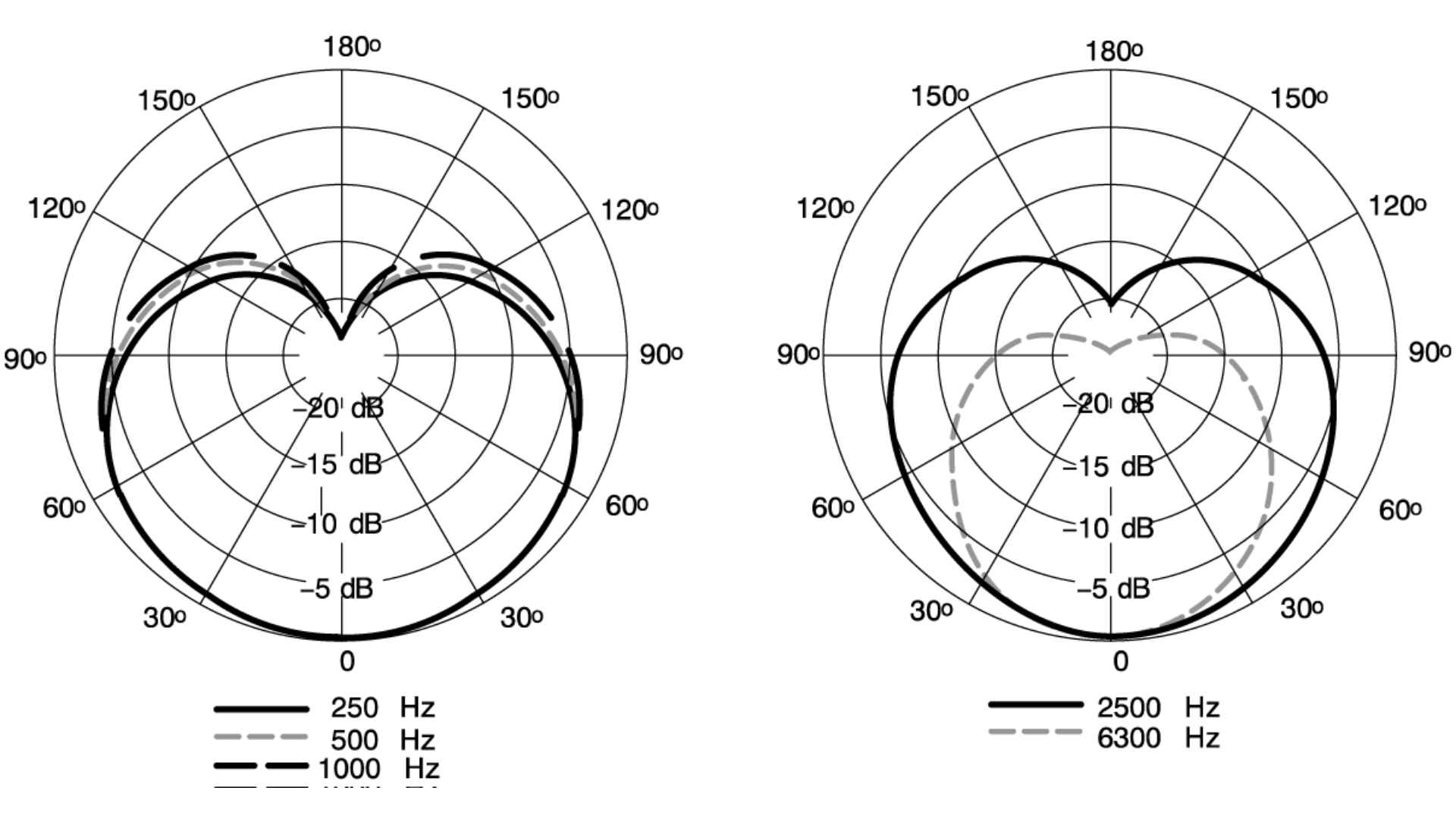 The Shure MV7 offers broadcast-quality audio. With its cardioid polar pattern, you can isolate your voice and block out unwanted background noise, ensuring crystal-clear, crisp, and professional sound quality that captures every detail of your speech or music.
Whether you're using it as a podcast microphone, streaming your gameplay, or jamming out with your band, the MV7 has you covered. You can even use the Shure MV7 microphone to record ASMR if you are into that kind of stuff!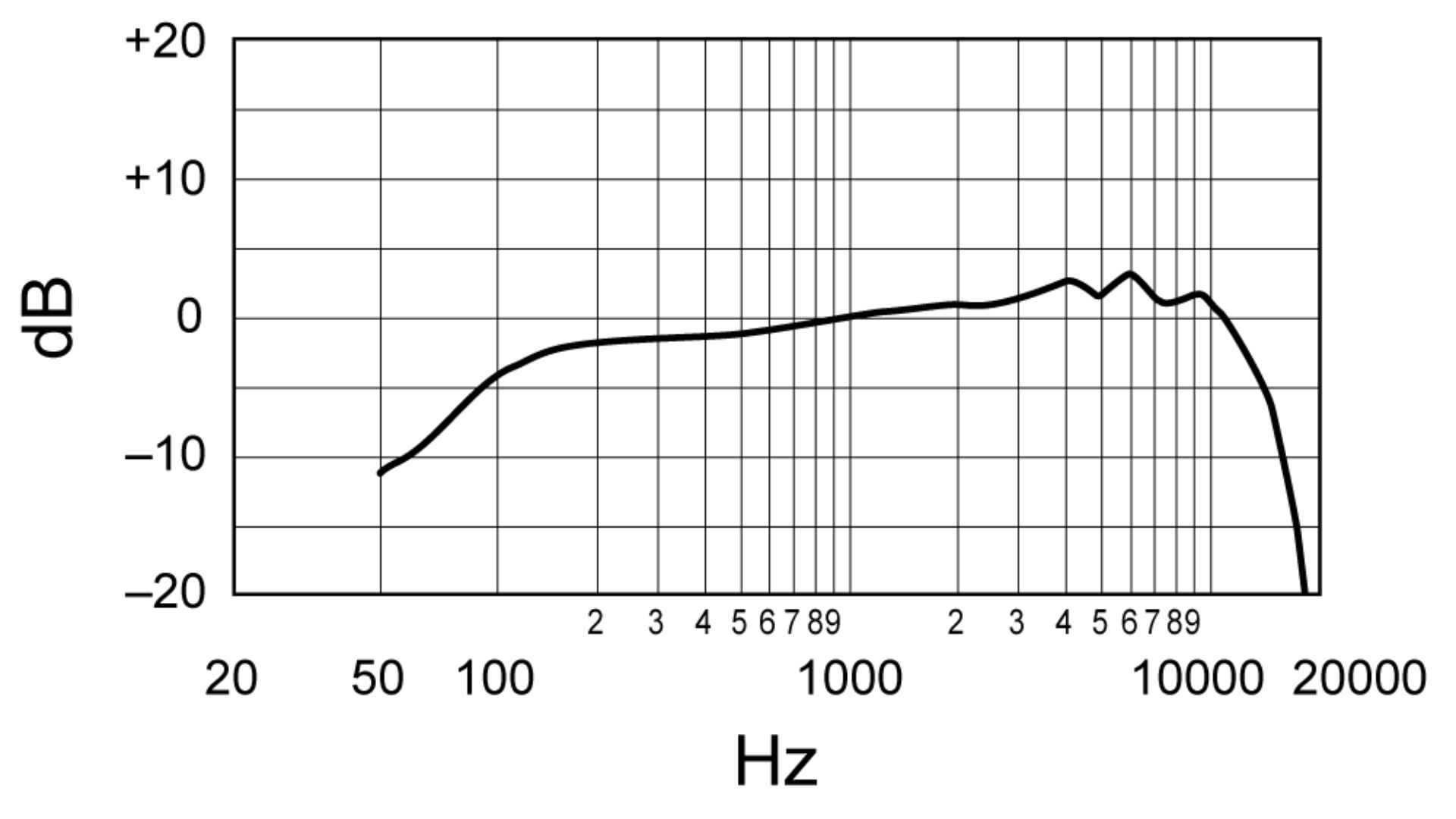 The Shure MV7 is a dynamic microphone that delivers a frequency response of 50 Hz to 16 kHz. This means it is less sensitive than a condenser mic, such as the Rode NT-USB+ and the Audio-Technica AT2020USB+, especially in the higher and lower frequencies with roll-offs.
However, this also means that the Shure MV7 will be less susceptible to picking up room noise and can handle higher sound pressure levels of loud instruments like electric guitar amps and drum kits.
While it is not the most ideal microphone for recording acoustic guitar, it can still be used for single notes and arpeggio-style playing, as it can cut down those twangy overtones from the plucking.
While the USB connectivity of the Shure MV7 allows for a convenient plug-and-play setup, it will cause it to have poorer sound quality than when using the XLR connection. It will not sound as crisp and authoritative as the good old Shure SM7B or even the latter's closest rival, the Electro-Voice RE20. We have a great article highlighting the differences between the SM7B and the RE20.
However, in USB mode, you get access to the ShurePlus MOTIV app, which gives you audio processing capabilities that can greatly enhance the audio. We'll take a closer look at the MOTIV app later.
Connectivity Options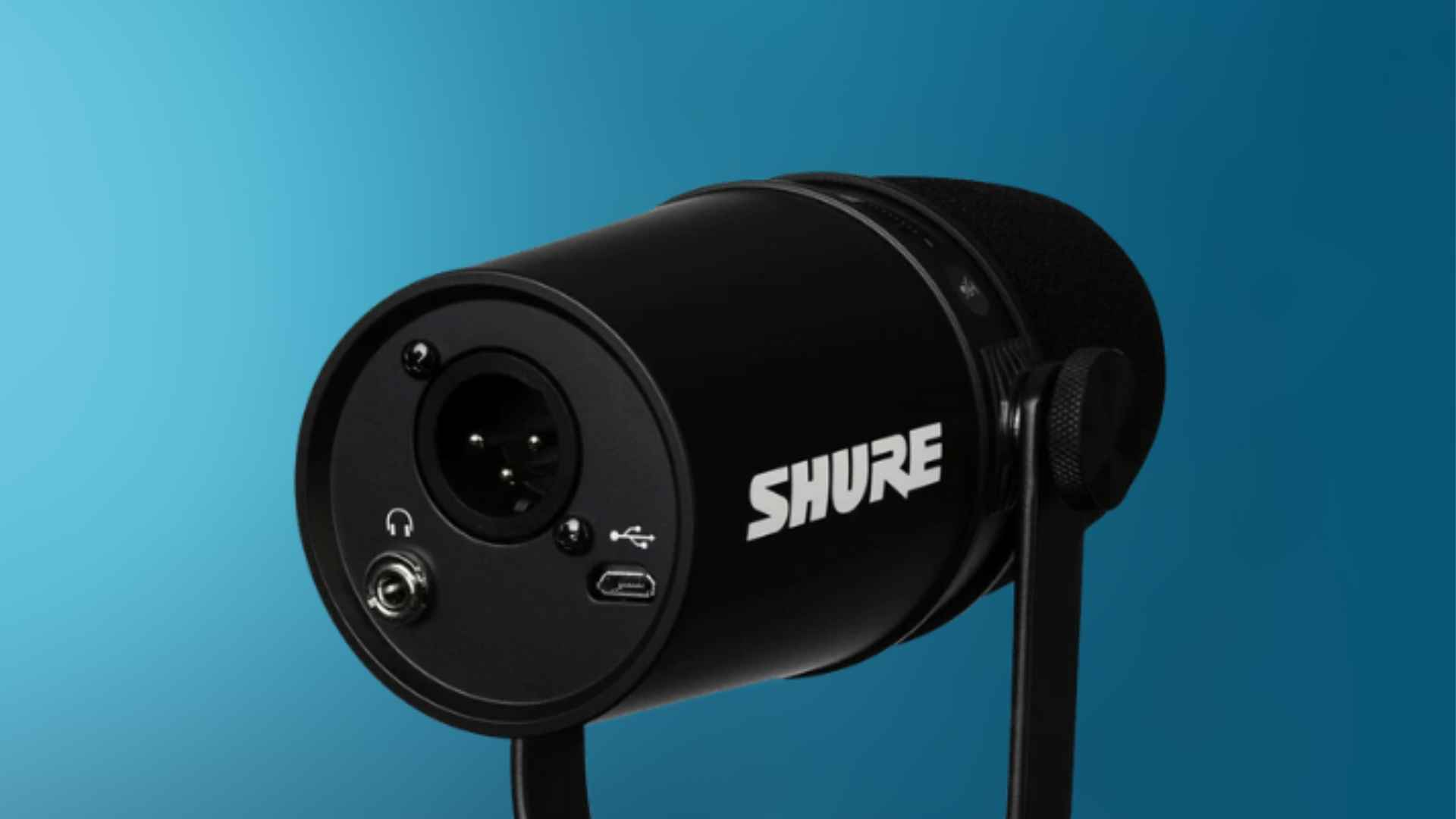 The Shure MV7 microphone offers two connectivity options – USB and XLR outputs. There is also a 3.5mm built-in headphone jack next to these connections for zero-latency headphone monitoring.
USB Option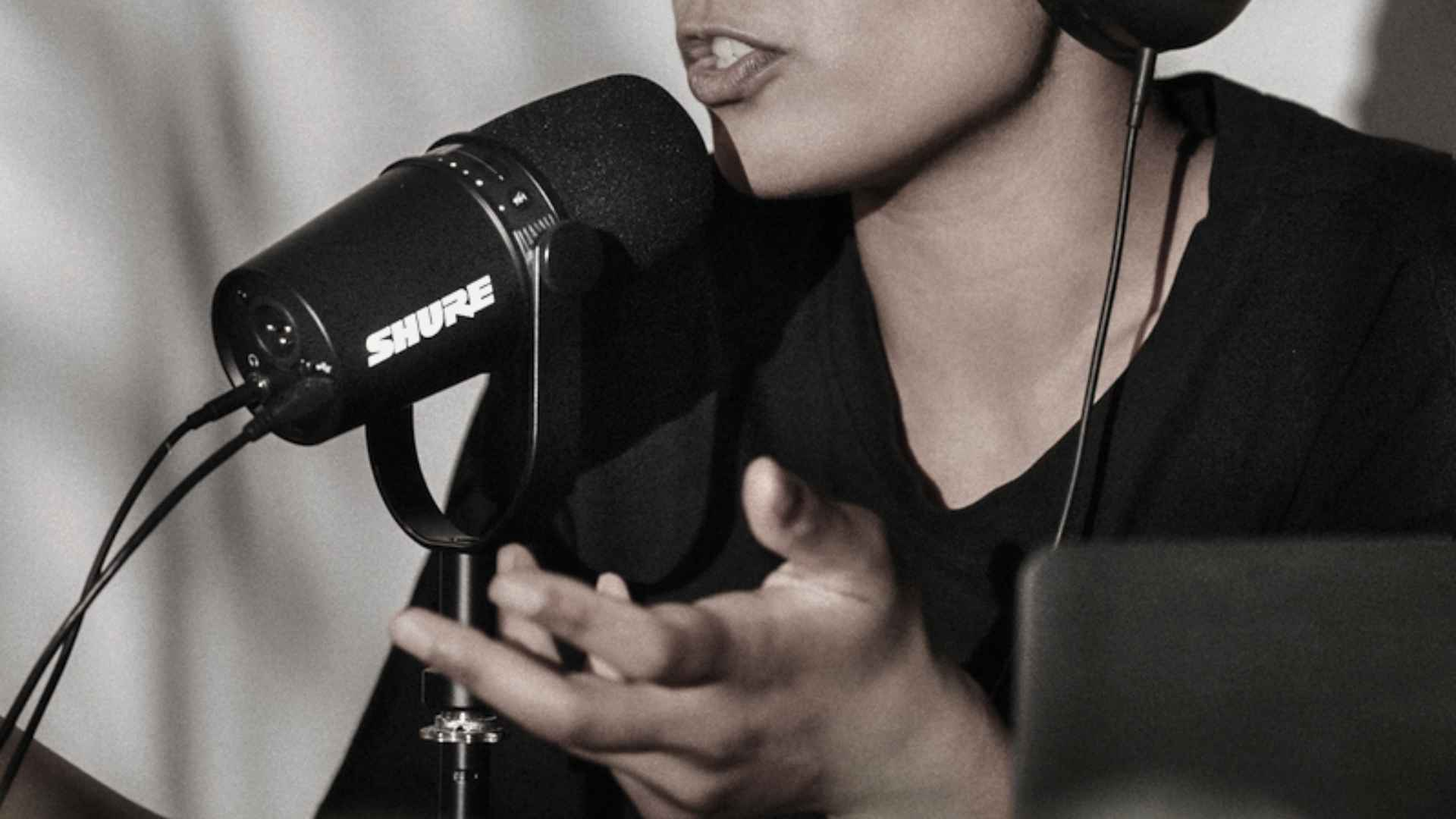 The USB option allows you to connect the microphone directly to your computer, making it a great choice as a gaming, live streaming, or podcast microphone. The USB connectivity option is perfect for content creators who need a quick and easy setup while still getting high-quality audio.
This feature is particularly useful for those who want to record their podcasts or videos from home without investing in expensive equipment like an audio interface and is easily compatible with iOS devices or PCs. You can just plug in the microphone using the supplied cable and start recording right away.
The only downside is that it uses a micro-USB output, especially today, where most devices use USB-C cables. But I'm pretty sure Shure (pun intended) will upgrade it to a USB-C connection in the future if they want to stay in the game.
XLR Option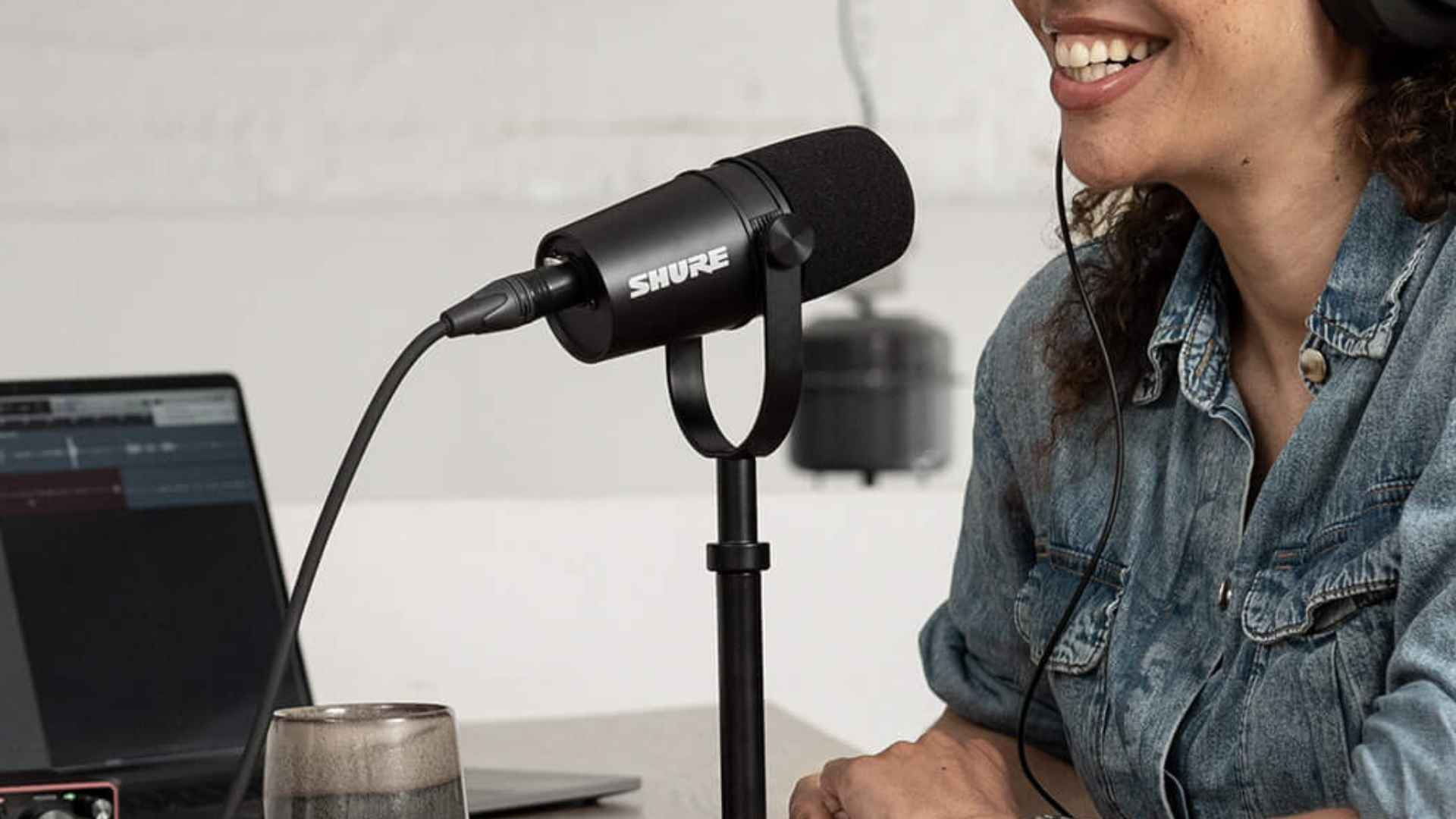 The XLR option, on the other hand, gives you a more versatile connection that's ideal for other professional mic settings or recording in a home studio, especially if you know how to set one up.
Also, being a dynamic microphone, the Shure MV7 does not require phantom power even when using its XLR output.
With this feature, you can connect your MV7 to an external preamp, audio interface, outboard gear like a compressor, or a digital audio mixer like a RODECaster Pro that can help enhance its sound quality further. If you are keen, check out our recommendations for top-notch digital audio mixers or affordable audio interfaces that will get you better sound quality for your Shure MV7.
The XLR connection can also provide better dynamic range control over your voice recordings as well as higher headroom giving a more enjoyable listening experience.
Using Both USB and XLR Simultaneously
One great feature of the Shure MV7 is the ability to simultaneously use both USB and XLR outputs, which can be useful for several things.
For one, it allows gaming streamers to connect the microphone to two computers, one for gameplay and speaking with the streaming audience and the other computer for chatting with teammates.
Another use case is to save a low-resolution file for reference through a USB connection while capturing a high-resolution file through the XLR output for post-production.
Shure even includes both a USB-A to micro-USB cable and a USB-C to micro-USB cable, so you can easily connect to various devices.
Microphone Controls
A host of intuitive touch controls for quiet on-the-fly adjustments
The Shure MV7 is a microphone that stands out for its touch panel controls and USB/XLR compatibility, setting it apart from its older brother, the Shure SM7B.
The touch panel controls are impressively intuitive, allowing you to adjust gain, headphone monitoring volume, mix volume, and mic muting without any noisy button pressing. Plus, the touch panel has LED lights that glow brightly to indicate the mix volume and mute status, adding a touch of style to its already sleek design.
Although it's worth noting that the touch panel controls only work in USB mode with a smart device, the swipe interface is very easy to use. Instead of physical dials and switches, you can adjust mic gain and headphone volume with a simple touch or swipe. Also, most users don't have any issues with accidentally tapping or swiping during recording sessions.
There are also touch-sensitive buttons to mute the mic and switch between mic and headset controls. If you need more controls, you can download the ShurePlus MOTIV app, which gives you access to more features, including EQ and compression controls.
Additional Features: ShurePlus MOTIV App
One stand-out feature of the Shure MV7 that you'll be extremely impressed with is the ShurePlus MOTIV app, a beginner-friendly real-time audio processing application. With the ShurePlus MOTIV, you can adjust the mic gain, monitor mix, and add EQ, compression, and limiter, all at the click of a mouse.
The MOTIV app is super easy to use, so even if you're not tech-savvy, you can still achieve professional-sounding audio. Plus, you don't have to worry about nitty gritty details such as adjusting the threshold, attack and release for the compressor or manually tweaking the gains of the different frequencies for EQ, because they provide you with very few options to choose from (which can be a good or bad thing).
The ShurePlus MOTIV app comes with two modes: Auto Level Mode and Manual Mode. Also, this app requires you to use the USB connection and will not work with the XLR setup.
Auto Level Mode
The Auto Level Mode is great for people who don't want the hassle of having too many options for audio processing.
One of my favorite controls in this mode is its optimized mic position presets, known as the 'Mic Position' toggle. While a dynamic microphone usually requires close miking in order to get an audible sound, the 'Mic Position' toggle is a nifty feature that allows you to toggle between 'Far' and 'Near' mic positioning.
The 'Far' position turns up the microphone gain to get a clear sound in case you wish to place your microphone out of frame around 6-18 inches away. You can switch the 'Near' position if you want to keep the mic in-frame.
The microphone also has three presets tilted Dark, Natural, and Bright for adjusting the frequency response.
Additionally, you can use basic controls like the mic mute toggle and the monitor mix slider. The monitor mix slider lets you change the loudness of your voice through your headphones.
Manual Mode
For a customizable sound signature, choose Manual Mode, which will give you more granular control over your audio processing. That said, the controls in this mode are still incredibly simple to use.
Similar to the Auto Level Mode, it has controls for mic mute and monitor mix for adjusting between microphone and playback sound level. You also have finer control over the mic gain instead of just toggling between 'Far' and 'Near' mic positioning.
This mode has four EQ presets to choose from, similar to the three physical EQ switches on the back of the Shure SM7B. There are options for flat, high-pass filter, presence boost, and a combination of the high-pass filter and presence boost. While this is not as granular as the standard EQ settings in professional audio software, it makes EQ easy for beginners to understand.
The high-pass filter is useful for either people with a very low bassy vocal tone, or to reduce background noise such as low-end rumbles of fans and air-conditioning. The presence boost is great for people with a higher-pitched voice who want a fuller, more authoritative voice.
There is a 'Limiter' toggle that can be enabled to prevent clipping, and this feature can be used when you expect a lot of loud sounds that can cause your audio to peak.
For more dynamic control of the volume range, you can use the 'Compressor' slider which goes from 'light' all the way to 'heavy' compression. This allows you to balance out the soft and loud parts of the audio to ensure that the entire audio clip sounds pleasant to listen to without having to either strain your ears at soft parts or get shocked by a sudden loud noise.
The Shure MV7 has a digital signal processor which allows it to save your presets even when you switch between smart devices. There is also a locking feature to prevent people from changing your settings.
You can download the ShurePlus MOTIV app here.
Verdict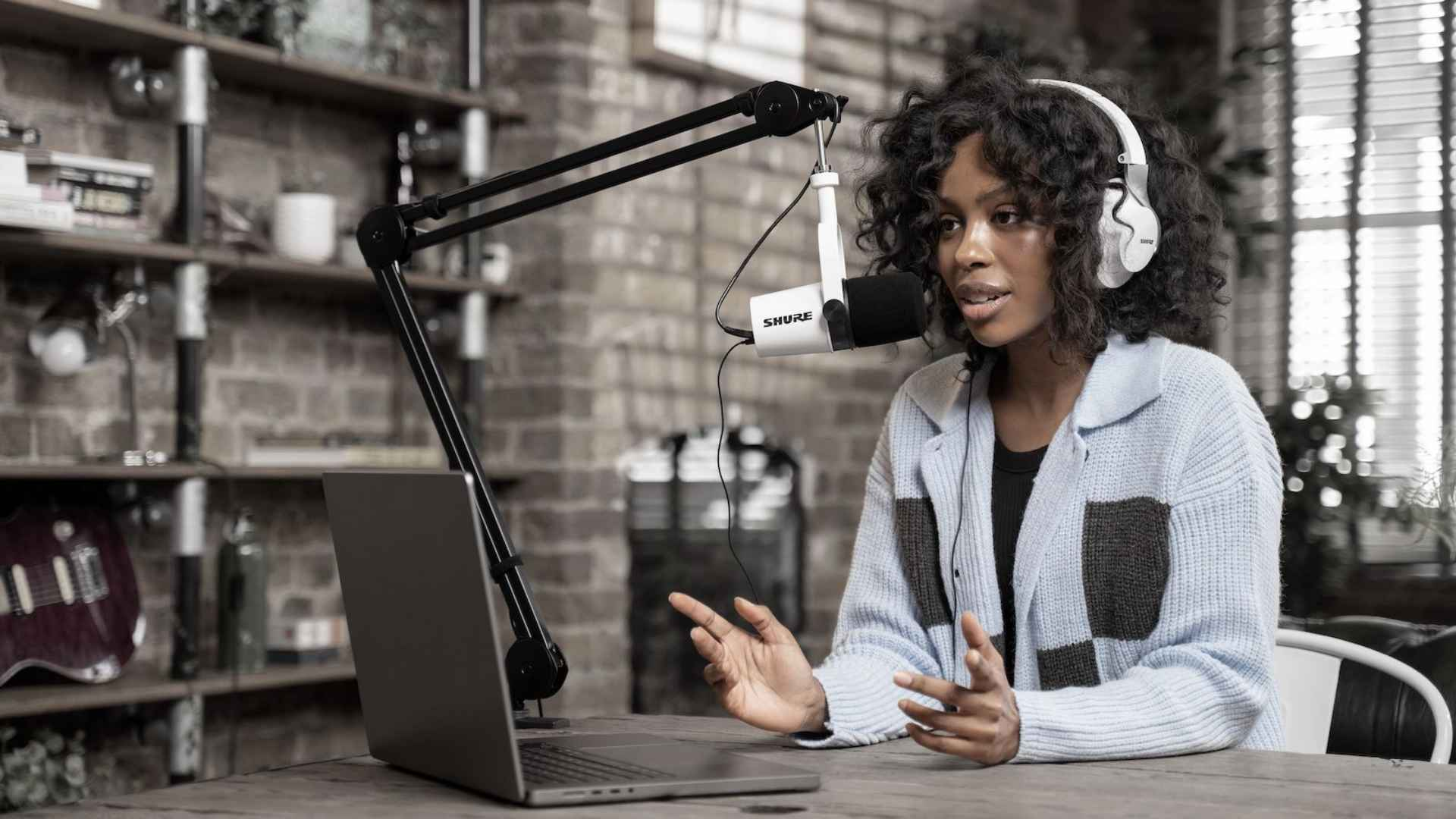 At around $250, the Shure MV7 may seem like an expensive investment for some content creators. However, this price point is quite reasonable compared to other high-quality USB microphones on the market.
Additionally, considering all of the features, versatility, and the ShurePlus MOTIV app that comes with this microphone, it's worth its price tag for serious content creators requiring professional-level audio.
It does have several minor shortcomings, such as no USB-C output, no provided mic stand, cheap windscreen, and fixed knob for the yoke. However, these aren't dealbreakers considering its impressive sound and features.
For those who may be hesitant about investing in such an expensive microphone, it's important to remember that good audio quality can make or break content creation success, especially in podcasting and streaming. Here is a great article if you want more content creation ideas for which you can use your Shure MV7!
So if you're serious about creating top-notch content, and if this Shure MV7 review has convinced you, then investing in high-quality equipment like the Shure MV7 is definitely worth it.
Product Infomation
Specifications
Polar Pattern: Cardioid polar pattern
Transducer Type: Dynamic (moving coil)
Power Requirements: Powered through USB or Lightning connector
Frequency Response: 50 Hz to 16,000 Hz
Sensitivity: -55 dBV/Pa (1.78 mV/Pa) @1kHz
Max SPL: 132 dB (Digital Output)
Output Connection: Micro-B USB / XLR
Headphone Output: 3.5mm (1/8″)
Weight: 0.55 kg (1.21 lbs)
Accessories: 10-foot Micro-B to USB-A cable, black windscreen, 1 m Lightning cable
---
Features
Touch panel for muting, headphone mix, monitoring volume, and gain control adjustment
Headphone output for monitoring
ShurePlus MOTIV desktop application for audio processing
---