5 Best Gaming PC under $1000 in 2023 – The Ultimate Guide
You're on a tight budget but still want a great gaming computer? If you are looking for the best gaming PC under $1000 in 2023, you've come to the right place.
Choosing the best prebuilt gaming PC on a budget can be tough, especially if you are unfamiliar with PC specifications and terms. Should you be going for aesthetics or performance? Should you save an extra $150 or spend it to get a gaming PC with better components?
We've done the hard work for you and scoured the internet to find the best prebuilt gaming PC under $1000. We've labeled them differently, such as 'most popular gaming PC' or 'best cooling system,' so you can quickly identify the kind of gaming PC you are looking for.
Table of Contents
Our Top Picks for the 5 Best Gaming PC under $1000 in 2023
Without further ado, here are the 5 best prebuilt gaming PC under $1000:
The CyberPowerPC Gamer Xtreme is a superb prebuilt gaming PC under $1000. The first thing that probably catches your eye is its 4 brightly colored RGB fans, viewable through the glass side panel and front mesh. Its three intake fans on the front mesh and one exhaust fan at the back allow for high airflow and cooling within the PC case.
Expand To Read More 🡫
More important than aesthetics, the CyberPowerPC Gamer Xtreme Gaming PC is fitted with excellent components for gaming – an 11th Gen Intel Core i5-11400F processor and an NVIDIA GeForce GTX2060 6GB graphics card for entry to mid-level gaming. It can handle modern games like Fornite, Borderlands 3, Rainbow Six Siege, and Horizon Zero Dawn at 1080p at a decent average FPS and 1% lows.
However, since it only comes with one stick of 8GB DDR4 RAM, your gaming experience will be adversely affected when programs like Chrome, Discord, and Spotify are running in the background. Therefore, getting another stick of 8GB RAM is highly advisable to have dual channel 16GB RAM, which will significantly boost the gaming performance.
Usually, most OEMs selling budget gaming PCs will provide a good processor and GPU but cut costs on other components. However, the CyberPowerPC Gamer Xtreme gaming PC is fitted with a micro-ATX B560 motherboard with 4 DIMM slots, good PCI-e expansion, and built-in WiFi. It also uses a 600W 80 Plus Gold certified PSU that gives you room for expansion.
Another great thing about CyberPowerPCs is that they don't install a lot of bloatware (additional software running in the background) that some other PC manufacturers will install. These bloatwares can use up precious CPU and GPU resources.
However, one thing you might want to replace would be its CPU stock cooler which isn't great. You can try changing it to a Vetroo V5 cooler or Scythe Fuma 2 CPU cooler. Also, if you want additional storage for your PC, there are no caddies to mount an additional SSD, so it has to be left dangling in your PC case.
Collapse To Read Less 🡩
---
---
Features
---
---
CYBERPOWERPC Gamer Xtreme
This is one of the best prebuilt gaming PCs for the price. You don't need a ton of fancy features here when you have the absolute best gaming components. But still, the HP Victus 15L comes with sleek, eye-catching designs.
Expand To Read More 🡫
For one, you get a clean, compact ceramic-black PC case with a retro "VICTUS" and "15L" font painted on both sides of the panel. You will notice the front panel has a futuristic Victus logo that lights up with a beautiful infinity effect when powered on. First impressions are already spot on.
For the price, you'll get an amazing Ryzen 7 5700G, Radeon RX6600XT, and 16GB of RAM. These components will easily allow you to play games like Fornite, GTA V, and Valorant at 1440p with high graphic settings and still have high FPS. It will have no issues handling graphic-intensive games like Cyberpunk 2077 or God of War on 1080p with medium to high settings with over 60 FPS.
The construct of the HP Victus 15L is quite similar to the HP Pavilion, The internal components are laid out in the same manner, and the front panel allows for easy connectivity with four USB-A ports (2x5Gbps and 2x10Gbps), one USB-C port, and a headphone/microphone combo jack. There is also an available power, SATA cable, and a mounting plate for an additional 3.5" HDD or SSD.
Since you're already getting one of the best prebuilt gaming PCs for the price, you can use the money saved to get a 1440p high refresh rate monitor such as the Gigabyte M27Q, which will utilize the maximum potential of Ryzen 5600G and RX6600XT to give you the best gaming experience for the price.
Collapse To Read Less 🡩
---
---
---
HP Victus 15L Gaming Desktop
An AMD Ryzen 5 5600G CPU, RTX 2060 Super GPU, 16GB RAM, 1TB NVMe SSD, 3 RGB fans, and an AIO CPU liquid cooler for under $1000. Do we need to say more? We can even end the review here, but we shall carry on for the sake of our beloved readers.
Expand To Read More 🡫
The price of the AVGPC Hellfire II is a fantastic deal with the number of high-quality components that come with it. Even if you buy all the same parts (including the keyboard and mouse) to build it yourself, it will amount to a thousand dollars or more.
The AVGPC Hellfire II is an affordable gaming PC that can handle modern AAA games. Its AMD Ryzen 5 5600G processor with Vega 7 integrated graphics, RTX 2060 Super GPU, and dual channel 16GB RAM is powerful enough to handle games like Fortnite, CS:GO, and Rainbow Six Siege with over 200+ average FPS on 1080p high graphics settings as well as more graphic intensive games like Far Cry 6, Battlefield V, Borderlands 3 and Horizon: ZD at over 60+ FPS.
One prominent feature of the AVGPC Hellfire II is its All-In-One (AIO) close-loop duo fan CPU liquid cooler by Cooler Master. You rarely get AIO CPU liquid coolers for a gaming PC under $1000. This will significantly aid in keeping CPU temperatures under control, even under overclocked conditions.
Thinking of playing GPU-intensive games on a higher resolution and graphic settings? With its generous power supply of 650W, you can easily upgrade to the higher power consumption Ryzen 7 5800X and RTX 3070 if you have the budget.
Finally, what's a gaming desktop PC without the compulsory RGB lighting? You get not only one but three RGB fans that are viewable through the tempered glass panel, one from the exhaust fan and two from the cooling fans.
Collapse To Read Less 🡩
---
---
---
AVGPC Hellfire II Gaming Computer
If you love RGB lights, then the Skytech Shadow 3.0 is your gaming PC. It has three RGB chassis fans (one exhaust fan at the back and two intake fans at the top) viewable through its tempered glass side panel, and the front panel of the Thermaltake H200 TG RGB case has an RGB light bar with 19 different lighting modes that can be switched using the RGB button at the top of the panel.
Expand To Read More 🡫
This gaming PC is not just about looks; as the saying goes, "it's not what's on the outside that matters, but the inside." The Skytech Shadow gaming PC boasts a 10th Generation Intel Core i5 10400F CPU, the latest Radeon RX6600 GPU, and 16GB DDR4 RAM, more than enough bite to handle games like Fortnite, Apex Legends, and Doom Eternal on 1080p high graphic settings with over 100 FPS. 
The Skytech Shadow gaming PC is designed with expandability in mind. The 600W 80+ Gold power supply provides sufficient power to upgrade the processor to an Intel Core i7 and the GPU to an RX6700XT or better. The width of the PC case has enough room to house a CPU tower cooler and mounts for adding a 2.5" SSD or 3.5" HDD. There is also a PSU shroud to hide away those unsightly cables. 
Another great thing about the Skytech Shadow gaming PC is that they do not use proprietary parts. Hence, the components inside can always be taken out and used on other gaming PCs (as long as the motherboard supports it). It also does not come with bloatware that will slow down your gaming PC while you game. 
If you are still not happy with the amount of RGB lighting you are getting, you can always go for an overkill and swap out the CPU cooler plus RAM sticks to RGB ones. Also, be sure to throw in a disco ball for good measure. 
Collapse To Read Less 🡩
---
---
---
Skytech Shadow 3.0 Gaming PC
How can we forget the HP Pavilion Gaming Desktop when there are tons of reviews about it? It is an affordable and good gaming PC under $1000.
Expand To Read More 🡫
When removing the PC from the packaging, you will notice how sleek and compact the tower is; this is excellent for saving space. The next feature that will immediately catch your attention would be the number of front panel IOs available – a headphone jack, four USB 3.1 ports, an SD card reader, and a USB-C port. This makes it convenient for quick connections to your thumb drives, external hard drives, and other devices.
This setup of HP Pavilion Gaming Desktop uses the Ryzen 5 5600G, which has Radeon Vega 7 integrated graphics. Together with the RX 5500 graphics card and 8GB dual-channel RAM, this will provide smooth gameplay with good FPS when playing most games at 1080p at medium graphics settings.
When powered up, the power button and underneath the front panel light up with an ominous acid-green LED. The LED can be configured to 'blink' or 'breathe' (or turn off) using the HP Omen Gaming Hub app. 
The HP Pavilion Gaming Desktop provides some room for expansion and upgrade. With a 400W 80 Plus gold-certified power supply, this PC has enough power to swap out to a better CPU or GPU if you intend to upgrade them. There is also a mounting plate for a 3.5" HDD or SSD, with SATA and power cable ready to be used.
Overall, it's pretty hard to find such quality components for a prebuilt gaming desktop PC at this price. Even if you are unhappy with the small storage, you can easily swap or add additional storage space. If you're on a tight budget but still want a decent gaming PC, then the HP Pavilion is a perfect choice.
Collapse To Read Less 🡩
---
---
---
HP Pavillion Gaming Desktop
How Did We Choose?
We have searched the internet for the most well-known and popular gaming PCs from reputable manufacturers and OEMs. We dug through tons of Amazon listings and reviews, manufacturers' websites, YouTube reviews, and blog reviews to find great and affordable prebuilt gaming PCs for our readers.
We evaluate each gaming PC based on multiple factors such as the value for the price, whether the latest gaming PC components were used, reviews, and any other special features.
However, rest assured that for all the 5 prebuilt gaming PC that we recommend, even the most budget one, has minimally a Ryzen 5 5600G CPU (equivalent to Intel Core i5-11400), Radeon RX5500 (equivalent to NVIDIA GeForce GTX 1650 Super) and 8GB of RAM.
How to Choose the Right Gaming PC?
Finding the best prebuilt gaming pc under $1000 (or any PC) can be daunting for a person with little PC knowledge.
Just like making a purchasing decision for any other product, the two main questions boil down to what you want to do with the product and what your budget is.
There are four questions to ask when making a purchasing decision on a prebuilt gaming pc:
1. Decide on the games you will play and with what settings
It is not just the game you play but also the settings you choose to play that will determine your system's requirements.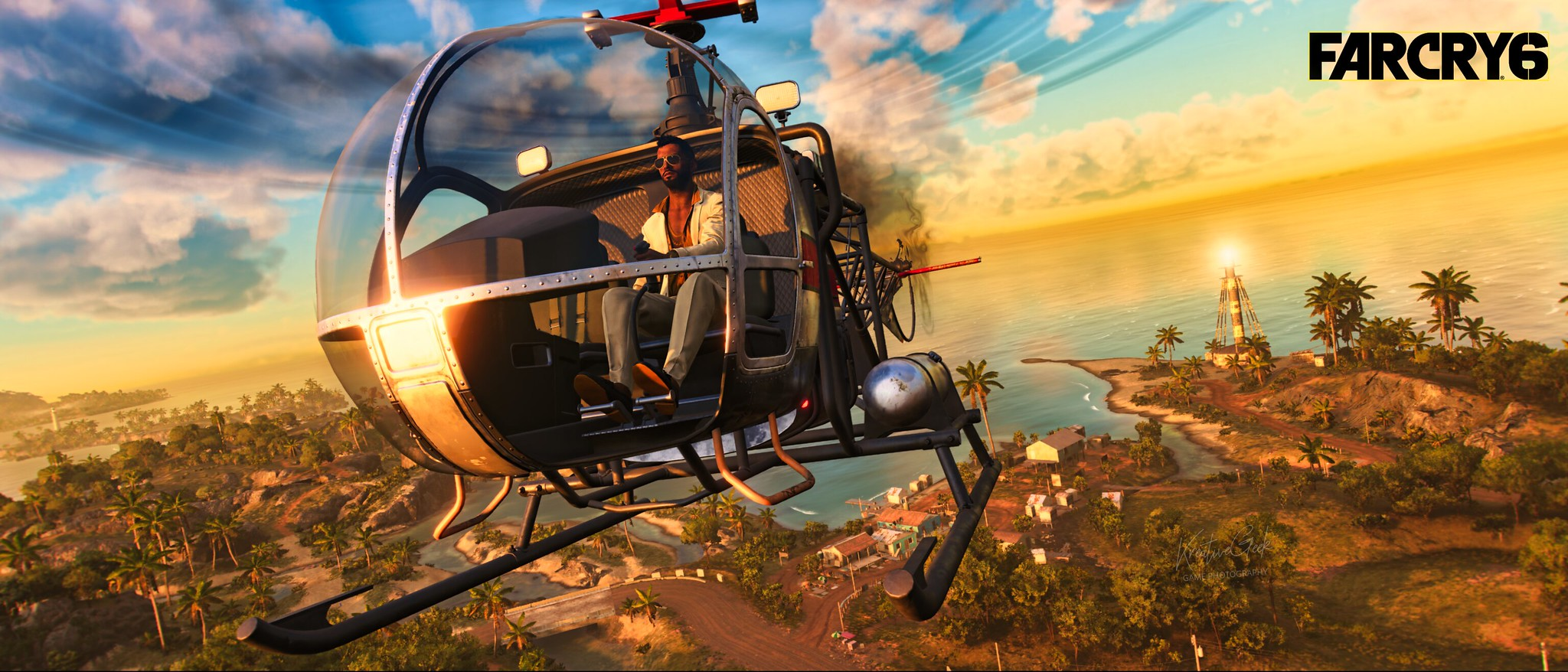 There is a vast difference between playing Roblox and playing Far Cry 6. You can probably make do with an i3 processor without any dedicated graphics card and 2GB RAM to play Roblox. But you will need an Intel Core i5 processor, 8GB of DDR4 RAM, and an NVIDIA GeForce GTX 1650 to play Far Cry 6 at the lowest graphics setting at 1080p, and you'll only be getting a measly 30 FPS with that.
And there is also a difference between playing Far Cry 6 at 1080p at the lowest settings compared to playing it at 1440p with an ultra preset and ray tracing. To play at 1440p ultra preset, you will need an i7 processor, 16GB of RAM, and NVIDIA GeForce RTX 2070 Super to get 60 FPS. This could mean an additional $400-$500 in your budget compared to a system playing on a low preset.
Always check the game's recommended system requirements and choose a slightly better system to get the best gaming experience.
2. Decide if you will be using the PC for graphic-intensive work like Photoshop, video editing, or live streaming
If you are using your computer to run video editing or 3D modeling software like Adobe Premiere Pro, Davinci Resolve, or Blender, you would still need a powerful processor and GPU.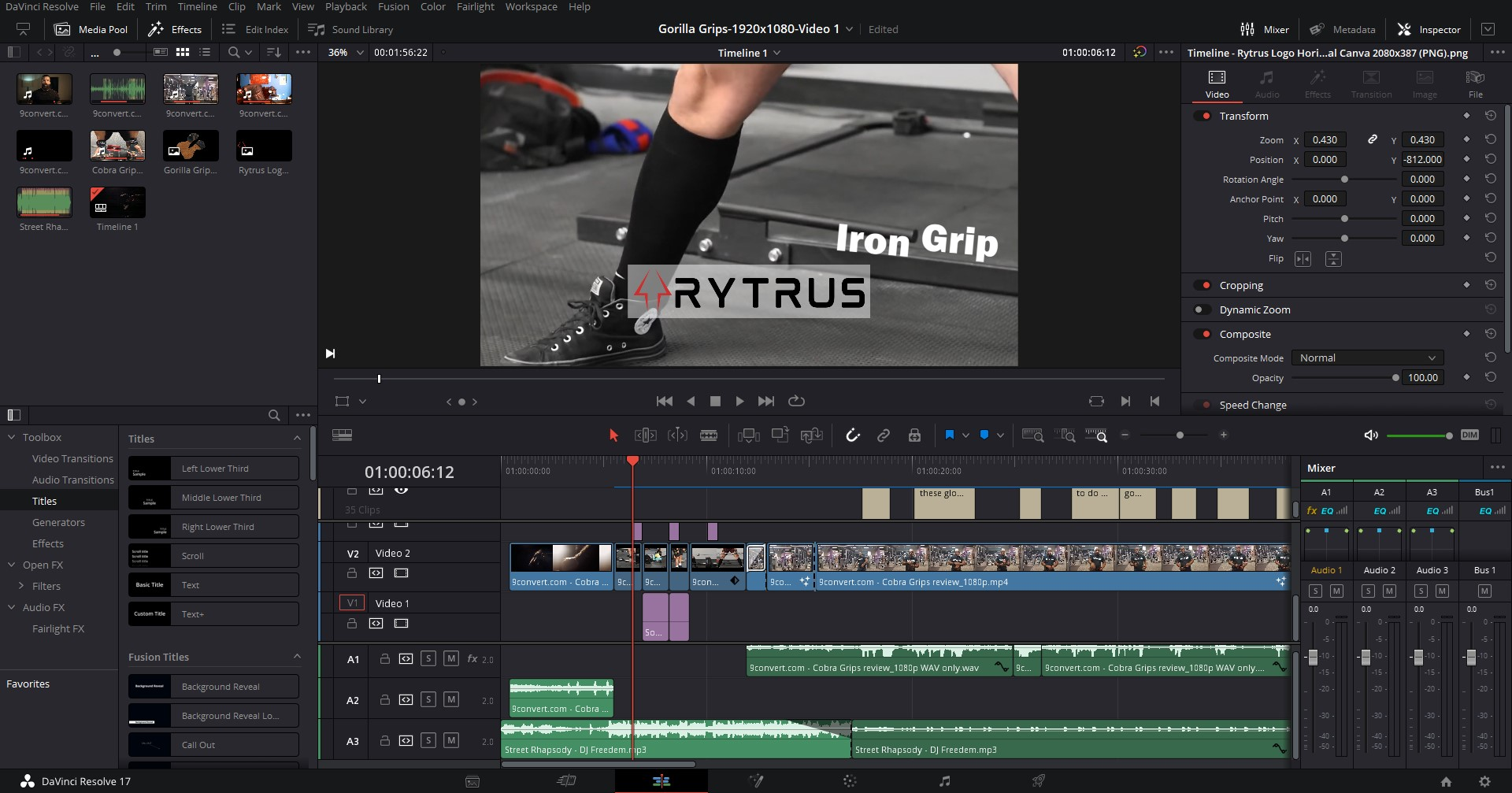 I remembered the days when I was doing video editing with Davinci Resolve on an 8-year-old laptop that was using an i7 processor (amazing at that time), 8GB of RAM, and an NVIDIA Quadro 2GB graphics card, the software was painstakingly laggy, and it can take almost an hour to render a 3-minute video. But when I switched to a Dell G15 laptop with Ryzen 7 5800H, 16GB of RAM, and NVIDIA GeForce RTX 3060 graphics card, the rendering time was reduced from one hour to just 5 minutes!
Also, if you intend to live stream games on Twitch, you cannot use the recommended system requirements for the games you intend to live stream. You need a better system to run the game and live stream simultaneously.
Therefore, it is important to note that not only the games determine the system requirements but also the use of other graphics-intensive software. Also, to set up a live stream, you'll need other streaming equipment, such as a good webcam, a high-quality USB mic, an audio mixer, streaming software, and some good lighting.
3. Decide how many games you want and how big they are
Games like Far Cry 6 and Cyberpunk 2077 have file sizes between 60-70 GB; just two of these games combined will take up almost 140GB of storage. If you are using a 256GB SSD, that would not be enough.
Most people will recommend getting at least 500GB SSD of storage. Also, if you are using an M.2 SSD, you would want to get a 500GB NVMe SSD instead of an M.2 SATA SSD. This is because the read and write speed of an NVMe SSD is almost 10 times faster than that of a SATA SSD.
If you have files you don't access often but want to store, like photographs and videos, you can consider adding a 2TB HDD, as they have slower speeds than SSDs.
4. Decide on your budget
Now, that's the biggest limiting factor of any purchasing decision. If budget was not a concern, everyone would be going for an Intel Core i9-13900k, NVIDIA GeForce RTX 4090, 64GB of RAM, and an AIO liquid CPU cooler, but that would cost close to $5,000.
However, since this article is about finding the best gaming pc under $1000, we can safely assume that your budget is under $1000.
You don't necessarily have to spend $1000. If you are on a tighter budget, it is still possible to get a decent prebuilt gaming pc for around $700.
What to Look Out for in a Gaming PC?
There are tons of terms, jargons, and specifications that can confuse even seasoned enthusiasts. Terms like M.2, PCIe, NVMe, AHCI, 802.11ax, DDR4, DDR5, DLSS, Ti, non-Ti, XT, non-XT are thrown about by PC gurus with the assumption you know what they are talking about.
While it is hard to review a prebuilt gaming PC (or any PC) without using such jargon, and we cannot explain every single term in this article, it is still helpful to know the main components that contribute to the bulk of a gaming PC's performance, as well as things to take note of that can influence your purchasing decision.
Here are some of the things to look out for when looking for the best prebuilt gaming PC:
CPU or Processor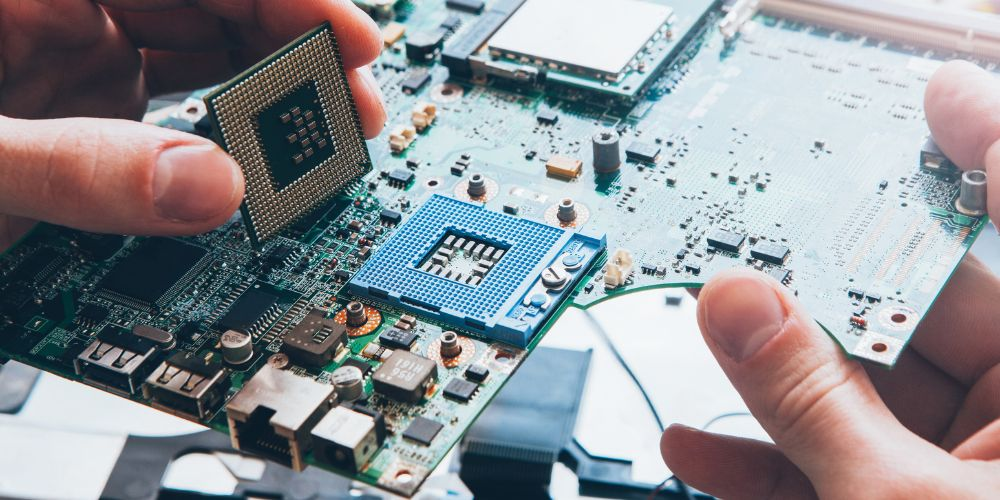 The CPU (Central Processing Unit), or the processor, is sometimes known as the computer's brain, although technically, your entire PC is a brain.
The processor is responsible for handling the processing of data and tasks, executing AI commands, and computing equations. While most people would argue that a graphics card is more important than the processor for a gaming pc, a good processor can give still significantly improve a game's FPS.
A processor can have 2 to 16 cores; the more cores, the better. All the processors in this article have between 6 to 8 cores, more than sufficient to run most games.
Also, different processors come with different base frequencies or clock speed, which measures the number of cycles per second executed. Multiple instructions are carried out per clock cycle. The base frequencies of the processors in this article are between 2.9GHz to 3.9GHz, with higher base frequencies often indicating a faster processing speed.
For a more in-depth understanding of CPUs, check out our article on What is a CPU, and how to Choose the Best One?
GPU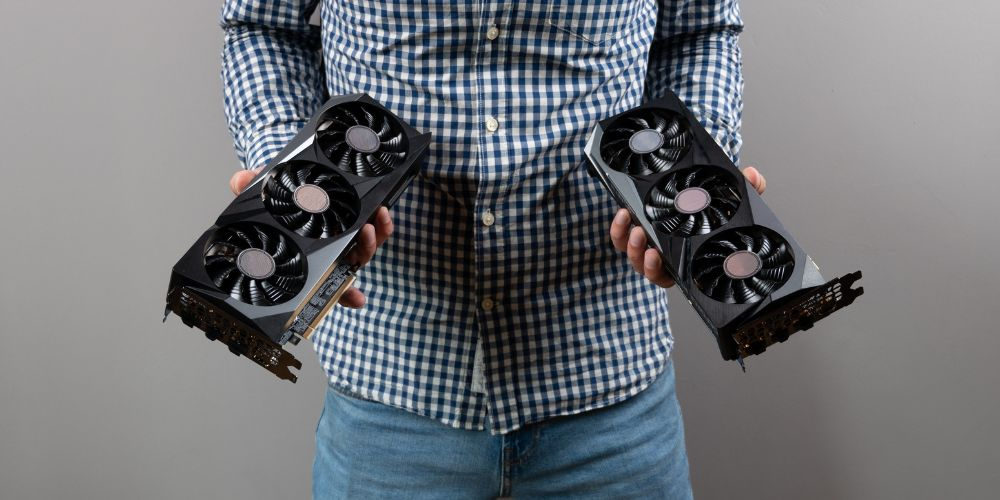 The GPU (Graphics Processing Unit) is responsible for graphics and video rendering. They often work hand-in-hand with the processor of your gaming computer to give you clear graphics and fast frame rates.
There is always confusion when people use the terms GPU, graphics card, and video card interchangeably. However, they are completely different!
A graphics card consists of several components like the PCB, VRAM, heat sink, cooling fans as well as the main component, which is the GPU that does the actual workload for graphics rendering.
A video card, however, is meant to handle encoding, decoding, capturing and outputting of video.
GPUs are manufactured mainly by NVIDIA or AMD, with GeForce under the NVIDIA brand and Radeon under AMD.
The minimum GPU recommended for the lowest-end gaming computer in this article is the Radeon RX5500 has 4GB memory and is equivalent to the NVIDIA GeForce GTX 1650 Super in performance.
RAM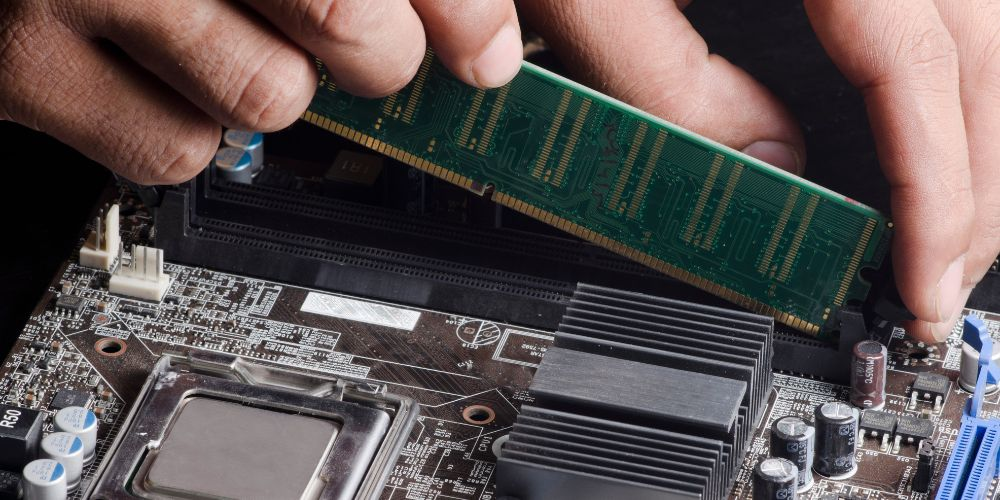 The RAM (Random Access Memory) is a crucial component of a gaming PC. A higher RAM allows for more programs to run simultaneously.
RAM acts as a form of temporary data storage for your processor to access immediately. This often happens when a program has already been loaded up from the SSD or hard disk and is currently running. The RAM has a much higher bandwidth than an SSD and takes a short path to the processor's cores.
Every prebuilt gaming PC these days needs at least 8GB of RAM to have smooth gaming performance. Often many gamers would even argue that 8GB of DDR4 RAM is not enough and would suggest upgrading to dual-channel 16GB DDR4 RAM, and doing this would often increase the average frame rates per second (FPS).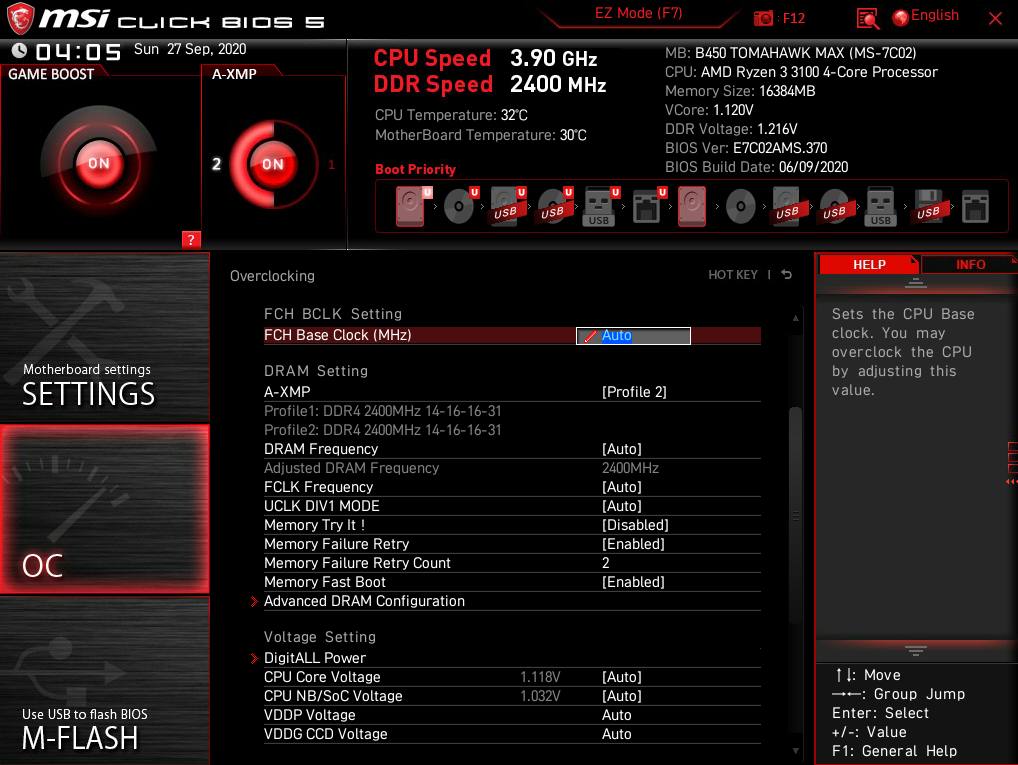 Most RAMs would advertise being able to run at speeds of 3200MHz or 3600MHz, but you'll often notice that it's only running at 2133MHz or 2666MHz in the task manager. You must manually go into your gaming PC BIOS to enable XMP for the RAM or manually adjust the DRAM frequency.
Storage Space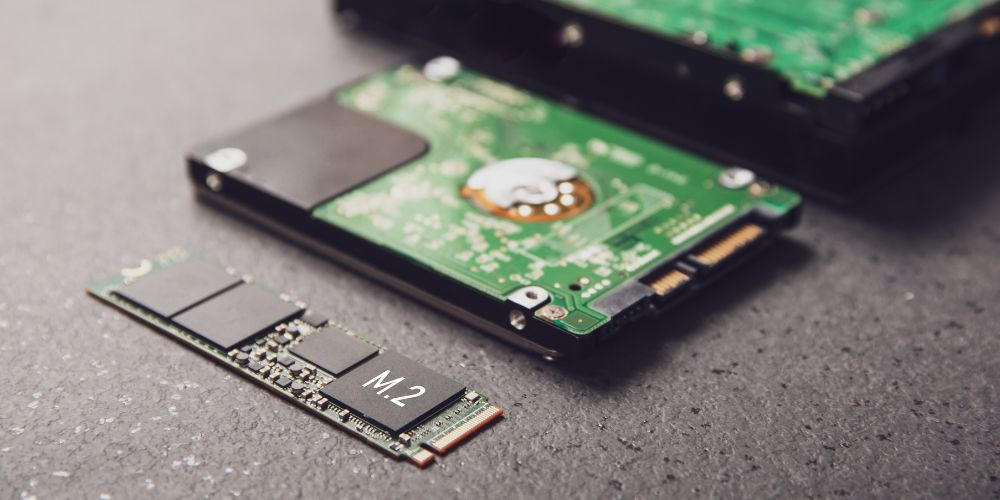 As mentioned above, if you intend to play lots of graphics-intensive games, then a 256GB SSD would be insufficient.
You would want an M.2 500GB NVMe SSD compared to a regular M.2 500GB SSD with a SATA interface due to the former's higher bandwidth.
Also, you can make do with a hard disk drive (HDD) for files you don't often access, like photographs and videos.
Design and Aesthetics
While aesthetics are technically the least important component, since they do not contribute to gaming performance, I'm sure you would still want your prebuilt gaming PC to look badass.
I mean, you've already spent close to a thousand bucks on your gaming computer, and you'll be looking at it nearly every day. You might as well choose a good-looking one, right?
Older PC cases have simple and practical designs; they are often fully opaque and do not show internal components and electronics, which are often not too pleasing to the eyes anyway.
The design and aesthetics of gaming PCs have come a long way, with PC cases having tempered glass panels to view the internal construction, beautifully constructed motherboards, graphics cards, and cooling fans, all of which can have dazzling RGB lighting. Even the RAM sticks can have RGB lighting!
Ports and Connectivity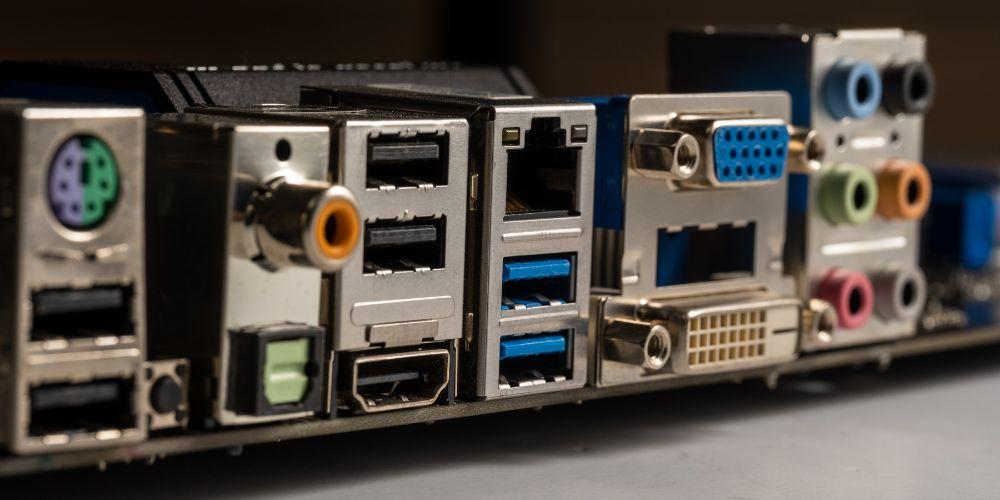 Don't estimate the importance of having sufficient ports for your gaming desktop PC. Have you ever used a gaming PC and suddenly wished you had just one extra USB-A port to plug in your external hard disk? You've already plugged in your USB receivers for your wireless keyboard, mouse, and speakers and used up all your ports.
Or perhaps you want to record some music and decide to connect your audio interface to your gaming PC, only to find out it does not have a USB-C port.
It's a good thing most gaming PCs these days come with sufficient ports, usually 2 USB-A ports on the front panel, a headphone and mic combo jack, and more ports at the back, including HDMI ports, DisplayPorts, and an ethernet port.
Future upgradability
If you decide to buy a prebuilt gaming PC with the intention to upgrade it in the future, you would want a gaming desktop with the necessary components that allow for this.
If you purchase a prebuilt gaming PC from PC manufacturers such as HP, Dell, or Acer, they will likely use propriety parts for the motherboard, PC case, power supply, etc. You will not be able to use the motherboard on a different PC case, and the motherboard might have limited PCIe lanes, DIMM slots, M.2 connectors, 4-pin power connectors instead of 8 pins which means you can't use better processors, etc.
Even if the gaming computer uses non-propriety parts, there has to be sufficient space in the gaming computer tower for a larger graphics card or a tower cooling fan.
You would want the prebuilt gaming PC to have a power supply that is 600W or more so that you can upgrade your components by at least one grade. For example, upgrading the GPU from an NVIDIA RTX 3050 to RTX 3060, or upgrading the processor from an AMD Ryzen 3 to an AMD Ryzen 5.
Also, the power supply should ideally have the 80 Plus Gold certified rating for better energy efficiency.
Warranty
There are horror stories of gaming PCs having problems, crashing, blue screens, system overheating, etc., just a couple of months after receiving it. This is why you must ensure your prebuilt gaming PC has at least a one-year warranty.
Frequently Asked Questions (FAQs)
We're certain you have many questions regarding gaming PCs. While we cannot answer every question, we have addressed some of the more common and frequently asked questions.