HyperX QuadCast S Review: The Ultimate Mic for Gamers
Introduction
Have you ever bought one of those gadgets like a mouse, keyboard, CPU cooler fan, or headset that try to appeal to gamers and streamers by throwing in a bunch of RGB lights, but when you eventually get down to using it, you become sorely disappointed at its performance? That is not the case for the HyperX Quadcast S USB microphone.
In a world where having RGB on a product is like having garnish as a sorry excuse for terrible-tasting food, the HyperX Quadcast S is a shining light (literally) for all other RGB products to emulate.
In this HyperX Quadcast S review, we'll take a look at whether this mic has the substance to back up its looks. Will it sound impeccable with awesome mic features, or will it just be a glamorous croaking diva? Read on to find out!
At a Glance
The HyperX Quadcast S is an RGB microphone, a Really-Good-Buy microphone (okay sorry, that was lame, I was compelled to do it). It was designed for content creators and streamers. It offers a range of built-in features, making it a versatile and reliable option for anyone looking to create high-quality content.
The microphone boasts four pickup patterns, onboard gain control, headphone monitoring, a built-in shock mount, a built-in pop filter, a mute sensor, and even programmable RGB lighting, but most importantly, it sounds crisp and clear, making it an ideal choice for streamers wanting to stand out in the crowd (or rather, on-screen).
---
---
Design and Build Quality
Modern and colorful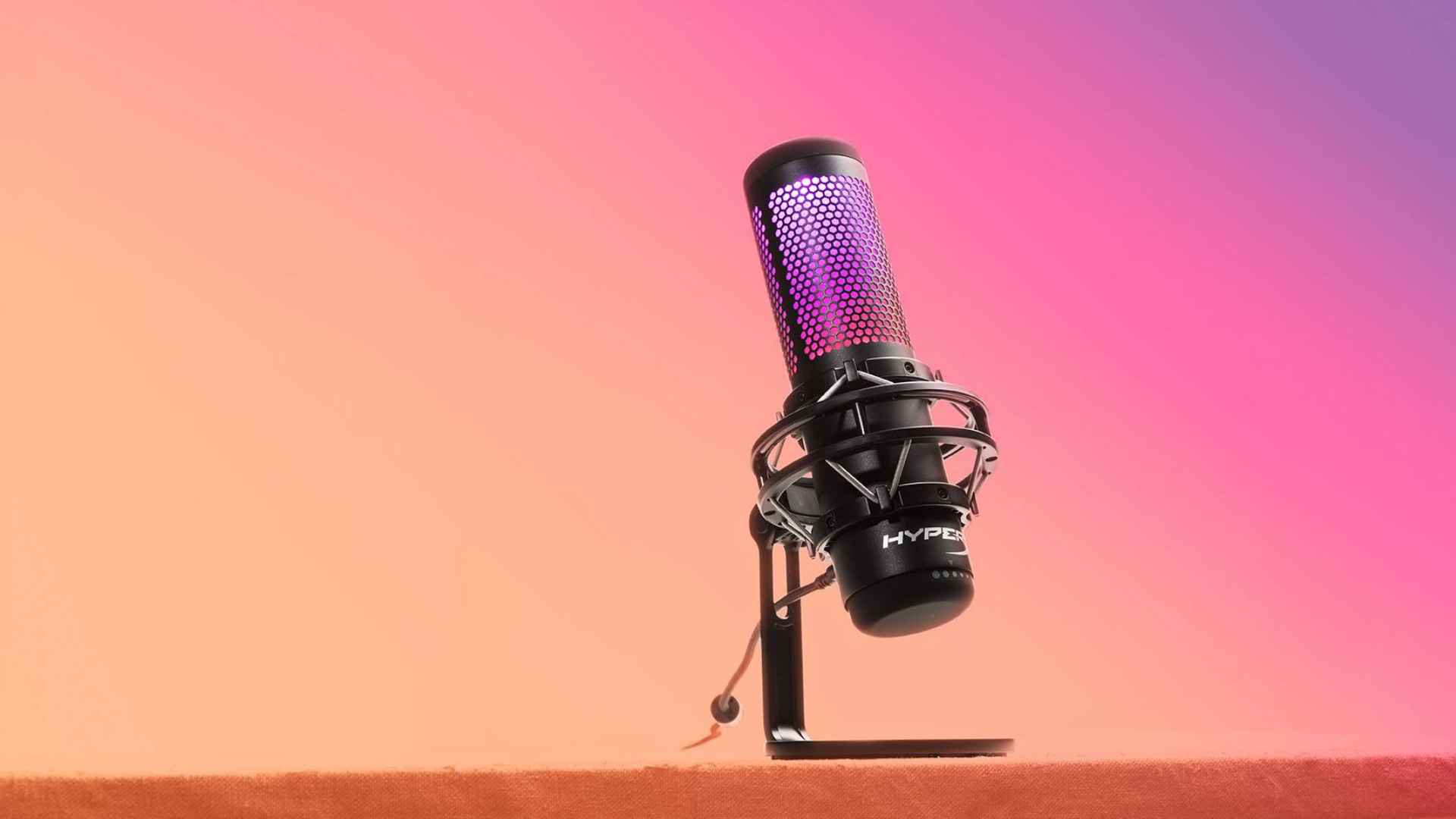 If you're looking to get attention in the streaming and gaming world, the HyperX Quadcast S USB microphone deserves yours, as it has one of the most stylish and eye-catching designs.
The HyperX QuadCast S looks sleek and modern with its all-black metallic cylindrical body. I absolutely love how the upper half of the microphone has this unique honeycomb pattern with multicolored customizable RGB lighting that can be modified using the Ngenuity software, allowing you to create a unique look that matches your gaming setup or personal aesthetic.
It has a simple-looking but stable weighted desktop stand. The microphone's angle can be tilted and held in place on the stand using the thumb screws, and there is also a nifty cut-out on the stand's upright to allow the USB cable to run through for better cable management which I thought is pretty clever.
Solid and sturdy
Standing at 9.84in (25cm) on its desktop stand, the HyperX Quadcast S is a tall microphone, just a tad shorter than the Blue Yeti, measuring 11.6 in (30cm). This means the microphone will take up a decent amount of on-screen space.
Despite a large rigid metal assembly that feels solid and well-built, the microphone is still pretty lightweight at 0.56 lbs (254g) without its stand. Hence, any boom arm should be able to hold it in place, but it might not have enough weight to hold down a high-quality one like a Rode PSA1. HyperX also includes a 3/8 and 5/8-inch thread adapter for this purpose.
Included accessories
The HyperX Quadcast S microphone is suspended inside a double-ring built-in shock mount screwed into the mic's body. Firmly tensioned grey cords go around the shock mount rings to help reduce bumps and knocks to the mic. The only downside is that the anti-vibration shock mount is made of plastic and feels cheap, but it works nonetheless.
Also, behind the honeycomb-pattern frame that I mentioned has a grey foam mesh that acts as an internal pop filter which is not the best at rejecting plosive.
In any case, I appreciate that HyperX included a built-in pop filter and a built-in shock mount into the microphone, unlike some other microphones (Ahem, Elgato) that would charge a staggering $70 for these accessories.
Sound Quality
Clear audio with a warm tone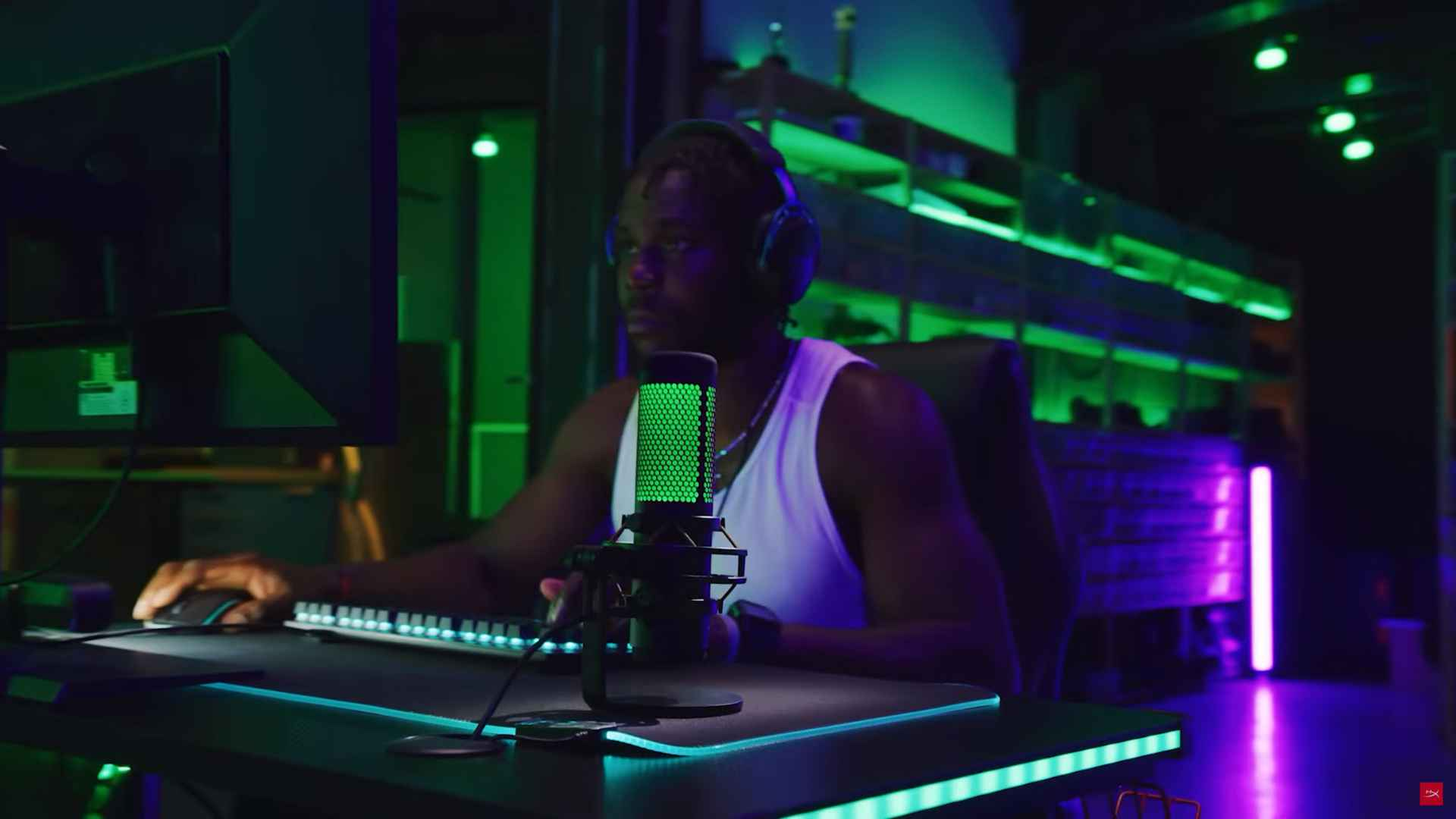 The HyperX Quadcast S USB microphone has a flat frequency response with slightly scooped low mids and pronounced high-end frequencies. When you are in close proximity to the HyperX QuadCast S, you'll notice that you'll not only have crystal-clear audio and crisp speech, but also, warm and full audio that will make your voice sound like butter. It's almost as if the mic has already done some EQ to make your voice sound polished and professional.
The bright and crisp audio of the HyperX Quadcast S is not just great for spoken word, but for singing vocals, as well as strummed instruments like acoustic guitar. Against the Blue Yeti, I find the HyperX Quadcast S to be less sibilant and harsh. But if you are serious about singing, you should consider getting a professional vocal microphone.
Like the Blue Yeti, it features the same three 14mm condensers that allow it to have a selection of up to four polar patterns. With a frequency range of 20Hz to 20kHz and a pretty good sensitivity of -36dBV/Pa, the HyperX Quadcast S has enough gain to pick up the slightest sounds and a noise floor so low that it's almost imperceptible, features required for a great ASMR microphone.
That said, even though the Blue Yeti has obnoxiously more gain than the HyperX Quadcast S, you will still need to be careful to prevent picking up unwanted background noise, such as the low rumbling of your A/C unit, the whistle of your kettle, or even people talking outside your room.
While the HyperX Quadcast S USB mic does not have the best sample rate and bit depth at 48kHz and 16-bit, our ears cannot tell the improvement in audio quality beyond this range, making this more than good enough for a streaming and gaming microphone.
But if you really insist on having the best technical specs, you can check out the Elgato Wave:3 microphone review, which has a whopping 96kHz sample rate and 24-bit bit depth.
Microphone Controls
Multiple Polar Pattern Selection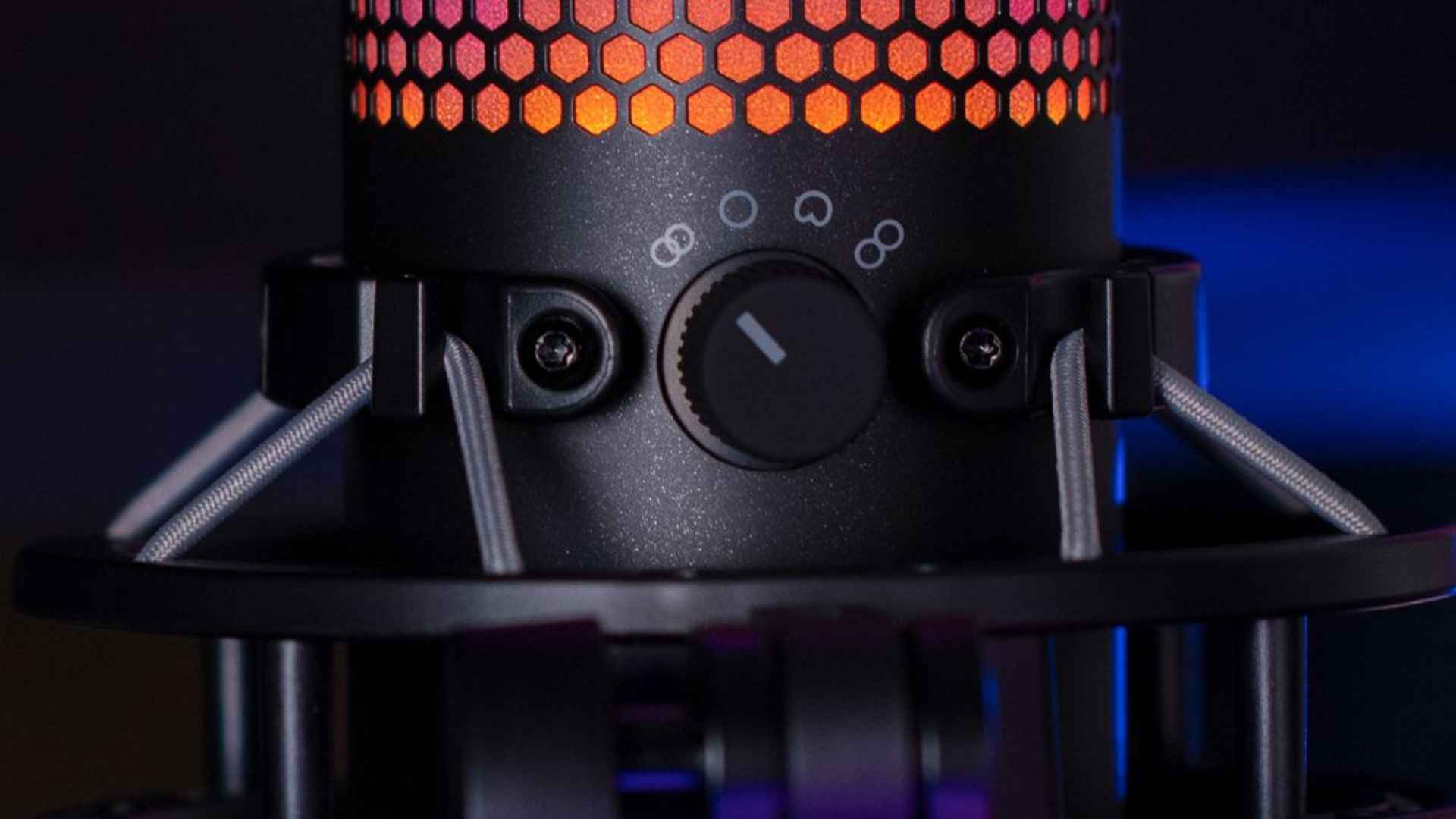 Other than the mesmerizing RGB backlighting, the other standout feature of the HyperX Quadcast S USB mic is its four-polar patterns switch at the microphone's rear. Interestingly, this feature is also available in the Blue Yeti, something that most USB microphones don't have.
It's almost as if HyperX bought a whole stock of Blue Yetis, took out their tri-array capsule, slotted them into the Quadcast microphone tubes, and added customizable RGB lighting. You can read our review of the Blue Yeti to find how uncannily similar they are.
Anyway, back to the review. Here are the four types of pickup patterns:
Cardioid polar pattern: Picks up sound from the front while rejecting from all other sides. It will be the most utilized polar pattern, which is great for podcasting, streaming, video calls, singing, and music recording of a single instrument.
Bidirectional polar pattern: Picks up sound from the front and rear of the mic while rejecting sounds from the side. It is mostly used for interviews, especially when two people are speaking with each other.
Omnidirectional polar pattern: Picks up sound from all sides and is meant for group conversations. However, even in such a case, I would rather use multiple microphones if I can afford it, as multiple audio sources to one audio recording device will muddy the sound.
Stereo mode: Creates a three-dimensional soundstage where you can perceive the direction and distance of the sound source. It is an interesting pickup pattern that is great for adding spatial perception to a music recording, like a small band.
Capacitive mute button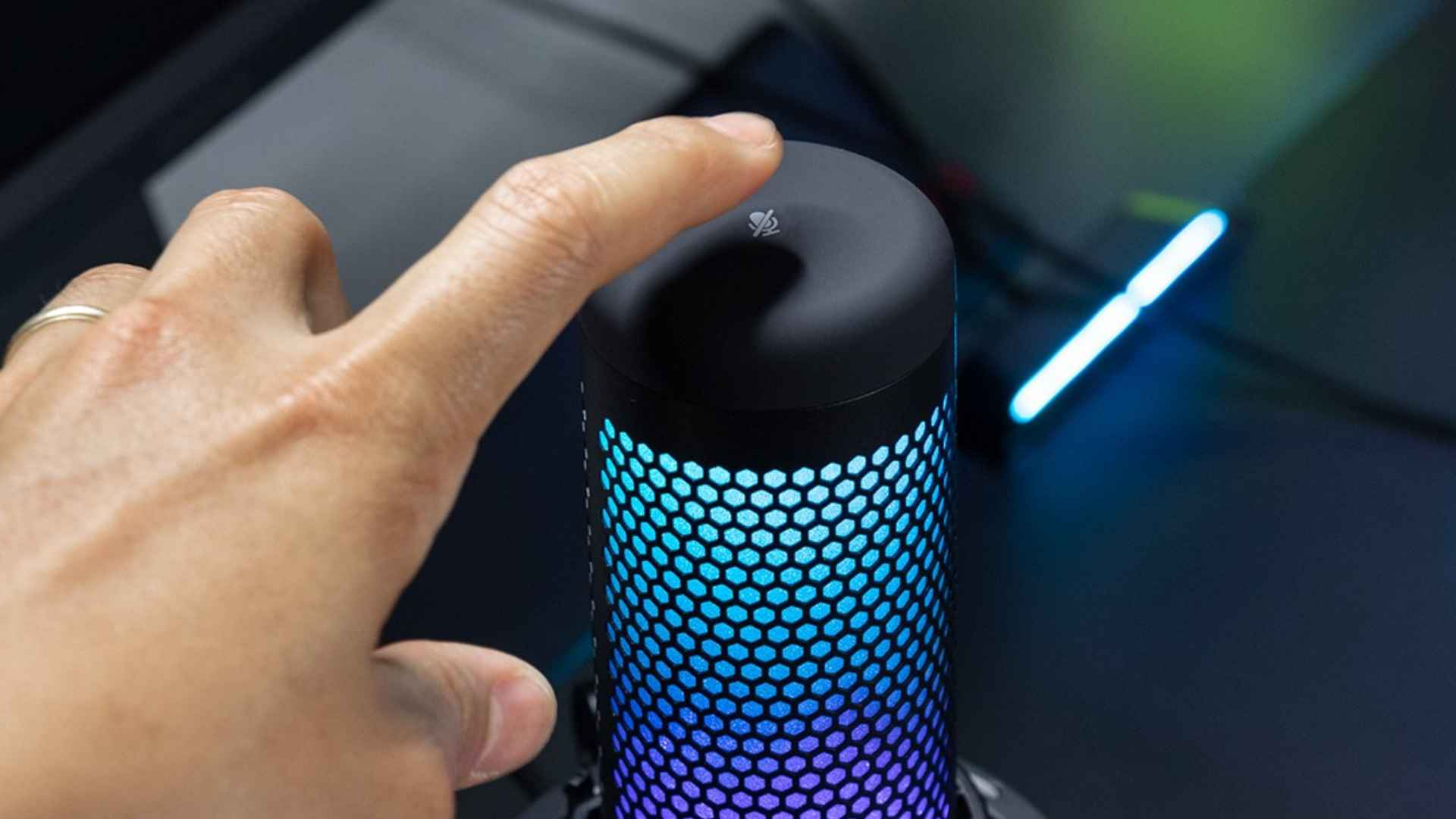 Another really useful feature is the touch-sensitive mute button that toggles the Quadcast S microphone input on and off. It's so sensitive that it can be activated even without physically touching it, making it effortless to turn the mic on and off.
As mentioned, the RGB lighting turns off when the mic is muted, giving the clearest indication that the microphone is muted.
Just a slight quirk, the mute button cuts off the audio in a knee-jerking sudden manner, much unlike the Elgato Wave:3, which has a subtle fade to silence whenever it is muted, making it more comfortable to listen to.
Gain knob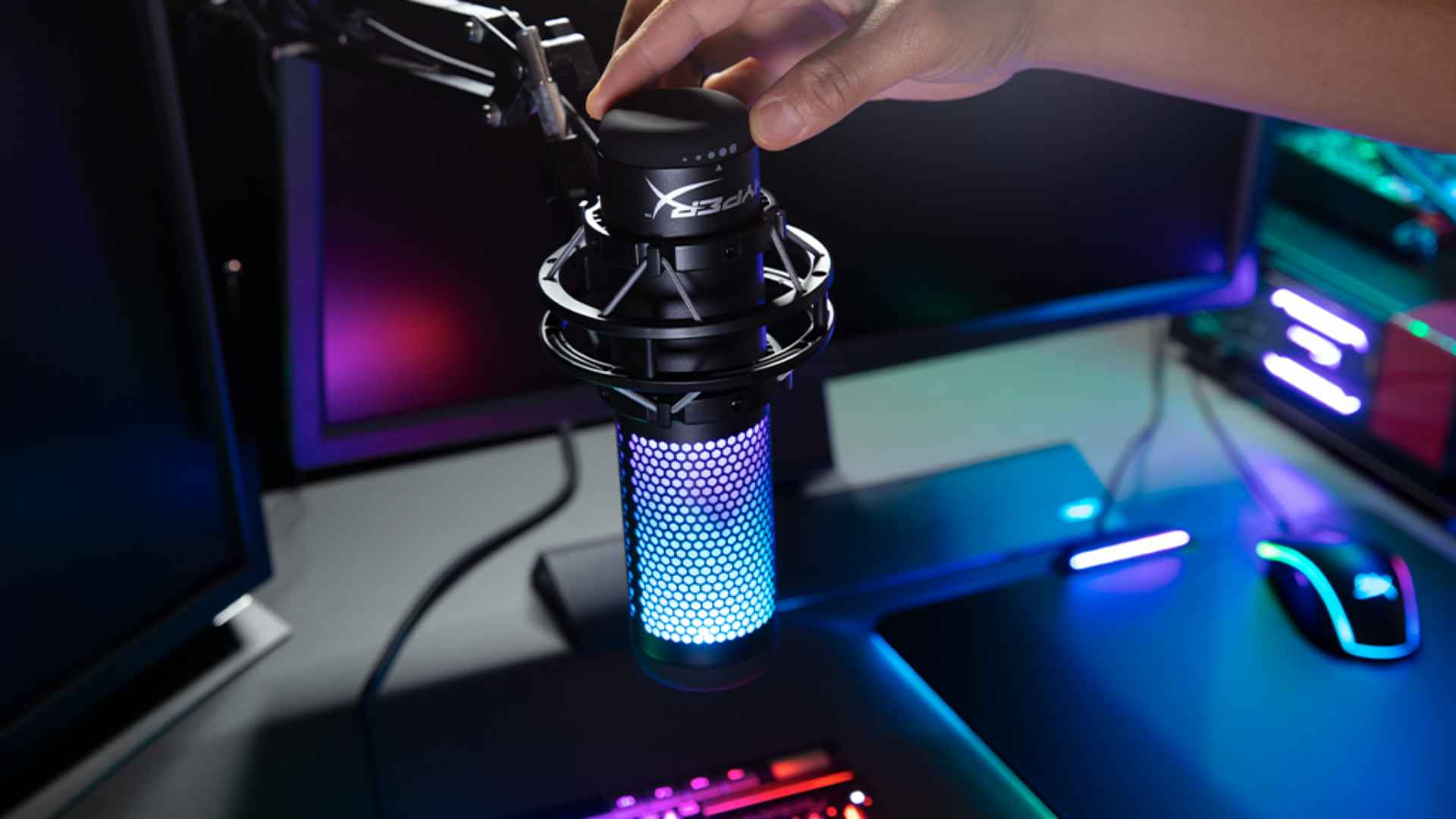 The HyperX QuadCast S USB mic has a convenient gain dial at the bottom of the mic, allowing you to adjust the microphone's sensitivity easily. This large gain knob turns smoothly with little resistance but has two issues.
Firstly, the gain dial can travel further than its indicating dots, making it difficult to determine where the dial was set, as half of its travel has no indicators, especially at the softest and loudest settings.
Secondly, the dial turns easily when you're moving the Quadcast S microphone around, which can shift your ideal setting off, which can be quite a pain. So if I were you, I'd keep a good one foot away from this microphone.
Connectivity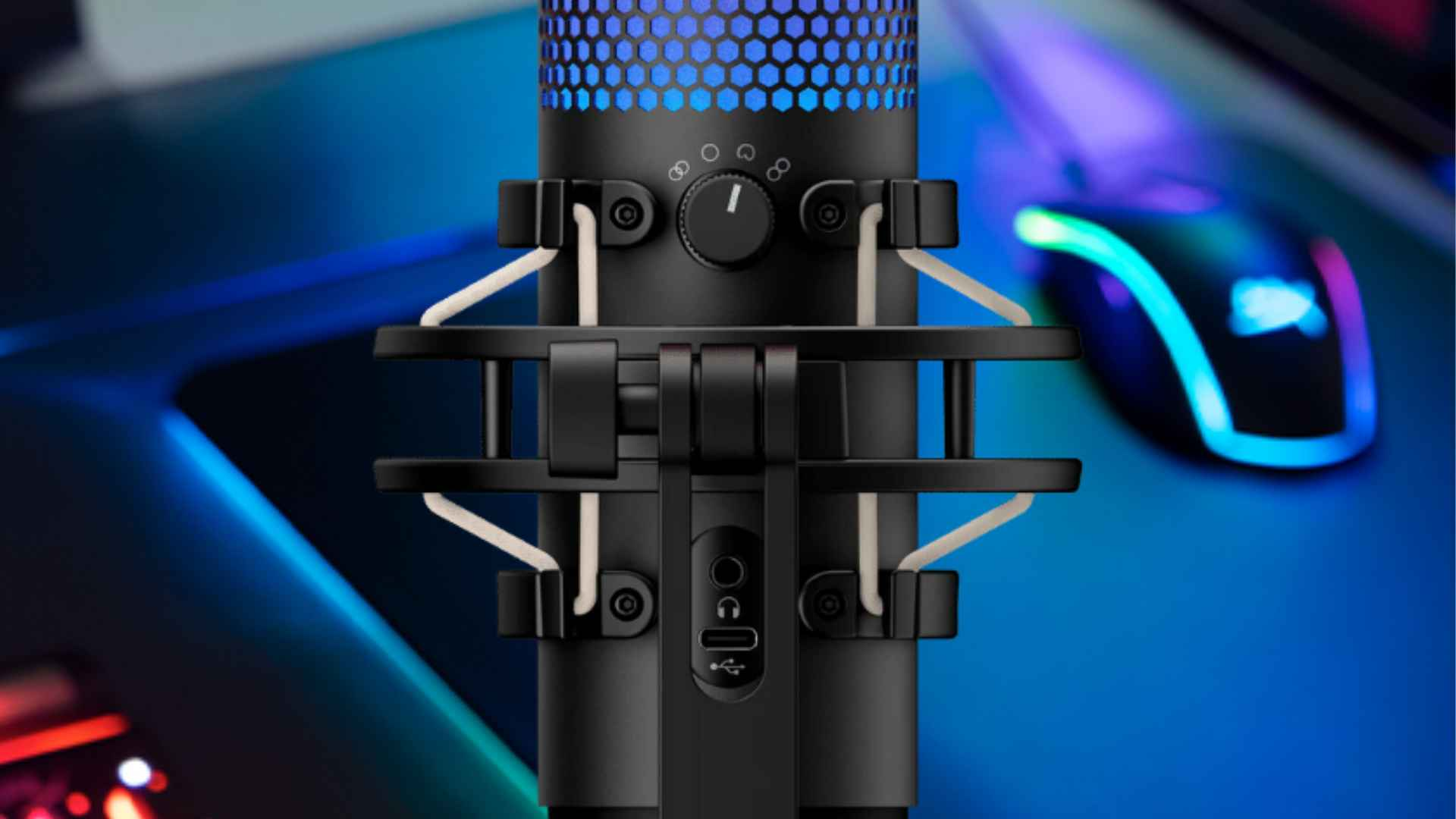 When the HyperX Quadcast USB microphone was upgraded to the HyperX Quadcast S, they did a superb thing by changing the mini-USB port to a USB-C port to keep up with modern devices, something that Logitech should definitely take note of for the Blue Yeti.
Being a USB microphone, the Quadcast S does not require an audio interface, unlike XLR microphones. The only minor problem with this is that HyperX only provides a USB-C to USB-A cable, but you can easily find USB-C to USB-C cables in any electronics shop.
There is also a 3.5mm headphone jack for zero-latency monitoring, but unfortunately, no physical dial to control the monitoring volume, which can only be done in NGENUITY.
NGENUITY Software
Pure aesthetics with no audio processing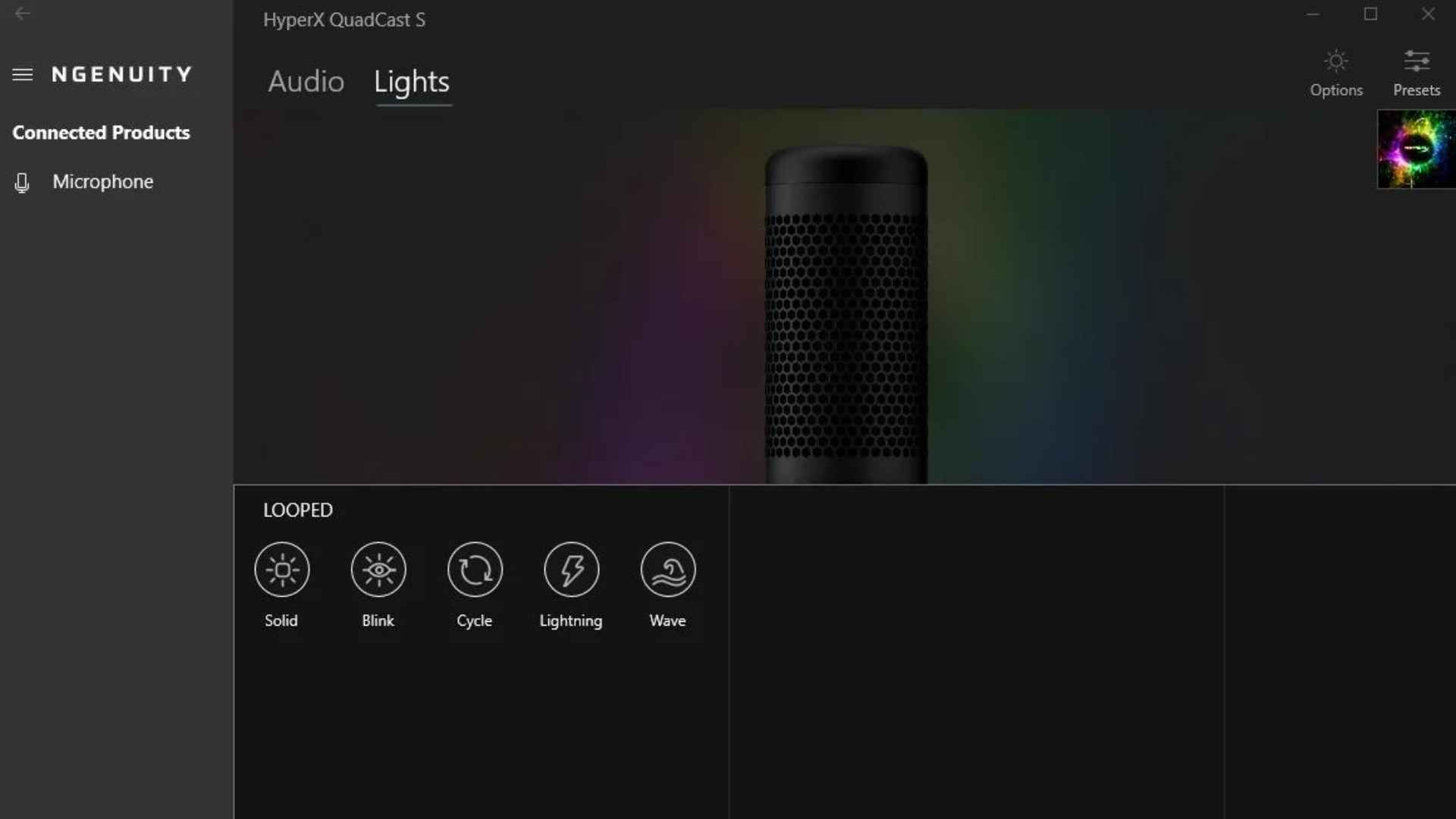 Ngenuity is HyperX's software to program the mic's customizable RGB lighting. It's a playground of creativity where you can layer lighting effects, adjusting their opacity and various other effects to create a mesmerizing symphony of illumination. The abundant customization options allow you to craft your own lighting masterpiece.
The default setting is a mesmerizing encircling rainbow wave that flows downwards, creating a stunning gradient effect. However, Ngenuity lets you take the reins and set different color effects—solid light, blinking light, cycling colors, or even lightning-like flashes. You can choose your favorite colors to match your brand identity and even dim or turn off the lights altogether. Just remember to save your preferences directly to the Quadcast S microphone so you do not lose that setting.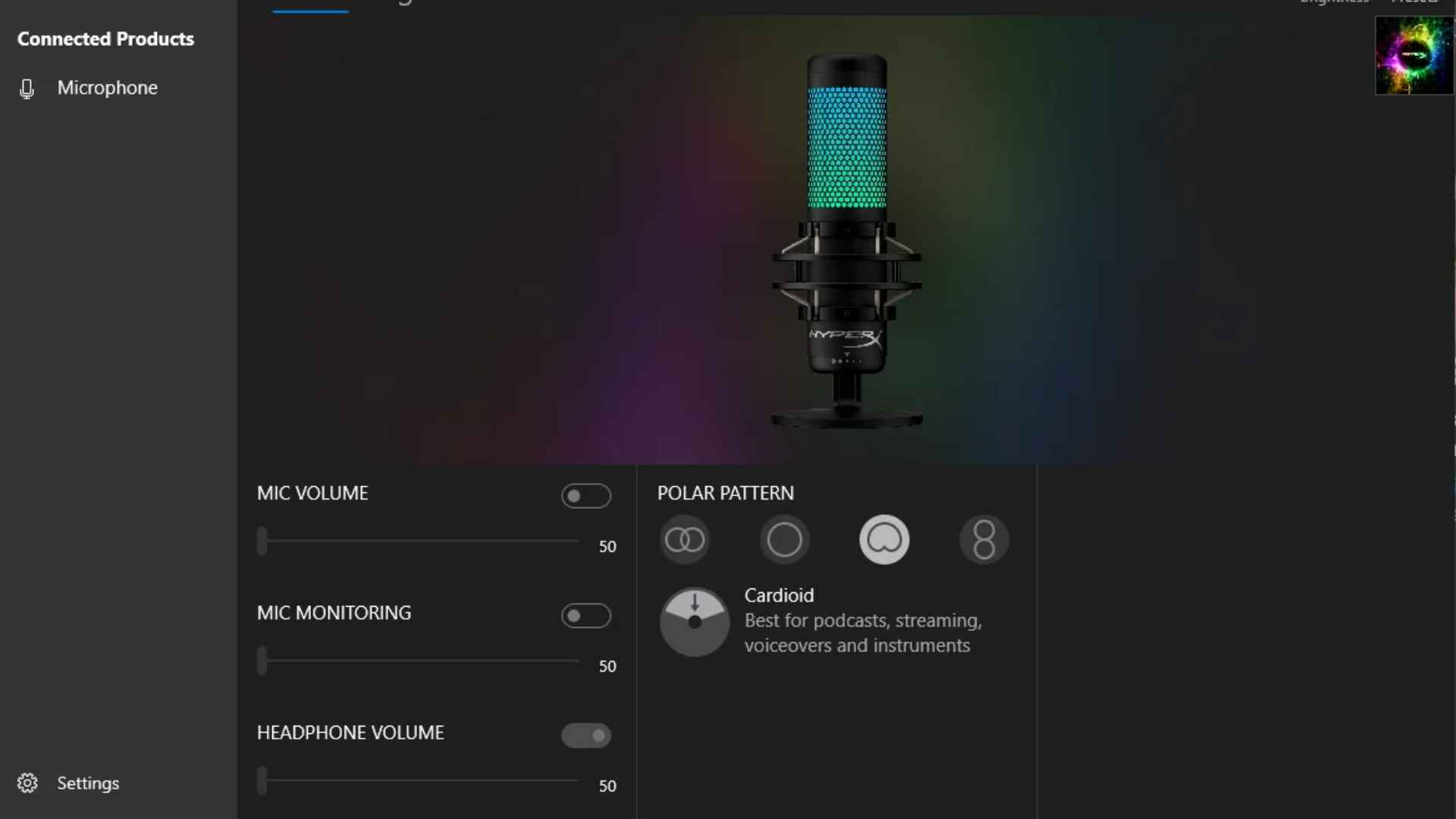 Ngenuity's role is primarily dedicated to customizing the RGB lighting of the HyperX Quadcast S, while the physical mic controls handle most of the essential functions. You can do a couple of basic things, though, like fine-tuning the mic volume, mic monitoring, headphone volume, muting the mic, and checking the status of the selected pickup pattern.
However, when it comes to audio effects, Ngenuity takes a backseat. It does not come with any voice filters or audio processing capabilities like EQ, compression, noise gate, limiter, high-pass filter, etc., which is pretty disappointing considering how other USB microphones like the Shure MV7, Elgato Wave:3, and the Blue Yeti have their own dedicated audio processing and effects apps.
You can download Ngenuity here.
Verdict
In this HyperX QuadCast S review, we can see how it has proven to be more than just a pretty face amongst other USB microphones. Its sleek design, solid build quality, impressive sound performance, and practical mic controls make it a standout option for content creators and streamers alike.
Not only does the HyperX QuadCast S look fantastic with its eye-catching customizable RGB lighting, but it also delivers on the audio front. Its flat frequency response, warm and full audio, and crystal-clear clarity make your voice sound like butter.
It does not matter what kind of content you create, be it podcasting, streaming, gaming, recording vocals, making video calls, or playing instruments; this microphone won't disappoint. Say goodbye to disappointing RGB gimmicks and hello to a microphone that truly shines (both literally and figuratively) in the world of content creation.
Production Information
Specifications
Polar Pattern: Cardioid, bidirectional, omnidirectional, and stereo
Transducer Type: 3 x 0.55 in (14 mm) electret condenser capsules
Power Requirements: 5V 245mA (white light)
Frequency Response: 20 Hz to 20,000 Hz
Sensitivity: -36dBV/Pa (15.8 mV/Pa) @1kHz
Max SPL: Info not available
Output Connection: USB-C
Headphone Output: 3.5mm headphone jack
Weight: 0.55 lbs (0.25kg)
Accessories: USB cable, mic stand
---
Features
RGB lighting with dynamic effects customizable through HyperX's NGENUITY Software
Built-in pop filter
Built-in shock mount
Multi-polar pattern selection – cardioid, bidirectional, omnidirectional mode, and stereo mode
Gain control adjustment at the bottom of the mic
Headphone monitoring
Tap-to-mute sensor with LED indicator
---