Focusrite Scarlett 2i2 Review: Can it Live Up to its Hype?
Introduction
If you're in the market for a USB audio interface that delivers studio-quality recording quality, you've probably come across the Focusrite Scarlett 2i2.
The Focusrite Scarlett audio interface, a game-changer in the world of home recording, has been one of the undisputed music industry champions for over a decade.
The Scarlett 2i2 is a compact, versatile, and powerful tool that can transform your room into a home recording setup. Let's dive into our Focusrite Scarlett 2i2 review and see what all the hype is about.
At a Glance
The Focusrite Scarlett 2i2 3rd Gen is a compact, yet powerful audio interface that effortlessly delivers professional studio-quality recordings from your home studio. It has a robust build, looks stunning with your recording studio setup, and has intuitive controls.
Equipped with two enhanced low-noise preamplifiers and a unique 'Air' mode, the Scarlett 2i2 enhances your vocals and acoustic instruments with an open and bright sound. Moreover, it comes with an impressive software bundle that will add more color and vibrancy to your mixes.
---
---
Brief History
Before we start this Focusrite Scarlett 2i2 review, I thought it would be appropriate to visit its humble beginnings in order to appreciate its popularity.
Scarlett Series 1st Gen
The journey of this iconic red box began in 2011 with the launch of the first-generation Focusrite Scarlett 2i2. This was when the audio interface market was filled with often unreliable and difficult-to-use products. Focusrite aimed to revolutionize this landscape by creating an interface that was accessible to the masses and delivered high-quality audio.
The first-generation Scarlett interfaces were built from scratch by highly-skilled engineers of Focusrite, carefully chosen components to develop the highest quality professional USB audio interface.
The success of the Focusrite Scarlett 2i2 paved the way for the expansion of the series from 2012 to 2014, leading to the introduction of models like the Scarlett 2i4, 18i20, 6i6, Solo, and Solo Studio.
Scarlett Series 2nd Gen
In 2016, Focusrite released the second generation of Scarlett USB interfaces, offering better sound quality with the ability to record up to 192 kHz sampling rate. The Scarlett USB interfaces were ahead of their time, as many audio interfaces at that time could only record at 48 kHz.
The second generation also included Pro Tools First and the Focusrite Creative Pack, providing a range of professional plug-ins for mixing and editing tracks.
Scarlett Series 3rd Gen
The current generation, the third generation introduced in 2019, brought about many design improvements, including a USB-C port for more universal compatibility, tactile buttons instead of switches, and the much-acclaimed 'AIR' mode, which replicates the unique sound of the classic ISA preamp.
---
Design and Build Quality
We'll start the Focusrite Scarlett 2i2 review 3rd with its build quality, which is impressive with its all-metal chassis. It is robust and designed to endure the rigors of regular use and transport.
Its sturdy metal case and rubberized base ensure it stays on your desktop, and its compact size makes it perfect for mobile recording. The compact Focusrite Scarlett 2i2 audio interface measures 3.89 x 6.89 x 1.87 inches, and is surprisingly lightweight, which is convenient for portability and will not take up much space on your desktop.
The front panel of the Scarlett 2i2 is well laid out, with gain knobs surrounded by 'Gain Halos' – a feature unique to the Scarlett series audio interfaces. These Gain Halos light up green, orange, or red to indicate good, okay, or clipping levels, respectively.
The 'Gain Halos' design is not only functional but also aesthetically pleasing, together with its gleaming metallic casing, adorned in Focusrite's iconic vibrant red and complemented by black front and back panels, infuses elegance into any gaming or podcasting arrangement.
Even though the front and back panels are made of plastic, they do not feel cheap. The control dials are firm and do not wobble, allowing precise adjustments. The buttons switch with a satisfying and noticeable click, giving you a tactile feedback that your inputs have been registered.
The build quality of the Focusrite Scarlett 2i2 extends to its user-friendly design. The switches and controls are neatly laid out on the front of the Scarlett 2i2, all visible and well-labeled. This intuitive design allows you to get up and running quickly, reducing the time you spend fiddling with settings and increasing the time you spend creating.
The Focusrite Scarlett 2i2 also features a Kensington security lock input on the backside of the interface. This feature is useful if you intend to put the Focusrite Scarlett 2i2 in a shared space without fear of it being stolen, or for those who simply prefer to maintain their Focusrite Scarlett 2i2 in a fixed location.
---
Input / Output Connections and Connectivity
The Focusrite Scarlett 2i2's connectivity is characterized by its simplicity and efficiency. The computer connectivity is via a single USB C connection port (USB 2.0) used by most modern devices. This ensures a quick and stable connection to your Mac or PC. The USB cable provided in the box is a type C to A.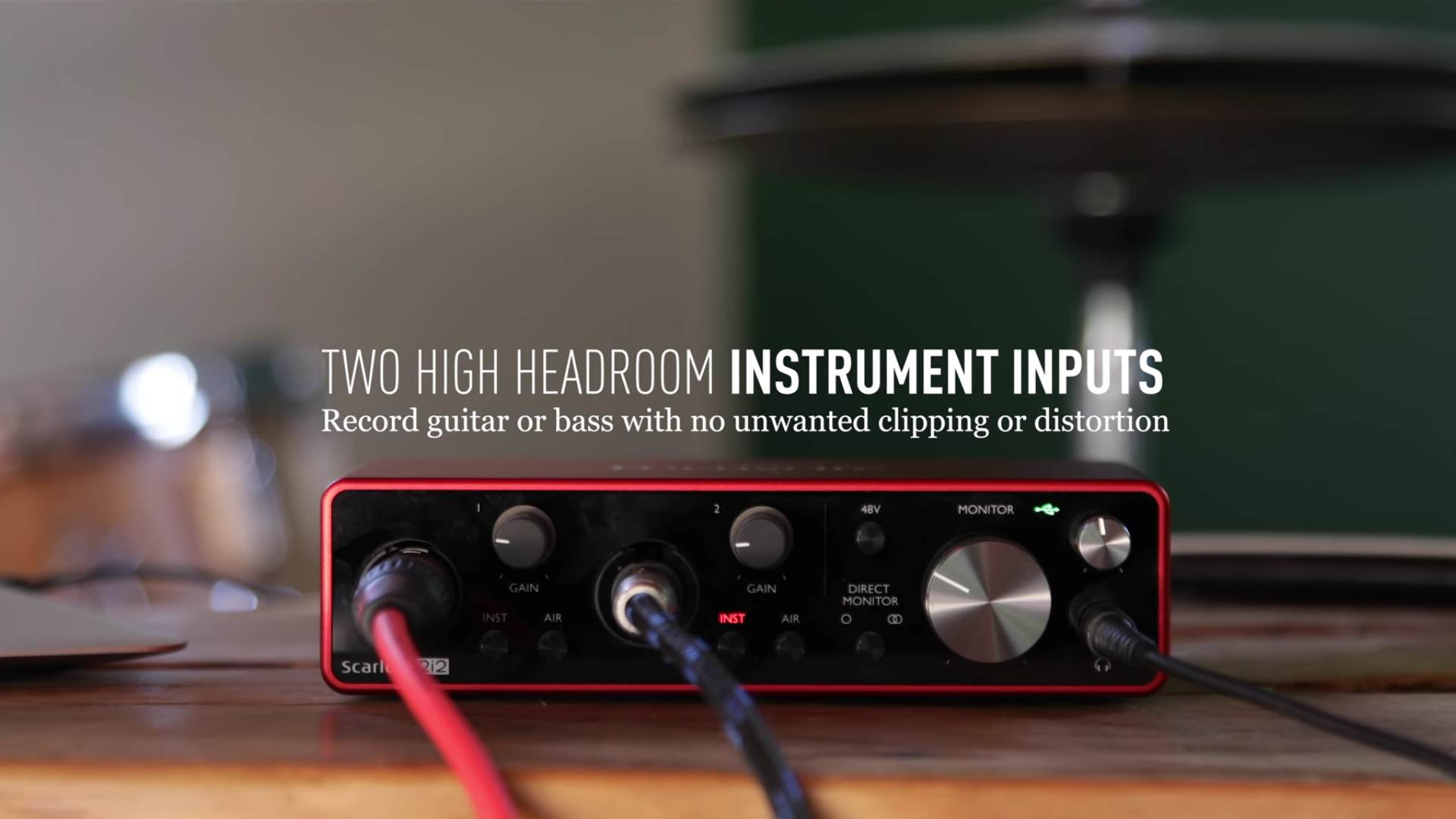 The Focusrite Scarlett 2i2 USB audio interface offers two identical input channels, perfect for hooking up instruments such as guitars or digital pianos to the 2 x 2. The combo XLR microphone inputs and ¼" port connections are firm and reliable, so you can plug in and play without any fear of loose connections.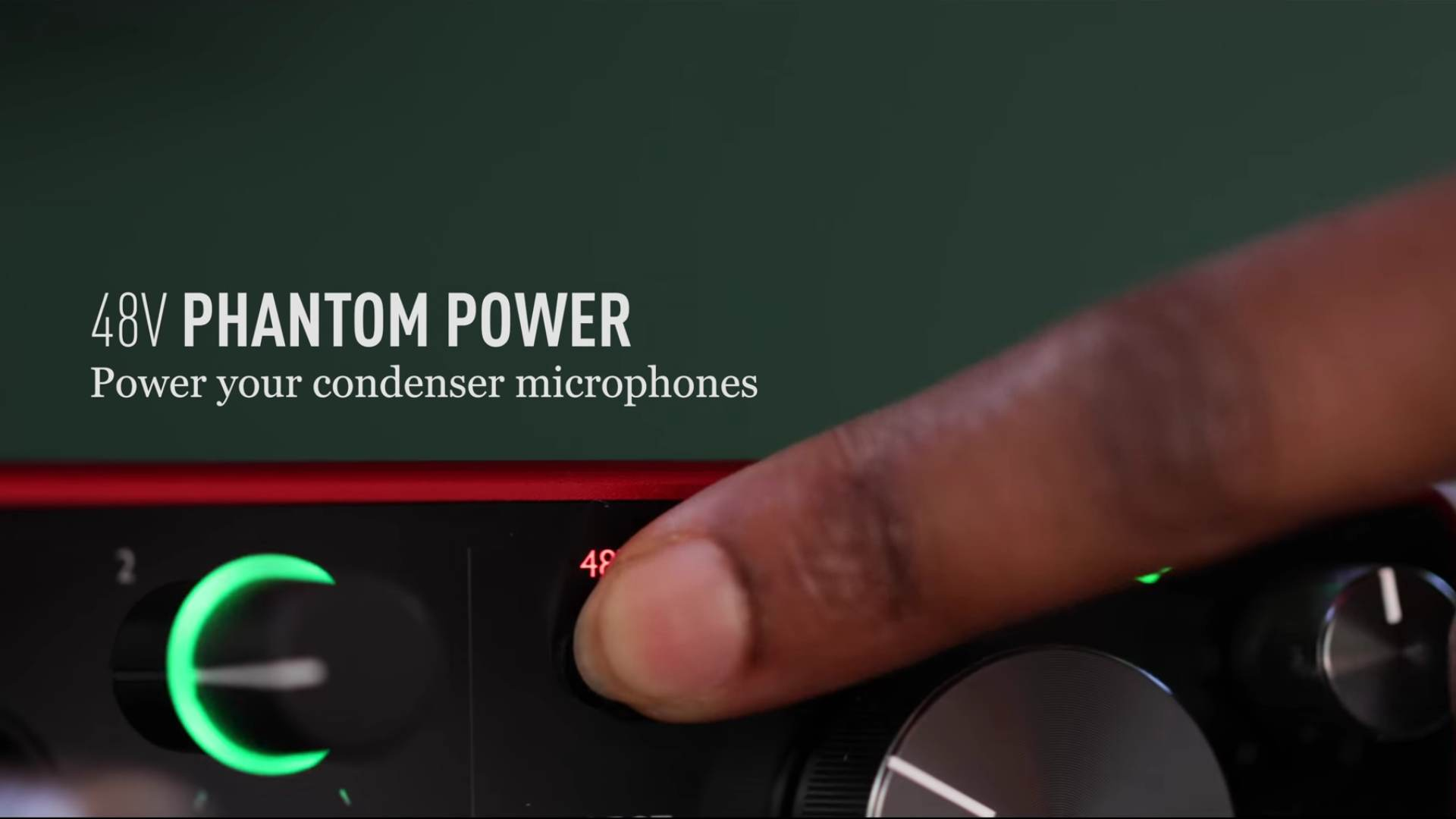 The combo jacks also come with 48V phantom power, which is needed when using a condenser microphone. A condenser microphone is a type of microphone that can capture every nuance of your performance and is particularly desirable for high frequencies sound. If you're looking for amazing condenser mics for capturing your voice, we have some top recommendations in this article.
For those who like to monitor their audio in real-time, there's a ¼" stereo headphone output on the front which can be independently adjusted from the Main Control for the outputs. This is perfect for those late-night recording sessions when you don't want to wake the neighbors.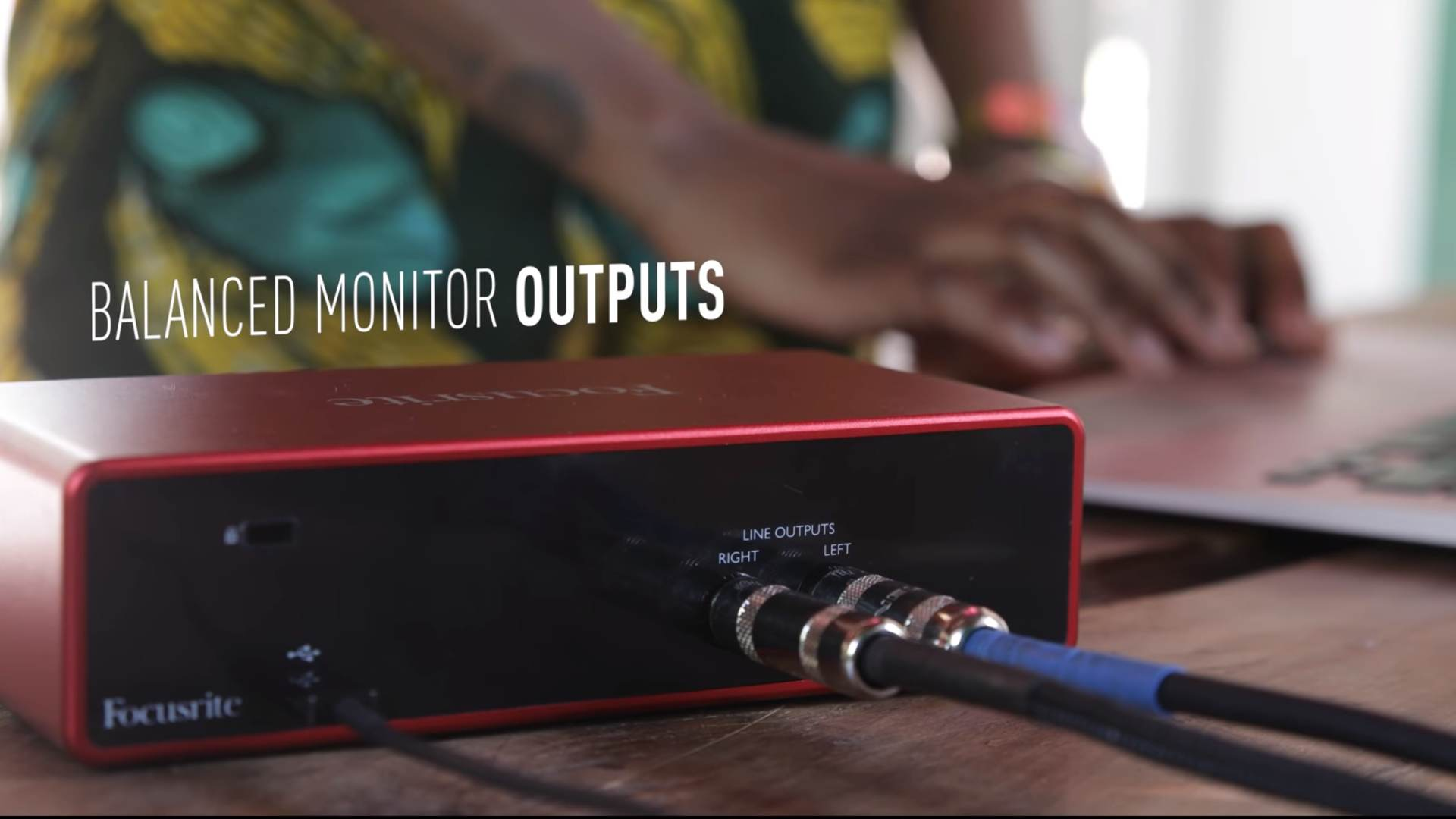 The ¼" balanced monitor output on the back allows you to connect your studio monitors directly to the interface. This ensures you get the most accurate audio representation, whether mixing a new track or mastering your latest album.
We have an article recommending top-notch studio monitors with the most accurate sound if you're keen.
---
Sound Quality
The Focusrite Scarlett 2i2 audio interface is based on the legendary mic preamps, renowned for their high-quality audio.
It uses 24-bit/192 kHz converters, ensuring a high-fidelity sound that is accurate and devoid of unnecessary distortion. The Focusrite Scarlett 2i2 is equipped with two enhanced low-noise preamplifiers that provide ample headroom. The Scarlett 2i2's performance has been lauded across various platforms, with its recording capabilities being particularly commendable.
One of the distinguishing features of the Focusrite Scarlett 2i2 not found in other audio interfaces is its 'AIR' feature. This function emulates the characteristics of Focusrite's original ISA preamplifiers, which are utilized in high-end studios globally.
The sound becomes open and bright when the 'AIR' mode is activated. The higher frequencies sparkle a lot more, making this an amazing feature for doing vocal covers or recording acoustic guitars.
The Gain Halos simplify the process of setting levels. These illuminated rings around the gain controls provide immediate volume-level feedback, ensuring high audio quality.
However, as with any interface, it is necessary to adjust the settings of the Scarlett 2i2 to accommodate your unique voice and recording requirements. Once the optimal settings have been identified, the Focusrite Scarlett 2i2 delivers a great sound quality that is challenging to surpass, particularly within its price range.
Therefore, whether you are recording a podcast, capturing a guitar track, or recording the subtle nuances of a grand piano, the Focusrite Scarlett 2i2 ensures that your sound is captured with the utmost clarity and precision.
---
Audio Interface Controls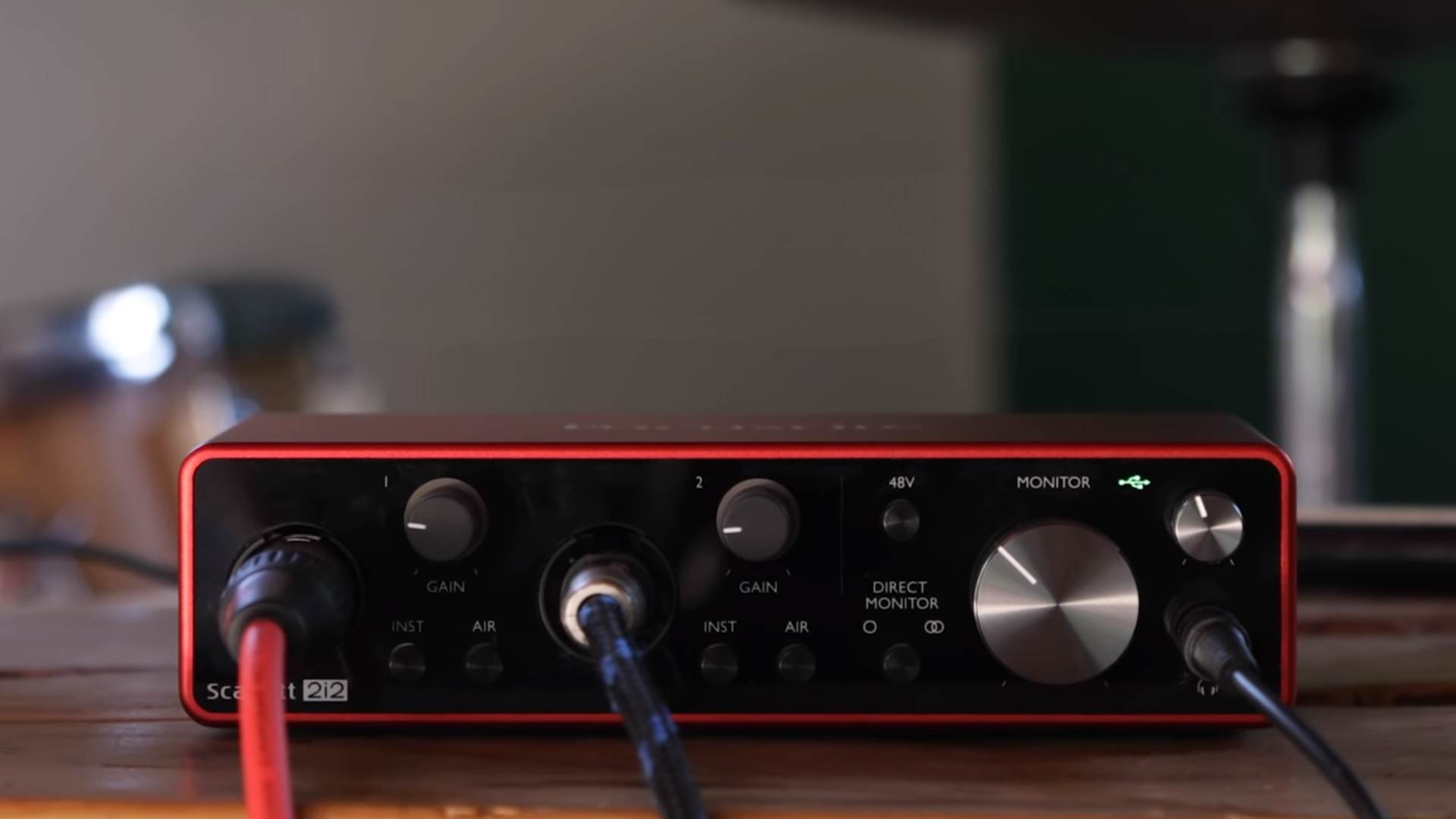 The controls on the FocusRite Scarlett 2i2 3rd Gen audio interface are intuitive and functional. The front panel of the Scarlett 2i2 includes two identical combo XLR inputs-¼" TRS connections for mic, line, Hi-Z inputs.
Each combo input features an 'INST' button that adjusts your preamps to accept high impedance (Hi-Z) instruments, such as an electric guitar, with a TS cable. For devices like keyboards that use a balanced TRS cable, the 'INST' button is not necessary. Adjacent to the 'INST' button is the 'AIR' button, which may be activated to brighten your audio quality.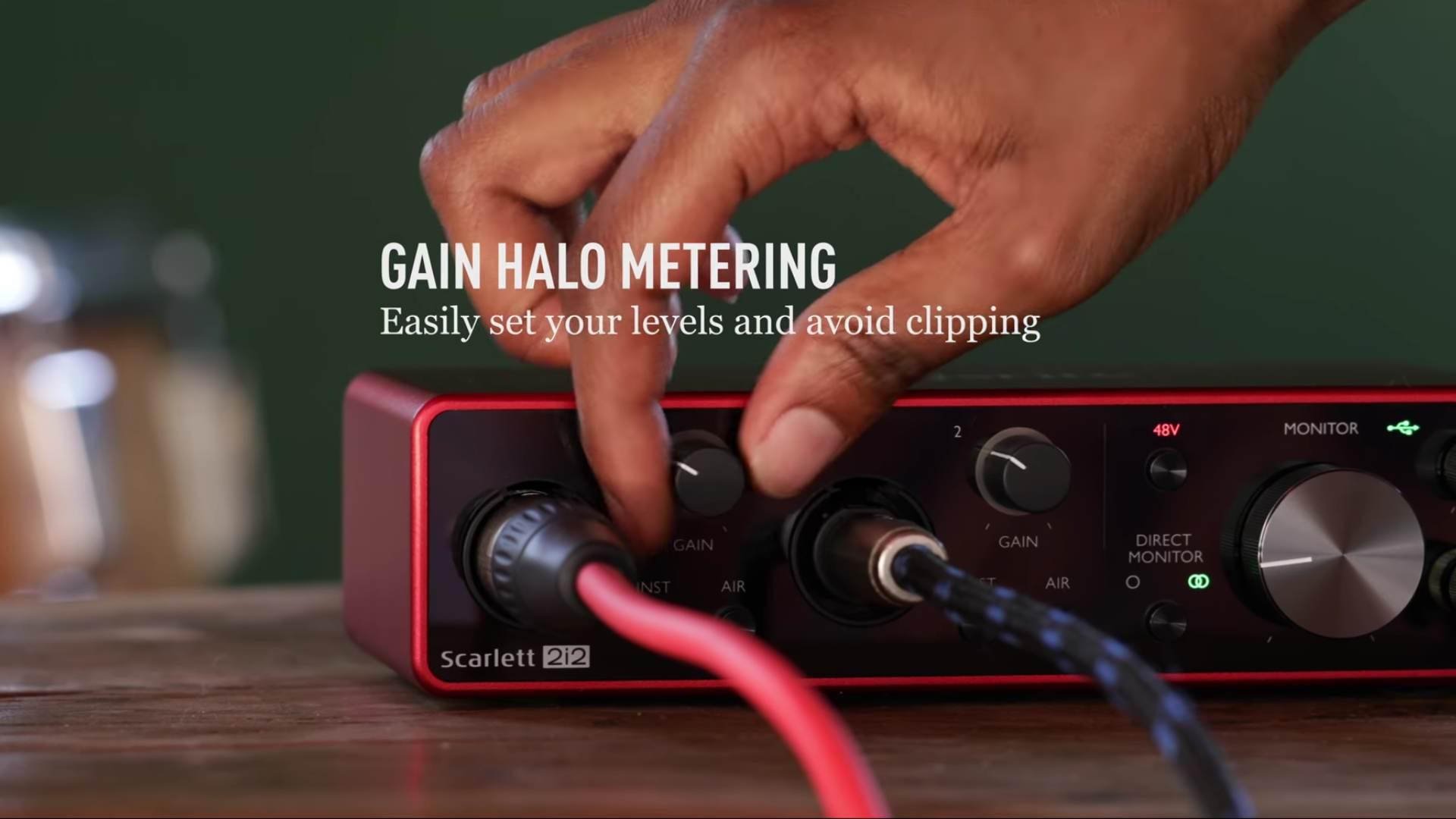 As mentioned earlier, each audio input is equipped with a gain knob on the top-right side, providing immediate visual feedback through 'Gain Halos,' with green, orange, and red LEDs to indicate between healthy or peaking levels. This feature is particularly useful when quick adjustments to the gain levels are needed.
On the right side of the front panel are mostly controls for the output. There is a large dial that controls the main output volume and a smaller dial to its right that controls the headphone volume. There is also a single button to activate 48V phantom power for both combo input jacks.
The Scarlett 2i2 is equipped with a 'Direct Monitoring' button with mono or stereo mode for zero-latency monitoring. Latency, a common term in digital audio systems, refers to the delay between the input signals passing through your computer and audio software. This can pose a problem for performers who wish to record while monitoring their input signals.
When the 'Direct Monitor' button (Mono or Stereo) is activated, the audio inputs are routed directly to the Scarlett 2i2's headphone and main monitor outputs, bypassing your computer and enabling real-time monitoring with zero latency.
In 'Mono Mode', the audio from either input jack is routed to both the left and right channels of your studio headphones or monitors.
However, when you switch to 'Stereo Mode', input jack 1 sends audio exclusively to the left channel, and input jack 2 sends audio to the right channel. This arrangement provides stereo imaging when monitoring two inputs, such as during a two-person podcast or when miking a vocalist and a guitarist.
I'm pretty impressed with this feature of the Scarlett 2i2, as I've not seen any other audio interface that allows you to switch between mono and stereo mode for direct monitoring.
However, I am slightly disappointed that it lacks mix controls to blend your analog inputs with playback from your computer. It's quite astonishing that Focusrite would omit mix controls, especially when they've included the unique feature of mono and stereo monitoring modes.
---
Software Bundle
The Scarlett 2i2 requires the Focusrite Control software, which allows you to control the input and output levels. Once installed, the Scarlett will no longer appear as a Mass Storage Device when connected to your computer.
The Focusrite Control software also automatically installs the correct driver for your Scarlett 2i2. Focusrite Control allows you to set up main global device parameters such as mixing and routing options, clock settings, and various inputs and assignable functions.
The Scarlett 2i2 3rd Gen comes with an impressive bundled software, the Hitmaker Expansion, that can elevate your music production. This package includes a variety of professional tools.
Antares Auto-Tune Access offers real-time pitch adjustment, perfect for refining vocal tracks. Relab's LX480 Essentials provides four reverbs modeled on The Hit Factory NYC's reverb unit, adding depth and space to your music.
Guitarists will appreciate Softube's model of Marshall's Silver Jubilee 2555, delivering a range of warm cleans to high-gain tube amp sounds. The bundle also includes XLN Audio Addictive Keys Studio Grand and Addictive Drums 2: Studio Rock Kit, offering high-quality piano and drum sounds.
The Hitmaker Expansion also includes Brainworx bx_console Focusrite SC and Focusrite's Red 2 & 3 Plugin Suite for mixing and mastering, replicating the unique character of the iconic large format console.
And not only that, it is amazing to know that Focusrite is continuously adding more features to its software bundle. In June 2023, they announced an update that the legendary MASSIVE synth from Native Instruments and FAST Balancer will be added to the Hitmaker Expansion bundle.
MASSIVE is a massive plugin (pardon my lameness) for synth enthusiasts. It comes with high-end synth sounds, from large bass sounds to scorching leads. Furthermore, it has more than 1,300 presets ready to be used.
The FAST Balancer, on the other hand, uses AI technology to speed up the mixing process. It listens to your mix and provides three options to enhance it: Warm, Neutral, or Bright. This tool can significantly streamline your workflow and help achieve a balanced mix more efficiently.
Finally, the bundle offers a two-month subscription to Landr Studio, providing unlimited MP3 mastering and distribution on various streaming platforms such as Spotify, Apple Music, YouTube Music, TikTok, etc.
Final Verdict
The Focusrite Scarlett 2i2 3rd Gen audio interface is a resounding triumph amongst its rivals. For a modest $189.99, it delivers a robust build, great audio quality, and an impressive software bundle, making it a solid investment for musicians, podcasters, and streamers.
The Scarlett 2i2 is compact and durable in design, intuitive controls, and unique features like 'Gain Halos' and 'AIR' features make it a standout choice. While the lack of mix controls is a minor drawback, it's a small hiccup in an otherwise stellar package.
The Hitmaker Expansion software bundle is a goldmine, offering a range of professional tools from Antares Auto-Tune to Softube's Marshall's Silver Jubilee 2555 model. The recent additions of the MASSIVE synth and FAST Balancer further enhance its value.
In conclusion, the Scarlett 2i2 stands out as the best audio interface in its class. Its significant strengths easily overshadow its minor shortcomings, making it a valuable investment. Whether you're an emerging podcaster, an aspiring musician, or an experienced streamer, the Scarlett 2i2 is a reliable and excellent choice for an audio interface.
Hopefully, this Focusrite Scarlett 2i2 review has been informative and helpful. If you're interested, we have recommendations for other great budget-friendly audio interfaces. Also, if you don't want the hassle of dealing with XLR microphones and audio interfaces, consider using an external USB microphone that can connect directly to your PC.
---
Production Information
Specifications
A/D Resolution: up to 24-bit/192kHz
Computer Connectivity: 1 x USB-C (USB 2.0) bus powered
No. of channel: 2
Number of Preamps: 2
Gain range: 56 dB
Equivalent Input Noise (EIN): -128 dBu typical (A-weighted)
48V Phantom Power: Available
Analog Inputs: 2 x XLR-1/4″ combo (Mic/line/Hi-Z)
Analog Outputs: 2 x ¼" TRS Line outputs: 6.3 mm jack balanced, Headphones: 1 x 1/4″
---
Features
AIR mode gives your recordings a brighter, more open sound
INST button for electric guitar and bass pickup
Headphone output with independent level control
Unique Gain Halo indicators
Direct monitoring with Stereo and Mono modes
Software bundle includes Hitmaker Expansion, Ableton Live Lite recording software, and a 3-month subscription to Pro Tools Artist and Splice Sounds.
---