Blue Yeti Review: Is it Worth the Hype?
Introduction
Since its launch in 2009, the Blue Yeti microphone has gained a reputation as one of the best USB mics on the market and has become the gold standard for content creators. But is it worth the hype?
In this Blue Yeti review, we'll take a deep dive into its design, sound quality, mic controls, connectivity options, and Blue VO!CE software to see if it lives up to its reputation.
Whether you're a beginner or a professional on a budget, the Blue Yeti could be the perfect USB microphone for your needs. Let's find out!
At a Glance
The Blue Yeti is a versatile condenser USB microphone great for podcasting, live streaming, and conference calls. It looks incredibly sleek, robust, and modern, and can make any setup look great. It has a clean and crisp audio that can be further enhanced by its powerful Blue VO!CE app.
It has practical and easy-to-use controls such as a gain dial, headphone volume control, mute switch, and a nifty multi-polar patterns switch. The Blue VO!CE app provides many filters improving vocal quality and many amusing vocal effects.
---
---
Design and Build Quality
A robust USB microphone that looks sleek and contemporary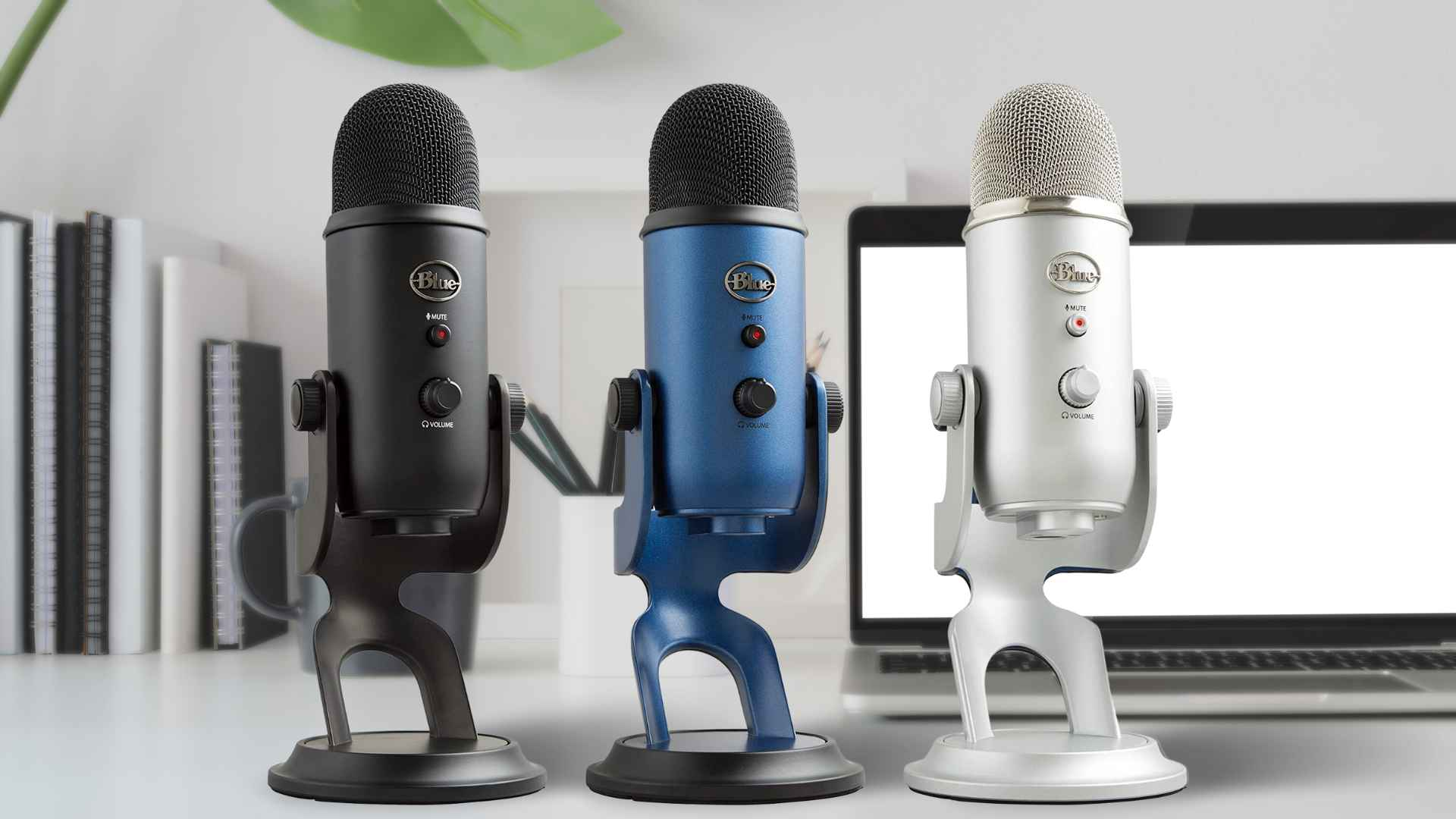 The Blue Yeti USB microphone is solid and well-made, perfect for podcasters and streamers. Its design is iconic and instantly recognizable, much like the Shure SM7B.
Its solid metal base adds to its stability, with soft pads on the bottom to help absorb vibrations and keep the microphone stand in place. Also, protective mesh houses an internal shock mount, reducing any noise from bumps.
At 11.6 inches tall, the Blue Yeti is a bit taller than many microphones, but more stable with a solid metal base instead of a tripod. It is one of the heavier microphones I've come across, weighing 3.4 lbs (1.55kg) with the mic and stand combined, giving it a feeling of durability and sturdiness.
The Blue Yeti USB microphone looms with its dominant presence when secured in its microphone stand and exudes authority. It is a large mic you want your viewers to see on screen, not some shotgun mic that is boomed out of frame.
However, if you don't want the Blue Yeti microphone taking up too much screen real estate, the mic can be unscrewed from its desktop stand, and the bottom of the mic has a 5/8″ threaded mount that can be attached to a boom arm, like the Blue Compass boom arm, to get it out of frame.
Here are our top recommendations for microphones that are great for booming out of frame.
The mic comes in black, silver, and blue. I personally like the iconic blue option best as it is a deep, cool blue with a hint of greenishness, providing a retro-contemporary vibe to your setup.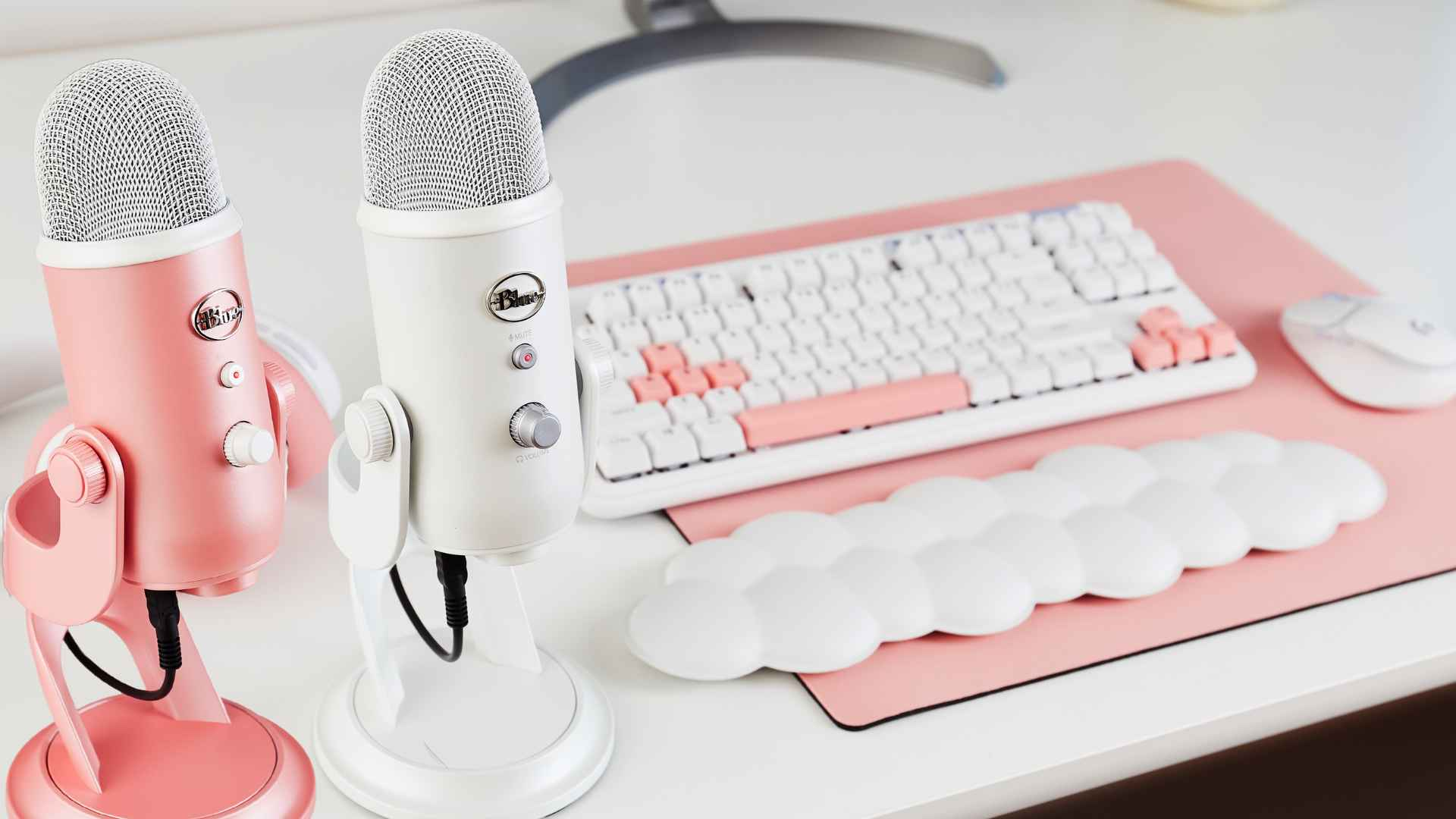 The Blue Yeti microphone also has feminine colors in the Aurora collection – Pink Dawn which is a beautiful soft, pastel shade of pink, rosy hue; and White Mist which is a very light, cool-toned gray.
The only adjustability of the Blue Yeti is the tilt angle. Its height cannot be adjusted from the mic stand, and you will have to use a boom arm for that.
Sound Quality
Clean, crisp audio but could do way better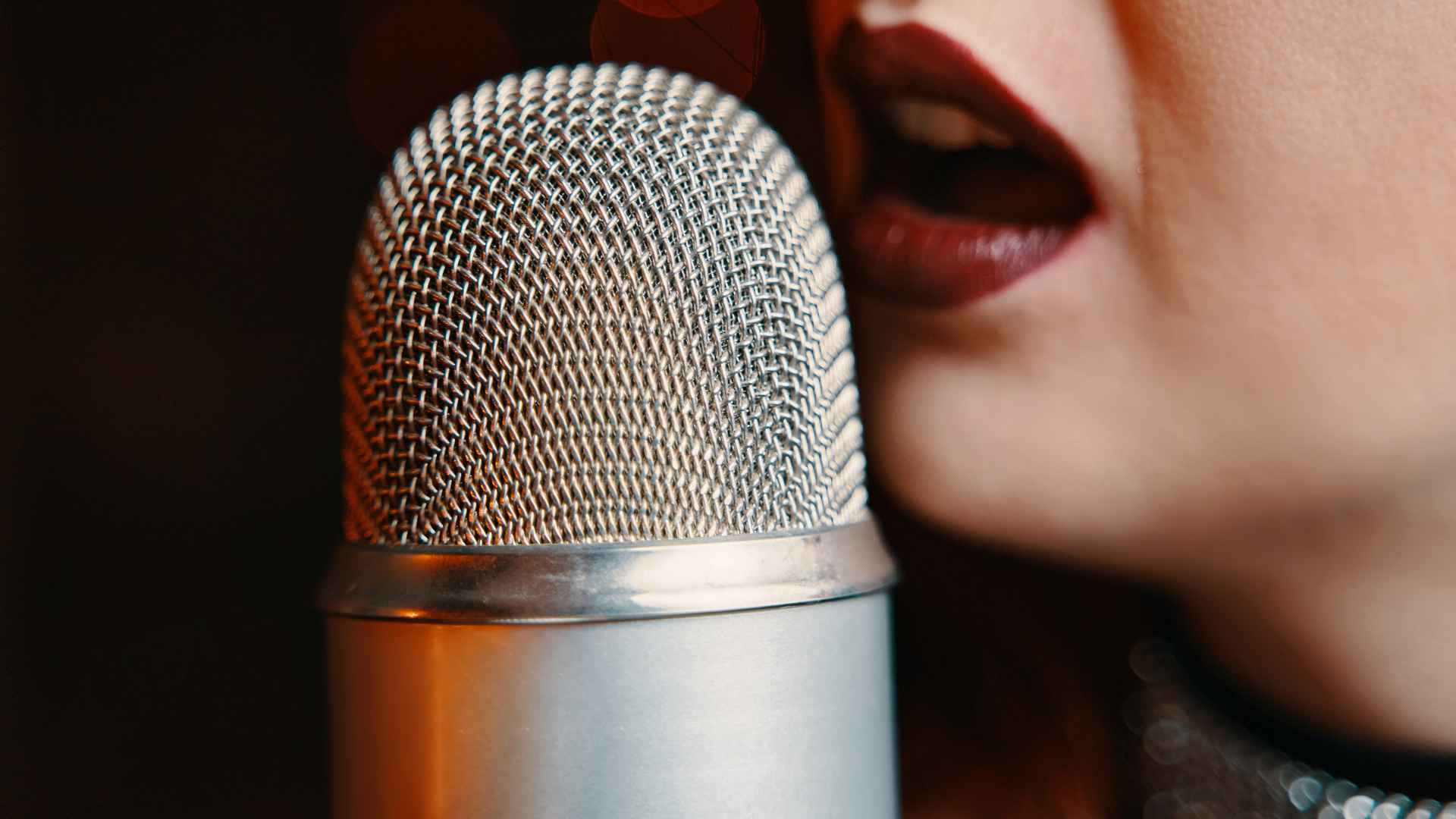 The Blue Yeti is the Taylor Swift of microphones. It looks awesome and is popular, but it sounds average.
Honestly, I'm not completely impressed with the Blue Yeti's sound quality, given the hype it has received. If you gave it to me as a blind test, I would think it is a fairly decent-sounding mic for its price, but it certainly cannot match the weight of expectations placed on it.
This is understandable because the Blue Yeti microphone was one of the first professional-level USB mics launched in 2009 and is considered the 'Grandfather of USB Mics.' And being a grandfather, the Blue Yeti can no longer match up to its more energetic younger generation of USB mics.
Many cheaper or better-quality USB microphones have emerged through the years. Even Logitech has come up with newer models of Blue microphones like the Yeti X and Yeti Nano!
However, that said, the Blue Yeti does have a good, crisp, and neutral sound quality to it. It has a fairly flat frequency response curve, depending on which pickup pattern is selected, giving it a neutral tone. You'll need the right settings to get the best sound out of the Blue Yeti.
It's great for recording instruments like acoustic guitars if you want to capture the clarity of detail and shimmer of the strums. Here's a great article if you want to learn about techniques for recording an acoustic guitar.
If you aren't satisfied with the raw audio quality of the Blue Yeti microphone, you can process the audio using the Blue VO!CE app, which I will touch on later.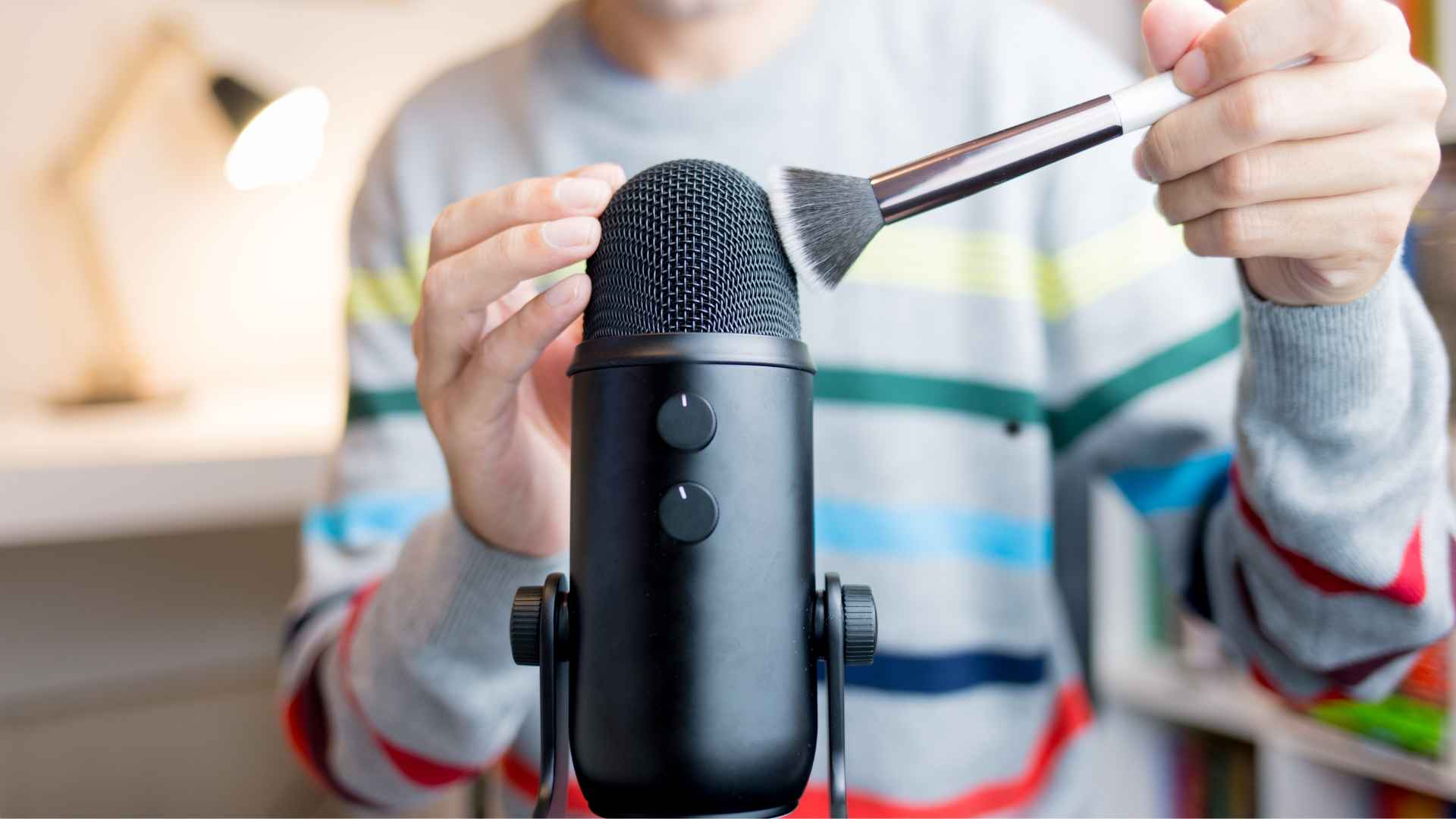 The Blue Yeti mic is also a sensitive USB microphone with a good amount of gain, making it a very one of the most popular microphones for ASMR enthusiasts. You can be heard quite audibly, even with a low gain setting of around 25%, which means you need to be careful as this mic is going to pick up unwanted noise like your gaming keyboard, PC fans, or your neighbor's dog. But the great thing is, there is very little self-noise when you turn up the gain dial.
Microphone Controls
Simple and practical controls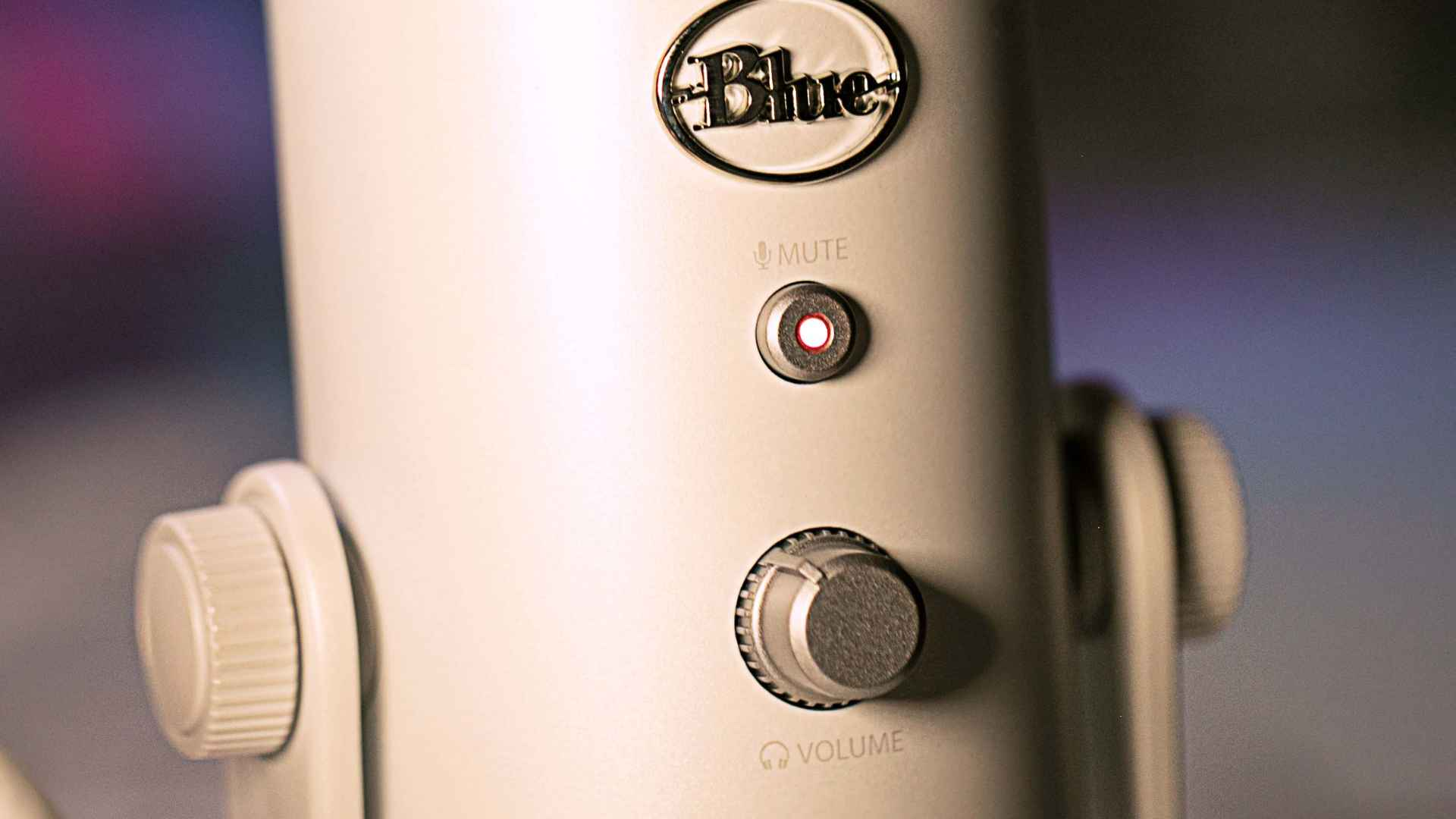 The Blue Yeti's microphone controls are user-friendly and straightforward, making it easy for beginners to use.
Starting from the front, you'll find a headphone volume knob and a mute button. The volume knob is not for controlling the gain but for adjusting the headphone output level of the microphone. This feature is great for streamers and podcasters who want to monitor their microphone's input without any delay, which can happen if you connect your headphones to your computer.
The mute button, on the other hand, is a lifesaver, especially if have unexpected interruptions during your recordings or live streams. Furthermore, the mute button also serves as a status indicator, featuring an integrated red LED that flashes when the microphone is muted and remains lit when it's active.
Moving to the back of the microphone, you'll find the gain knob and the pattern switch knob to select different polar patterns. The gain knob gives onboard gain control, allowing you to adjust its gain, which is how much sound the microphone will pick up. To reiterate, the Blue Yeti microphone has low self-noise even when you turn up the gain.
Four Polar Patterns Selection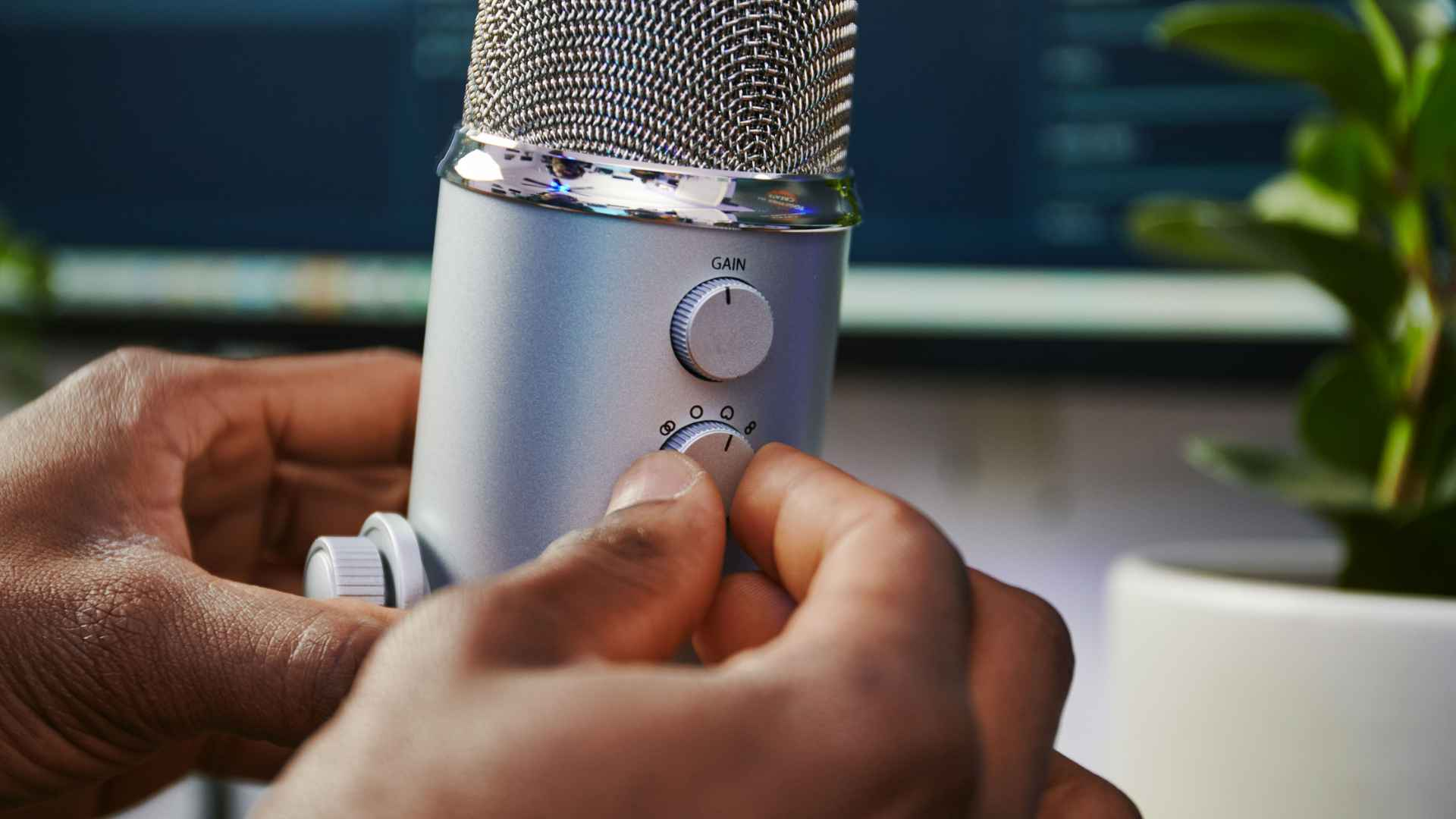 The Blue Yeti USB microphone is probably the only microphone I know that uses a tri-capsule array. It uses three 0.55 in (14mm) condenser capsules arranged to face different directions.
This characteristic allows it to have the pattern switch with four pickup patterns to select from – cardioid mode, bidirectional mode, stereo mode, and omnidirectional mode. This makes it versatile and suitable for various recording situations. This same feature is also present in the HyperX Quadcast S USB mic.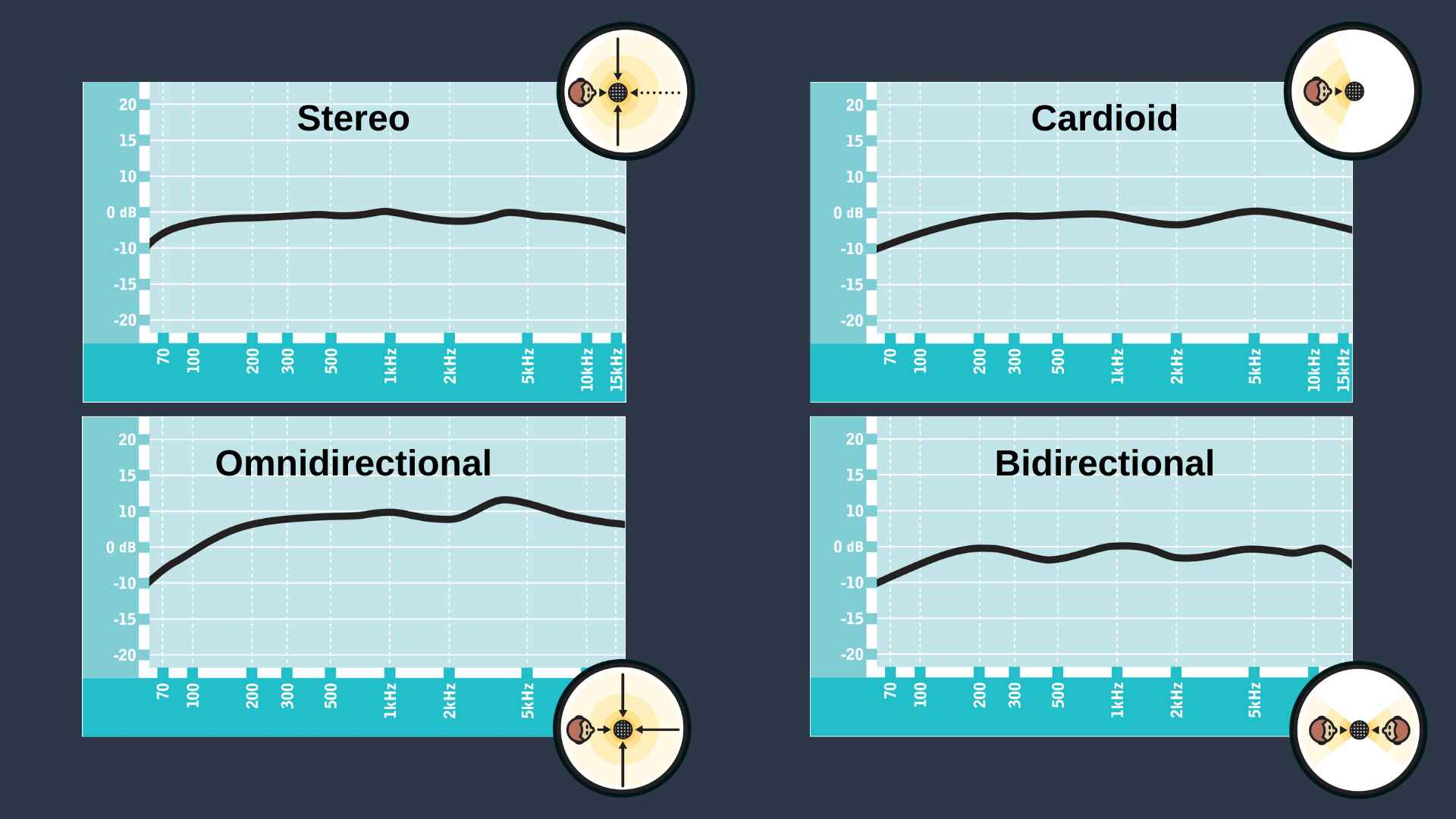 Cardioid Mode: Perfect for recording vocals or solo instruments, it captures sound from the front of the microphone while reducing ambient noise from the sides and rear.
Bidirectional Mode: Ideal for interviews or podcasts, as it captures sound from the front and back of the mic while reducing ambient noise from the sides.
Stereo Mode: Perfect for recording music, it captures sound from the left and right channels, creating a stereo effect.
Omnidirectional Mode: Captures sound from all directions and is ideal for recording multiple people, group conversations, or live events.
Connectivity
USB-only connection with a headphone jack
The Blue Yeti is a USB microphone, which means it can be plugged directly into your computer's USB port. This makes it a plug-and-play device convenient for those who don't want to deal with the hassle of setting up an audio interface.
The only problem is that it is high time Logitech upgraded it to a USB-C port instead of using a mini-USB connection, which is as antic as the microphone.
The Blue Yeti microphone is also Discord Certified, which means it will integrate perfectly with Discord without any connection issues. This is great for gamers who want to communicate with and sound better (snigger) than all their teammates. Check out our review of more great microphones for Discord.
The Blue Yeti also has a 3.5mm headphone jack for zero-latency directing monitoring. As mentioned, this allows you to monitor the audio from your microphone without connecting to your computer's headphone jack, which can potentially cause delays.
Unfortunately, the Bue Yeti does not have an XLR output, in case you're thinking of upgrading your setup with analog gear. For a USB/XLR hybrid mic, you should consider something like a Shure MV7, and you can check out our full review of that microphone.
Blue VO!CE Software
A simple but powerful audio processing and voice effects app
Probably the best feature of the Blue Yeti microphone is the Blue VO!CE software, which can also be used for any of the Blue microphones, including the Blue Yeti Nano and Blue Yeti X.
The Blue VO!CE software is an easy-to-use but powerful app that comes with many different real-time voice filters that can enhance your voice to sound crisper, richer, or more authoritative, depending on the tone you are trying to achieve. This makes the Blue Yeti a great mic for recording cover songs and podcasts.
You can choose filters to have a broadcaster voice, a more bassy voice, a warm and vintage tone, or even an old-school AM radio kind of tone to your voice.
If you don't like how the voice filters sound, you can create your own customized presets with all the essential audio processing tools provided by Blue VO!CE, such as a high-pass filter, noise reduction, noise gate, de-esser, EQ, compression, and limiter.
There are also many fun vocal effects to entertain your friends and viewers with, such as the voice tones of a robot, chipmunk, fishbowl, and even the opposite gender, etc.
Similarly, if you want to create your own voice effects, you are provided with effects tools such as a pitch shifter, flanger/phaser, and chorus.
You can even choose from ambiance sounds, such as the sound of a beach or forest. There are countless ways to play around with the Blue VO!CE software and it's a great way to unleash your creativity and have fun with your friends and audience online!
To use Blue VO!CE, you will need to download and install the Logitech G Hub software first.
Verdict
Worth the price but not a must-buy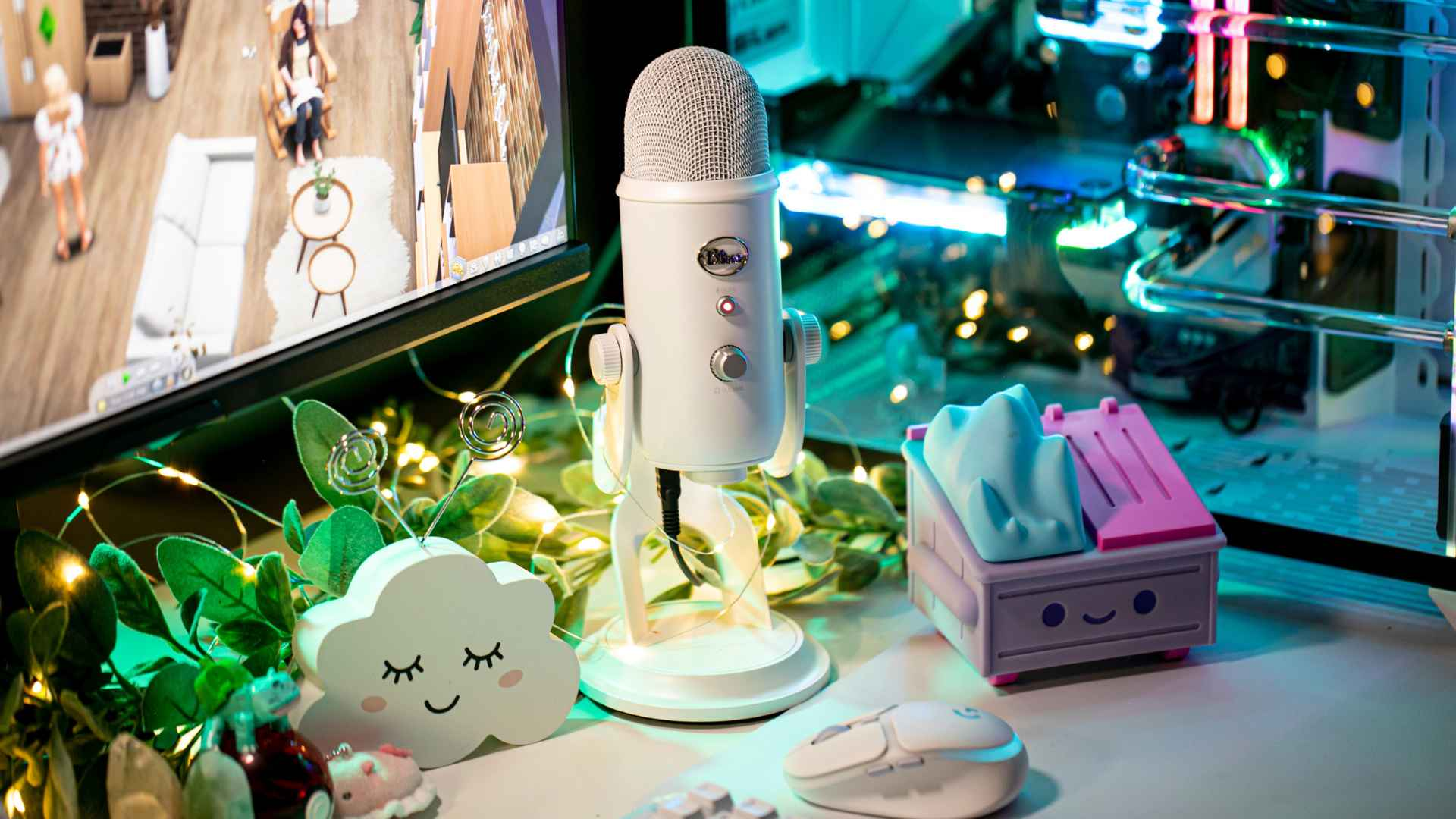 Overall, from this Blue Yeti review, we can see that it is a good USB microphone that delivers good sound quality, user-friendly controls, versatile pickup patterns, and a powerful vocal effects app. If you're not sure what to use it for, here are some great ideas to get you started.
It's a great option for content creators looking for an affordable, versatile microphone that looks good on camera. The Blue Yeti's build quality and modern look make it a great addition to any setup, whether on its mic stand or boom arm.
If not for its multiple polar patterns selector and the Blue VO!CE software, the Blue Yeti mic would otherwise be just an ordinary USB condenser mic.
So, if you're asking me whether the Blue Yeti microphone is worth the hype, I would say that for a price point of $130, it definitely delivers on its value. It's a microphone that is worth the cost.
However, I wouldn't necessarily go around raving to everyone that they should get it, especially if you're serious about recording vocals or music. In that case, you should be going for a professional mic for vocals rather than the Blue Yeti.
In any case, this will not be the last Blue Yeti microphone review, and I'm pretty sure there will be many more in the years to come! Just take a look at the SM58; people are still talking about it 50 years since it was launched!
Production Information
Specifications
Polar Pattern: Cardioid, bidirectional, omnidirectional, and stereo
Transducer Type: 3 x 0.55 in (14 mm) condenser capsules
Power Requirements: 5V 150mA
Frequency Response: 20 Hz to 20,000 Hz
Sensitivity: -47 dBV/Pa (4.5mV/Pa) @1kHz
Max SPL: 120dB
Output Connection: Mini-B USB
Headphone Output: 3.5mm
Weight: 0.55kg (1.55kg including the desktop stand)
Accessories: USB cable, mic stand
---
Features
Multiple pickup patterns – cardioid, bidirectional, omnidirectional, and stereo
Gain control dial
Zero-latency headphone monitoring with volume control dial
Mute button
Blue VO!CE vocal effects software
---