Best ASMR Microphone in 2023 for Awesome Tingles! Top 5 Picks
Are you an ASMR enthusiast looking for the perfect tool to capture the soothing sounds of whispers, gentle taps, and other relaxing noises? Look no further because we've scoured the internet to bring you the cream of the crop regarding the best ASMR microphones.
Whether you're a professional content creator or just looking for a way to unwind at home, these microphones will elevate your ASMR game to new heights. So sit back, relax, and let the tingles begin!
What are the 5 Best ASMR Microphones of 2023?
Here are the best ASMR microphones that will send tingling chills down your spine!
1. Blue Yeti USB – Most Versatile ASMR Microphone
Overview
We can't do an ASMR microphone review without touching on the grandfather of USB microphones, the classic Blue Yeti USB microphone.
The Blue Yeti embodies the features of an excellent ASMR microphone – great sound quality, convenient controls, versatility with multiple recording patterns, sleek design, easy setup, and a great price.
This is easily one of the best ASMR microphones to recommend in terms of versatility.
Expand To Read More 🡫
Sound Quality
Despite its affordable price, the Blue Yeti USB mic will surprise you with its crisp sound and clear audio quality, making it great for audio content such as ASMR videos and podcasts.
The Blue Yeti is a condenser microphone that uses a tri-capsule array that picks up sound in every direction. Rest assured that your taps and crinkles around this ASMR mic will be recorded clearly!
Also, its sensitivity and large frequency response ranges allow you to record low resonances from the rumbling of water bottles or high frequencies of singing bowls and chimes. And with the best Blue Yeti settings, you will be getting high-quality recordings of all your subtle movements and sounds!
The best feature of the Blue Yeti is its ability to switch between four different polar patterns at the simple turn of a knob. Are you thinking of recording vocals or a Twitch stream? Switch it to cardioid pattern mode. How about a stereo recording for a choir or tingles and whispers for an ASMR video? Use the stereo mode. The omnidirectional mode makes it a suitable microphone for capturing surrounding ambient sounds in the middle of a room.
Design & Build
The Blue Yeti condenser microphone not only looks sleek and modern, it feels solid and robust too. There are three color options – black, dark blue, and light grey. Whichever choice will still make your ASMR recording space more elegant.
It also has a microphone stand, allowing you to place it conveniently on a tabletop. The mic can still be removed to be attached to a boom arm.
Controls
The Blue Yeti's zero-latency headphone output is an excellent feature for ASMR artists as they need to listen to their ASMR recordings in real-time without lag.
The gain control and mute button are handy for making ad-hoc adjustments, so you do not need to make edits in post-production.
Extras & Features
Another major selling point is the Blue VO!CE software, a suite of vocal effects and modulation tools that modifies your voice in real-time (not post-production). This is a fantastic tool for live streaming to keep your audience entertained.
The Blue VO!CE has vocal effects like EQs, noise reduction control, compression, noise gate, and limiter. It even has presets that can give you a classic AM radio sound, robot, chipmunk voice, or one that sounds like your subconscious speaking.
The Blue VO!CE software is compatible with any Yeti family condenser microphones (Yeti, Yeti Nano, Yeti X) and Logitech gaming headsets.
Since the Blue Yeti is a USB microphone, it has an inbuilt audio interface and does not require phantom power. Hence it's a simple plug-and-play into your laptop. The only drawback is that it sacrifices some audio quality compared to XLR microphones.
Check out our article here for a more detailed review of the Blue Yeti.
Collapse To Read Less 🡩
---
Product Info
Polar pattern: cardioid, bidirectional, omnidirectional, and stereo
Transducer Type: 3 Blue-proprietary 14mm condenser microphone capsules
Frequency Response: 15 Hz – 22 kHz
Bit Depth: 16-Bit
Sample Rate: 48kHz
Sensitivity: -47 dBV/Pa (4.5mV/Pa) @1kHz
Output Connection: mini USB
Weight: 1.55kg (including microphone stand)
---
Features
Multiple pattern selection – cardioid, bidirectional, omnidirectional, and stereo
Gain control
Mute button
Zero-latency headphone output with volume control
Enhanced Blue VO!CE broadcast vocal effects
---
2. Audio Technica AT2020 USB+ – Best ASMR Mic for Beginners
Overview
Perhaps you are searching for an ASMR microphone with a similar quality sound and price to the Blue Yeti USB microphone but without the complicated controls, software, and bulkiness.
Enter the Audio Technica AT2020 USB condenser microphone, one of the best ASMR microphones for beginners in terms of simplicity and ease of use.
Expand To Read More 🡫
Sound Quality
The audio quality of the Audio Technica AT2020 USB mic goes well beyond its price point. It's a low-mass diaphragm condenser microphone that can capture clear, airy, and crisp sound.
It also has better gains in the frequency ranges of 10Khz, which is superb for recording ASMR sounds with high-frequencies like bells, chimes, and tuning forks.
The Audio Technica AT2020 has a cardioid pattern that can capture sound from the front while minimizing sounds and reverberations in other directions, which is perfect for podcasts and ASMR artists.
However, its sensitivity is average, and there is some presence of self-noise; hence it might not be studio quality but still a superb ASMR microphone for beginners.
Design & Build
You'll probably notice how solid and compact it feels when you first get your hands on an AT2020 (XLR or USB). With its all-metallic frame, it is built like a tank and is made to withstand knocks. You can dump it into your travel bag without worrying about it getting damaged if you're constantly on the go.
It also has a contemporary and sturdy design. It comes in its standard dark grey color, but switching to the silver chrome-like finish also looks incredible.
Controls
This is a beginner-friendly ASMR mic because it has only two controls – volume and mix control.
The volume control is for the latency-free monitoring of the output from the headphones, and the mix control allows the blending of the condenser microphone output with pre-recorded audio.
Extras & Features
Since this is a USB microphone, it does not require a pre-amp, an audio interface, or phantom power for it to work. Simply plug into your computer to start using it.
Also, it does not come with many accessories other than a tripod stand, pivoting stand mount, USB cable & storage pouch.
Collapse To Read Less 🡩
---
Product Info
Polar pattern: Cardioid polar pattern
Transducer Type: Fixed-charge back plate, permanently polarized condenser
Frequency Response: 20-20,000 Hz
Bit Depth: 16-Bit
Sample Rate: 48kHz
Sensitivity: No info
Output Connection: USB Type-B
Weight: 386g
---
Features
Mix control
3.5mm headphone jack with volume control
---
Audio Technica AT2020 USB+
3. Shure MV7 – Best Microphone Controls
Overview
Inspired by the legendary Shure SM7B and used by famous podcasters such as Joe Rogan, comes the USB-compatible version, the Shure MV7.
This is an outstanding mic for podcasting or ASMR; it has many in-built features and can use both XLR and USB connections.
It is also a massive $150 cheaper than the classic Shure SM7B!
Expand To Read More 🡫
Sound Quality
The Shure MV7 is a dynamic microphone with a cardioid polar pattern and wide frequency response. It provides a clear, warm, and crisp tone, almost similar in sound quality to the Shure SM7B after some EQ and compression.
It is one of those dynamic microphones that do an outstanding job of isolating your voice, crinkles, taps, and rejects unwanted background noise very well.
Despite many bloggers discouraging using dynamic microphones for ASMR, the Shure MV7 sounds just as great or even better than many condenser mics when creating ASMR content.
However, the Shure MV7 does not reject plosive 'p' sounds very well, and the cheap windscreen that comes with it does not greatly help with the plosive effects either. We expected something better since the Shure SM7B is great at rejecting plosives and its windscreen has a plastic clip that attaches firmly to the mic.
Design & Build
The Shure MV7 has a sleek and modern design. It looks professional and elegant, just like its predecessor, the Shure SM7B, although a little stubbier than the latter. It's built to last and can withstand wear and tear.
As mentioned above, the Shure MV7 uses a cheap windscreen, and it does not have the same elongated metal cage that protects the transducer capsule from plosive sounds that the SM7B has.
Also, the Shure MV7 does not have the same rotatable knurled knob on the yoke as the SM7B, which means you would have to arduously turn the entire yoke together with the mic to remove it from a stand. But still, these problems aren't deal breakers.
Controls
The touch panel controls and USB/XLR compatibility are the features that make the Shure MV7 stand out against its older brother, the Shure SM7B.
Its intuitive touch panel controls allow you to adjust the microphone gain, the headphone monitoring volume, the mix volume, and mic muting, all without making any noise that would typically come with pressing mechanical buttons on a USB microphone. This is terrific for making spontaneous adjustments to your ASMR video without creating too much noise.
However, the touch panel controls only work in USB mode with a smart device.
The touch panel also has bright LED lights to indicate the mix volume and mute status.
Extras & Features
The Shure MV7's compatibility with USB and XLR connections gives it much flexibility. You can easily hook this up via XLR to a RØDECaster Pro audio interface and connect it to a computer or directly connect it to a computer, smartphone, or tablet through a USB cable. You can even give audio output to two devices simultaneously using the XLR and USB cable. The only downside is that this USB microphone uses a micro USB connection, so you need to do cable management at your workstation.
The Shure MV7 also comes with a 3.5mm headphone jack for directly monitoring your audio, which is great for listening to your ASMRs as you work on them.
Another great feature of the Shure MV7 is that it can be used with the ShurePlus MOTIV software, a beginner-friendly real-time audio processing application that allows you to adjust the mic gain, monitor mix, add EQ, compression, and limiter. The app might be simple to use, but it can significantly boost the quality of your audio after processing.
The ShurePlus MOTIV is so simple to use. You don't have to manually adjust the threshold and noise floor for the compressor or manually adjust the gains of the different frequencies for EQ because they provide you with a few options to choose from. However, it does not have the same range of effects and modulations as other apps like the Blue VO!CE.
Check out our article here for a more detailed review of the Shure MV7.
Collapse To Read Less 🡩
---
Product Info
Polar pattern: Cardioid polar pattern
Transducer Type: Dynamic (moving coil)
Frequency Response: 50 Hz to 16,000 Hz
Bit Depth: 24-Bit
Sample Rate: 48kHz
Sensitivity: -55 dBV/Pa (1.78 mV/Pa) @1kHz
Output Connection: Micro USB, XLR
Weight: 0.55kg
---
Features
Touch panel controls for gain, monitoring volume, headphone mix, and muting
Headphone output for monitoring
ShurePlus MOTIV software
---
4. FIFINE K688 – Most Affordable ASMR Microphone
Overview
If you think you're unrealistic looking for a cheap ASMR microphone with the sound quality of the Shure SM7B but at one-fifth its price, you're not. And if you aren't particular about having a mic with a recognizable brand, then the FIFINE K688 (pronounced as Fine Fine, yes you heard me, as much as it hurts your brain) is the microphone for you.
Expand To Read More 🡫
Sound Quality
The FIFINE K688 is a dynamic cardioid mic with outstanding audio quality for such an affordable mic. It's like purchasing a Honda Fit that can drive as fast as a Mercedez-Benz S-Class.
If you do a blind test between untreated audio from the FIFINE K688 and the Shure SM7B, you might be unable to tell the difference. That's how good the audio quality of the K688 is.
Without audio processing, the K688 has a warm and clear tone, sometimes a little too bassy. But this can be fixed by some simple EQ, such as giving it a high pass filter, dropping some gains on the bass, and boosting the mids should do the trick.
It is one of those dynamic mics that can isolate your voice (or taps, crinkles, and whispers) while blocking out any background noise.
The transducer capsule is very close to the protective grill; hence this microphone is not gain hungry. This means you do not need to add a Cloudlifter or increase its gain very much. And you do not need to go so close to the microphone for it to pick up your voice.
One issue is that it has a porous (but really soft and velvety) windscreen that does not help reduce plosive 'p' sounds that much.
Design & Build
No prizes for guessing which microphone the FIFINE K688 resembles (Hint: I mentioned it too many times in this article). You got that right; it's practically a clone of the legendary Shure SM7B. So if you like the look and design of the Shure SM7B, you should not have complaints about the way the FIFINE K688 looks.
Like the Shure SM7B, the FIFINE K688 has a sleek all-metal body and a conical windscreen that feels as smooth as a DeadCat windshield. But it does not have the same plastic clip as the SM7B to attach the windscreen to the mic body.
One odd-looking design feature of the FIFINE K688 is its permanently screwed-on shock mount. We audiophiles enjoy handling and feeling the microphone bare without any attachments and accessories attached, to feel its raw weight and sturdiness. This is like having a lightsaber with a permanently attached torchlight, it might be functional, but Luke Skywalker would rather be a Sith than have one of those.
Controls
The FIFINE K688 has several basic controls on the microphone – a capacitive tap-to-mute button, a volume control knob for headphone monitoring, and a gain knob. It's worth noting that the mute button only works with the USB interface mode and not the XLR.
Extras & Features
The FIFINE K688 can work with both USB and XLR connections, making it a versatile option whether you want a quick plug-and-play into your laptop or go through an audio interface for some processing.
The FIFINE K688 has a USB-C connection on the mic end, unlike the folly of many other USB microphones out there that are still using micro-USB, mini-USB, or worse still…USB Type-B (the horror).
It also has a 3.5mm headphone jack for live monitoring your voice (and your ASMR works).
One downfall is that the FIFINE K688 does not have an audio processing app for real-time EQs, compressions, limiters, etc.
Collapse To Read Less 🡩
---
Product Info
Polar pattern: Cardioid polar pattern
Transducer Type: Dynamic
Frequency Response: 70 Hz to 15,000 Hz
Bit Depth: 16-Bit
Sample Rate: 44.1-48kHz
Sensitivity: -58 dBV/Pa (1.26 mV/Pa) @1kHz
Output Connection: USB-C, XLR
Weight: 0.73kg
---
Features
Headphone volume and mic gain knob
Capacitive tap-to-mute button
Headphone output for monitoring
Screw-on shock mount
---
5. Rode VideoMic GO II – Most Portable ASMR microphone
Overview
If you are looking for an ASMR microphone that is lightweight and portable, gives high-quality sound, is affordable, and compatible with your computer, smart devices, and DSLR camera, then the Rode VideoMic GO II is your go-to video mic (sorry, this pun must've been used a thousand times but I can't help it).
This is one of the best ASMR microphones in portability and audio quality for ASMR artists, YouTubers, vloggers, and podcasters.
Expand To Read More 🡫
Sound Quality
The Rode VideoMic GO II is one of those shotgun mics with a big voice and packs a punch despite being so compact. You'll be surprised at how rich and full-bodied the sound is. You might think you are listening to audio coming from larger condenser microphones.
Since it is a super-cardioid shotgun condenser microphone, it picks up sound in a small area directly in front of it while rejecting unwanted sounds from the sides and back.
It comes with a windshield that helps with plosive sounds, but you can get one of its furry WS12 windscreens if you're planning on using it in windy areas.
The Rode VideoMic GO II is an incredible ASMR mic because of its low self-noise and high sensitivity (28.78 mV/Pa), much higher than other condenser microphones or dynamic microphones. This ASMR mic will pick up the most subtle crinkles, whispers, and tapping for your ASMR videos.
Design & Build
The Rode VideoMic GO II is a miniaturized version of the Rode NTG shotgun condenser mic. It has a plastic body and is compact and ultra-lightweight.
Since it is lightweight, you do not need an expensive Rode PSA1 boom arm to hold it in place. Once the Rode VideoMic GO II is attached to the SM8-R shock mount, it can be easily mounted onto a tripod, selfie stick, boom arm, or DSLR camera. You will barely feel the additional weight on your camera!
Check out our article on other microphones similar to the Rode NTG.
Controls
The Rode VideoMic GO II does not have any physical buttons or controls on it. Its controls are done through the Rode Central App, which is compatible with your computer, mobile devices, or tablet.
The Rode Central App allows you to control functions such as the input gain level, the monitoring volume (when you are using a headphone with the mic), add a high pass filter, high-frequency boost, and a -20 dB pad in case of sudden loud noises.
Extras & Features
What makes the VideoMic GO II so versatile is its compatibility with almost all smart devices, such as mobiles, tablets, and computers, whether it is an iOS, Android, or Windows OS.
The VideoMic GO II has a USB-C connection on the mic; hence you need to use the appropriate adapter when connecting with an Apple or Android device or to a laptop. It does not require an audio interface or phantom power to work.
In the USB mode, the mic has a LED for level peak warning, which will flash red whenever the input is too loud.
It can be mounted on a DSLR with the SM8-R shock mount and used as the camera's microphone via its 3.5mm TRS output.
A cool feature of the VideoMic GO II is its ability to use its TRS connection as a headphone jack for direct monitoring if you connect the microphone to a smart device or computer. This is especially useful if you connect the mic to an iPhone 7 and above that does not have a headphone jack.
Another advantage is that, unlike its big brother, the Rode NTG, the VideoMic GO II does not have internal batteries, which will degrade over time. The power is supplied by the device the mic is connected to.
Also, if you intend to do a binaural recording for your ASMR videos, you don't have to get those expensive binaural microphones that cost $400 or more. You can use two VideoMic II GOs, connect them to the Rode Wireless GO II, and split audio from both mics into left and right channels. This will definitely up your ASMR game to the next level!
Check out our review of the Rode VideoMic GO II's big brother, the Rode VideoMic NTG!
Collapse To Read Less 🡩
---
Product Info
Polar pattern: Super cardioid polar pattern
Transducer Type: Pressure gradient electret condenser
Frequency Response: 20 Hz to 20,000 Hz
Bit Depth: 24-Bit
Sample Rate: 48kHz
Sensitivity: -31 dBV/Pa (28.78 mV/Pa) @1kHz
Output Connection: 3.5mm TRS, USB-C
Weight: 33g (89g with SM8-R shock mount)
---
Features
Compatible apps such as Rode Central, Rode Connect, and Rode Reporter
Level Peak Warning LED (USB mode only)
Includes SM8-R shock mount, windscreen, and a TRS-to-TRS cable
---
What is ASMR?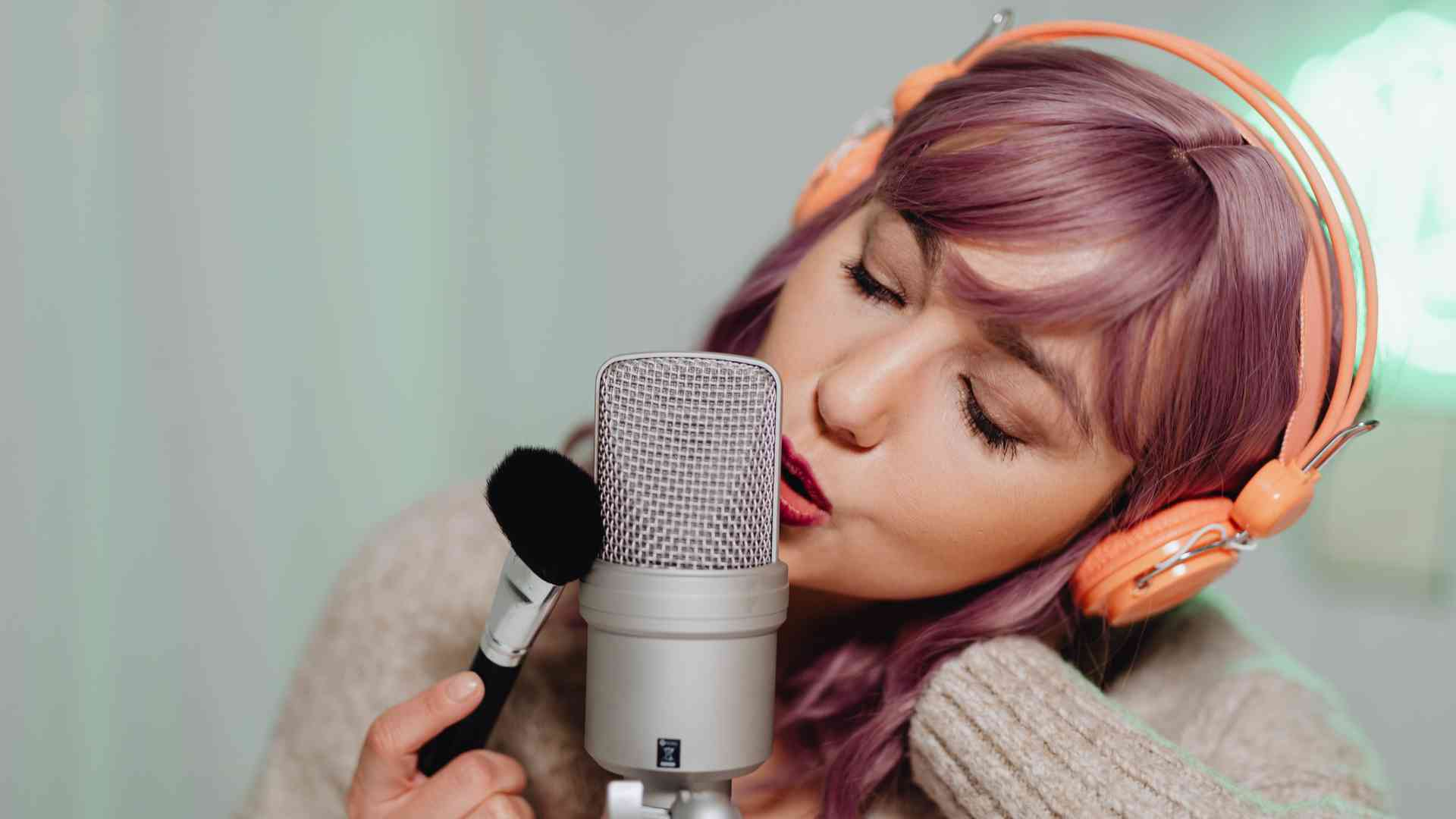 ASMR stands for Autonomous Sensory Meridian Response, a fancy way of saying "brain tingles." It's that feeling of blissful relaxation that washes over you when someone whispers sweet nothings in your ear or when you hear the gentle rustling of leaves on a quiet autumn day. It's a natural, easy way to unwind and de-stress.
In short, ASMR is like a lullaby for adults, the soothing sensation that makes you feel like you are getting a warm hug while listening to the sound of rain, or listening to a warm and slow smooth jazz track recorded by a good ribbon mic.
ASMR is a phenomenon that has been studied and reported by many people who experience a sense of deep relaxation, calmness, and even euphoria when exposed to certain sounds, visuals, or other sensory stimuli.
Typically, ASMR triggers are sounds or visuals that are soft, slow, repetitive, and often have a personal or intimate feel to them. For example, the sound of someone whispering, the gentle tapping of fingernails, the rustling of paper, or someone turning the pages of a book.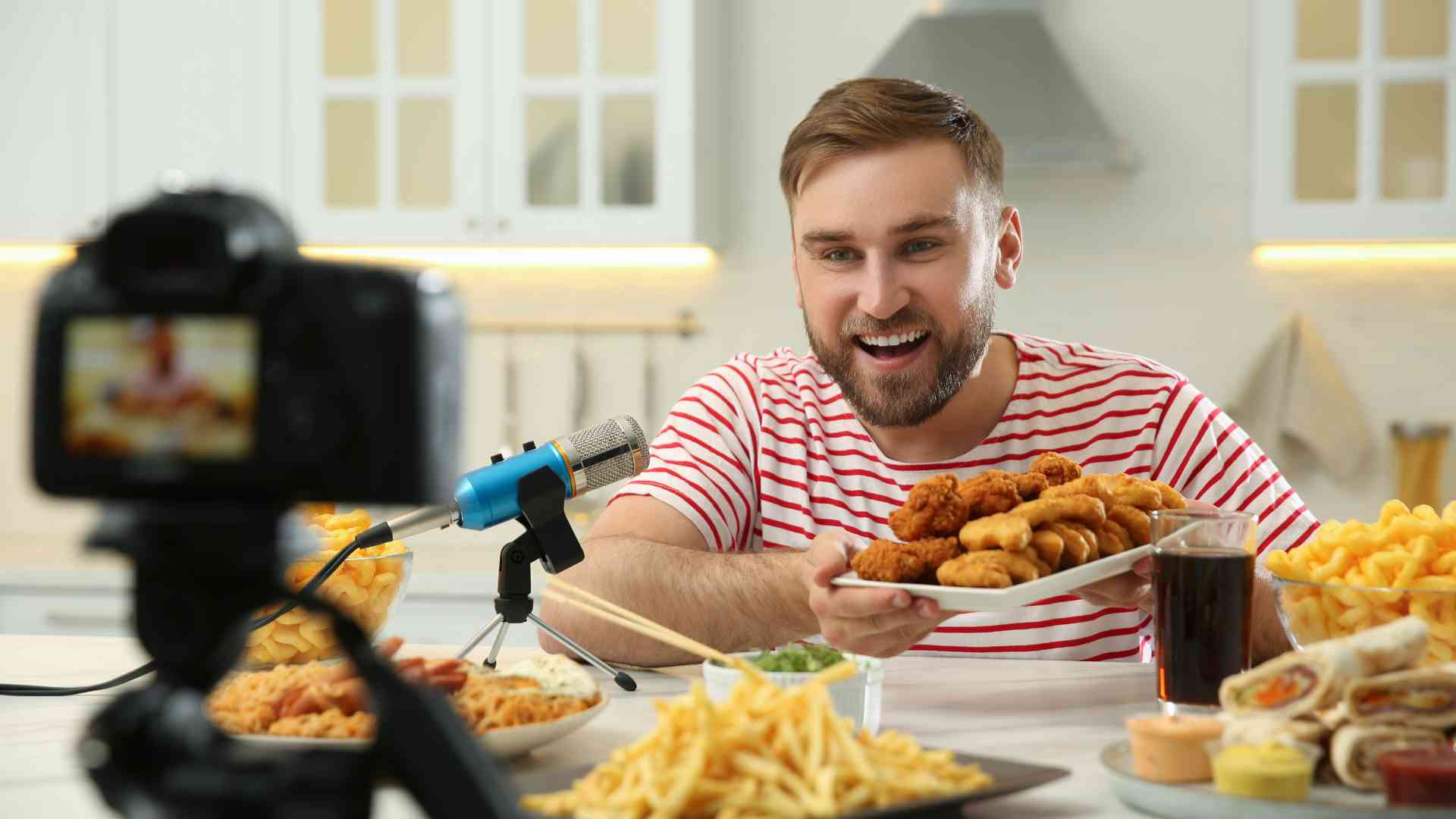 ASMR triggers can also be visual, such as someone performing a task slowly and attentively, like drawing, painting, or even cooking and eating.
The exact mechanism of how ASMR works is still not fully understood. Still, research suggests that it may activate specific brain regions associated with emotional regulation, social bonding, and self-soothing.
Many people who experience ASMR find it can help them relax, reduce stress and anxiety, improve sleep, and even boost their mood.
ASMR is often associated with ASMR videos that are widely available on the internet, where people create videos that feature various types of triggers designed to produce ASMR responses.
How are ASMR videos created?
ASMR videos are often generated by recording the sounds meant to elicit the ASMR (Autonomous Sensory Meridian Response) response in listeners.
While it is possible to use human-like AI voice generators to create voiceovers for explanatory videos, it is not possible for an ASMR recording.
A high-quality, directional microphone (usually a condenser microphone) capable of capturing crisp and detailed sounds is often utilized to create an ASMR video. Normally, microphones that are good for singing will also work well for ASMR.
Check out our informative article to learn more about different kinds of microphones out there.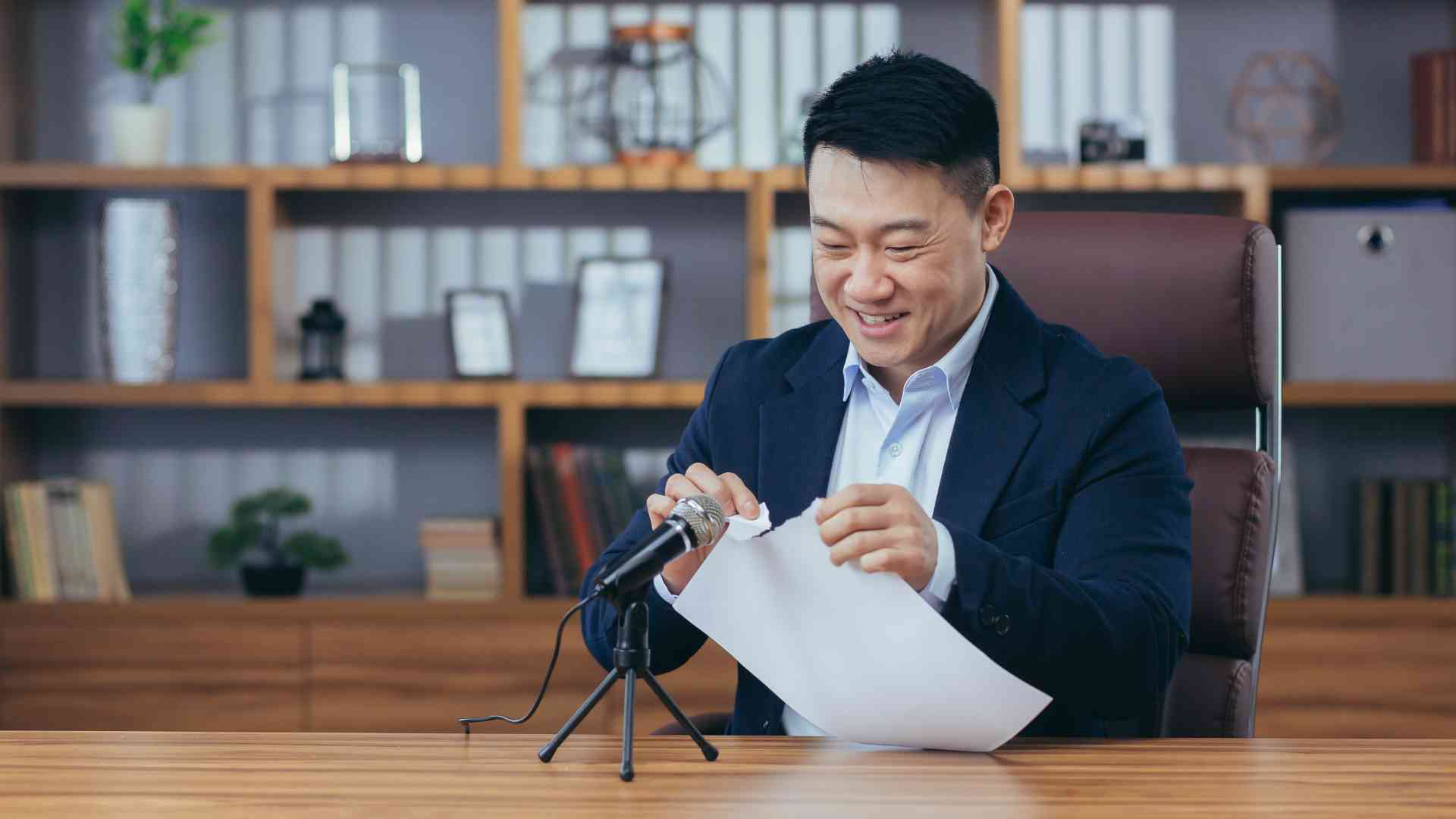 The ASMR microphone is usually placed near (around 3 to 6 inches) the sound source, such as a person's mouth or hands. This enables the microphone to pick up on the subtle sounds associated with ASMR, such as whispering, lip-smacking, tapping, crinkling, brushing, and other faint sounds.
Sometimes, binaural microphones are used for creating ASMR videos. This creates a sense of 3D space inside your head, as if you are standing in the recorded environment and can tell where the sounds are coming from.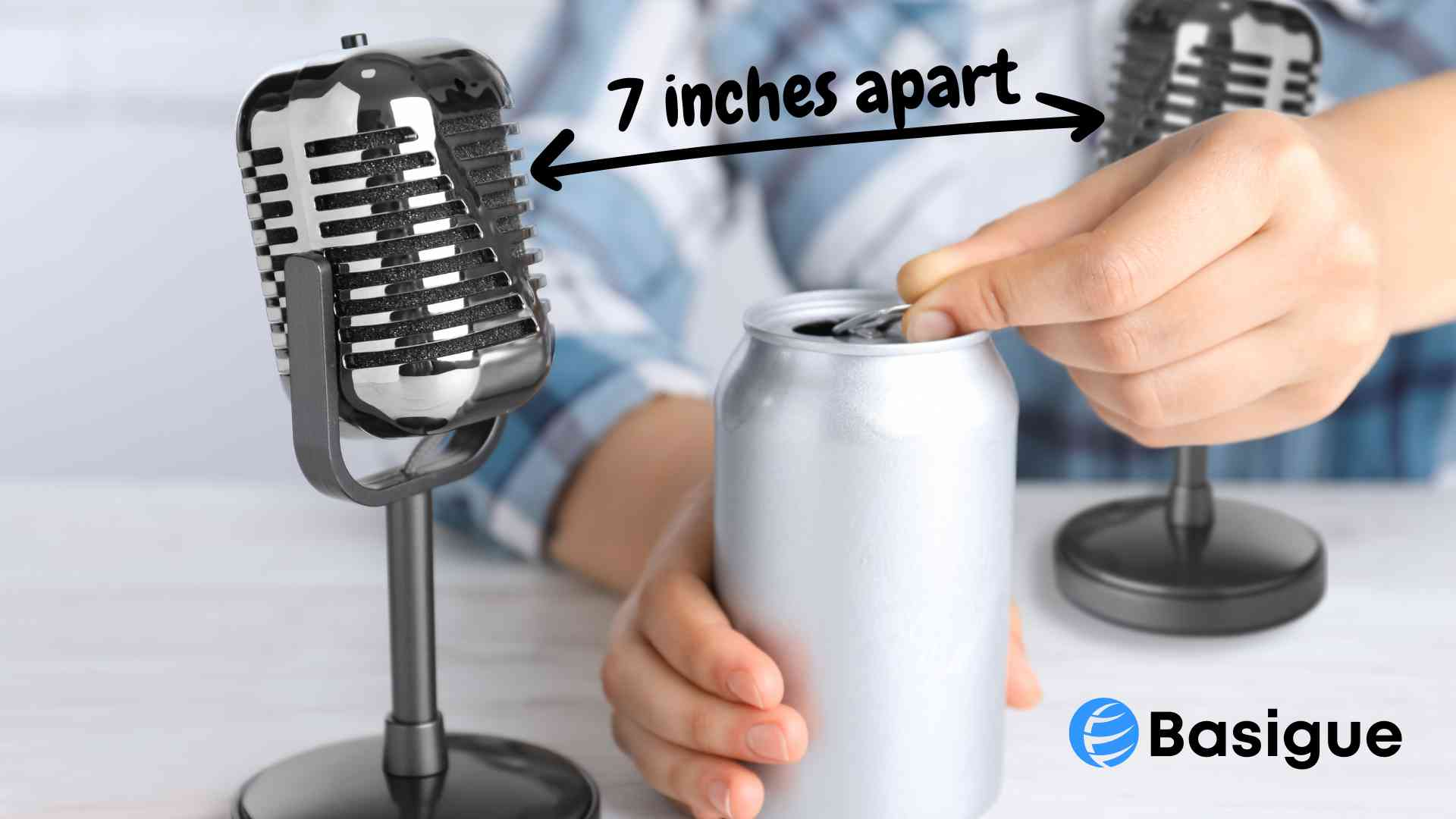 Another way of creating a binaural recording without using a binaural microphone is to use two ASMR microphones and space them 7″ inches (18cm) apart from each other, which is the average distance between human ears.
A microphone windscreen is often used when recording ASMR outdoors to reduce background noise from the wind.
While it is possible live stream using a good mic, the recorded ASMR video is frequently edited and post-processed using software such as Davinci Resolve or Audacity to improve the sound and remove any unwanted noise. The final video is generally published online on YouTube or other platforms for people seeking to enjoy ASMR responses.
Do ASMR microphones need phantom power?
It depends on whether you are using a condenser or a dynamic microphone. They do need phantom power if they are XLR condenser microphones. You must ensure that you have an audio interface with +48V phantom power. However, most dynamic mics and ribbons mics do not need phantom power.
Check out this article if you don't know what an audio interface is.