5 Best Text To Speech Software of 2023 for Audio Voiceovers
Looking to add audio voiceovers to your content marketing strategy in 2023? While you can always get a decent microphone, most people would rather not use their own voice or deal with complicated audio equipment and editing software, or spend hundreds and thousands of dollars to hire a voice actor? Look no further than the best text to speech tools of the year.
The text to speech software industry is constantly evolving and growing, with new programs being released all the time. These programs can be used for a variety of purposes, such as creating text to speech voiceover recording for your podcasts and video, or used as a reading aid for your users, or in some instances even generate lifelike AI presenters to speak in your video presentations.
Here are 5 options for the best text to speech softwares that uses realistic natural voices that can help you create audio voice recordings quickly and easily without having to record your own voice!
What is the Best Text To Speech Software?
Here are my top picks for the best text to speech voice generation softwares to try this year.
1. Synthesia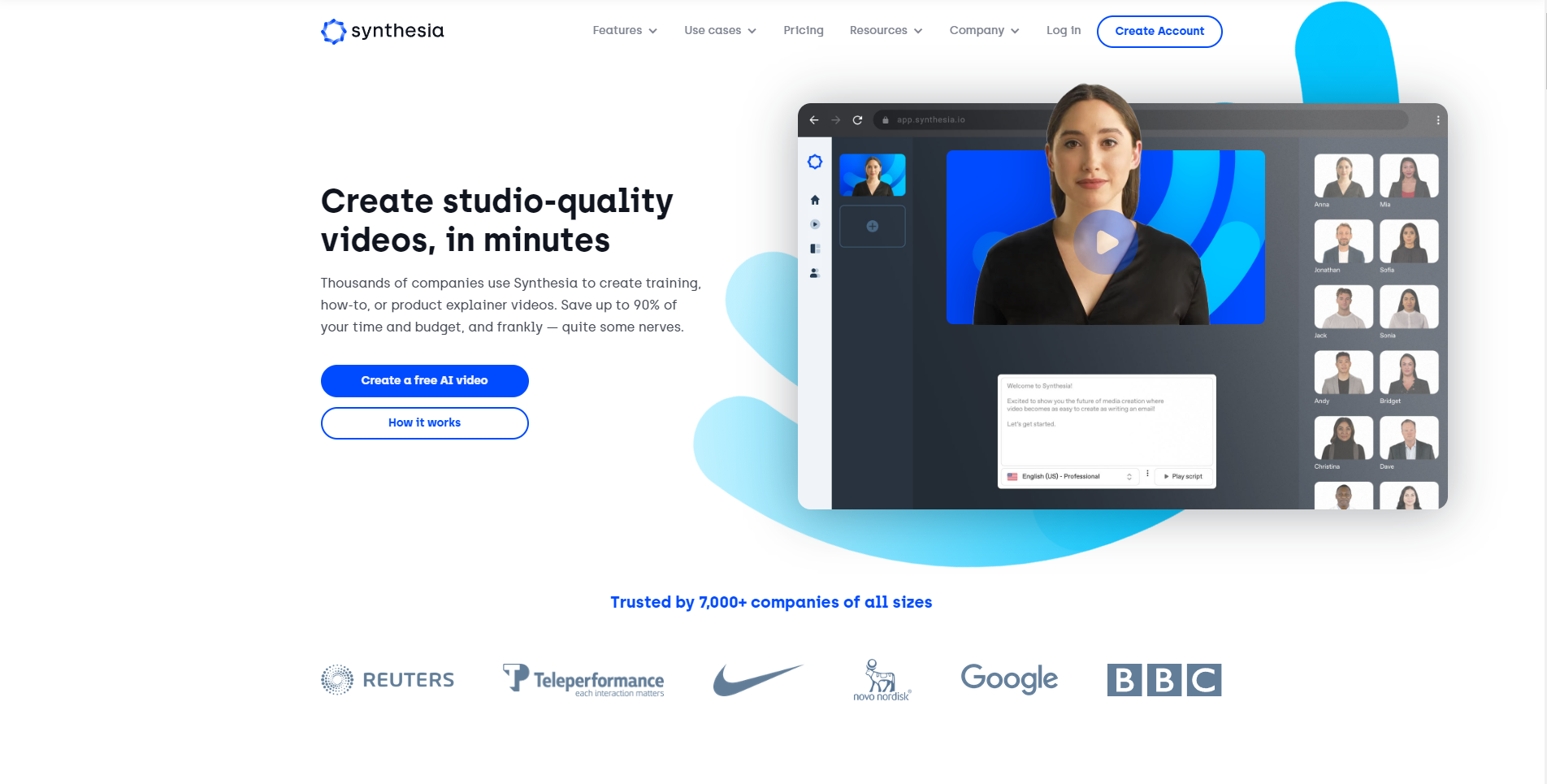 Synthesia is a piece of software that allows users to create one of the best text to speech videos using AI presenters with natural sounding voices in more than 40 different languages. Synthesia enables anyone to produce a high-quality text to speech videos with human like speech in a short period of time.
Synthesia is an AI text to speech video creation tool for entrepreneurs, business owners, and corporations. You can make your own custom-tailored, high-quality AI video as quickly and easy as writing an email with this text to speech tool.
To make great video content for customer onboarding, enterprise training, retail consumer education, or just about anything else that requires engaging content, all you need is text and a few basic editing commands. Synthesia does all the heavy work for you, so you don't even need actors, cameras, or audio equipment.
Key Features:
Text to video – Converts written text into a professional video with human like speech in a matter of minutes. It can make high-quality videos up to 30 minutes long.
Personalized Avatar – If you don't want to utilize one of the built-in presenters, you can make your own deepfake avatar. Creating a personalized avatar only takes approximately five minutes. This avatar creation feature is not free, it should be highlighted. The cost of this add-on is estimated to be roughly $1,000.
40+ AI Presenters – If you don't want to make your own AI presenter, Synthesia lets you choose from a number of built-in AI presenters. There are presently over 40 speakers to choose from, with more being added all the time.
Supports multiple languages – Synthesia presently supports approximately 40 languages, this is great if you need to overcome language barriers. When generating the text to speech video, you have the option of selecting your chosen language, ai voice, and accent.
Custom backgrounds – When creating a text to speech video with Synthesia, just upload any image with a resolution of 1920 x 1080 or greater to include a background of your choice. You can utilize one of Synthesia's free slide templates if you don't want to use a custom background.
Custom voice – You can have your own custom voice by uploading and syncing your own voice files with your video. This feature, however, is only available in the enterprise edition of the program.
Background music – Synthesia has its own playlists from which you can choose any song for your text to speech video's background music.
Share videos easily – Synthesia provides a dedicated video sharing page if you wish to share your text to speech video on socia media.
Pros:
Save video creators many hours of work without any need for technical knowledge, audio or video equipment.
Creates text to speech videos using AI humans with natural sounding voices in a matter of minutes.
40+ AI Presenters with natural sounding voices.
Supports 40+ languages
Create your own Personalized Avatar with human voice (e.g. using a staff from your company)
Cons:
The personal plan has a limited set of features. Custom avatars and API access, for example, are not available.
4K videos are not supported.
Pricing:
Personal Plan: $30 / month
Corporate Plan: Custom Pricing
2. Murf.ai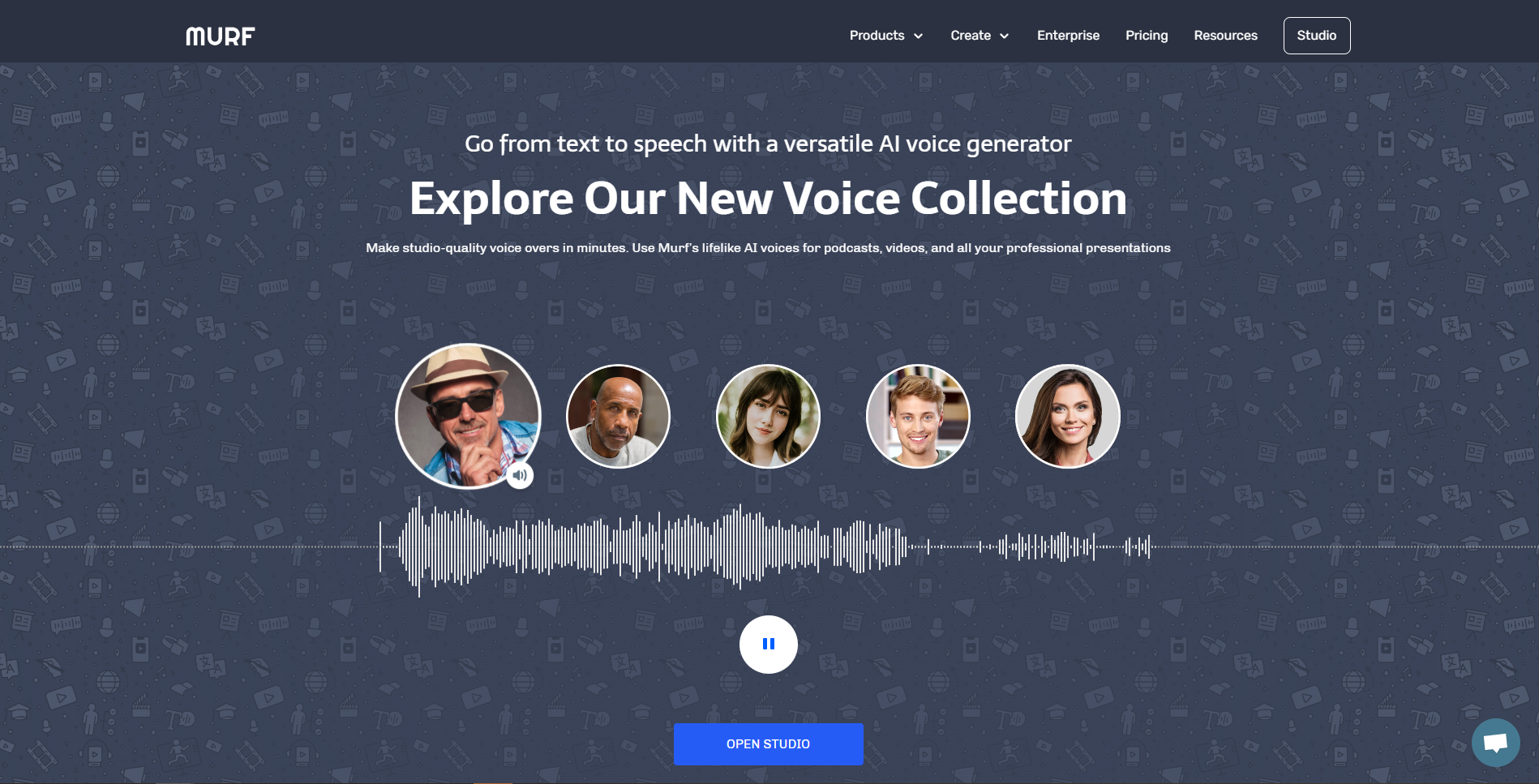 Murf is a cutting-edge text to voice software that contains a number of features that allow you to make realistic voiceovers that are comparable to those produced by a human voice, making it tough for your viewers to tell whether the voice in the video is that of a human person or a computerized bot.
The Murf text to speech software, according to its official website, allows users to create voiceovers in more than 20 languages and 130+ AI voices.
The speech software is simple to use and allows you to match your voice to the timing of your videos (audio sync). You may also customize the speech and voice to make it completely unique, which is a feature not many text to speech apps offer.
Key Features:
Wide variety of voices – There are over 130+ ai voices and 20 languages to choose from.
Audio editing features – Allows for adjustment of intonations, pitch, speed, pronounciation, emphasis on words and even removing background noises in order to achieve a natural sounding speech.
AI-powered Grammar Assistance – Identifies grammatical errors in the text before turning the text to speech.
Add video, image, or music – Video, images and music can be added to the audio files to make them more engaging.
Team collaboration – Up to three users can be added to utilize these features as a team and collaborate with each other. (But this comes only with the Pro Plan)
Pros:
Large variety of ai female and male voices (130+ voices) in 20 different languages.
AI voices sound incredibly realistic and human-like.
Free version to try out the speech software before commiting to the paid version.
Seamless audio editing features that can modulate the audio file by adjusting speed, pitch, pronunciation to create natural sounding voices.
Very good data security and protection.
Cons:
Nothing much to complain about for this text to speech software.
Pricing:
Pricing comes with an option of an annual plan that saves you 33% more.
Free version
Basic: $19 / month
Pro: $39 / month
Enterprise: $249 / month
3. Play.ht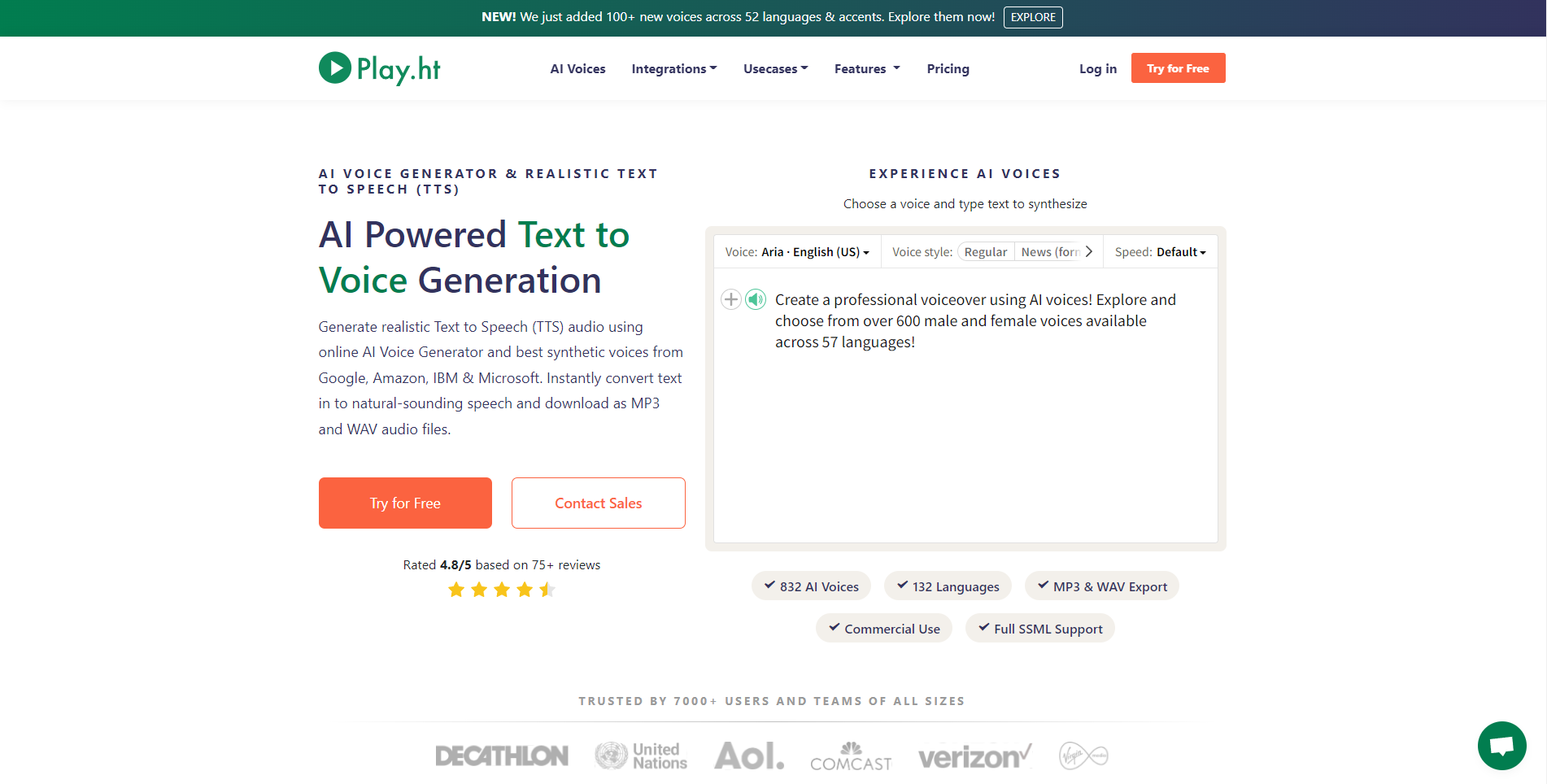 No one has enough time to read and grasp website content these days, therefore Play.ht allows website owners to convert all of their contents, courses, articles, and legible text into audio, making it accessible to customers.
Play.ht is a text to speech software that can synthesize natural sounding speech and is powered by machine learning technology. This speech software can be used to convert blog posts into voice-overs, audio files, or just to make audio for podcasts and articles, amongst other things. This speech software is designed for blog posts, and you may incorporate your blog post into Play.ht before selecting one of these sample ai voices to convert your blog post to audio.
Key Features:
Wide variety of natural voices – Growing library of 600+ high-quality male voices and female voices accessible in over 60 languages, all powered by Google Wavenet, Amazon Polly, IBM Watson, and Microsoft Azure. Standard voices and premium voices are the two types of AI voices.
Text to Speech Online Editor – Set custom pause durations for punctuation marks or insert variable pauses in the audio files. To create unique voice effects, manipulate the loudness, speed, and pitch of words or even complete sentences.
Expressive styles – Newscaster, Customer Service, Chat, Conversational, Cheerful, and Empathetic are just a few of the speech types available.
Pronunciations & Phonetics Library – Helps you have your brand names, acronyms, and specialised terms read out correctly, allows you to fine-tune how words are pronounced and store them to be reflected across your content.
Multi-voice feature – Create a real conversation by having several voices within the same audio files.
Audio Widget – Customizable audio players and buttons that can be installed on your web pages or blog to allow users to listen to your content on the go.
Podcast hosting – All audio files created on the Play.ht dashboard can be distributed to main podcasting platforms such as Google Podcasts, Spotify and iTunes.
Full Commercial & Broadcasting Rights – Use the recordings to monetise your YouTube videos or for any other business purposes.
Analytics – Provides data for your audio widgets, such as plays, downloads, shares, and subscribers.
Pros:
Has a wide range of voices, expressions, languages and editing options for creating lifelike speech.
Software is being updated all the time.
Simple and easy to use.
Increases your reach to visually impaired readers and auditory learners.
Many great features to help build up your website such as analytics, podcast hosting, email subscriptions, audio widgets etc.
Cons:
Personal Plan does not have many features
Pricing:
Pricing comes with an option of an annual plan that saves you 25% more.
Personal: $19 /month
Professional: $39 / month
Growth: $99 / month
Business: $199 / month
Speechlo is a cloud-based text to speech software that will assist you to convert text to natural-sounding voices. Speechelo is great because it is very simple to use with a user-friendly dashboard, it comes with 30 different voices and 23 languages with the option to upgrade to the Pro version which will give you access to 171 voices, longer voiceovers, 40 background music tracks, commercial license, and the ability to use multiple voices to create a dialogue in a single voiceover.
Copy & paste your text, select a voiceover from Speechelo's library, generate, and download, and you're done. You may even add breathing and pauses to your script, emphasize certain terms inside your script, and another unique feature is the ability to modify the actual speech by altering the loudness, speaking tempo, and pitch of your chosen voiceover.
Key Features:
Wide variety of voices – 30 voices and 23 languages with the option to upgrade to 171 voices.
Online text editor – Checks your text for any punctuation marks that are required to make the speech sound natural.
Text to Speech Editor – After each phrase, you can add breathing sounds and lengthier pauses (Or let the AI engine decide that for you). Change the tempo and pitch of the voices, and even change between a serious or joyful tone.
Music Tracks (Pro version) – Up to 40 music tracks to choose from that can be added to the background,
Commercial License (Pro version) – Monetize the voice generation on Youtube or sell the voiceovers.
Dialogue Type Voiceovers (Pro Version) – Use multiple voices in the same voiceover to create a conversion between multiple people.
Pros:
Interface is easy to use and navigate, it is as simple as copying and pasting the text and selecting the voice.
Reasonbly priced and one-time payment.
Saves a lot of time and money, don't need audio equipment and software or hire voice actors.
Cons:
Has a 700 word limit unless you upgrade to the Pro version.
No free trial period.
Pricing:
Front end: $47 one time payment
Pro upgrade: $47 / quarterly
5. Notevibes
Notevibes is a text to speech voice generator with a simple user interface that converts text to speech in a matter of seconds. Pauses can be added, as well as changes in tempo and tone, as well as emphasis and voice control. The MP3 and WAV files of the converted audio are available for download. The Personal Pack is ideal for private listening and personal e-learning, with 100,00 characters per month, 225+ premium voices, and 25 languages.
This text to speech software is ideal for creating video sales letters, animated videos, explainer videos, Instagram and Facebook marketing videos, and podcasts, among other things.
It also has an advanced editor which has features such as changing the speed and pitch of the voice, inserting pauses with a single click, storing audio as WAV or MP3, volume and emphasis control.
Key Features:
Wide variety of voices – 225+ high-quality female and males voices and 25 different languages powered by the most popular providers such as Google, Amazon, IBM and Microsoft.
Advanced Editor – Allows to changing the speed and pitch of the voice, adding pauses, emphasis and volume control.
Audio can be saved in MP3 or WAV format.
Pros:
Simple and easy to use text to speech software that is great for personal use.
Cons:
Not as many features compared to other Text to Speech softwares like Murf, Play.ht and Synthesia.
For the same monthly subcsription on Notevibe, you can get a lot more features on other text to speech softwares.
Pricing:
Personal Pack: $19 / month
Commercial Pack: $99 / month
What is text to speech software?
A text to speech software is an application that helps with converting text to an ai voice that has an almost human-like voice quality, these softwares are usually powered by machine learning that continously improves the speech synthesis to sound more like a natural reader. The first text to speech software was created in 1980, called Speak & Spell. Since then, even more applications and softwares have entered the market, each time getting more advanced and human-like.
There are several usages of a text to speech software – some people would use it as a E-learning reading aid as they would prefer listening to audio rather than reading a text. It also aids those with disabilities such as the visually impared and children with dyslexia in comprehending printed text. Some others on the other hand, would like to do a voiceover for their video or start a podcast but have many reasons not to use their own voice, for example, the costs of buying audio equipment, or hiring a voice actor, the complexity of learning audio editing or they want a certain accent for their video or podcast.
Whatever the reasons are for using a text to speech software, that this is a groundbreaking speech solution that allows information to be distributed in more ways than just text.
How to choose the best text to speech tool?
When you are looking for the best text to speech software, there are many different things that you will want to consider. One of the most important factors is the quality of the software, how realistic the voiceover sounds. You will also want to consider the price and the features that are offered as well as what kind of applications you need it for.
If you just need it for personal use, to convert a text file to speech in order to use it for a video presentation, and you do not plan to monetize it on Youtube or use it for commercial purposes, then Notevibes or Speechelo is more than sufficient (although the Pro version does come with commercial license).
If you need to sell your voiceovers, promote your business or monetize on Youtube, then Murf.ai or Play.ht would be a good option as the voice quality of their voiceovers are incredibly realistic. Moreoever Play.ht has many additional features and speech solutions that can increase engagement with your readers such as embedded audio widgets and analytics. These softwares can upload your audio files to major podcasting platforms such as Google Podcasts, iTunes and Spotify.
While text to speech software can create realistic voiceovers for videos with speech, it is not possible to use such software to create ASMR recordings. To record ASMR, you have no choice but to use a microphone capable of capturing detailed and clear sound. Check out our article on great mics for ASMR recordings.
Which text to speech tool has the most natural sounding voices?
While these handpicked softwares are the best text to speech tools with very realistic and human-like voices, the software that stands out with the most realistic voices would be Murf.ai.
Conclusion
Let's be real, most of us here do not want the hassle of buying expensive microphones, audio interfaces and learning complex audio editing softwares if we just intend to make a couple of voiceoever, and neither would we want to splurge hundreds of dollars hiring a voice actor. Hence, we look for the next best budget alternative which is to turn to text to speech software for our voiceover needs.
Text to speech software has been around for ages and while there are many more out there, I have handpicked the Top 5 best text to speech softwares in 2023 for you.
Whether you just want a simple voiceover for personal use as a reading aid or to use in a video, or you intend to use it for promoting your products and business, each one of these softwares will be able to serve your needs at a different level.