10 Best Office Chair For Back Pain You Need to Get in 2023
Back pain is one of the most common health problems in the United States, according to the American Chiropractic Association, more than 35 million people in the United States suffer from low back pain at any given moment. Back pain is also discovered to be the main cause of disability in Americans under the age of 45.
The main cause of back pain is often attributed to a bad sitting posture, which causes the discs in their back to compression and herniate, this can cause long-term back pain and inflammation.
Another common reason is that people are constantly moving around in their office chairs, which puts more stress on the back muscles. It's important for office workers to adopt good sitting habits in order to avoid developing this condition.
Because you are reading this, I assume you've probably dealt with the effects of poor posture and back pain. Since it can lead to major health problems in the long run, many people have made purchasing the best office chair for back pain a priority.
The best ergonomic office chair offers lumbar support in the appropriate places, especially your lower back. To relieve stress on the spine, it is recommended to support the natural inward curve of the lumbar region and keep it in a neutral position.
The best office chairs for back pain achieve this by utilizing various forms of support, which are fixed in the case of less expensive office chairs and adjustable in the case of more pricey office chairs.
There are other characteristics that the ideal office chair should possess. Since no two persons have the same proportions, the more adjustable the office chair, the better – you may adjust everything from height to seat depth, armrests, and headrests.
Minimally, the best office chair for back pain should include adjustable height of the seat so that your feet are flat on the ground and your knees aren't strained.
In order to choose the best office chair for back pain in this article, we need to consider adjustability and construction quality. For sure, you might want an attractive office chair, so we've taken that into account as well.
Since the best office chairs for back pain might be too expensive for some people, we've included several less expensive ones that nonetheless provide basic ergonomic adjustment and support.
What is the best office chair for back pain in 2023?
Here are the best office chairs for back pain in 2023: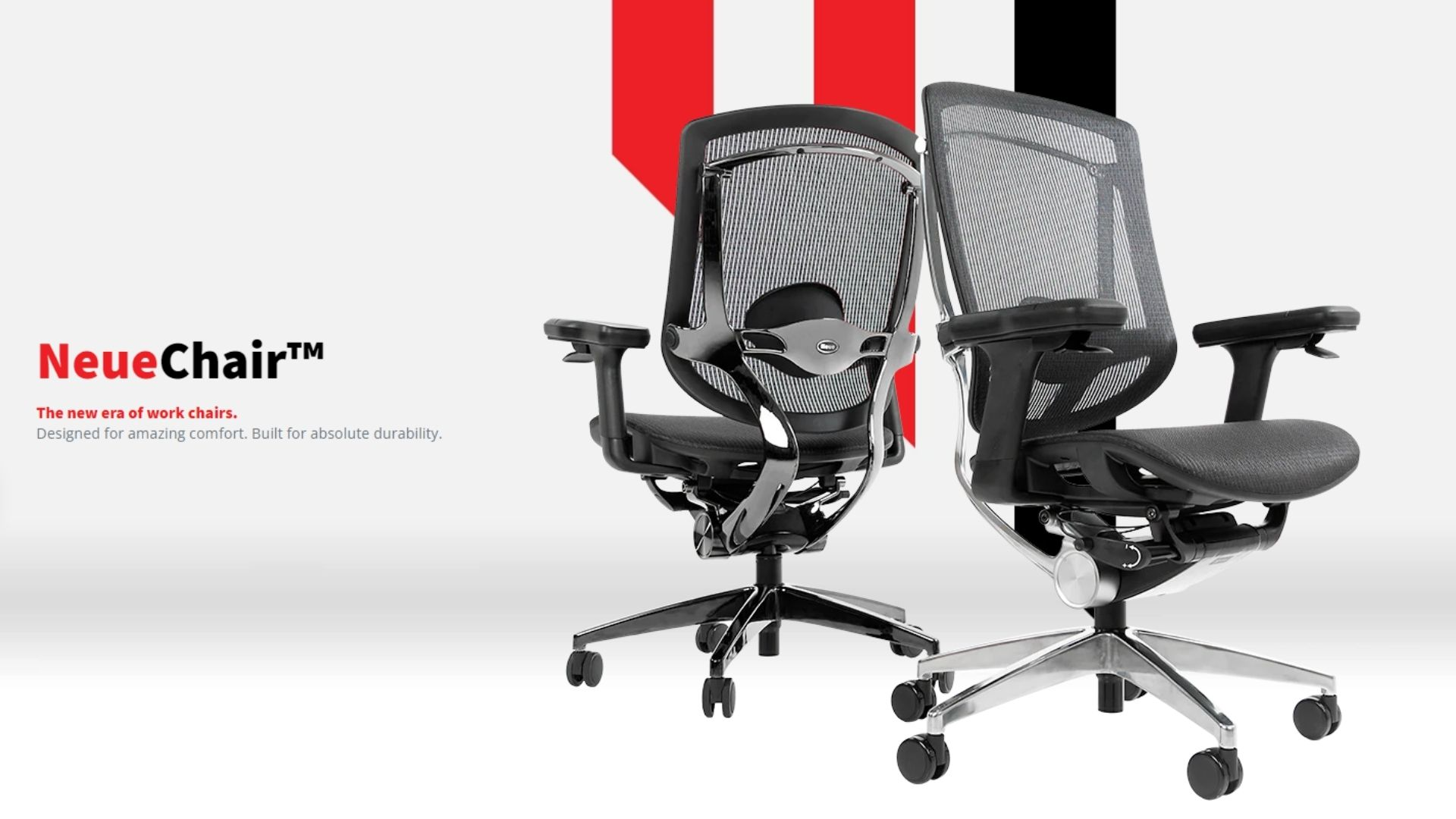 The NeueChair is a mesh office chair that looks a lot like Herman Miller chairs. It comes with some neat ergonomic features such as levers on the underside of the armrests to make adjustments to the office chair, a highly adjustable built in lumbar support, a reclining backrest, and adjustable chair height. The NeueChair's most appealing feature is its exceptionally comfy mesh upholstery.
It has some flaws, such as stiff and wide armrests, and it may not be suitable for individuals weighing more than 200 pounds, but for the most part, it will provide a stable base for most people.
Key Features:
NeueMesh – Three-layer mesh blend woven from high-quality polyester fiber and DuPont yarn for long-lasting durability and comfort.
ControlShift Adjustments – Cool-looking levers below the armrests that allow for tilting and locking the backrest without you having to bend below your chair to do so.
Lumbar support – Adjustable and densely padded cushion support for your lower back.
Focus Mode – Easily shift into the maximum ergonomic setting by setting the backrest to 85 degrees and the lumbar support to the farthest forward position possible.
Pros:
High quality build materials used for the seat structure, hydraulic piston, mesh, armrests etc.
Gone through rigorous testing according to industrial standards.
Very comfortable and breatheable mesh upholstery.
Convenient placement of adjustment levers
Classy and sleek look.
Good ergonomics that supports your back.
Cons:
Armrests cannot be adjusted much and does not lock in place.
Does not come with a headrest but can be added on as an accessory for $100.
Not so suitable for people above 200 lbs.
Pricing:
Silver – $609
Obsidian (more durable) – $709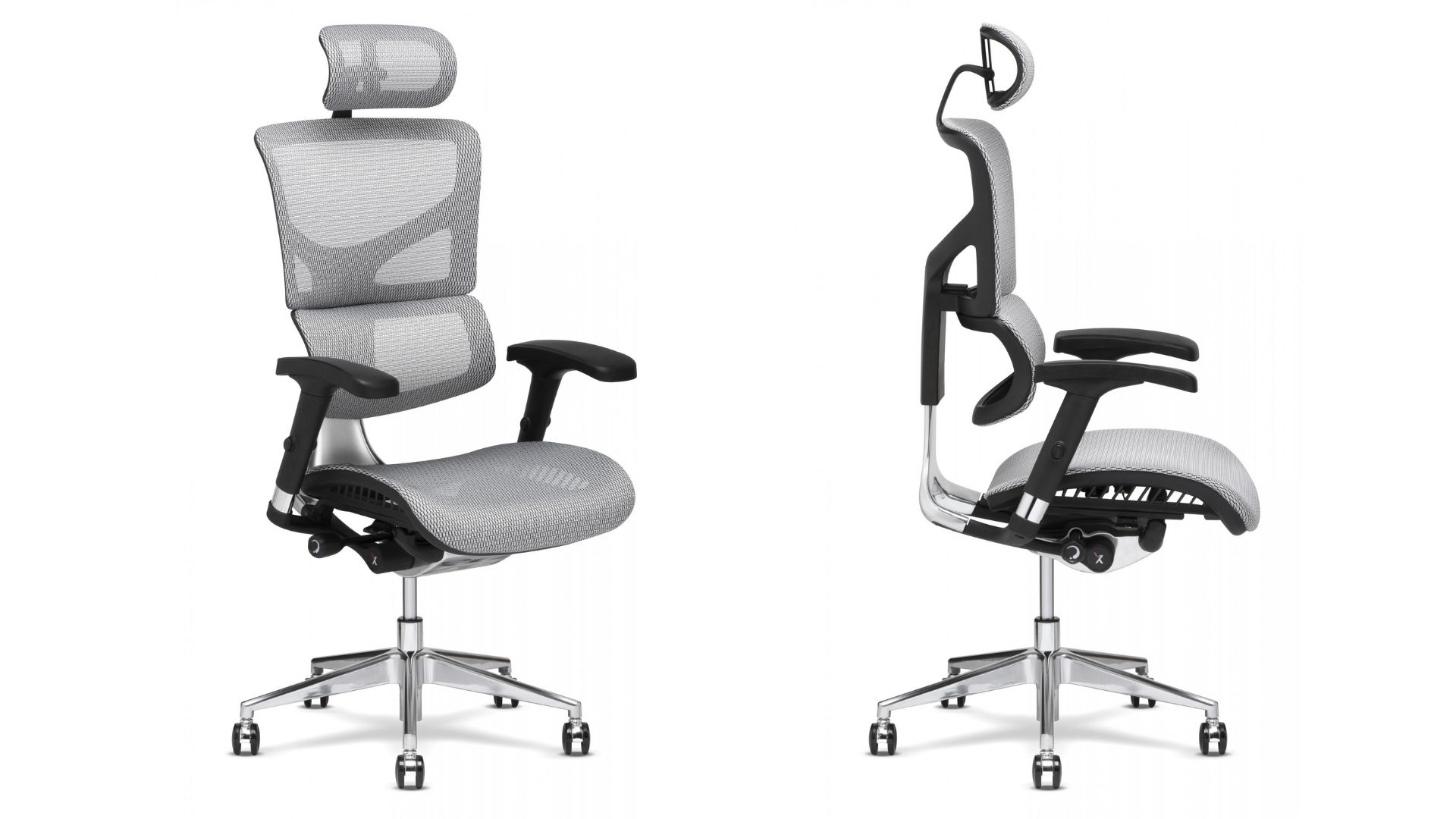 If you find that mid-range office chairs aren't good enough, the X2 K Sport Mgmt Chair from X-Chair is a top choice worth considering. The X-Chair is an office chair with 10 ergonomic adjustments to accommodate every body type.
The adjustability of the X2 is without a doubt its best feature. Adjustable height of the seat, seat depth, back height, four-way adjustable arms, height and tilt adjustable headrest, and multiple position lock with tension control are all included.
Along with several customization choices such as adding a headrest, rubberized wheels or wider seat, the X2 can also be equipped with a massager with heating or cooling pad (or both) at the lumbar support for a relatively low price.
Nonetheless, the X2 and the rest of X-office Chair's variations are pricey, which may be a deterrent to individuals on a limited budget.
If you have the money and want a well-made office chair that will last for years, the X2 should be at the top of your list.
Key Features:
Able to add on X-HMT or ELEMAX variant to the lumar support which turns it into a massager with heating or cooling (or both) functions.
Dynamic Variable Lumbar support that adjusts itself to your body every time you move.4
The Infinite Recline technology keeps your body in motion all day which improves concentration and circulation.
4D Armrests allows for change in height, depth, width, and angle.
Adjustable headrest and backrest to give you the best supporting position for your head and back.
Tightly woven Flex Mesh that is soft and allows you to sit comfortably.
Option to change wheels to rubberized caster wheels.
Pros:
Almost infinite number of adjustments can be made for proper posture.
Highly quality materials used.
Breatheable and strong mesh fabric.
Good for long hours at your desk especially with the massager add-on.
Cons:
A little pricey.
Wide seat version only available in black.
Pricing:
Based model (without add-ons): $849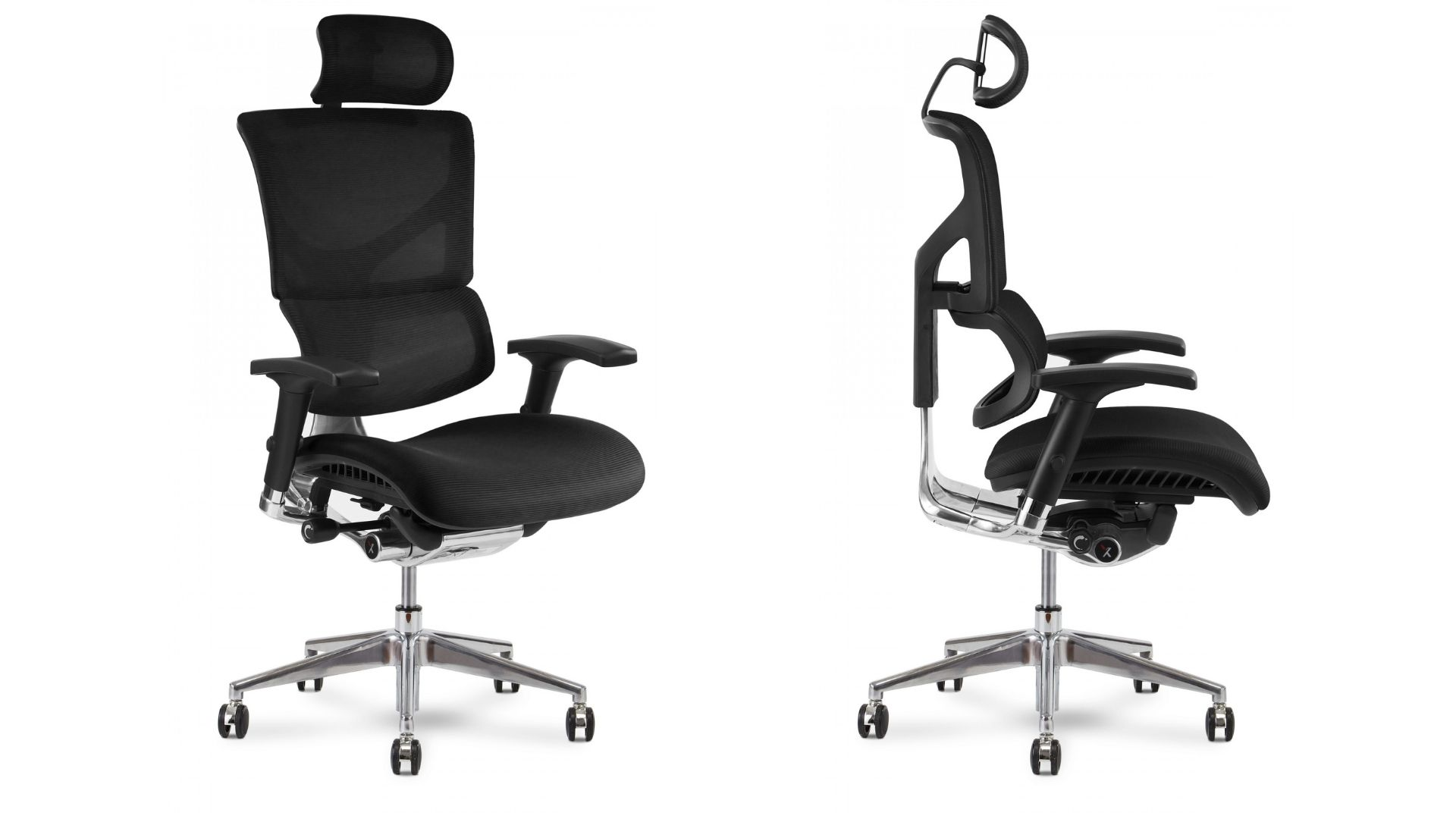 So you're thinking, the X2 K-Sport Mgmt Chair is already so incredible, can it get any better than what it already is? Yes, it can. That is where X3 ATR Mgmt Chair comes into play, it is whatever the X2 is but with a High Resiliency Molded Foam Seat that gives added support as well as a more advanced fabric called the Advanced Tensile Recovery Fabric (ATR) that is used throughout the chair. The ATR has more spring and support and is water and stain resistant.
Apart from these, it has all of the standard features of the X2, the incredible amount of customizations and adjustability for the seat, armrests, built in lumbar support and head rest as well as the option to add on the massager with heating or cooling pad (or both) at the lumbar support.
So if you really in it for the long haul and looking to invest in a premium ergonomic office chair that will last you a long time, the X3 is a superb option.
Also note that it is a little more expensive than the X2 ($100 more).
Key Features:
High Resiliency Molded Foam Seat that gives more support and is extra comfy.
Advanced Tensile Recovery fabric used throughout the chair that is both responsive and supportive and does not stain easily.
Able to add on X-HMT or ELEMAX variant to the lumar support which turns it into a massager with heating or cooling (or both) functions.
Dynamic Variable Lumbar support that adjusts itself to your body every time you move.4
The Infinite Recline technology keeps your body in motion all day which improves concentration and circulation.
4D Armrests allows for change in height, depth, width, and angle.
Adjustable headrest and backrest to give you the best supporting position for your head and back.
Option to change wheels to rubberized caster wheels.
Pros:
Almost infinite number of adjustments can be made to suitable your posture perfectly.
Highly quality materials used.
Extra comfortable seat.
Advanced nylon fabric that is more springy than traditional fabrics.
Good for long hours at your desk especially with the massager add-on.
Cons:
Pricing:
Based model (without add-ons): $949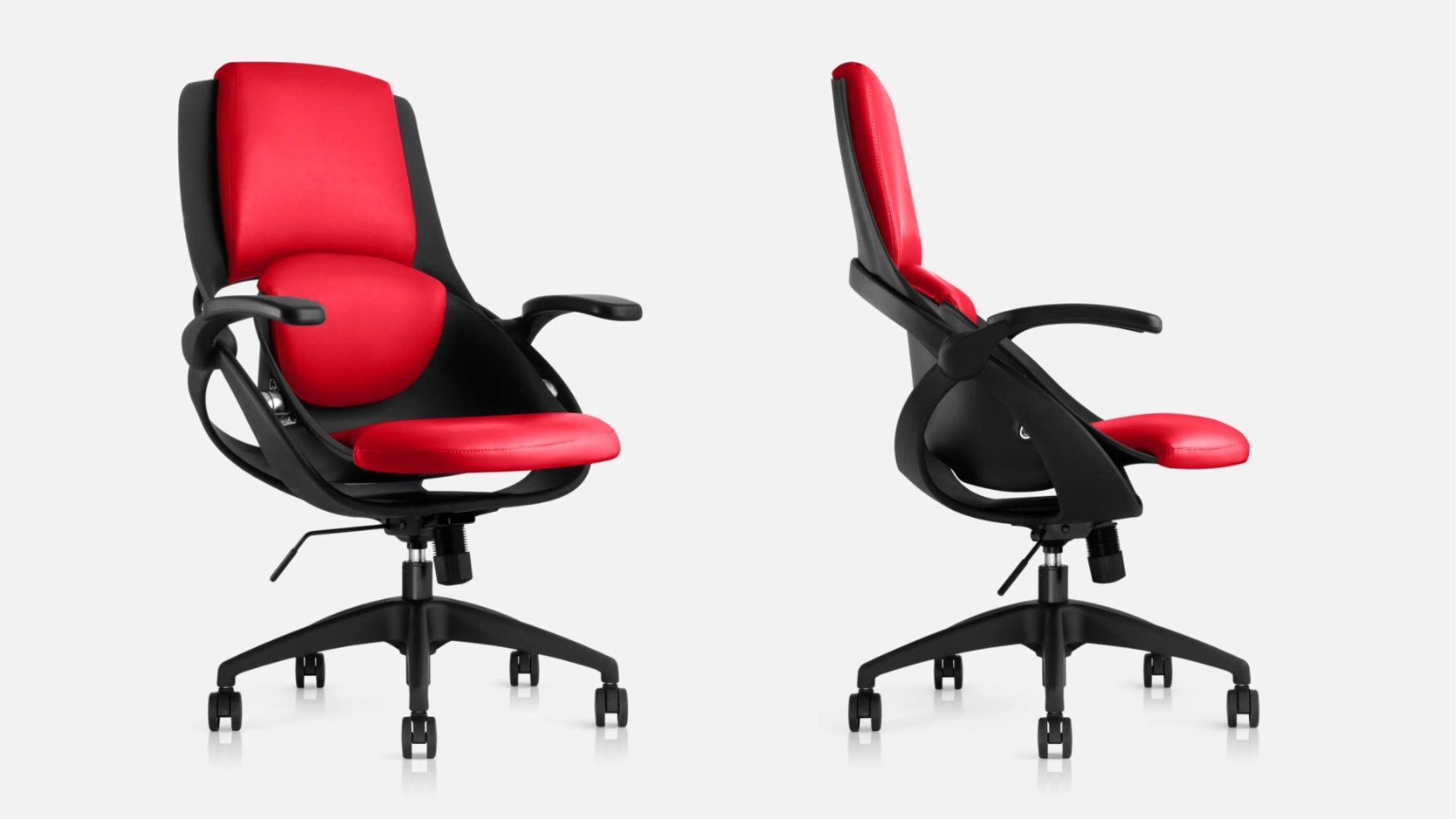 If you're tired of listening to your parents constant nagging to sit up straight in an upright position, then you'll probably want to get the BackStrong C1, because this ergonomic office chair forces you to sit up straight and prevents slouching.
Designed by "LA's leading chiropractor", Dr. Dennis Colonello, the main feature of the BackStrong C1 ergonomic office chair is its Sit-in-Motion technology which has a cupped design seat that swivels independently from the chair's frame.
The cupped design of the seat contours to your lower back and prevents slouching, and the independently tilting seat follows your pelvis movement to put you in the most comfortable position possible.
If back pain or poor posture are your main worries, and you absolutely need an office chair with good back support, the All33 is a great option.
Key Features:
Sit in Motion technology seat that pivots freely with your pelvis.
Adjustable armrests and the height of the seat.
Padded seating for all-day comfort
Pros:
Designed by a industry chiropractor.
Really good lumbar support that is comfortable.
Free pivoting seat with cupped designed is ideal for slouchers and promotes good posture.
Sleek and futuristic look.
Cons:
Not so comfortable for reclining as the upper back rest is fixed.
Seat can only be locked in fully upright position.
No head rest.
Armrests can only flip up and cannot be adjusted in other directions.
Pricing:
Fabric: $899
Vegan leather: $899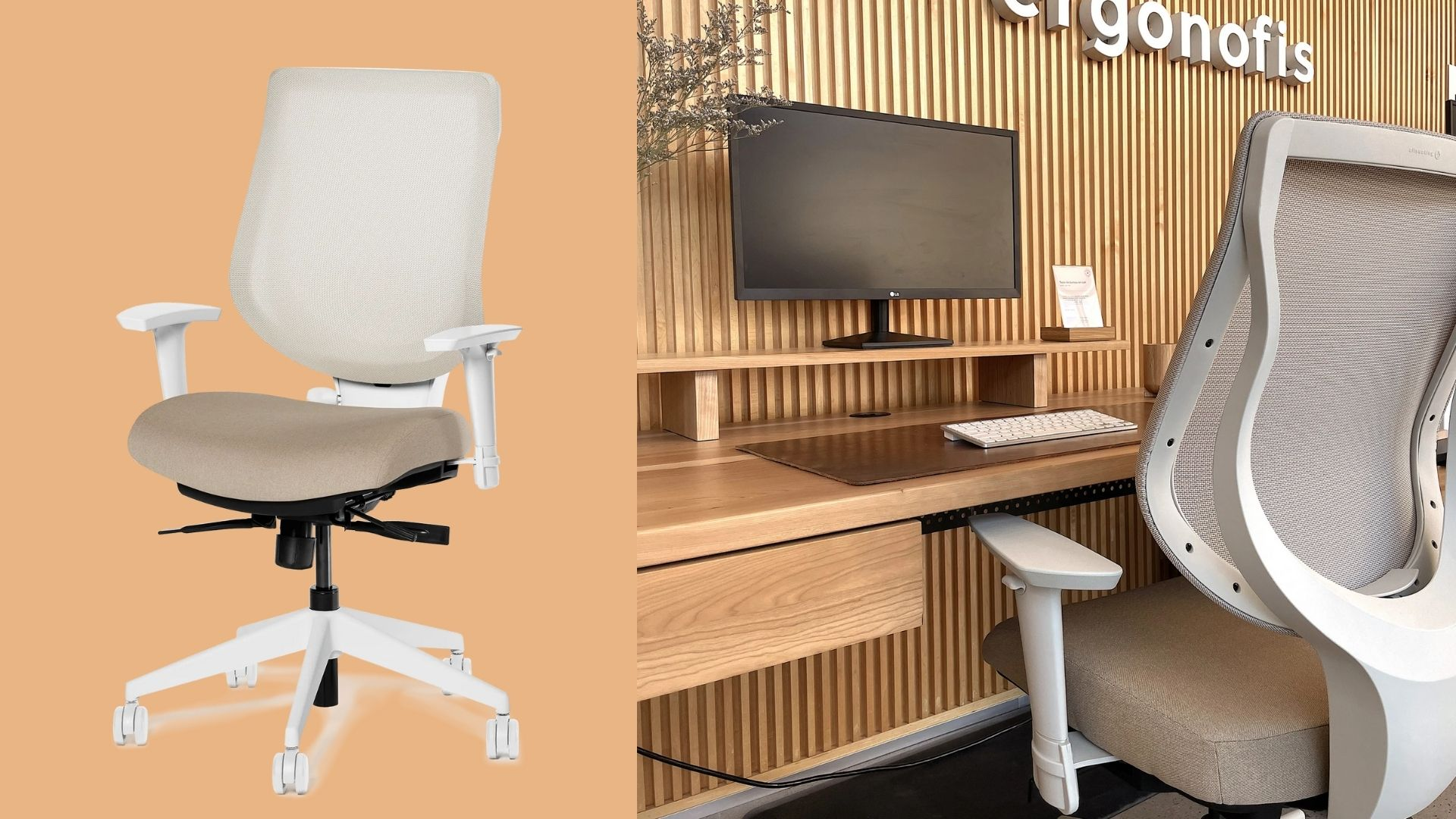 If you are looking for a simple but sturdy ergonomic officer chair without any fancy features to support your back , then the YouToo Ergonomic Chair would be suitable for you.
The YouToo Ergonomic Chair offers all the main ergonomic features required of a good ergonomic chair like a comfortable lumbar support, comfortable upholstered seat, adjustable chair height, adjustable armrests, adjustable chair height and seat slider.
Key Features:
Dynamic tilt control and lock to find your preferred reclining angle.
Adjustable arm rests and chair height.
Adjustable back height and seat sliders (Add-on options)
Pros:
Good ergonomics and comfortable.
Customizable colors for fabrics.
Easy to set up.
Cons:
Expensive for a fairly simple ergonomic chair.
No head rest.
Pricing:
Basic (without add-ons): $625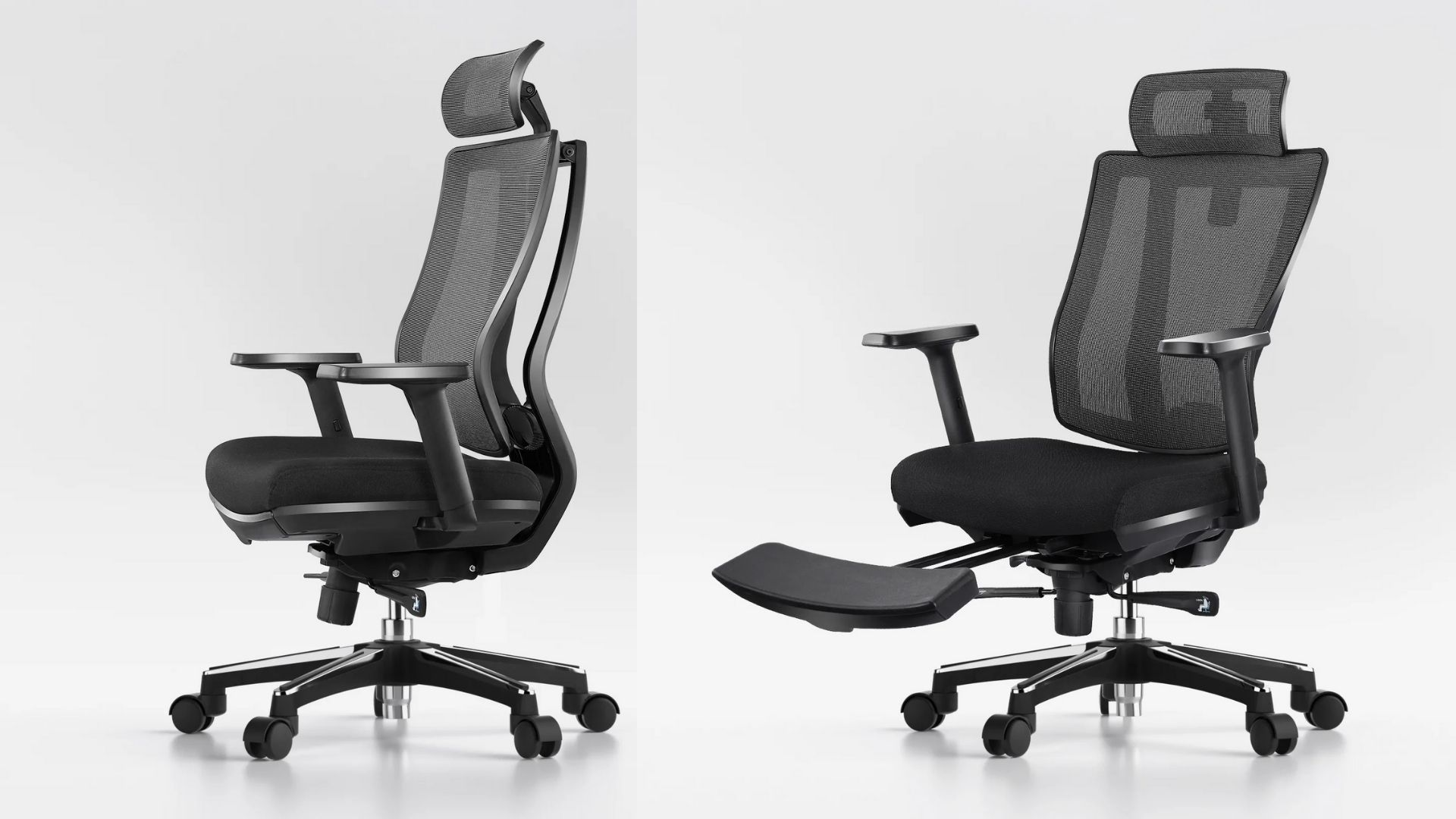 What's better than a standard ergonomic office chair? A standard ergonomic officer chair with a foot rest! There are times when you don't quite know what you're missing in life until you have it.
The Odinlake Ergo PRO Chair 633 is offers you everything you can ask for in an well-built ergonomic office chair like great lumbar and neck support, ergonomically adjustable height, armrest and recline, thickened sponge seat cushion, but it also throws in the missing piece of a puzzle – a built-in foot rest that can be pulled out to turn your office chair into into a comfortable reclining chair when you feel the need to take a quick break from work.
Key Features:
Adjustable recline, seat height, arm rests and seat cushion.
Built-in footrest.
High density sponge cushion for the seat.
Pros:
Comfortable ergonomic office chair with all the standard adjustments.
Foot rest allows you to turn it into a reclining chair.
Good value for the price.
Cons:
Not much to complain about.
Pricing: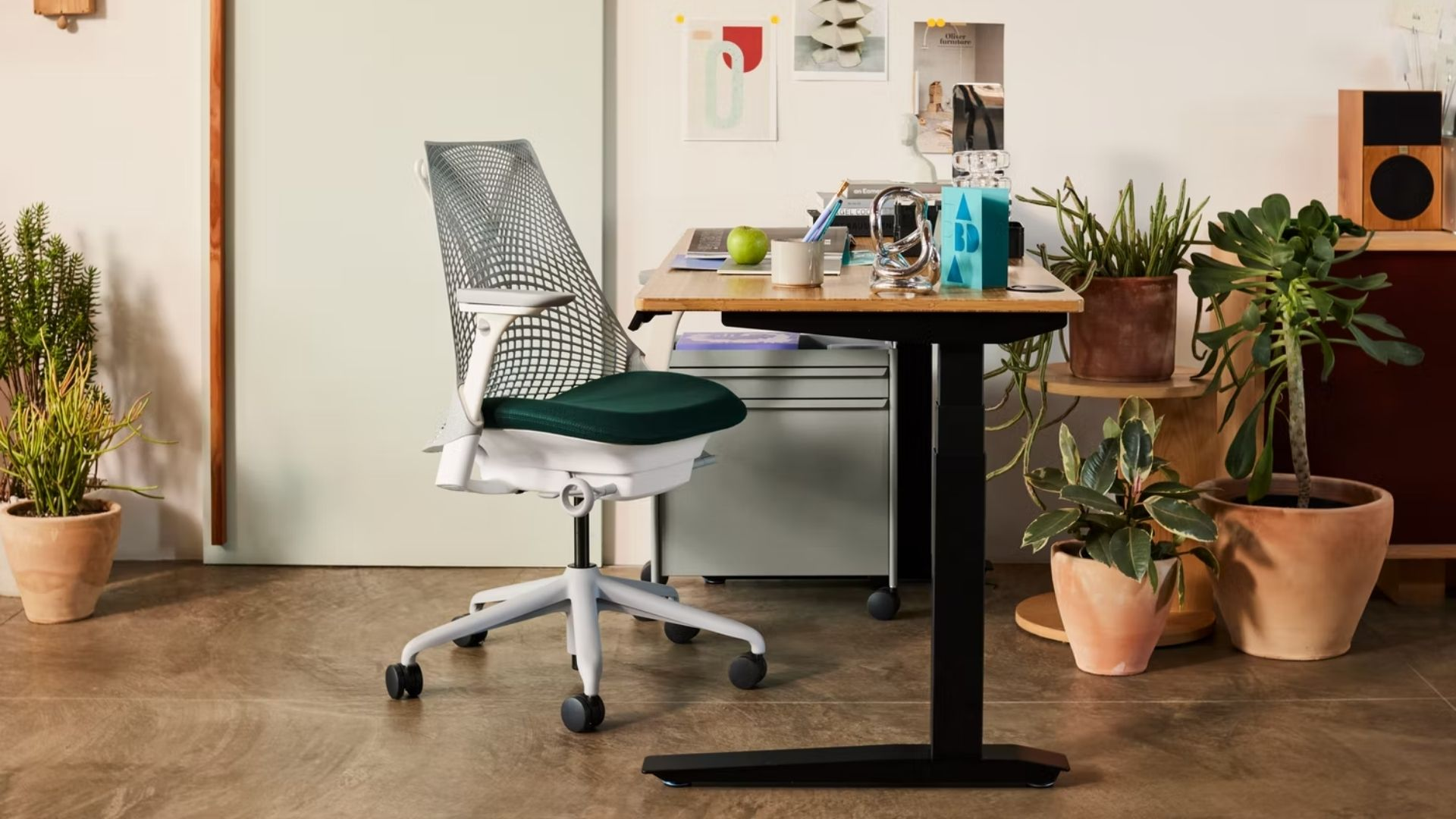 You will not be the first person to say this ergonomic office chair looks like suspension bridge, and coming from Herman Miller, you can expect that the Sayl Chair would have a one of a kind design and looks aestheitcally pleasing.
The frameless backrest material conforms to your body, allowing your back and shoulders to settle properly into the office chair. The backrest feels rough and rubbery to the touch, but it's surprisingly comfy to sit against and much more supporting than it appears. On hot days when you don't want your back to get all damp and wet, the chair's mesh design makes it even cooler to lay against.
It is okay in terms of comfort, not bad but not the best either, it does not have a very tall backrest and does not come with a headrest. Also, the adjustable arm rest, adjustable chair height and adjustable lumbar support are additional add-on options that you will need to pay for.
Key Features:
Breathable elastomeric backrest stretches with your body, allowing air to circulate freely.
Harmonic Tilt allows you to have a smooth and balanced recline.
No tools required for assembly.
90% recyclable.
12-year warranty.
Pros:
Unique one of a kind design.
Many choice of colors.
Easy to assemble.
Cons:
Basic model does not come with many adjustments, you will need to add them on at a cost.
No head rest.
Pricey for an ergonomic office chair that offers okay comfort.
Pricing:
Base set (without any add-ons): $845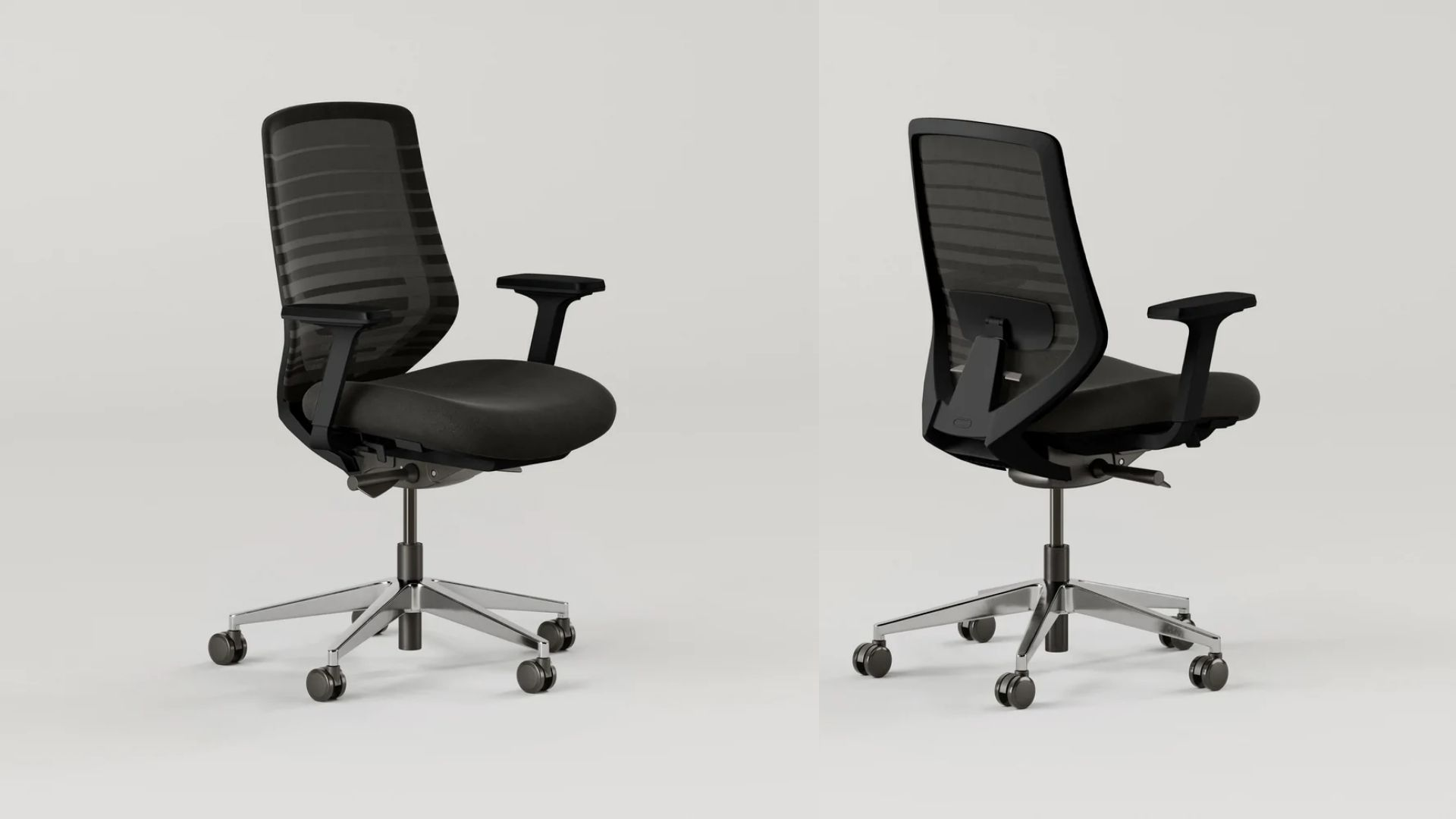 When you decide to name the model of your ergonomic chair Ergonomic Chair, you really must be running out of ideas, it's like naming my dog Dog.
In spite of its' lack of creativity, it stays true to its purpose of serving as an ergonomic office chair. The chair's adjustability is a plus point because it allows you to adapt the fit to your body's shape and size, and the seven-year warranty ensures you'll be able to use it for a long time.
The Branch Ergonomic Chair is a fantastic option if you're looking for a good office chair will neither break your back nor your bank account. It's simple to assemble, has a lot of adjustability, and is, most all, quite comfortable.
Key Features:
Adjustable armests, seat height, recline, recline tension and seat depth.
Lumbar support can be removed
Double layered mesh backrest for good support and breathability.
High density sponge cushion that can support up to 300 pounds of weight.
Backrest and seat can tilt in unison.
Pros:
Affordable and value for money.
Easy to assemble.
Comfortable and ergonomic.
Cons:
Head rest is an add-on option.
Seat can get warm compared to other mesh seats.
Levers to lock arms can wiggle loose.
Pricing:
Base set (without any add-ons): $329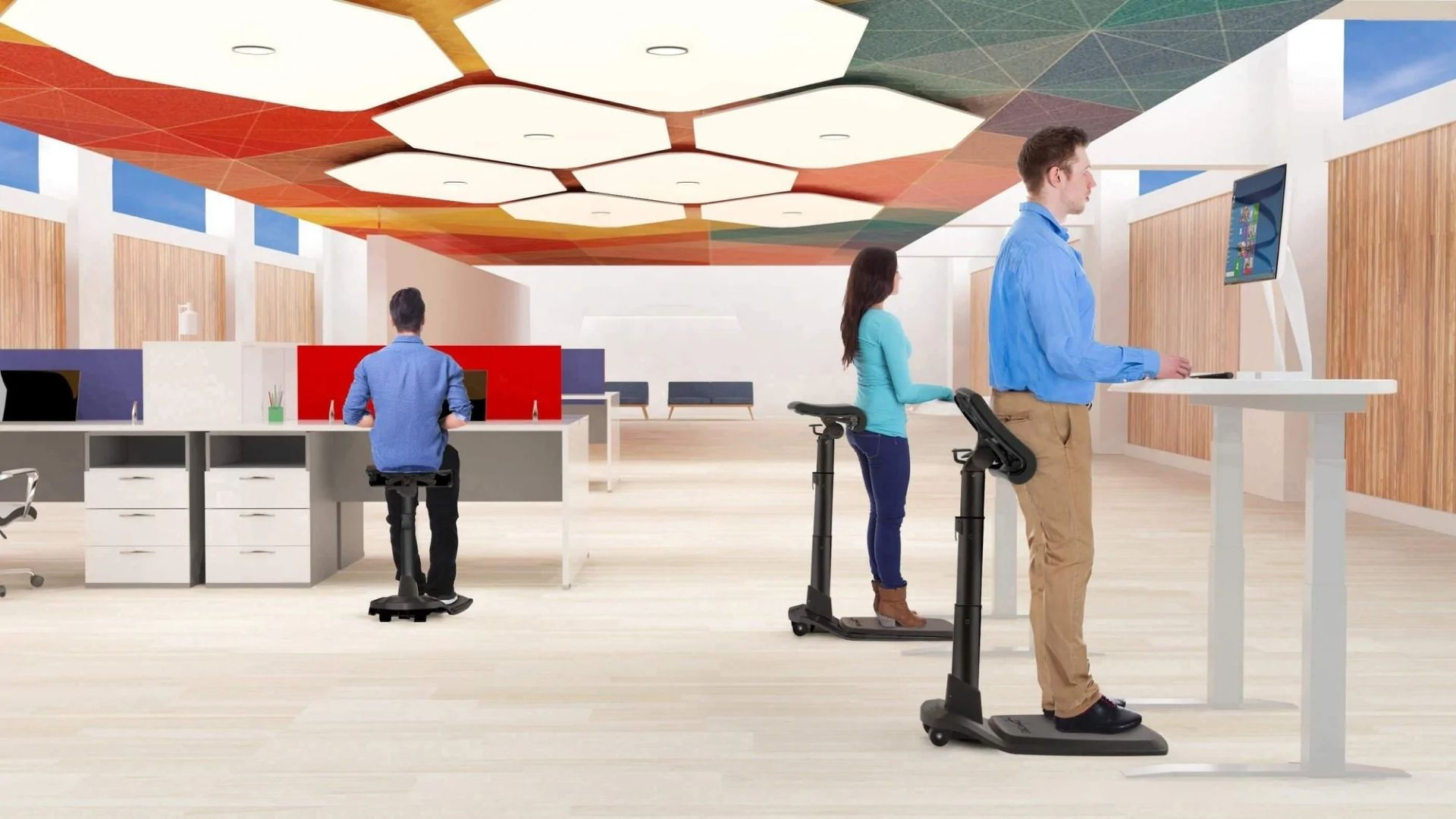 We all understand that standing rather than sitting is better for us. Even if you maintain an otherwise busy lifestyle, sitting too much can have a significant detrimental effect on your health.
As a result, standing desk chairs and stools are a growing niche in the office furniture industry – for this, the Ergo Impact LeanRite Elite is a fantastic choice. It can be used to sit, perch on, or lean forward or backward on, so whether you're standing or sitting occasionally, it can handle it all.
The LeanRite Elite is not your standard ergonomic office chair with a large comfy seat, backrest with lumbar support and arm rests that only allow you to find a single comfortable sitting position. Instead, it has a large seat height adjustment range that essentially allows you to be in 3 different position – seated position, angled perch position and standing position. This allows for a position change whenever you feel tired.
The biggest drawback is that it takes some time getting used to this new method of sitting and the initial phase can be quite tiring on the muscles. However, if you can get past this adjustment period, this style of sitting is definitely much more beneficial to your health and posture compared to sitting on a traditional office chair.
Key Features:
From leaning to sitting and standing, a wide range of posture-supporting positions are available.
Height of the seat adjustment controlled with foot pedal and hand lever.
Structure made from high grade aluminum and easy-to-clean polyurethane that is also durable.
Anti-fatigue mat included.
Pros:
Tilting seat allows you to have positions that other standing chairs do not offer.
Large range of seat height allows for people of any height to sit, stand or perch.
Trains you to commit to a new style of sitting which is beneficial for you.
Cons:
Bulky and takes up quite a lot of space.
Seat is small and firm hence it is uncomfortable.
Takes time getting used to especially with no armrests and backrests.
Pricing: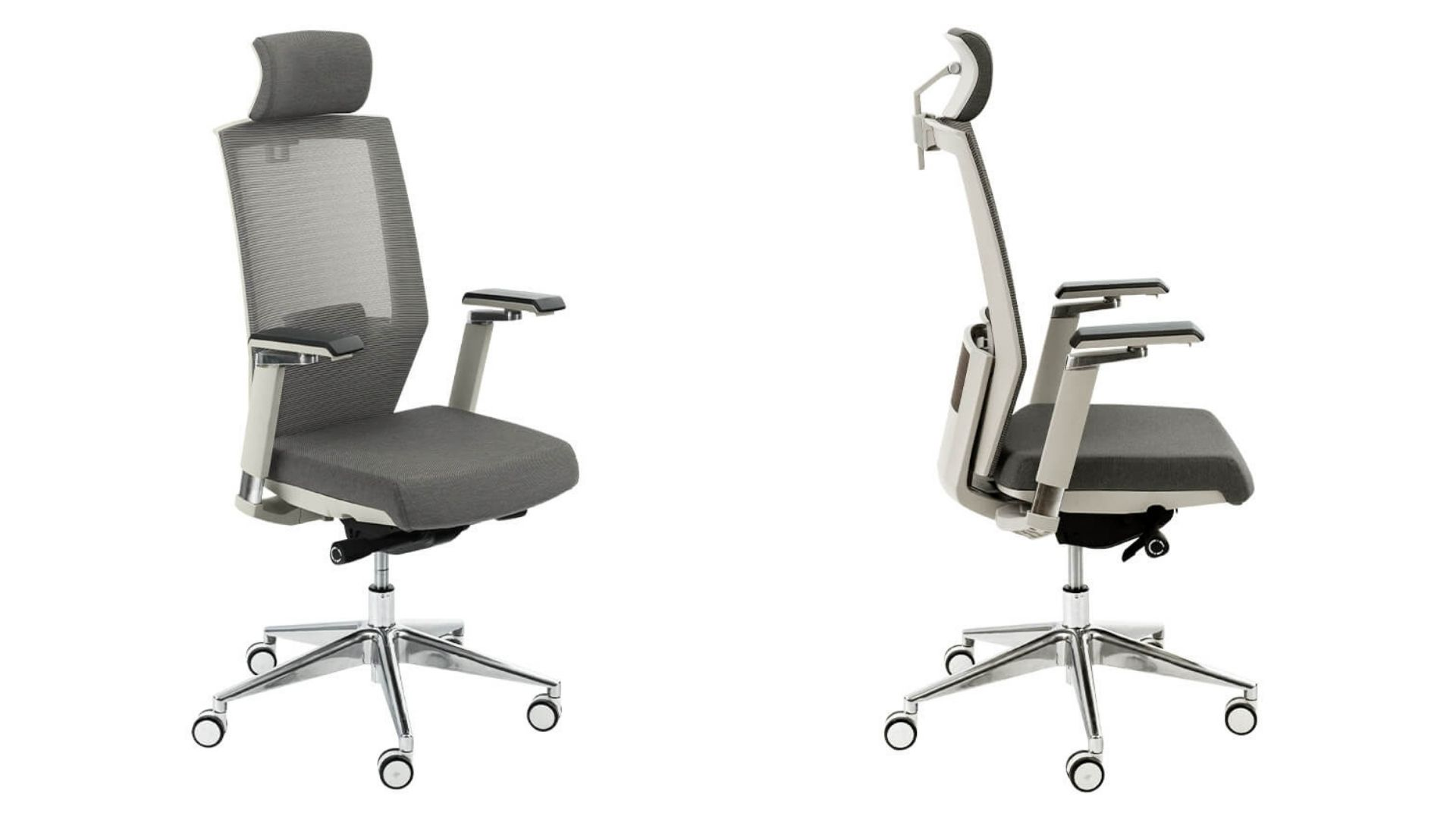 For individuals looking for a high-quality, elegant, and supportive office chair, the Flexispot OC13 is an excellent option. This is a terrific choice for you if you love the classic 80s retro chic style and want substantial modern back support features in your office.
While it is a little difficult to put together, it is comfy and guarantees that the user maintains a firm posture while using it.
The best feature of this stylish chair is its adaptibility. Individual users can modify the neck support, height of the seat, lumbar support, and armrest height to suit their specific needs. The seat cushion is comfortable to sit on for up to four or five hours at a time.
Key Features:
Adjustable chair height, armrests, lumbar support and headrest.
Breathable mesh backrest.
Pros:
Classic 80s retro look (could be a con if you don't like this style).
Comfortable and ergonomic.
Easy to assemble.
Reasonable price.
Cons:
Pricing:
Can ergonomic office chairs provide back pain relief?
Yes, the best office chairs can assist in preventing back pain from developing in the first place, as well as relieve it if you currently have it. However, if you already have back pain, we recommend seeing a doctor and shopping for a new office chair because there could be other underlying problems.
We spend so much time sitting at our computers in this digital age that our bodies can no longer maintain excellent posture without becoming exhausted. We spend more time looking for stylish-looking furniture or computers that are value for money rather than paying attention to the ergonomics of a workplace.
A chair that allows your lower back to keep a good neutral position while maintaining the natural curve in your lower back can relieve stress on your spine and enhance spinal alignment all the way up to your head.
Not only does the appropriate chair provide proper support for the natural curve of the spine, but it also supports the shoulders. Armrests are extremely helpful for people who have neck pain or mid-spine pain. Lumbar support is also really beneficial. The chair's seat plate, chair's backrest, and arms should all be adjusted to the user's individual posture.
What do I look out for in ergonomic office chairs for back pain?
Firm Cushioning
The first step is to choose a chair that supports your low back, buttocks, thighs, upper back, and shoulders.
You'll also want to look for a chair that provides a lot, either in terms of body contouring or cushioning density.
It's best to choose a chair that's a little firmer than softer, because you'll be sitting in it for a long time, and the softer it is, the faster the padding will wear out.
Adjustable seat height
When it comes to long-term ergonomics, adjustable height may be the most major part to consider; if your chair is too high or too low for your desk, your spine will curve or arch in an uncomfortable posture and thus affecting your neck and shoulders at the same time.
To avoid stress in your shoulders and neck, keep your upper arms at your sides and your forearms parallel to the floor when typing on a computer keyboard.
Adjustable backrest/lumbar support
It's crucial to have a system that supports the lumbar region that can be adjusted in height and depth. You'll need the ability to move the lumbar support system up and down your back if it doesn't fit your body well. With depth adjustment, you can increase or decrease the amount of pressure given to your back. This can be a useful feature depending on the amount of back support that you need.
Adjustable lumbar support should be prioritized for individuals with lower back discomfort, while small people should favor adjustable seat depth. Look for a chair with a flexible tilt to facilitate mobility for people with more generalized needs.
Material of lumbar system
What kind of material the lumbar and backrest are composed of is something to think about. Certain materials flex more than others, distributing support across your back.
There are upholstered lumbar systems with padded backing that feel stiffer and concentrate more on a certain spot.
This form of focused support can be beneficial or detrimental depending on your needs. This is especially true if you can fine-tune where the support is placed.
Adjustable armrests
Should you invest in a chair with armrests to provide you with support throughout the day, or will they obstruct your comfort? Armrests give support for the upper body, shoulders, and neck, but they must be situated such that the chair can be fully pushed beneath the desk.
To achieve armrest support without interfering with the height of your chair or desk, look for a chair with adjustable armrests that can be lifted or lowered to provide support where it's needed.
Are there any other ways I can prevent back pain throughout the day at work?
The simplest approach to avoid back pain is to move around through the day. No matter how comfortable your chair is, you should get up and move around every now and again.
Having a dedicated work place (if you are in your home office space) and reserving your office desk solely for work, not for your lunchtime. This not only compels you to take breaks throughout the day, but it also allows you to position your body in different ways—for example, instead of sitting at a desk for eight hours, head to your kitchen for lunch—and offers your body the space it needs to stretch.
Conclusion
Chronic back pain is very common in the United States, with more than 28% of the population experiencing it. It is extremely common in the elderly, particularly women. As a result, having the best office chair for back pain or properly arranging your desk is crucial for improving back health. It's a rising problem that many office workers have had to cope with in recent years.
Therefore, we believe that investing in the best office chair for back pain is a wise decision. If you're a digital creative, you undoubtedly spend a substantial chunk of your day sitting at a desk, whether it's for your work from home office or your company studio.
That's great, but health experts advise against sitting for extended periods of time, especially since the way we sit and what we sit on can amplify the harmful effects of a sedentary lifestyle.
Of course, getting away from your job on a regular basis is beneficial, but that isn't always possible. As a result, the best office chairs for back pain can help us sit properly, giving our bodies – particularly our backs – the best chance at staying healthy.