RODECaster Pro II Review: From Good to Great
The RODECaster Pro has made waves since it launched in Nov 2018, with many competitors following suit to develop similar products. The RODECaster Pro II is a groundbreaking sequel to the original RODECaster Pro, designed to take content creation to a whole new level.
In this RODECaster Pro II review, we'll go through the ins and outs of this amazing all-in-one studio production kit, from its solid build quality to its amazing audio effects and mixing controls. Let's get right into the review and find out what makes this audio mixer so special!
At a Glance
The RODECaster Pro II is a must-have for podcasters, streamers, and bedroom musicians. It delivers clean audio quality and offers numerous recording, mixing, and audio effects for in-depth sound crafting, live mixing, and studio-grade processing.
This device serves as a mixer to manage all your audio sources, an audio interface to send the mix to your PC, and an effects processor to enhance your audio with processing and voice effects, making it an all-in-one integrated audio production studio.
---
---
Build Quality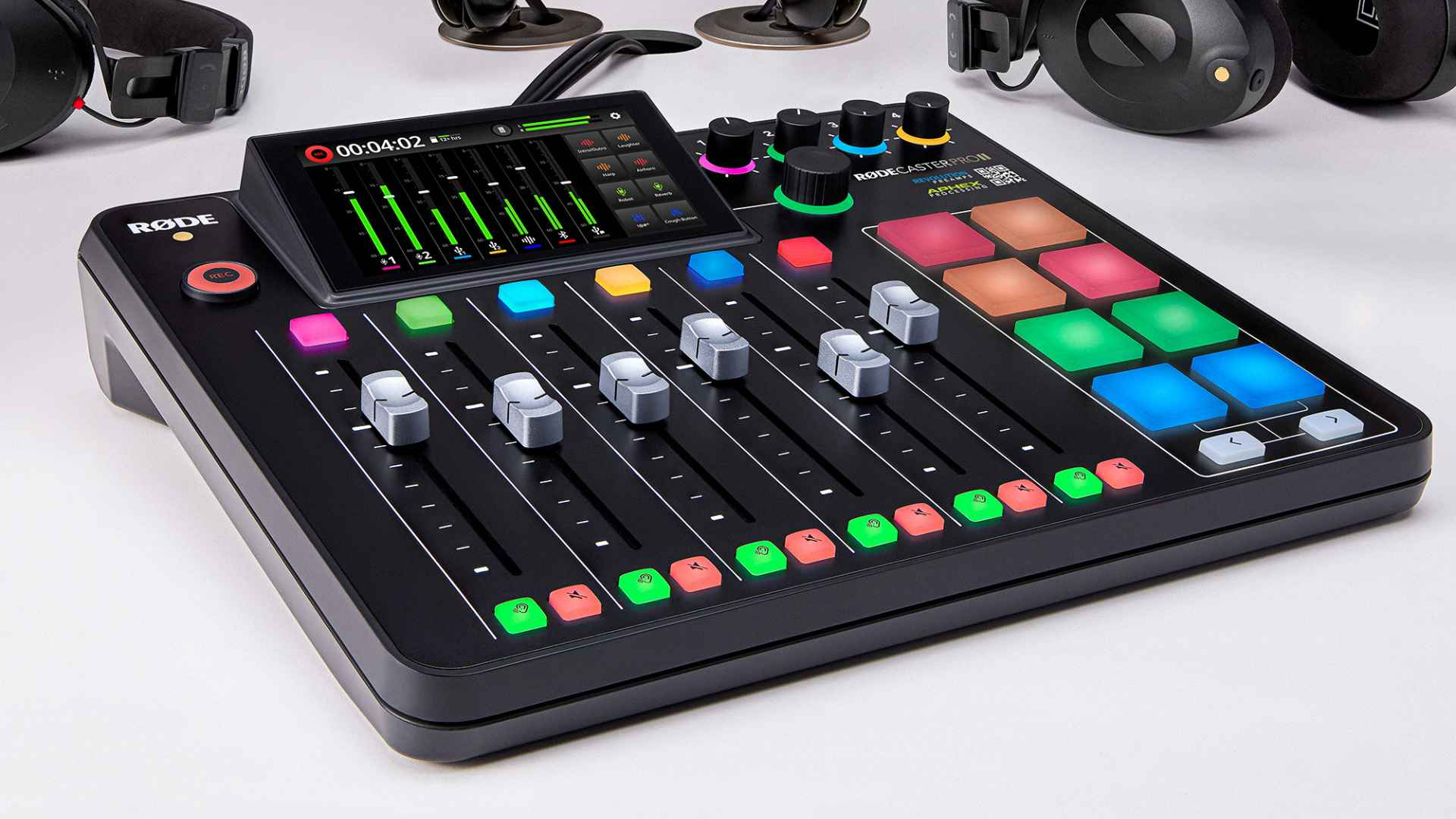 Upon encountering the RODECaster Pro II, one is instantly struck by its sleek, modern design. This device is more than a mere piece of technology; it serves as a testament to professionalism and innovation.
The top of the device, crafted from sturdy metal, exudes a sense of durability and longevity. The sides and rear, made out of hard plastic, add a touch of practicality without compromising on the overall robustness.
Other than being a tabletop device, the rear of the device is home to a mounting panel with M4 screws, offering flexibility in your recording setup. It can also be comfortably placed on a 3/8″ stand, catering to your convenience.
The volume control dials on the RODECaster Pro II are firmly attached but with a slight wiggle. The faders slide smoothly, albeit with some wobble, providing a satisfying user experience. The soft-touch buttons give tactile feedback that makes the device feel responsive and engaging.
The eight smart pads on the RODECaster Pro II are firm and solid. They don't have a clicky tactile response but feel more like drum pads on a drum machine.
Number and Types of I/O Ports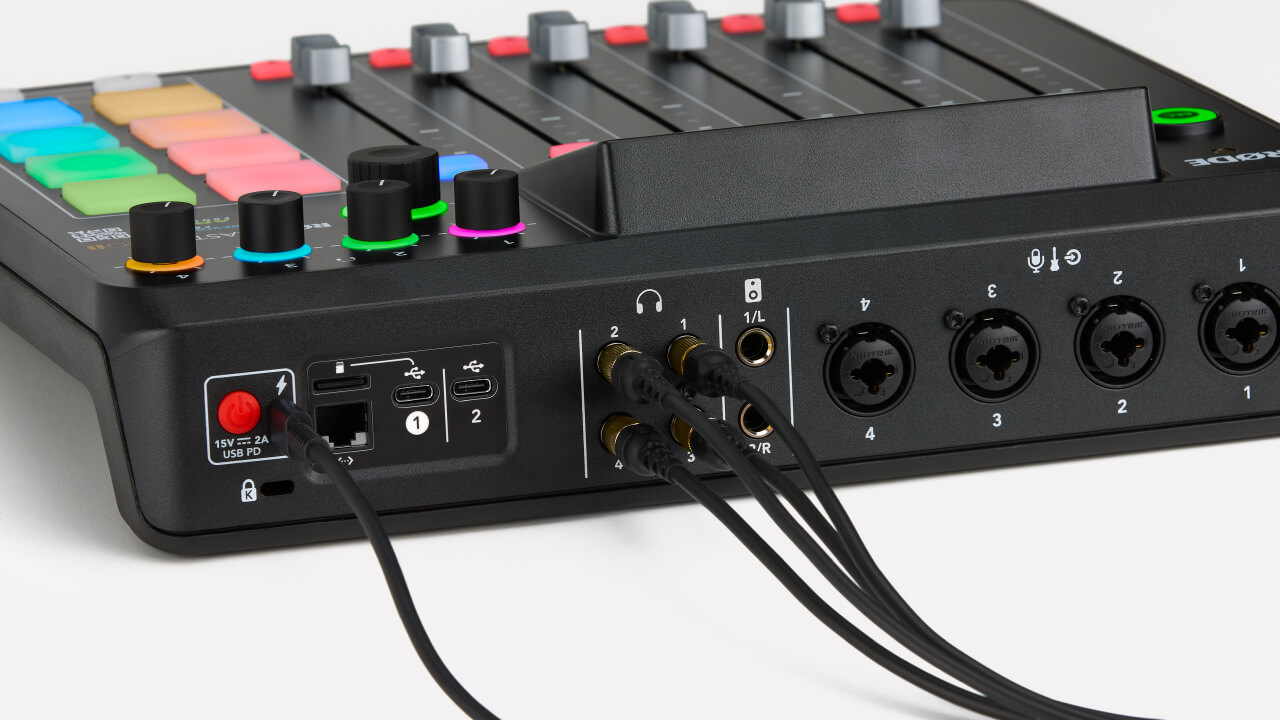 The RODECaster Pro II features four combo jack inputs that can accommodate microphones, line-level devices, and even musical instruments. This versatility allows you to connect a diverse range of audio sources, from your favorite vocal microphone to that vintage electric guitar you've been itching to incorporate into your podcast.
The RODECaster Pro II also offers two balanced line outputs, perfect for connecting to your studio monitors for that pristine, high-fidelity sound. And if you're looking for any, we have recommendations for studio monitors with accurate sound for music production.
And for those private listening sessions or collaborative projects, the device provides four 1/4″ headphone jacks. This means you and your co-hosts can each have a dedicated headphone output, ensuring everyone can monitor the audio quality comfortably.
One small issue I have with the RODECaster Pro II is that it requires a power adapter which adds to the number of cables on your tabletop. This is unlike other audio mixers like the BOSS Gigcaster 8, which runs on USB bus power and gives you the option to use a power adapter.
Connectivity
Dual USB-C Connection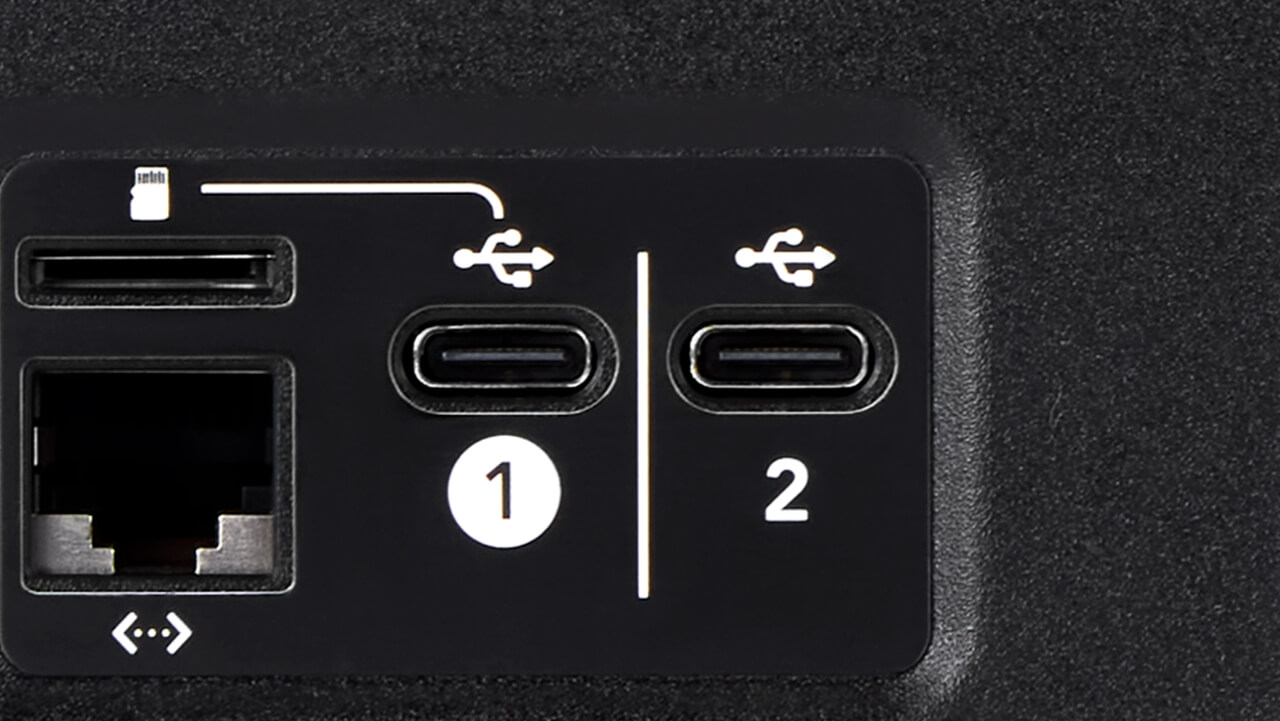 The RODE RODECaster Pro II also boasts dual USB-C outputs, which is like having two audio interfaces. This is a step up from the previous model, which had only one USB-C port.
Also, the USB channels support a very important feature known as 'mix-minus.' Since a USB interface serves as both input and output, a 'mix-minus USB interface' prevents feedback or echo effects by ensuring that the input channel's output is not included in the mix.
The 'Mix-Minus' is a huge feature if you are a podcaster with several remote guests. Without it, your guests will be hearing their voices with a slight delay which is very distracting.
However, the one gripe I have with the RODECaster Pro II's USB-C connectivity is that it only supports three inputs – two can be connected to the primary USB-C 1 port and one to the secondary USB-C 2 port.
This becomes problematic if you require a third USB sound source. In such a case, you would need to either connect a second USB cable to the same computer or link to a second smart device. Furthermore, if you have four or more USB sound sources – such as game audio, Discord chat, Spotify music, OBS Studio soundboard, and so on – you are limited to using only three of them.
Bluetooth
The RODECaster Pro II is equipped with advanced Bluetooth connectivity, allowing you to connect your smartphone or other Bluetooth-enabled devices easily. This feature is incredibly useful for podcasters who want to incorporate high-quality phone calls or music from their mobile devices into their broadcasts.
MicroSD Card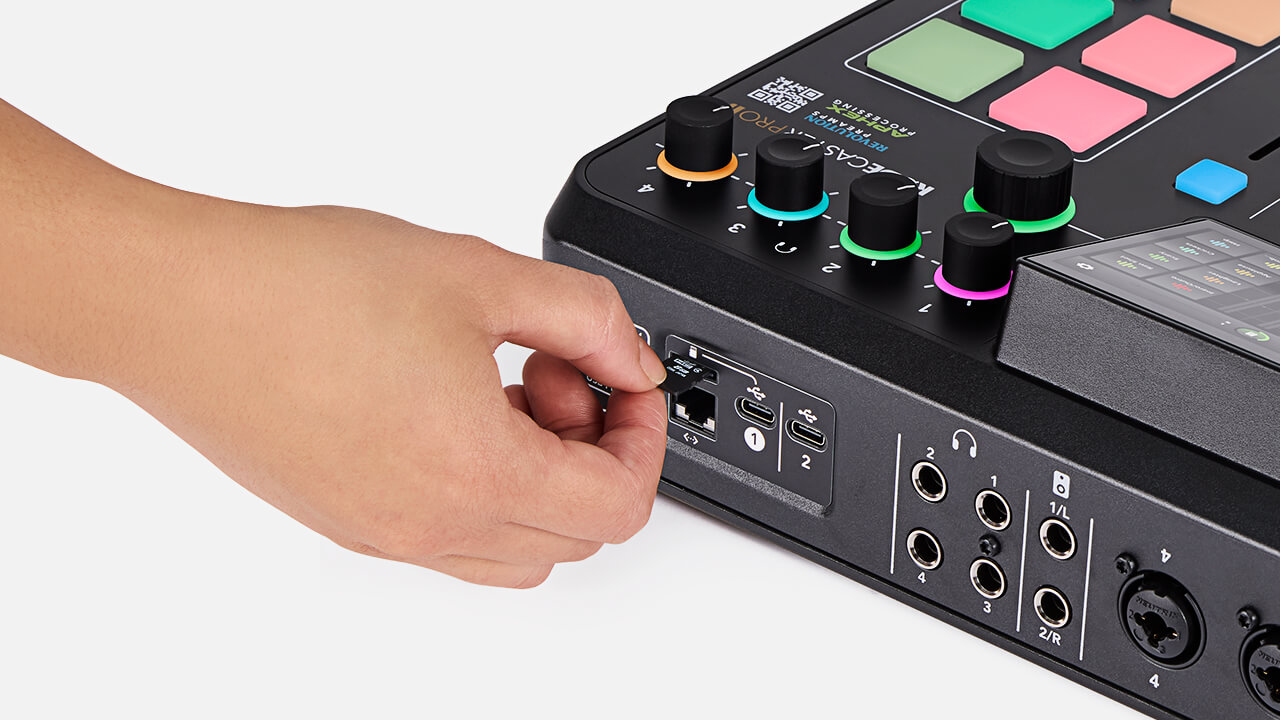 The RODECaster Pro II allows direct recording to a microSD card, offering a simple and efficient way to capture your audio. A high-quality microSD card supporting data rates of at least 100MB/s is recommended to ensure smooth recording.
Once you've got your hands on a suitable microSDHC or microSDXC card, simply insert it into the slot at the rear of the device, and you're ready to start recording.
A notable feature is the ability to transfer files from the microSD card to your computer via USB connection, eliminating the need to remove the microSD card from the RODECaster Pro II.
However, I personally prefer using an SD card rather than a microSD because of how easily you can lose the latter. But this isn't a major deal breaker.
WiFi and Ethernet Connection
You might be curious about the purpose of the Ethernet port and Wi-Fi 5 card on the RODECaster Pro II, beyond the routine firmware updates (which are more exciting than they sound!).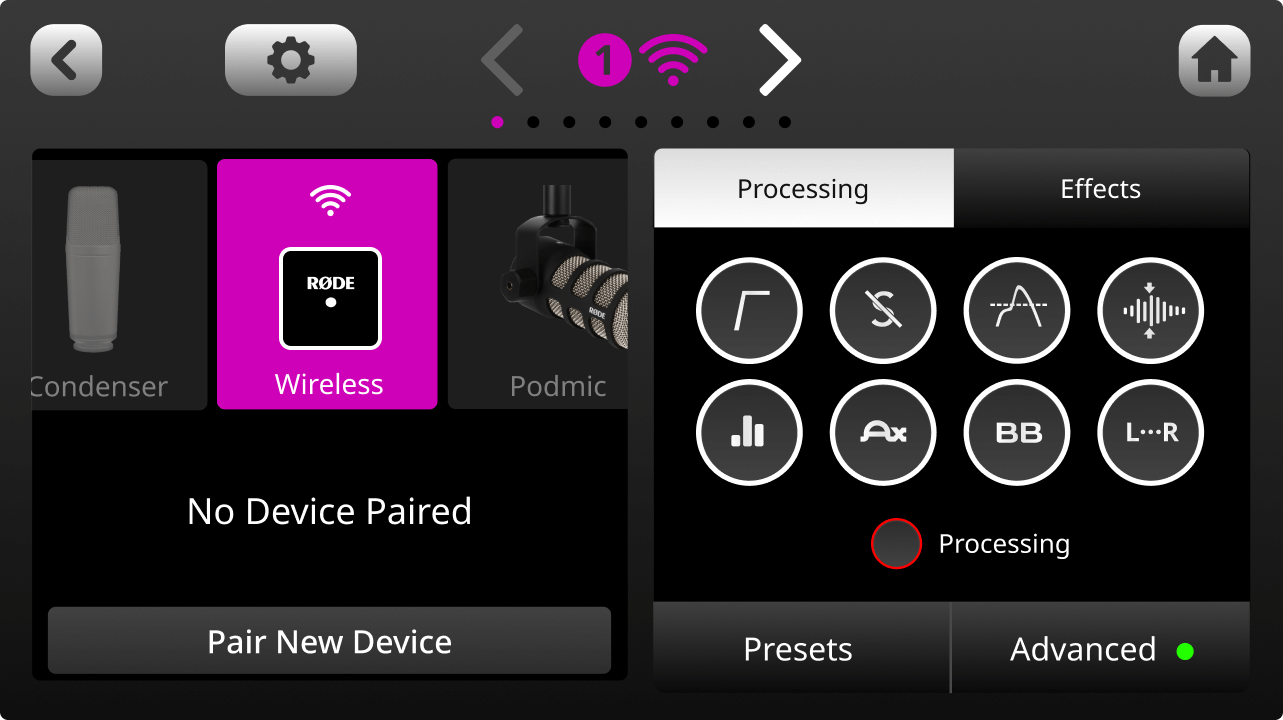 The RODECaster Pro II can be paired with all RØDE Series IV wireless microphones, including the Wireless GO II and Wireless ME; this is possible after its beta firmware update on 21st April 2023 (see, I told you so!).
This allows you to connect up to two wireless transmitters to the RØDECaster Pro II's audio channels for wireless recording. And the best part is, you don't require the receiver of the Wireless GO II or the Wireless ME to use this function.
Additionally, you can enhance your wireless recordings by adding powerful APHEX® effects and audio processing to your wireless microphone channels, which we'll talk about later.
Sound Quality
The RODE RODECaster Pro II is unparalleled when it comes to high-quality audio. This mixer is equipped with Revolution Preamps, giving it improved sound quality over the previous RODECaster Pro.
It is designed to deliver ultra-low noise (-131.5 dBV EIN) and ultra-high gain (76 dB compared to the 55 dB of the previous RODECaster Pro). These preamps are so powerful that they can drive quiet mics like the Shure SM7B with headroom to spare, even without additional signal amplifiers like CloudLifters or FetHeads.
You can even increase the gain to its maximum and still achieve a clean audio signal devoid of the buzzing self-noise, a feat not possible with older preamps. This makes the RODECaster Pro II suitable for…you got that right…ASMR.
Mixer Controls
The RODECaster Pro II is a digital mixer with a vast suite of hardware and software controls, such as customizable channels and outputs and Smart Pads, making it a powerful audio solution for multiple applications, from podcasting to music recording and streaming. Check out our articles on how to set up a live stream, as well as how to set up a home studio!
It is difficult to cover every feature in this article, but we will go through the main ones that might interest you.
HD Touch Screen Display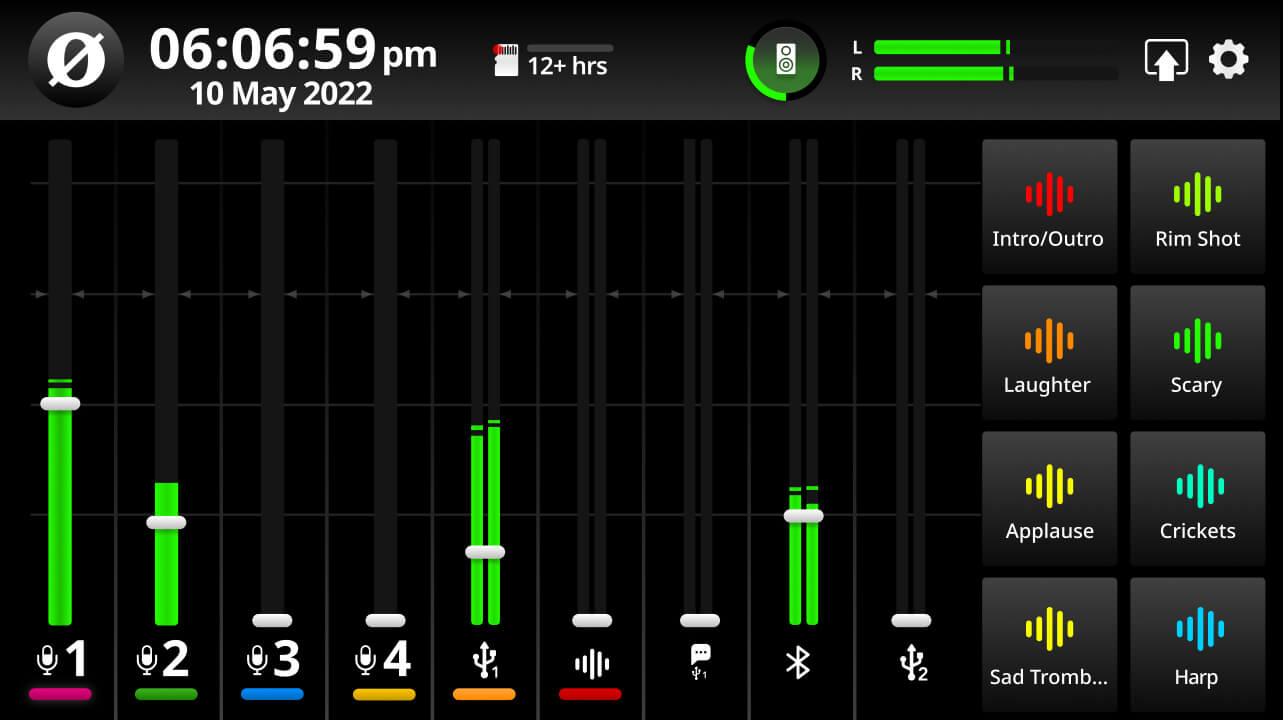 The RODE RODECaster Pro II has a 5.5-inch HD touch screen, that serves as a central control panel, providing a comprehensive overview of your podcasting setup.
The display interface is designed to be as intuitive as a modern smartphone, promoting efficiency and ease of use. It facilitates effortless adjustment of settings, monitoring of stereo recording levels, and observation of input source levels.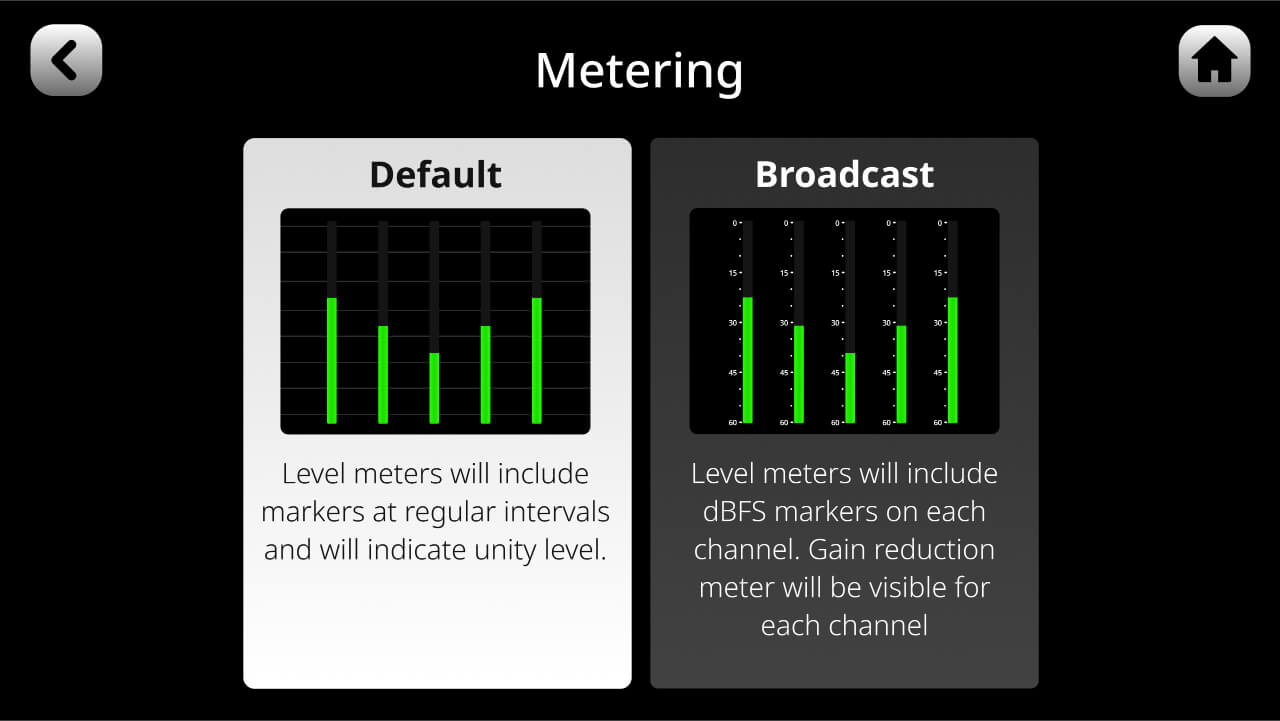 Additionally, you have the option to modify the meter display to show or hide the dBFS markers, depending on your preference for a clean interface or one with more detail.
The RODECaster Pro II also offers the ability to import and export show settings. This feature enables quick setup and facilitates sharing your settings with team members or guest speakers, ensuring consistent sound across recording sessions. It also allows you to keep your preferred settings as a backup, giving you the freedom to experiment with new settings without any risks.
The touch screen display also provides haptic feedback, which confirms your selections, enhancing the sense of control. This feature adds a layer of user-friendly interaction to the device.
Customizable Faders
Physical and Virtual Faders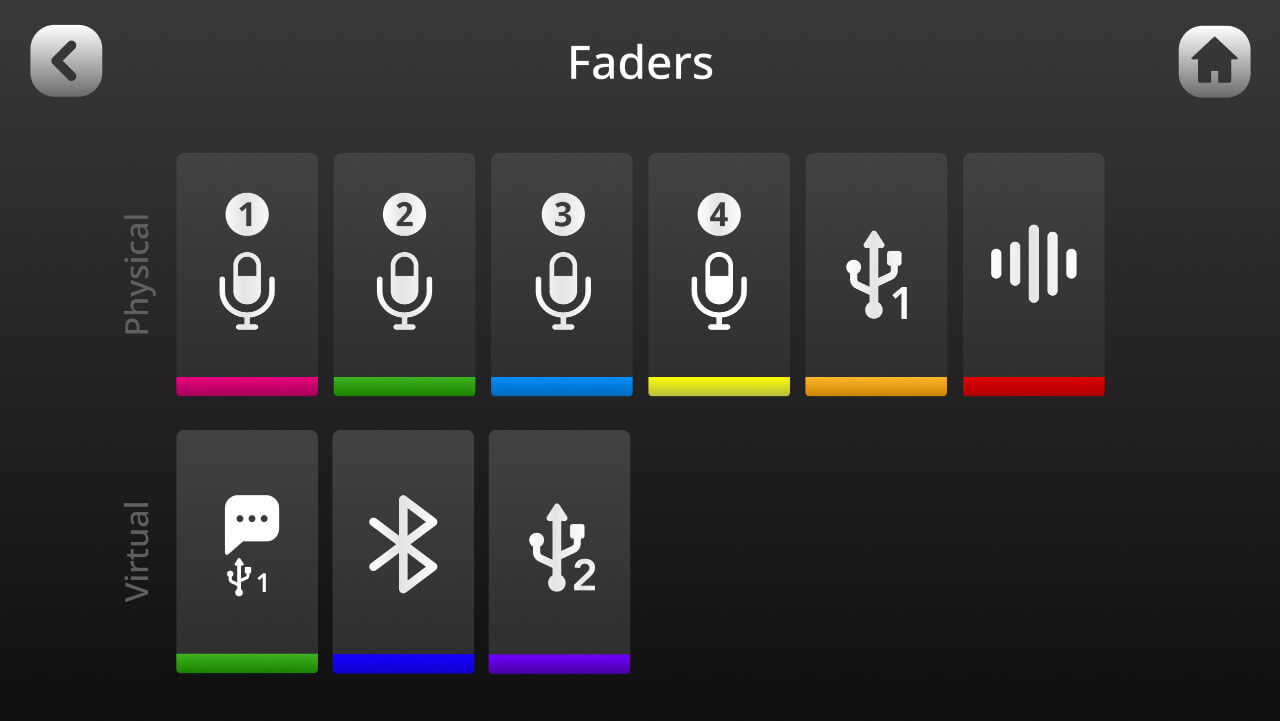 The RODE RODECaster Pro II offers a seamless blend of physical and virtual controls. With six broadcast-quality physical faders and three virtual faders, you have the power to mix a total of nine individually assignable channels with complete control.
The physical faders function like any other mixer: simply use the sliders to adjust the level for that channel. The fader position will be mirrored in real-time on the mixer interface. There is also a mute and solo button below each physical fader, which can be useful during a live stream.
The levels of the virtual faders can be controlled by tapping the virtual fader and adjusting the rotary encoder on the right of the screen. The rotary encoder also serves as a clickable knob for toggling between settings or muting the virtual channel.
While it might be intuitive to assume that the four analog mic inputs would be allocated to the physical faders, the RODECaster Pro II offers the flexibility to assign any audio input source to any physical or virtual channels. This means you can assign an analog mic input to a virtual channel, or even assign the Bluetooth audio, USB, or Wireless GO II mic input to the physical faders.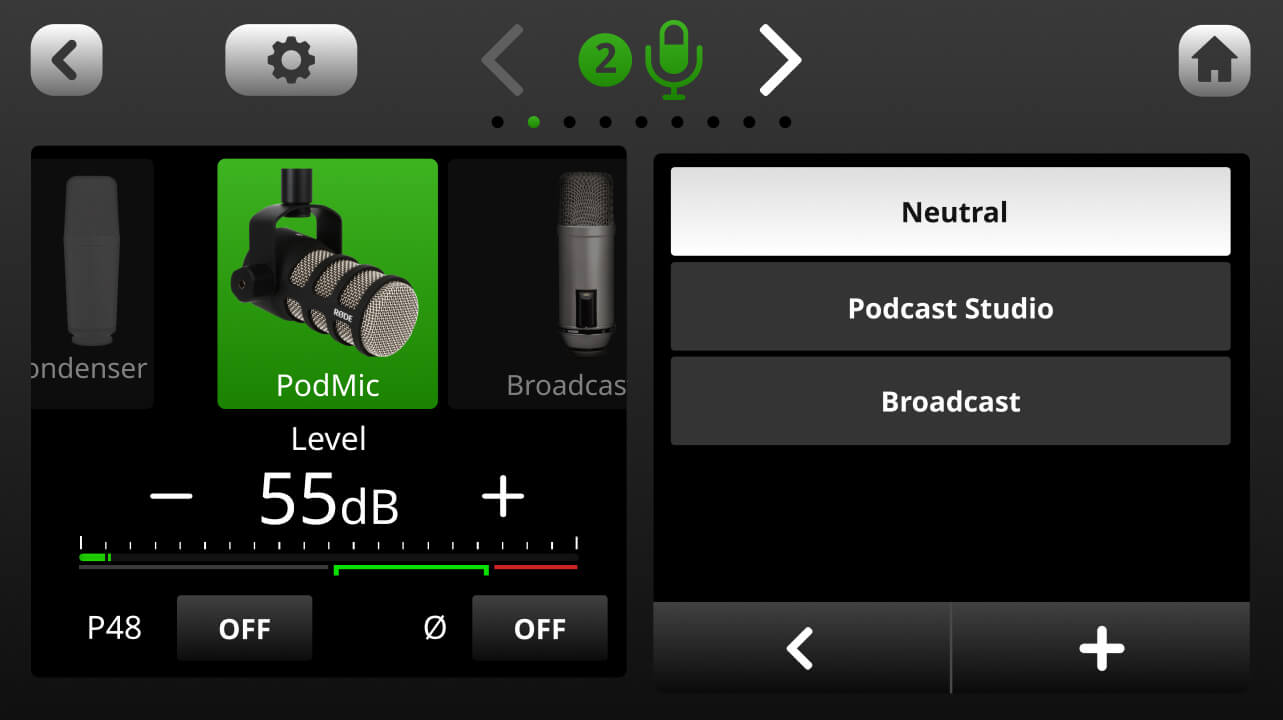 The RODECaster Pro II also comes with presets for popular podcast mics, such as the PodMic, the SM7B, Electro-Voice RE20, a generalized condenser, and dynamic microphone presets so you can experience broadcast-worthy audio right out of the box.
Speaking of the Shure SM7B and the Electro-Voice RE20, we have a detailed comparison between those two titans if you are keen to learn more!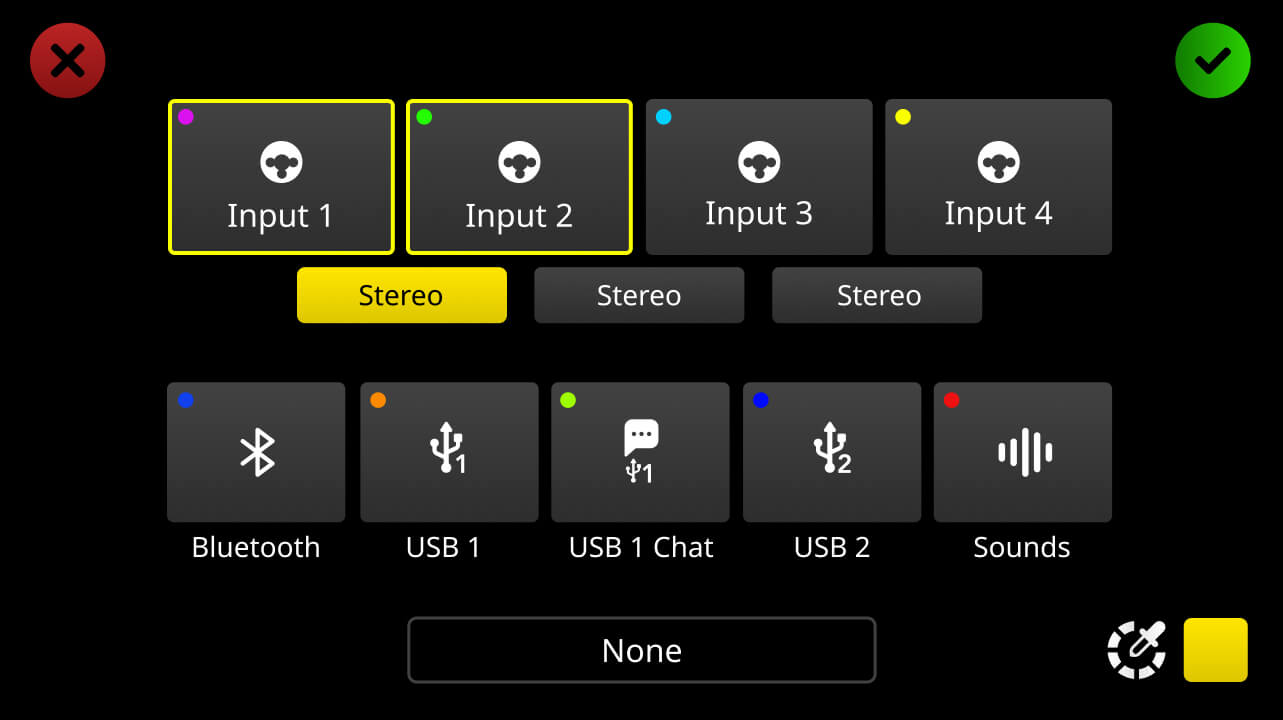 Stereo-linking inputs is another powerful feature of the RODECaster Pro II. If you are using an instrument or line-level device with stereo outputs, or recording a stereo microphone pair, you can link two inputs and route them to one channel.
This allows you to control the level of both inputs with a single fader, ensuring both channel levels are exactly the same. Linked inputs will automatically be panned hard left and right, giving you a full stereo image.
Audio Processing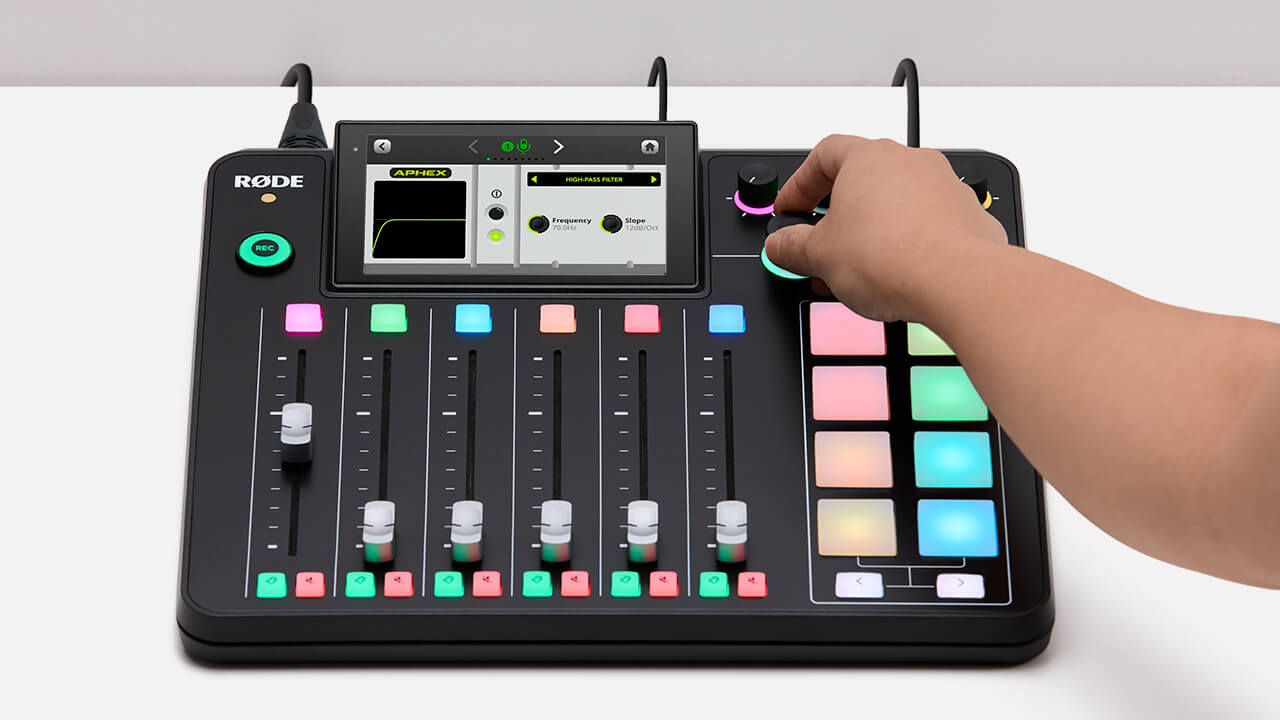 The RODECaster Pro II doesn't just stop at providing you with excellent mixing controls. It also offers a full suite of highly accurate emulations of legendary APHEX hardware processors, which can be used to fine-tune your audio to suit your voice or audio source.
Its 1.5 GHz quad-core audio engine processor makes this possible, giving it 16 times more processing power than the previous RODECaster Pro.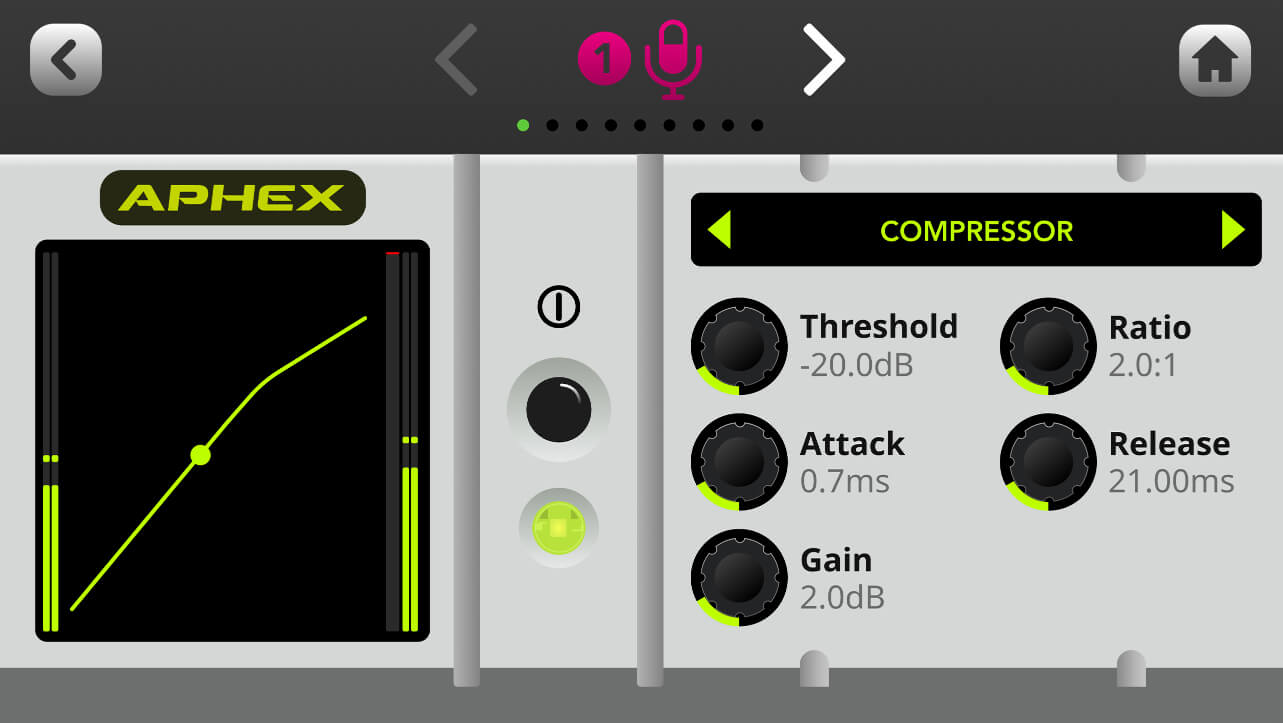 The RODECaster Pro II audio processing features include a high-pass filter for cutting out low-rumbling background noises, a studio-quality compressor for making your voice sound smooth and balanced, an equalizer for fine-tuning the tonality of your voice, a de-esser for taming sibilance, an aural exciter for bringing out more detail and clarity, a noise gate for reducing background noise, and a big bottom processor for giving your audio more depth.
The RODECaster Pro II also features a master compressor modeled after the revered APHEX Compellor, which affects the entire output signal and is useful for making your main mix sound more balanced.
Another useful feature is the output delay function to address syncing issues in live streaming. This feature allows users to align their audio and video perfectly. It can offer up to two seconds of delay time, adjustable in millisecond or 100-millisecond increments.
Output Features
Main mix vs. Sub-mixes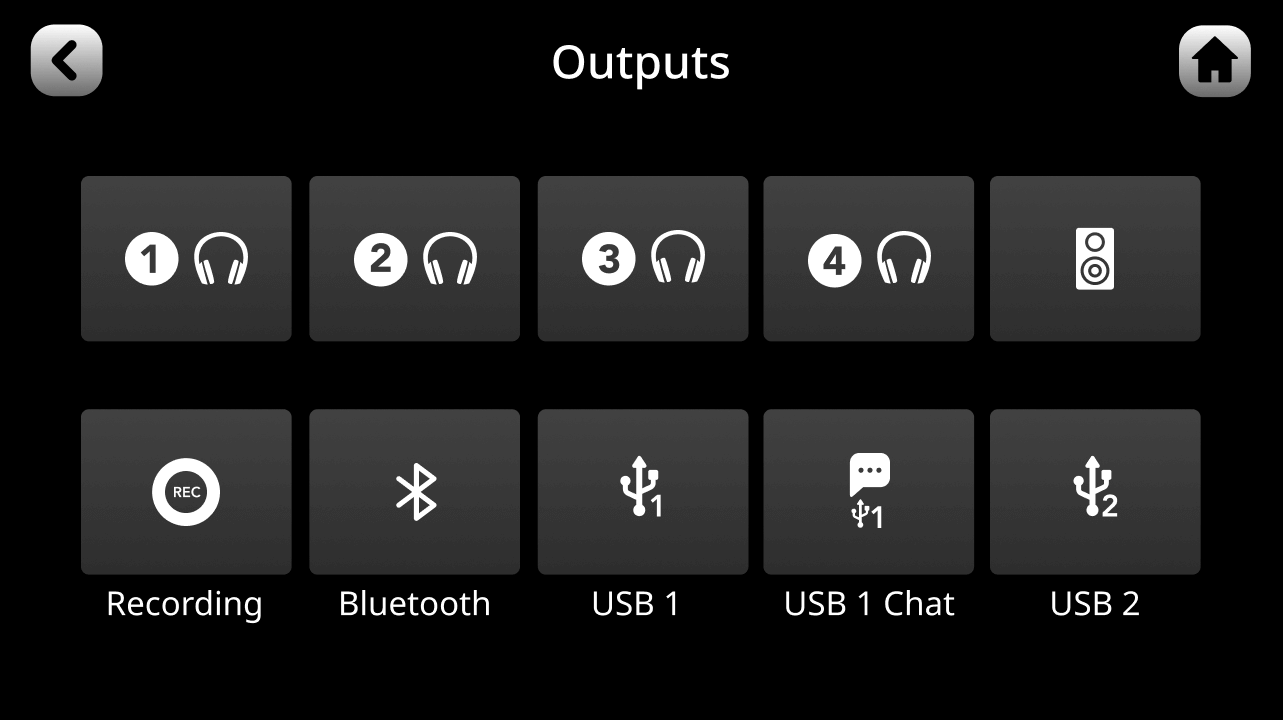 The RODE RODECaster Pro II has ten audio outputs – four headphones, a stereo line output, Bluetooth audio output, microSD storage, and three USB outputs.
While the main mix is sent to all these outputs with little customization other than adjusting the overall volumes of the output or removing certain inputs, the firmware update in January 2023 allowed for custom sub-mixes.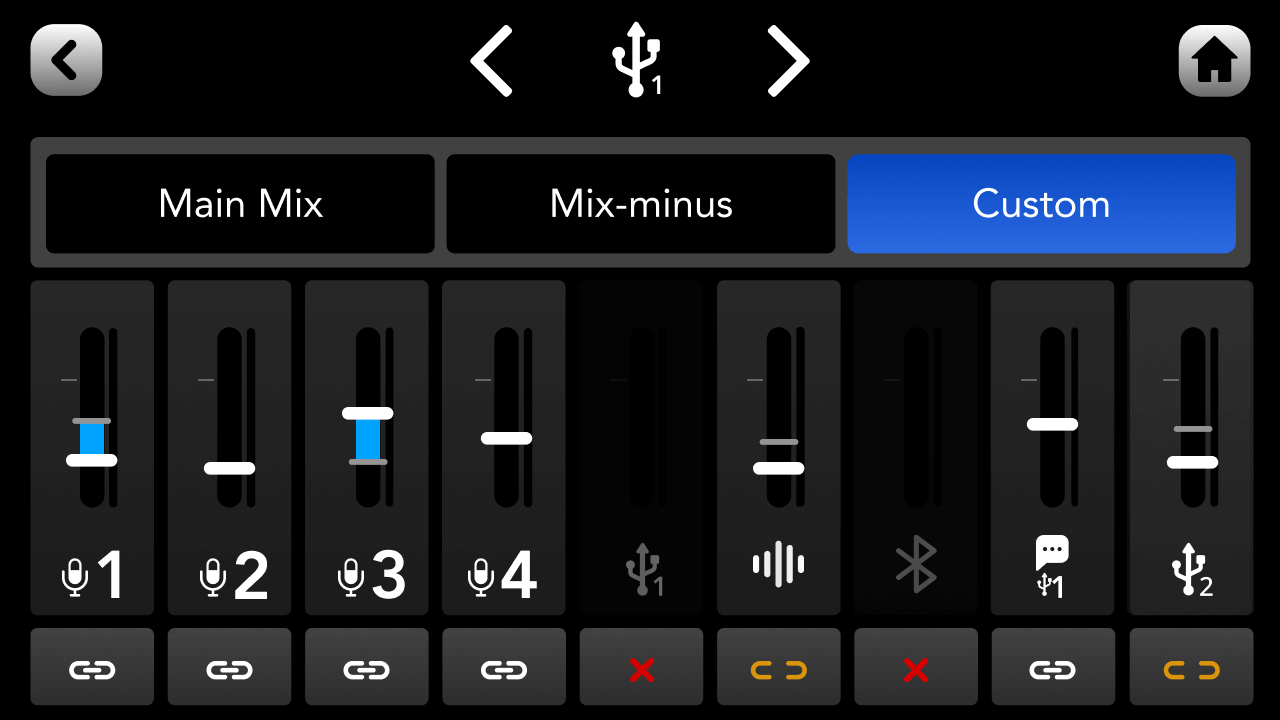 Sub-mixing, a powerful feature in other audio mixers like the Elgato Wave Link or Voicemeeter Banana, allows customized mixes for individual outputs. For instance, you might prefer your headphones to blast Spotify music while maintaining the clear audibility of your Discord team chat. However, you might want these sounds to be quieter for your streaming audience, ensuring they don't overshadow your voice and gameplay. With sub-mixes, you can achieve this level of customization effortlessly.
Also, as mentioned previously, you can enable 'mix minus USB interface' that will remove the USB output from the mix to prevent echoes and delay that will distract your remote guests.
Multi-Track
The RODECaster Pro II's multi-track recording capabilities are a significant asset for podcasters, musicians, and content creators. This feature allows for the separate recording of each input which facilitates post-production level adjustments for each track, providing unparalleled control over the final audio output.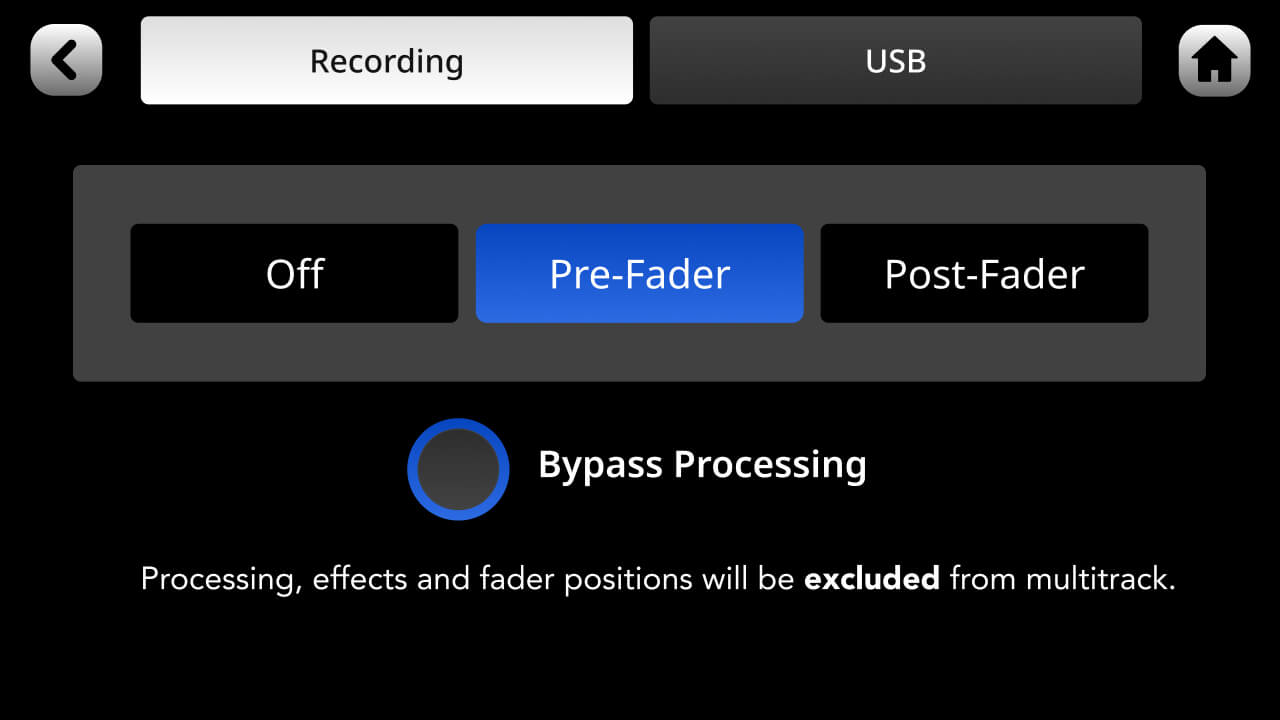 Furthermore, the RODECaster Pro II allows bypassing processing and fader positions by selecting the 'pre-fader' setting, which results in a pure, unmodified recording. This feature is particularly advantageous for those who prefer to apply their own effects and processing during post-production.
Headphones and Monitor Output
The top right of the RODECaster Pro II has physical volume dials that control the levels of the four headphone outputs. Additionally, the RODECaster Pro II can be informed whether high or low-sensitivity headphones are connected, allowing it to optimize the gain structure and ensure consistency in the headphone levels.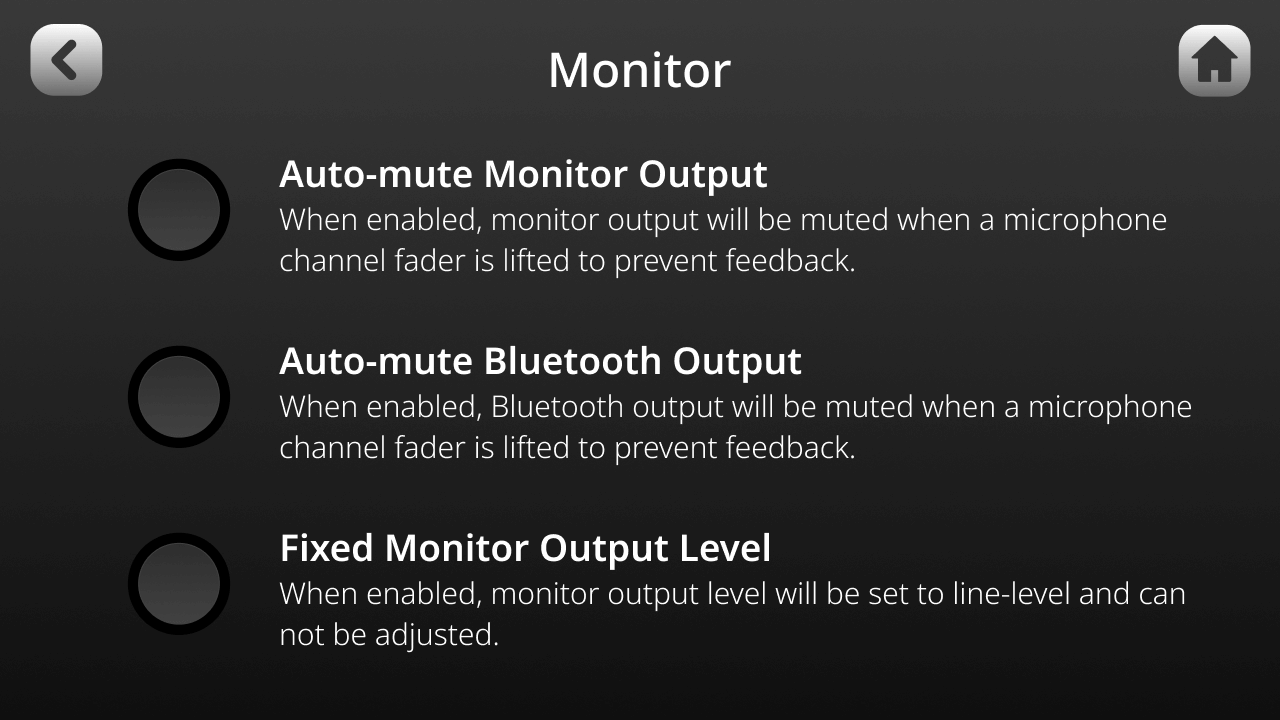 The tricky thing about using studio monitors during a recording is that the audio from the monitors might bleed into the microphone. The RODECaster Pro II has an auto-mute function that prevents feedback by muting the monitors if the microphone faders are turned up.
Smart Pads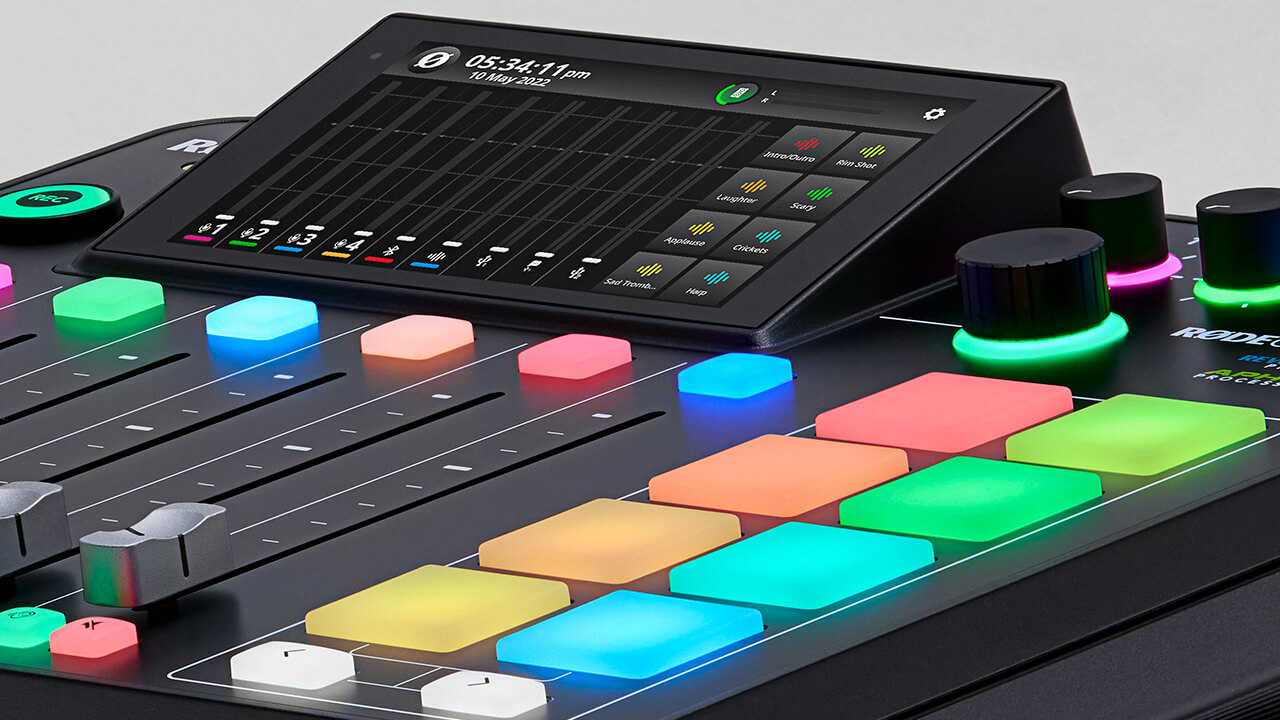 The Smart Pads are a standout feature of the RODECaster Pro II, transforming it into a versatile tool for podcasting and streaming. You'll be able to use this feature creatively for many different types of streaming content.
In the previous RODECaster Pro model, these eight tactile pads were primarily used as sound pads for playing audio clips and sound samples. However, in the RODECaster Pro II, RODE has enhanced these into Smart Pads.
They now offer a wide range of audio capabilities, including creating voice effects, executing mixer actions, sending MIDI commands to your streaming software, and triggering sound samples.
Moreover, you can personalize these pads according to your preferences. This includes changing their color, renaming them, and adjusting their settings to suit your requirements.
Sound Samples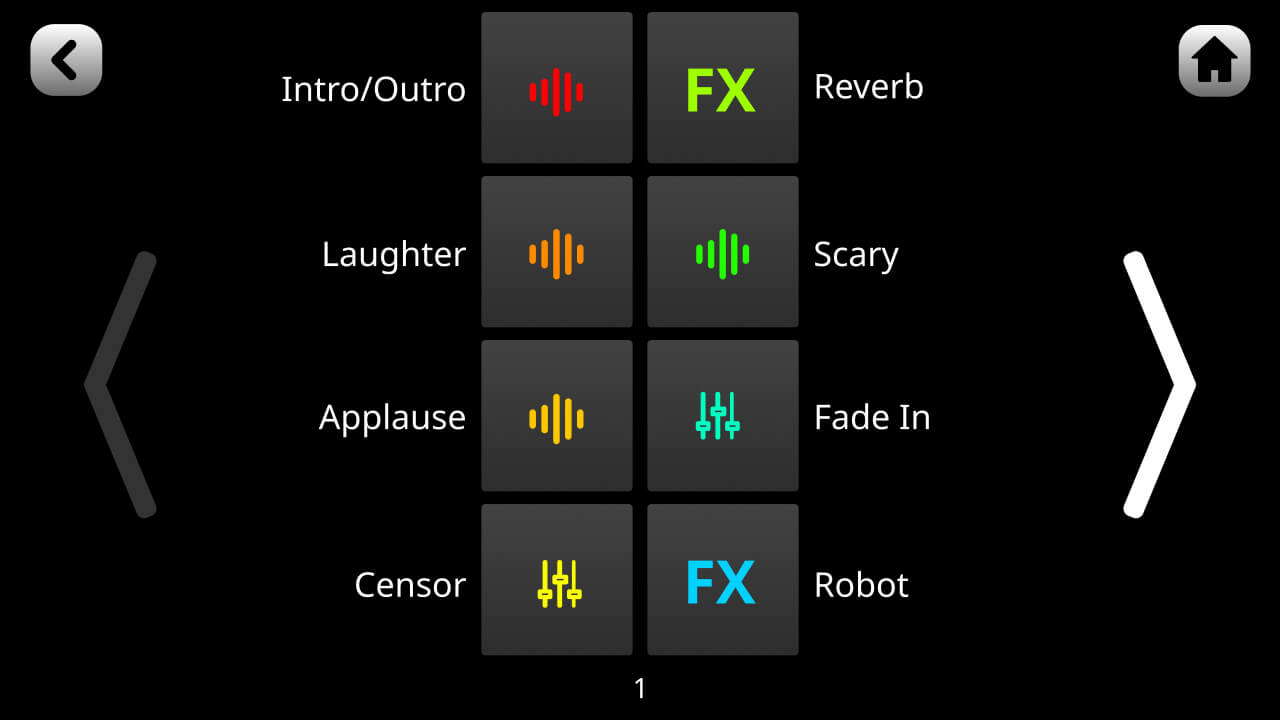 The Smart Pads can trigger sound effects like jingles, airhorn, applause, chimes, or any audio file you desire to incorporate into your podcast. You can even record your own custom sound effects to be used.
With the addition of two bank-scrolling buttons, you now have access to eight sample banks, enabling you to load up to 64 distinct audio samples.
Voice Effects
As mentioned, these Smart Pads are not merely sound pads. They also provide a variety of voice effects to your mic channel, adding a layer of creativity and enjoyment to your podcasting experience.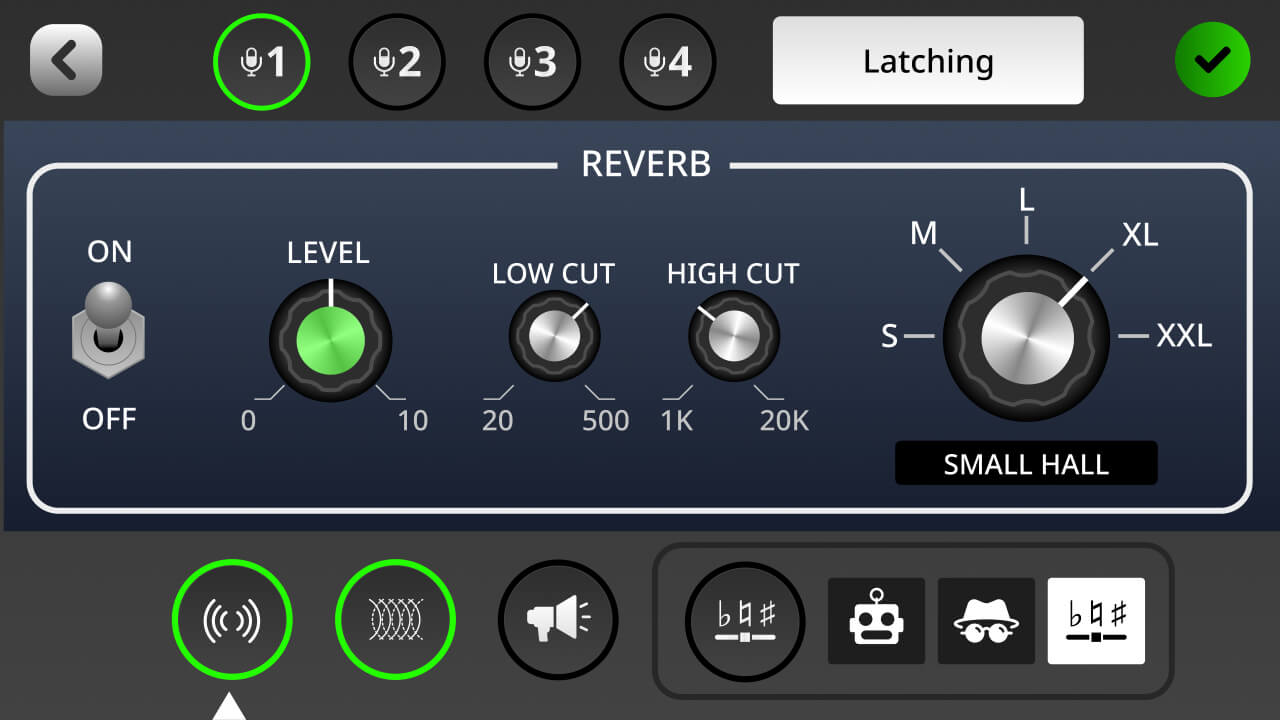 These include subtle audio enhancements like reverb, more noticeable changes like echo (delay) and megaphone, and dramatic transformations with a robot voice, voice disguise, and pitch shift modes. You can activate multiple sound effects simultaneously for a unique sound.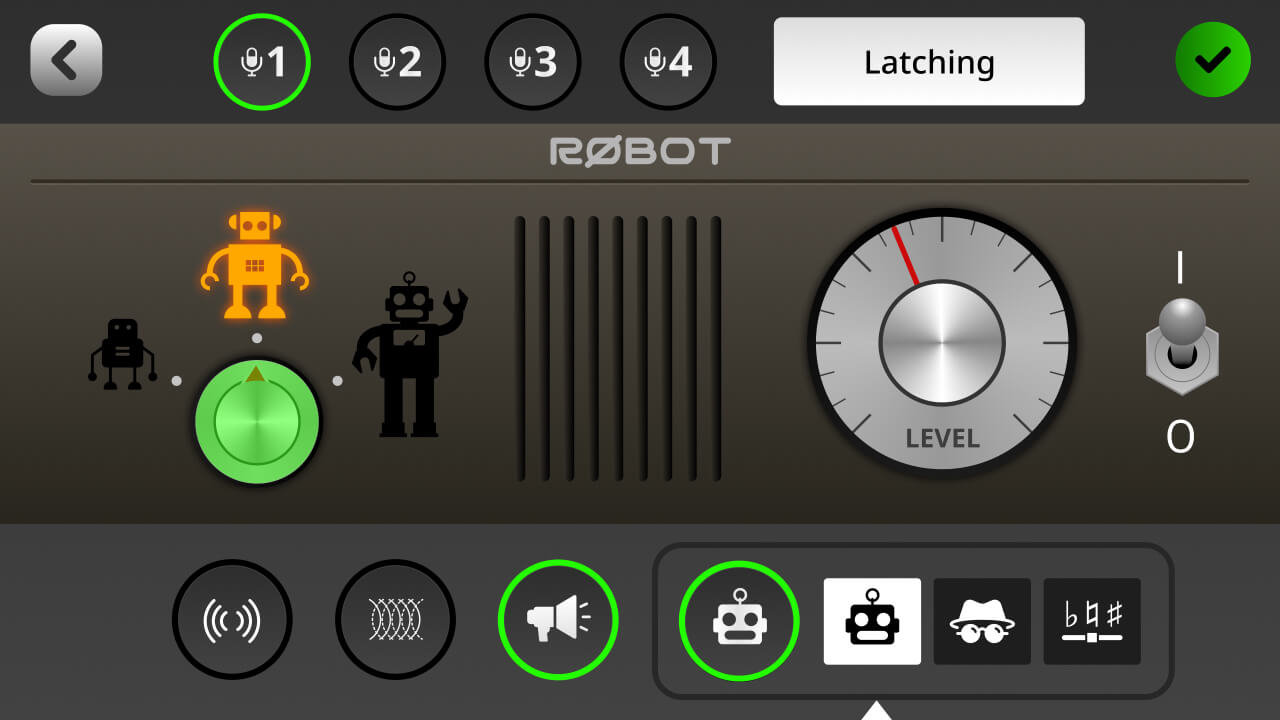 For instance, the 'robot' effect allows you to adjust the intensity and type of robotic voice, adding a unique touch to your segments. In contrast, the 'voice disguise' effect alters your voice timbre, which is ideal for adding mystery to your podcast, especially during guest interviews.
Mixer Actions
The 'Mixer Actions' of the RODECaster Pro II serve as an invaluable tool, offering an array of functionalities to the mixer levels and routing.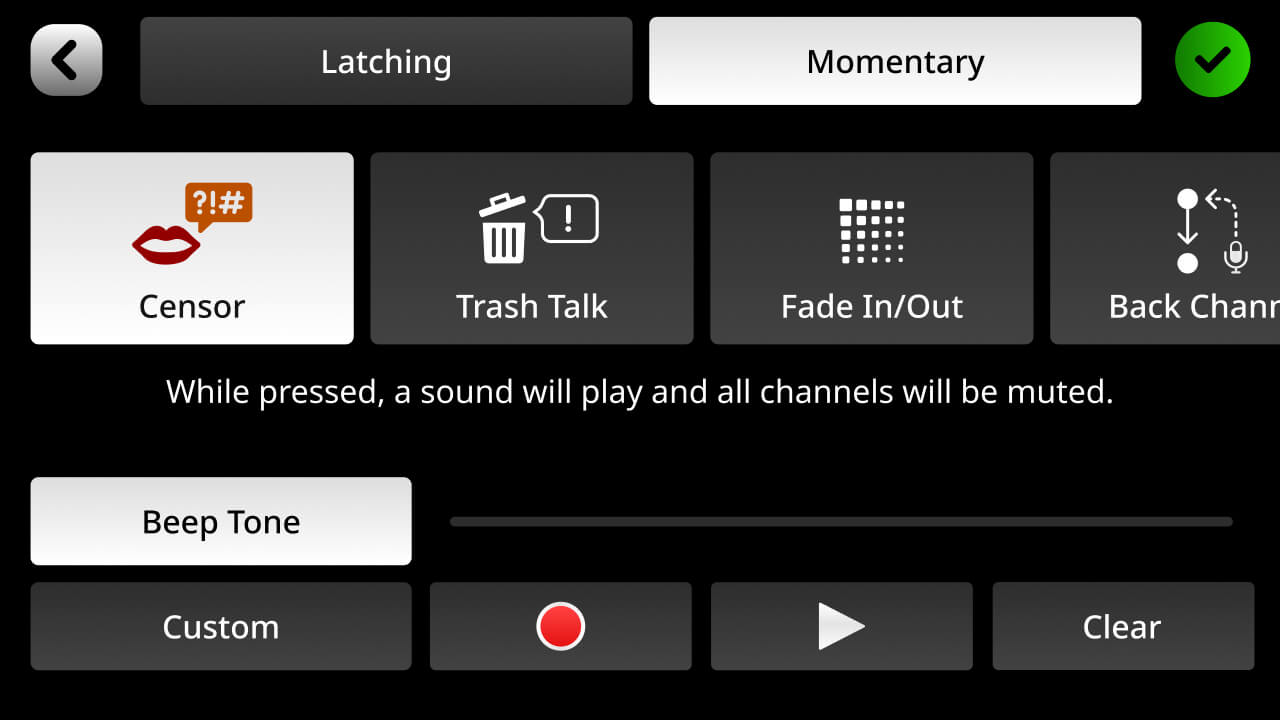 Some of the more straightforward mixer actions include the censor trigger, the 'fade in and out' function and ducking. However, other useful actions such as 'Trash Talk' and 'Back Channel Mode' also provide significant utility.
The 'Trash Talk' function cuts audio to mix-minus channels on USB and Bluetooth, allowing private communication during a live show. On the other hand, the 'Back Channel Mode' allows for private, unrecorded communication between selected audio sources. This feature is useful for pre-interview discussions or segment planning during a live show.
MIDI Trigger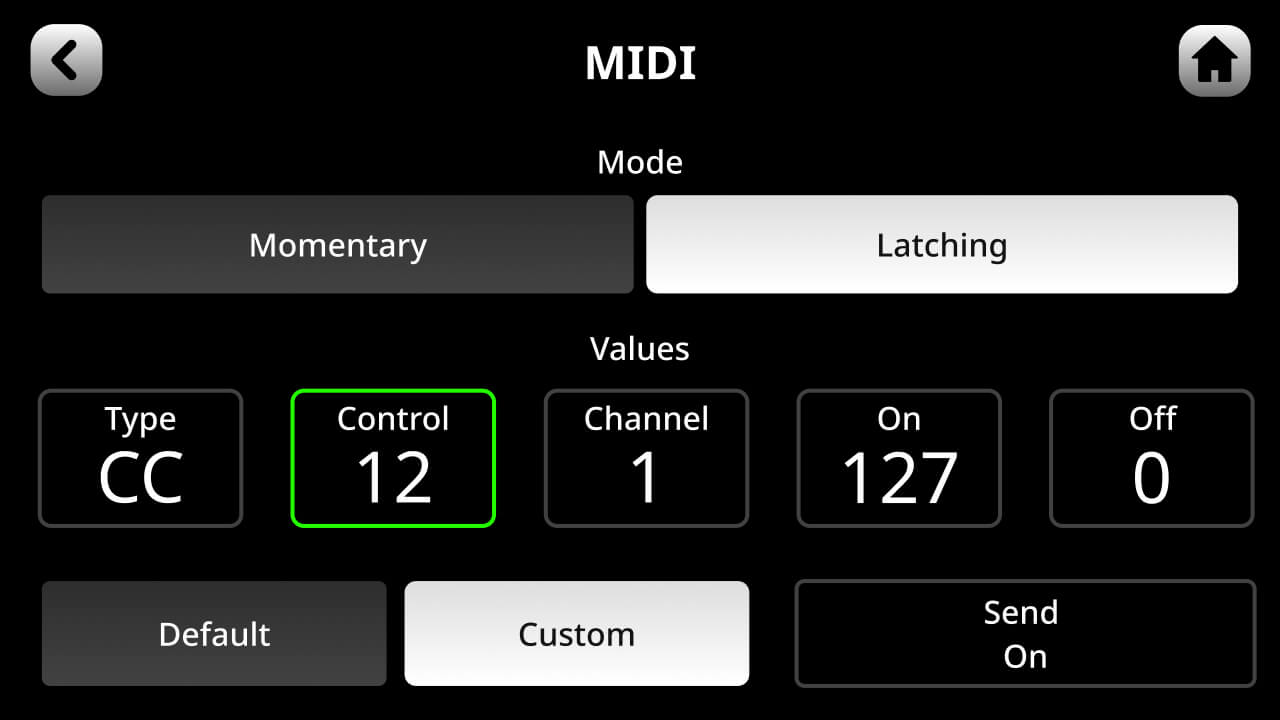 The RODECaster Pro II has MIDI control that offers a range of control options for musicians and podcasters alike. For example, they can input rhythms or trigger samples during live performances, adding a dynamic element to your music. In addition, these pads can activate various signal-routing functions, providing an extra layer of control for your podcasting setup.
Moreover, the RODECaster Pro II can be integrated into your recording setup to control your Digital Audio Workstation (DAW) or other MIDI-compatible devices. This allows for a seamless transition between your DAW, lighting system, and the RODECaster Pro II.
The device can also function like a Stream Deck, enabling you to control streaming software like OBS Studio with MIDI commands, manage scene transitions, pan PTZ cameras, and change cameras for a multi-camera setup.
Final Verdict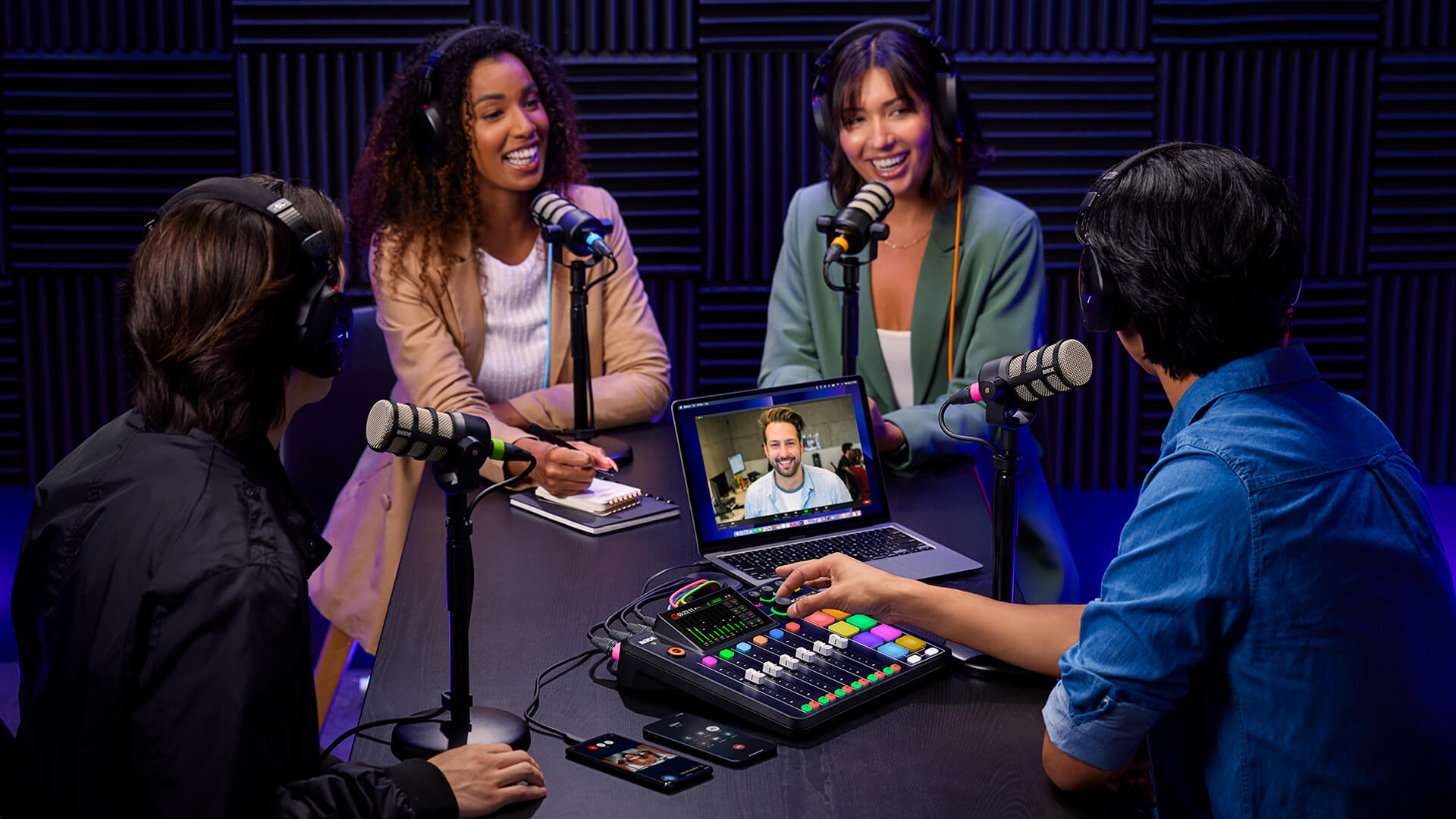 In this RODE RODECaster Pro II review, we can see that this device is a groundbreaking integrated audio production studio that sets a new standard in the industry.
Its robust build, versatile I/O ports, and intuitive mixer controls make it a joy to use. The sound quality is exceptional, thanks to the Revolution Preamps, and the suite of APHEX hardware processors allows for precise audio fine-tuning.
The device's standout feature, the Smart Pads, offers a wide range of capabilities, from creating custom sound effects to executing mixer actions and triggering sound samples. Despite minor drawbacks like the need for a power adapter and limited USB-C connectivity, the RODECaster Pro II is a significant upgrade from its predecessor.
In conclusion, the RODECaster Pro II is a remarkable piece of equipment that can elevate your content creation journey from good to great. Whether you're a seasoned podcaster or a budding musician, this device is a worthy investment.
However, if you are looking for great alternatives to the RODECaster Pro II, check our recommendations for other amazing streaming audio mixers!
Production Information
Specifications
Sample Rate: 48 kHz (Higher is Better)
Bit Depth: 24 bit (Higher is Better)
Preamplifier Gain Range: 76 dB (Higher is Better)
Equivalent Input Noise: -131.5 dBV (More Negative is Better)
Analog Input: 4 x combo XLR-1/4″ jack (microphone, line, instrument) with 48V phantom power
Analog Output: 2 x 1/4″ balanced line output, 4 x headphone outputs
USB Connectivity: 2 x USB-C with mix-minus
Network Connectivity: Bluetooth, WiFi 2.4GHz and 5GHz, Ethernet 100/1000
Recording Storage: microSDHC, microSDXC, USB-C removable drive (exFAT – minimum 100MB/s)
Weight (g): 1960g
Dimension (mm): 305(L) x 270(D) x 60(W)
Accessories: Power adapter, USB-C to USB-C Cable
---
Features
Nine assignable channels with six physical faders and three virtual faders
High-performance quad-core DSP (digital signal processor)
APHEX® audio processing and on-board sound effects
Eight customizable SMART pads with bank switching
Multi-track or stereo recording to a microSD card, USB storage device, or computer
Four high-power headphone outputs with volume control knobs
5.5-inch high-definition touch screen with haptic feedback
New features and improvements through regular firmware updates
---