Mackie DLZ Creator Review: The Beginner's Professional Mixer
In the dynamic world of content creation, the quest for professional-grade audio equipment that is both accessible and user-friendly is a constant endeavor. Enter the Mackie DLZ Creator adaptive digital mixer, a revolutionary all-in-one podcasting and live-streaming audio solution designed to cater to creators of all experience levels.
It has a rich array of features, and an intuitive interface poised to transform the landscape of digital content creation. Drawing on Mackie's 30-plus-year history of providing professional-grade audio equipment, the DLZ Creator is a testament to the company's commitment to supporting creators with tools that are not only powerful but also easy to use.
However, with a hefty price tag of $799, can it live up to expectations amid stiff competition, such as the ever-popular RODECaster Pro II? In this Mackie DLZ Creator review, we will delve deeply into the nuts and bolts of this digital podcast mixer, exploring what's impressive and what's less so.
At a Glance
The Mackie DLZ Creator adaptive digital mixer is more than just a podcast mixer or audio interface. It's a comprehensive audio production console that adapts to the technical level of the user, offering modes that range from almost fully automated to a professional interface.
Inspired by the accessibility of smartphones and DSLR cameras, the DLZ Creator offers an adaptable interface that caters to any creative style or skill level without compromising on processing power or audio quality.
---
---
Build Quality

The Mackie DLZ Creator adaptive digital mixer is a formidable presence among podcasting and live streaming equipment. With a weight of 2.8 kg, it is notably larger and heavier than any other mixing console in its class, such as the RODECaster Pro II and the Tascam Mixcast 4.
Constructed from high-quality plastic with elements of metal, the Mackie DLZ Creator feels solid and robust. This device will not easily succumb to wear and tear; it is designed to withstand rigorous use over time.
The four corners of the base have a large rubber pad to prevent it from sliding along a table. There is also a locking power connector to prevent the power cable from accidentally being removed during a recording.
However, the substantial size of the DLZ Creator does mean it requires a significant amount of desk space. While this may not pose a problem for those with ample workspace, those with more limited space may need to consider rearranging their setup to accommodate this device.
Number and Types of I/O Ports

The Mackie DLZ Creator adaptive digital mixer is an all-in-one device with an impressive array of input and output ports, catering to a wide range of audio recording and streaming needs.
The DLZ Creator boasts four combo input jacks for balanced or unbalanced audio signals, perfect for accommodating up to four mics and instruments.
It has a pair of 1/4″ stereo line input jacks suitable for line-level instruments, audio effects processors, or CD players. They also have the flexibility for seamless transitions between mono and stereo configurations.
The DLZ Creator also features a 1/8″ stereo TRS input jack, a connection not commonly found in many digital mixers. This allows for the connection of a variety of devices, including smartphones, tablets, or even shotgun microphones such as the RODE VideoMic NTG or VideoMicro. However, being a TRS jack, it cannot send audio back to your smartphone; hence, this 1/8″ stereo input jack cannot be used for taking calls.
Output options are equally diverse, with one pair of 1/4" main outs jacks and four stereo headphone outputs. These main outputs are ideal for studio monitors, speakers, or cameras that can take balanced outputs, but can also convert to unbalanced if you have a camera with a 3.5mm input. It uses professional line-level outputs that eliminate the need to boost levels in the camera.
Lastly, the DLZ Creator is equipped with four headphone outputs, each with its own volume control dial for direct monitoring. Like many other digital mixers in its class, having combo jacks for up to four mics and four headphone outputs make the DLZ Creator an ideal choice for podcasting for multiple guests.
Connectivity
USB-C Connection
The DLZ Creator adaptive digital mixer is equipped with a USB-C port to connect to a computer for audio recording or live streaming. Moreover, the USB-C port can record multitrack audio, allowing users to make post-production edits to individual tracks and have more control over the mix.
In addition to the USB-C port, the DLZ Creator also includes a USB-A port. This port can be used for recording on a USB flash drive even without a computer, providing an alternative method for users who prefer this mode of recording. Alternatively, you can also use the microSD card slot for recording. Unfortunately, you cannot record to both the USB flash drive and microSD card at the same time.
Interestingly, the USB-A port can also connect a keyboard for naming and hotkeys, and can be used to charge a phone or plug in a lamp, making it a versatile addition to the device.
While it's crucial to note that the USB-A port can only be used to record or play audio from a USB flash drive and cannot operate a USB microphone, we do have recommendations for excellent USB microphones that can record directly into your computer.
Another downside is that when transferring files from your USB flash drive or microSD card, you will need to eject them from the DLZ Creator and insert them into your computer. Digital mixers like the RODECaster Pro II can directly transfer files from an inserted microSD card to a computer without the need to eject the card.
Bluetooth
The Mackie DLZ Creator has a stereo bi-directional Bluetooth channel that facilitates the addition of a caller into the audio mix directly from a smartphone. This capability is particularly beneficial for podcasters and streamers who frequently incorporate remote guests or co-hosts.
Notably, the mixer's mix-minus feature, available via USB and Bluetooth, ensures the absence of an audible echo when the guest speaks, guaranteeing clean, studio-quality audio that will captivate listeners.
The Bluetooth functionality is not limited to adding callers. Should the host wish to incorporate music into their podcast or live stream, they can connect their smartphone and play their preferred tracks directly through the podcast mixer.
Ethernet Port
The Mackie DLZ Creator also has an ethernet network port. While this port is currently not operational, having it allows the hardware to be future-proof because it has the potential for future firmware updates that could unlock a multitude of features.
Sound Quality
The Mackie DLZ Creator has impressive professional audio quality due to its Onyx80 mic preamps, capable of providing an impressive 80dB of gain. Compared to its competitors, the Mackie DLZ Creator boasts the highest gain range on paper.
This substantial gain range is particularly beneficial for quieter microphones, such as the Shure SM7B, which often require additional amplification to perform optimally.
The equivalent input noise of the DLZ Creator is a remarkably low -143.4 dBV (A-weighted), indicating an exceptional level of quietness. This ensures that any extraneous noise is virtually imperceptible, thereby maintaining the integrity of the original audio signal.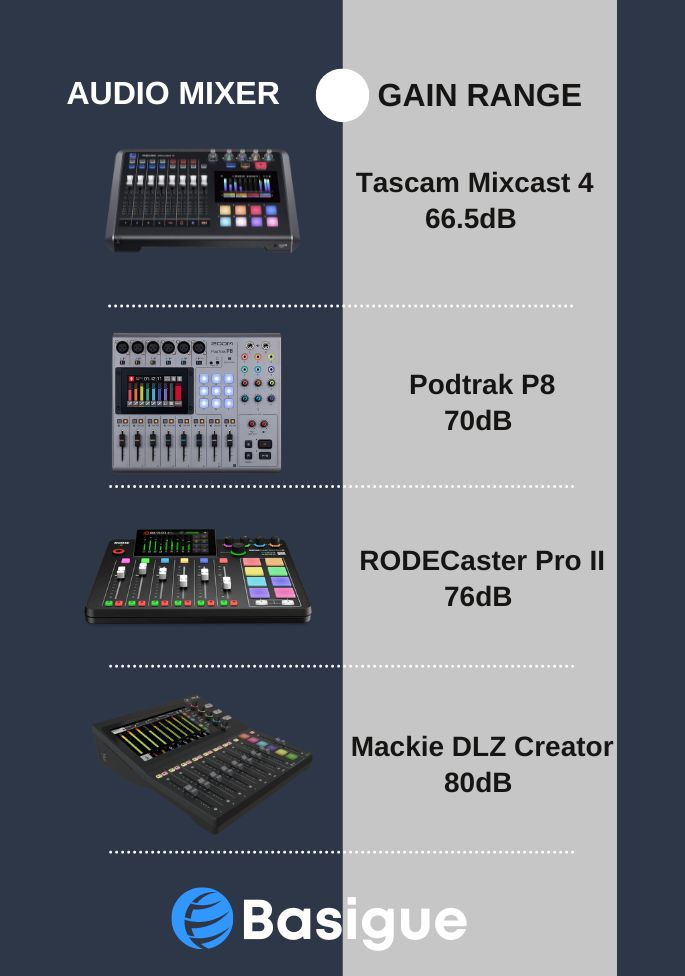 Operating at a 48kHz, 24-bit rate, the DLZ Creator delivers audio with exceptional clarity and detail. This high-resolution audio capability ensures that your podcast or music is reproduced with the utmost fidelity, enhancing the overall listening experience.
Mixer Controls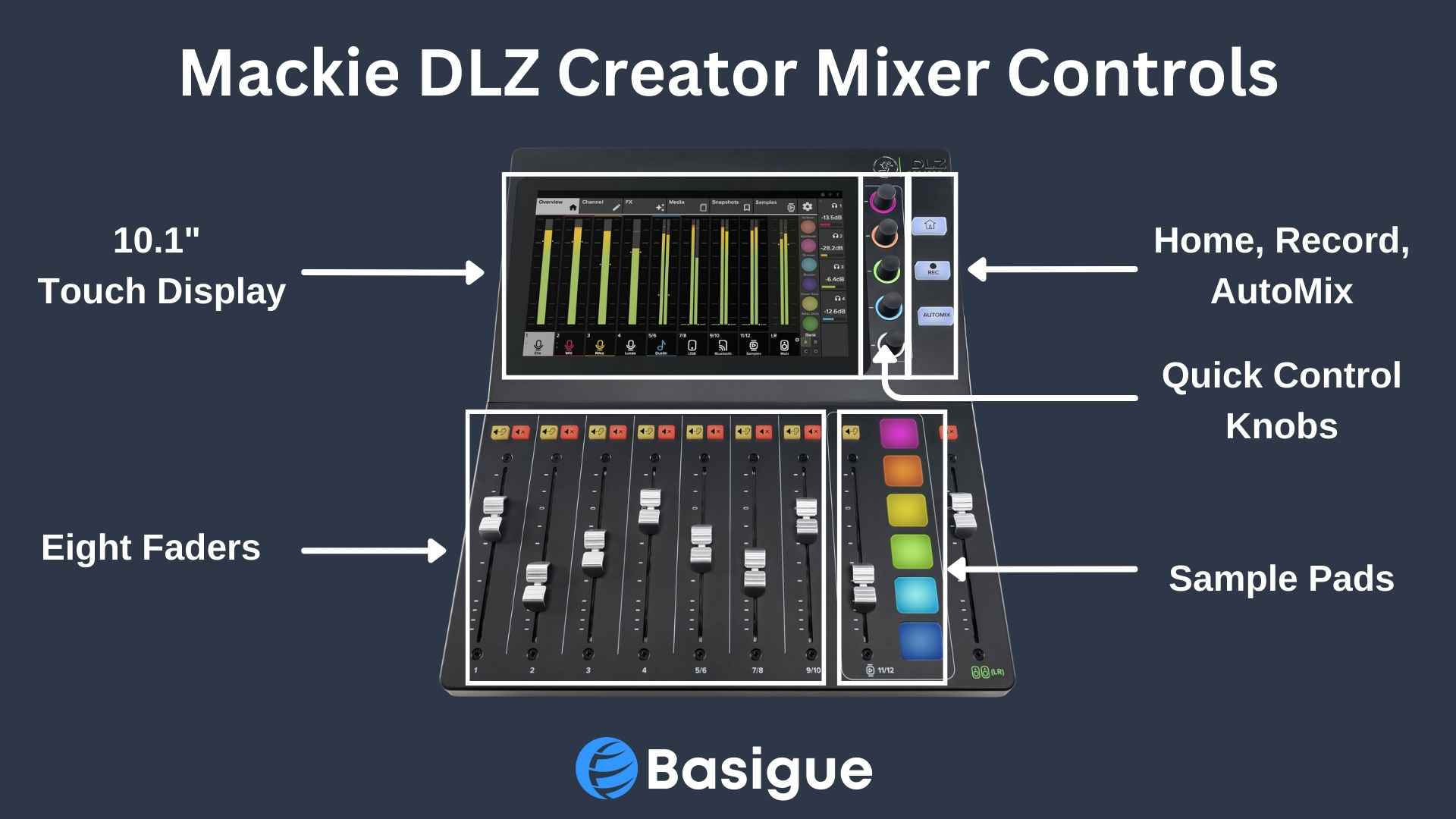 10.1-inch Touch Display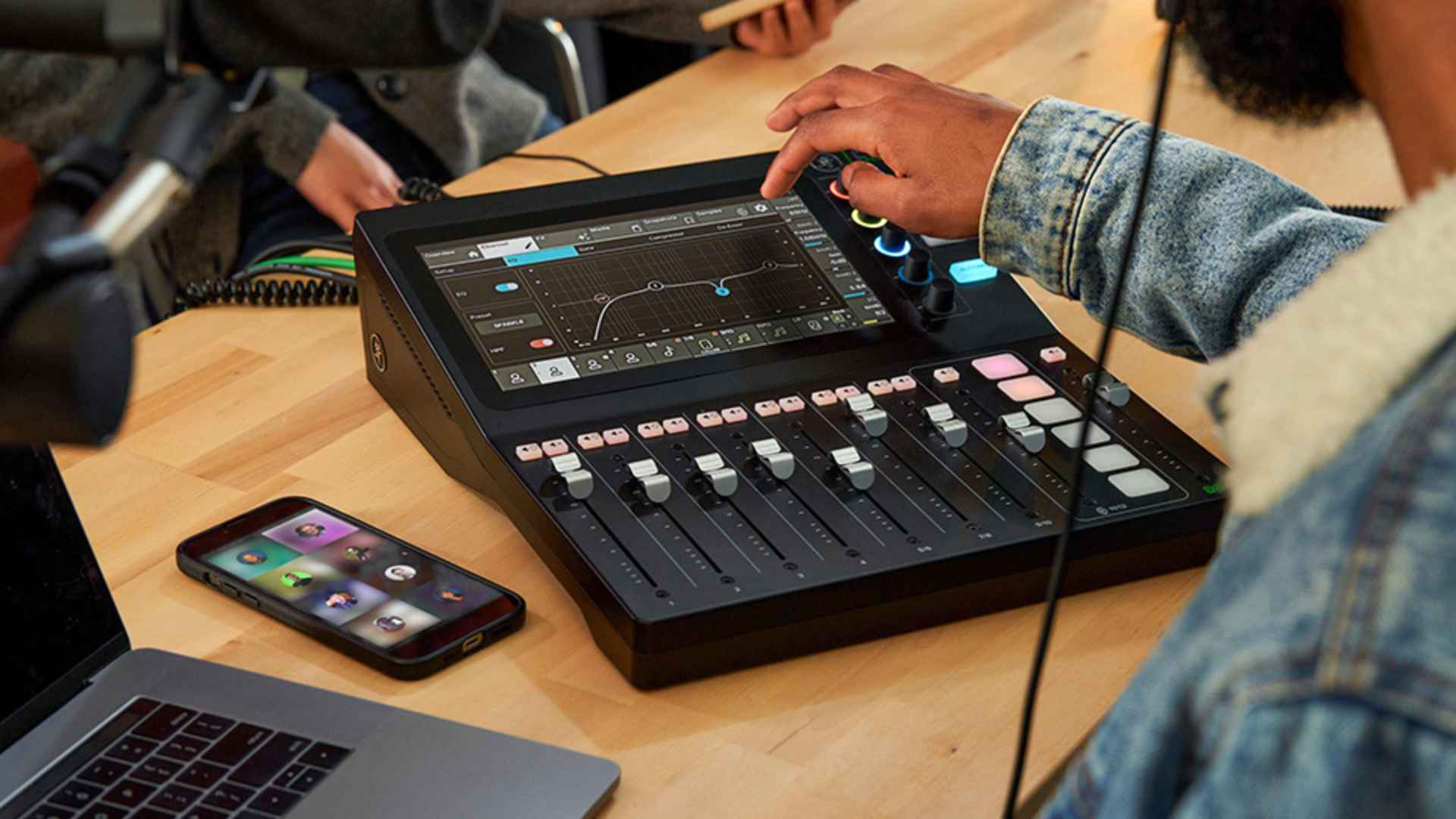 The first thing that will probably catch most people's attention about the Mackie DLZ Creator adaptive digital mixer is how gigantic the screen is. The DLZ Creator has a 10.1-inch high-resolution touch screen with anti-glare coating.
This is where you will be doing all the navigation and settings, from viewing the levels of all your inputs and outputs to setting up the channels.
It is almost the size of an iPad and is conveniently tilted at an angle for easy readability, which is great for people who struggle with small displays. While the touchscreen's responsiveness may not match that of an iPad, it serves its intended purpose effectively. After all, it's not like you'll be playing PUBG on the Mackie DLZ Creator.
Eight Faders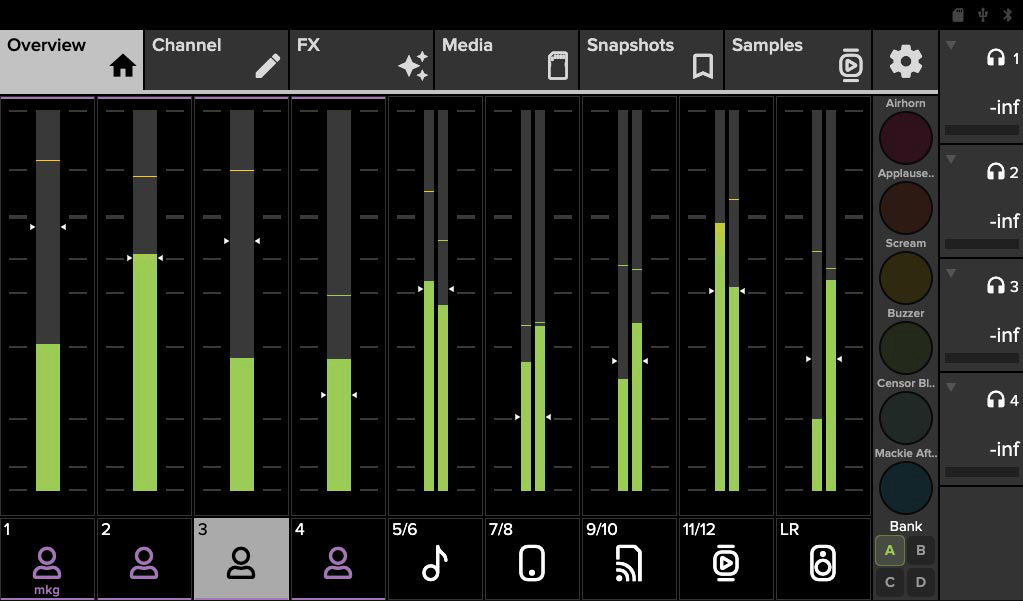 The device also boasts eight faders with extended travel, allowing for precise level adjustments. Input channels 1 – 4 have mono meters, while channels 5 – 12 have stereo meters. The faders on the display will move synchronously when you adjust the physical faders. Each input channel fader is also equipped with a solo function for isolating the channel and a mute button.
However, the faders are not as customizable as a digital mixer like the RODECaster Pro II where any audio source can be assigned to any fader. For the Mackie DLZ Creator, input channel 1 is solely meant for the mono input of combo input jack 1, and likewise for the rest of the faders.
Sample Pads
You'll find six sample pads for the sampler channel to the right of the physical faders. These can trigger pre-configured sound samples, such as an air horn or a censored beep. Additionally, you have the option to record your own samples or upload new ones from a microSD card or USB flash drive.
I don't want to sound like a broken record comparing the Mackie DLZ Creator with the RODECaster Pro II again, but their Smart Pads are just so much more customizable than the DLZ Creator's sample pads. In addition to playing samples, they can trigger audio effects, mixer actions, and MIDI commands. But who knows, Mackie might have future firmware updates that might give more features to their sample pads. If you're interested, you can check out our review of the RODECaster Pro II.
Quick Control Knobs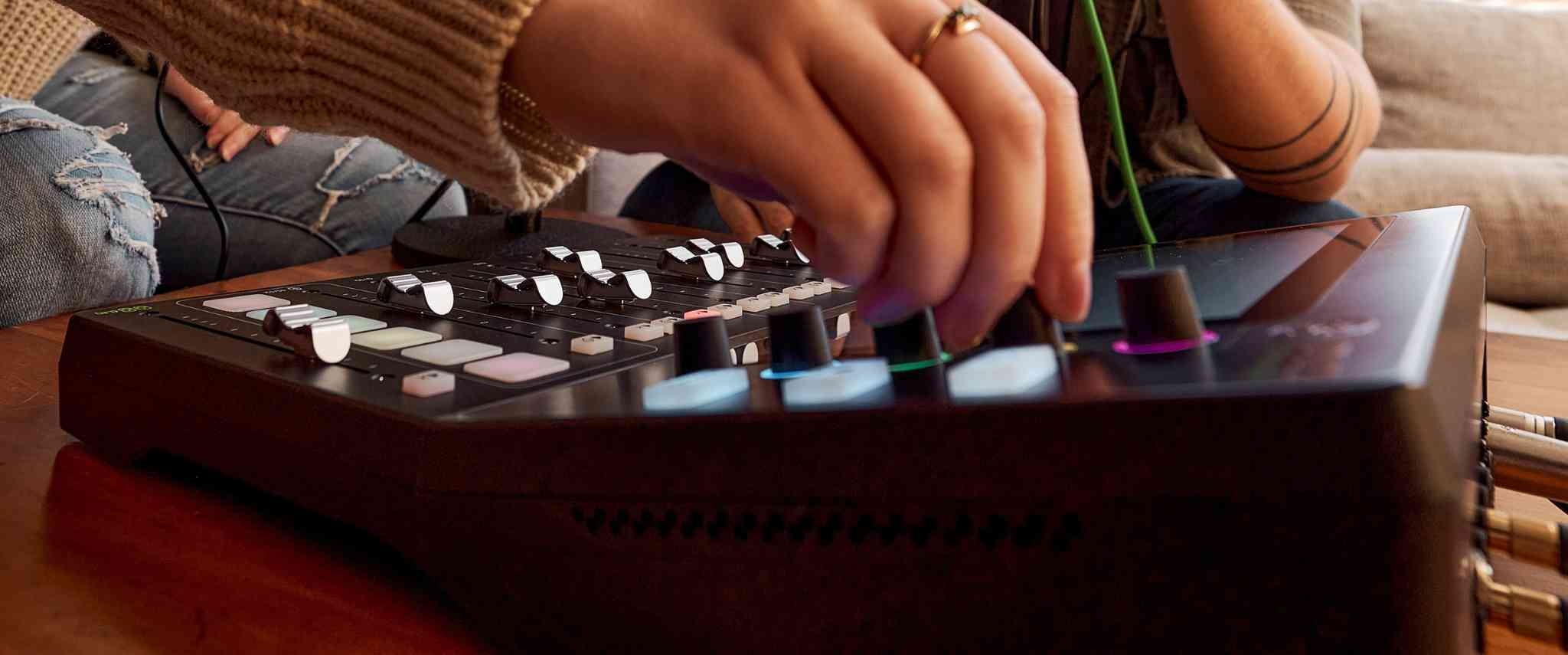 Above the sample pads are five quick control knobs that function more than just volume control knobs for the headphones. The five quick control knobs on the device are designed to control context-dependent parameters on the large touch display. The base color of each knob changes according to the available parameter at any given time.
Home & Record Button
You'll find three soft-touch silicone buttons to the right of the quick control knobs: Home, Record, and AutoMix. The functions of the Home and Record buttons are fairly self-explanatory, either returning you to the main overview screen or initiating a recording.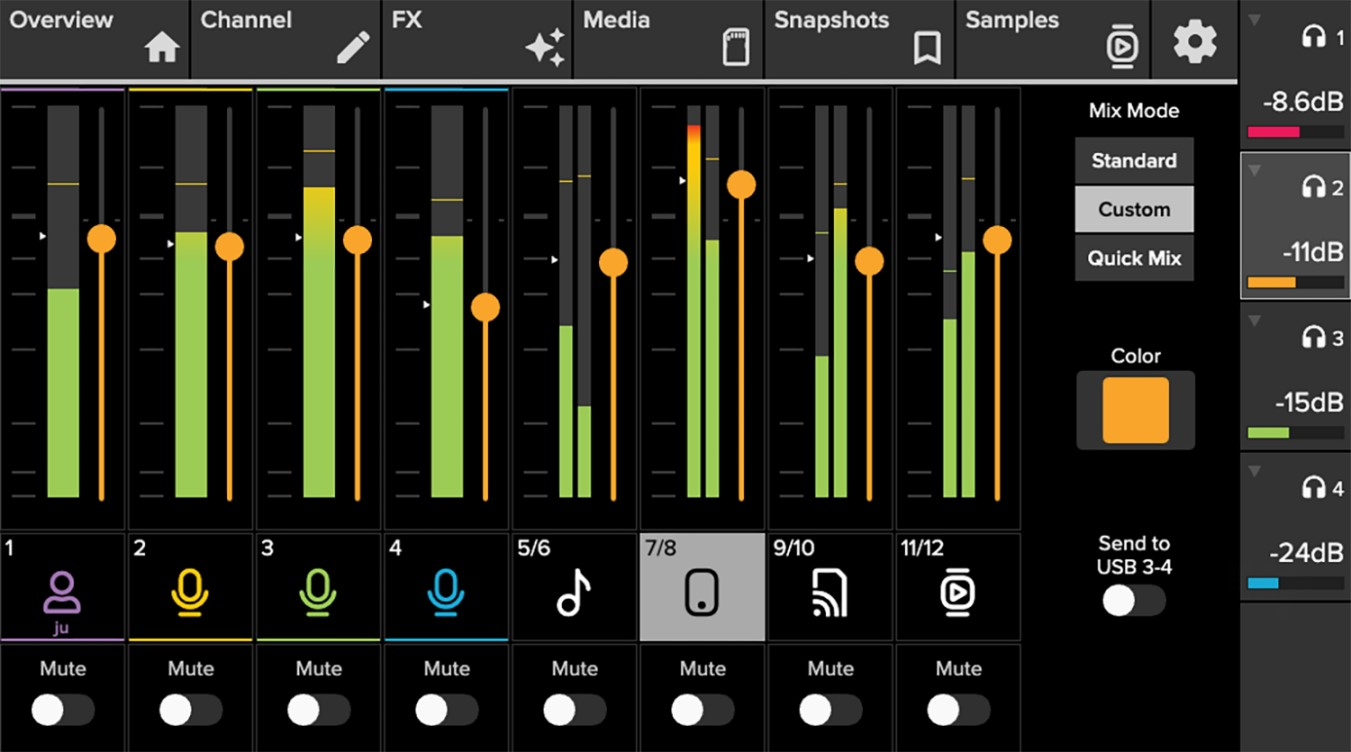 Also, when you're on the Home screen in Pro Mode (which we'll discuss later), you can access individual headphones and create customized headphone mixes for that specific headphone. You have the option to make minor adjustments to the main mix using 'Custom Mix Mode,' or you can create an entirely different mix using 'Quick Mix Mode.' Quick Mix Mode disregards the main mix entirely, allowing you to customize that headphone mix from scratch.
It is particularly beneficial to create customized headphone mixes if you are streaming and prefer to prevent your audience from hearing everything that you are hearing, such as your Discord chat or background music. Or if one of your podcasting guests wants a different mix from everyone else.
AutoMix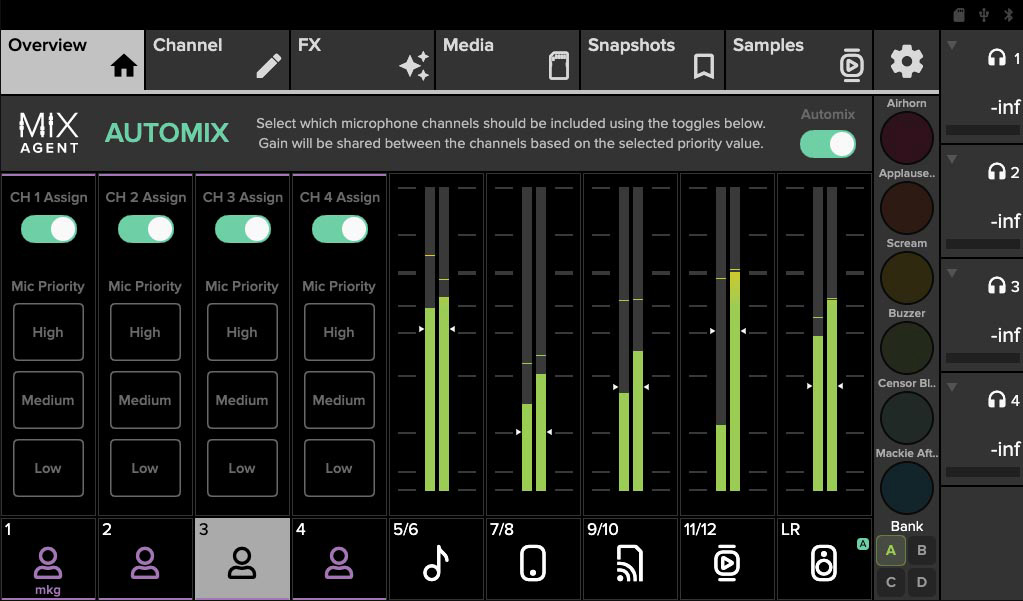 The AutoMix, however, is one of the key features of the Mackie DLZ Creator. Mackie has recognized the significance of this feature to such an extent that it has been allocated its own dedicated button.
The AutoMix button brings you to a screen where you can activate AutoMix for any number of the four microphone inputs. You can set a 'High, Medium, or Low' priority for each microphone input. Microphone inputs on 'High Priority' will receive the most gain, while those on 'Low Priority' will receive the least gain.
This is particularly beneficial in scenarios involving multiple simultaneous speakers, such as during a vibrant panel discussion or a fervent debate. AutoMix manages levels to ensure that your podcast or live stream maintains consistent and studio-quality audio, even amidst simultaneous speech.
However, the AutoMix function does not appear to apply the true gain found in high-end conference rooms or predominantly North American broadcast stations. Ideally, the active microphone should receive the majority of the gain, with priorities coming into play only when more than one microphone is active simultaneously.
In the case of the Mackie DLZ Creator, a microphone set to 'low-priority' will have its gain permanently dampened or reduced, even when it is the only active microphone. Ideally, the 'low-priority mic' should receive as much gain as the 'high-priority mic' when it is the sole active microphone.
Mix Agent
The Mix Agent technology is another one of the key features of Mackie DLZ Creator, but there has been some confusion about what this is, and to clear the air, the Mix Agent Setup Assistant is the options tab you can enable at the bottom of the touch display when you access 'Mode' on the settings page.
The Mix Agent Setup Assistant simplifies the configuration of each audio channel. It guides you through the setup process and automates functions with minimal effort on the user's part. It assists you from the start, even with the most basic setups, such as connecting headphones and microphones.
The assistant helps you adjust the proper headphone levels, choose presets of popular microphones like the Shure SM7B, and automatically sets the optimized gain levels for you. Furthermore, it guides you on connecting other input sources, including USB, Bluetooth, mobile phones, or line input, making the setup process as smooth as possible.
Automatic Gain

As mentioned, the Mackie DLZ Creator adaptive digital mixer automates functions like automatically setting an optimized gain. This can be done with the setup assistant or in any input setup for channels 1 to 4.
In the Setup Assistant or Input Channel setup, you can choose to 'Set Level Automically', and the DLZ Creator will listen as you speak into the mic and automatically adjust the gain to an audible level without clipping.
Although the automatic gain setting is not a new feature, with devices like the Behringer Flow 8 and the Focusrite Vocasters also offering it, it remains an invaluable tool. Once you've experienced the convenience of Automatic Gain, it becomes an essential feature that you wouldn't want to be without.
Control Modes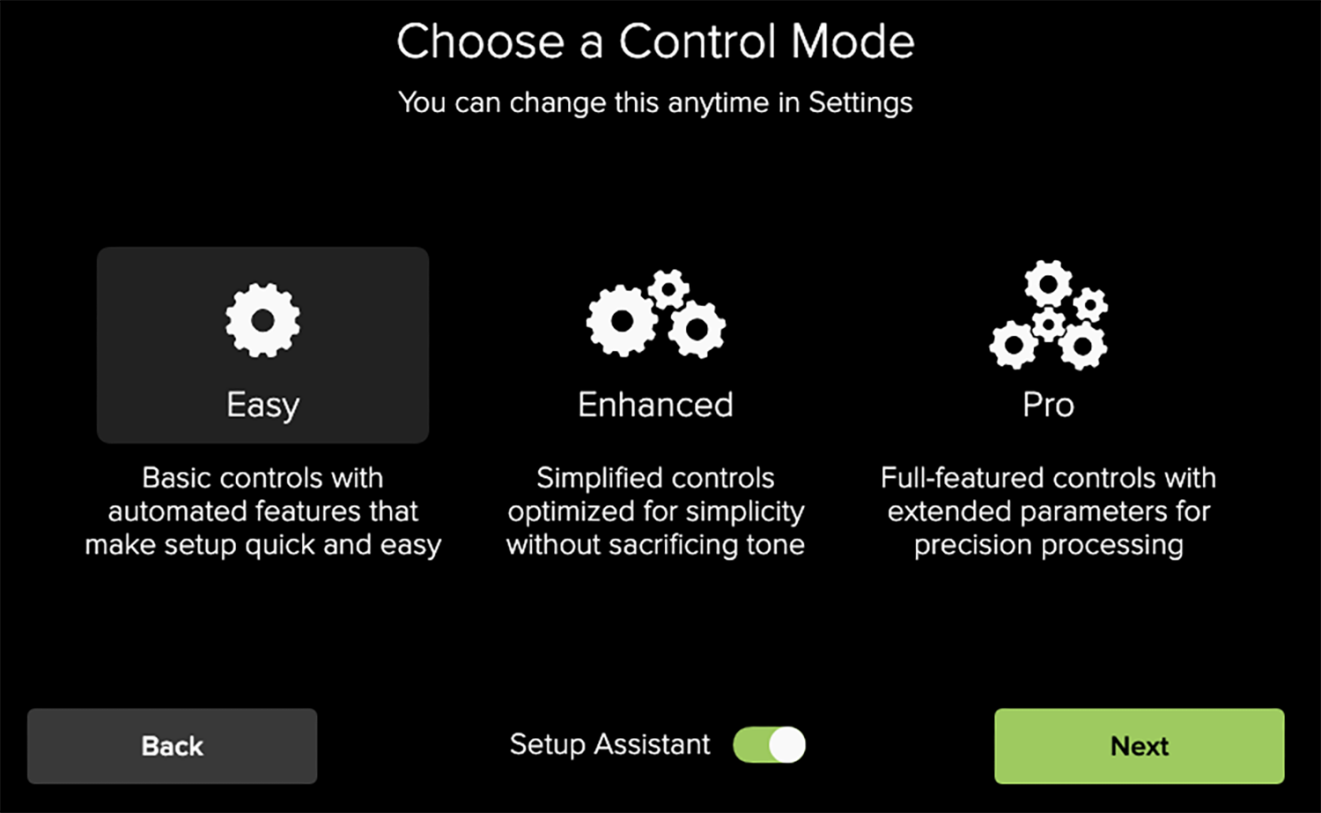 The Mackie DLZ Creator adaptive digital mixer is not just a podcast mixer or an audio interface; it's an adaptive digital mixer designed to cater to users of varying technical expertise. This is where the Control Modes come into play. The DLZ Creator offers three unique Control Modes – Easy, Enhanced, and Pro – each designed to meet the needs of users at different skill levels.
Easy Mode
The Easy Mode is perfect for beginners, offering a no-fuss user interface that provides the quickest path to recording your first podcast with minimal effort. It's designed for those who want great results without having to navigate complex menus or settings.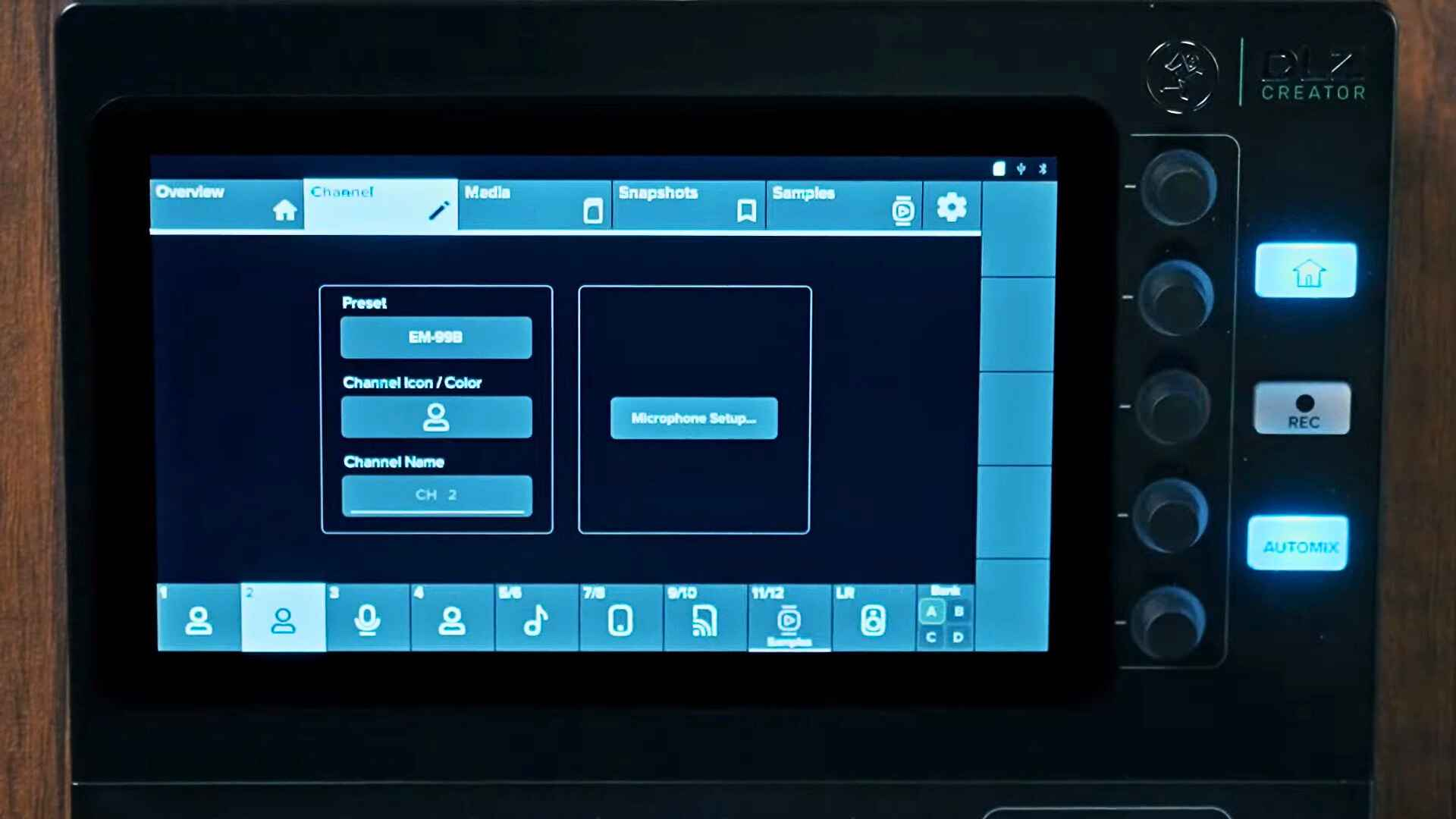 As you can see from the image above, you don't get much customization in the channel setup – you can choose between different presets such as 'condenser,' 'broadcast,' 'dynamic,' etc., change the channel icon color and channel name, and that's about it.
Upon entering the 'Microphone Setup' tab, you will be directed to the Setup Assistant (also known as Mix Agent) that we previously discussed.
Enhanced Mode
Next up is the Enhanced Mode, which offers expanded control over your sound and mix. This mode is ideal for users who want some level of customization but without an overwhelming number of options. It strikes a balance between simplicity and control, making it a popular choice for intermediate users.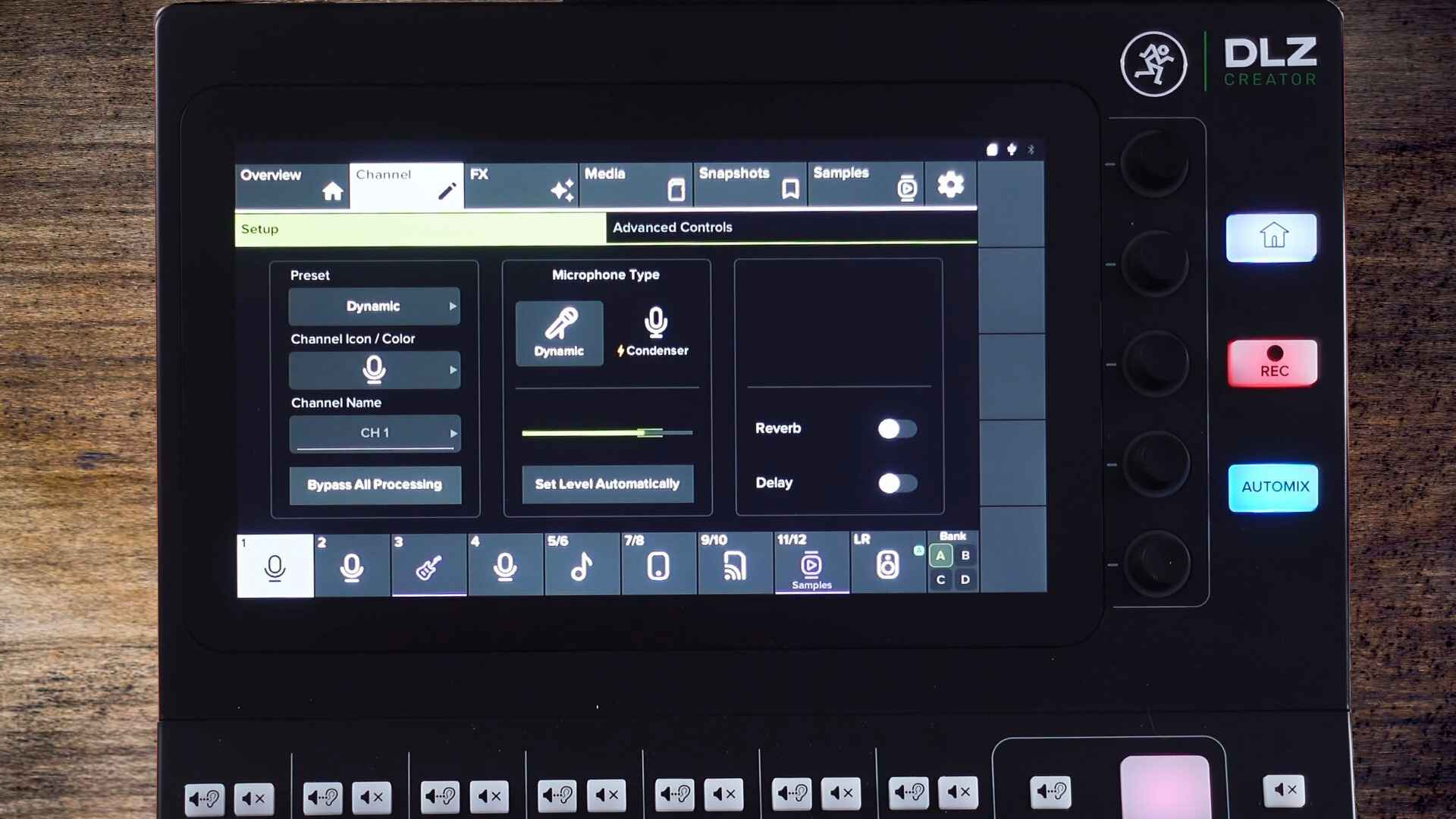 In the Channel Setup of the Enhanced Mode, you get additional options, including choosing between a dynamic and condenser microphone, activating reverb and delay, and using the Automatic Gain feature. Speaking of dynamic and condenser mics, we have some great recommendations for those types of microphones for vocals.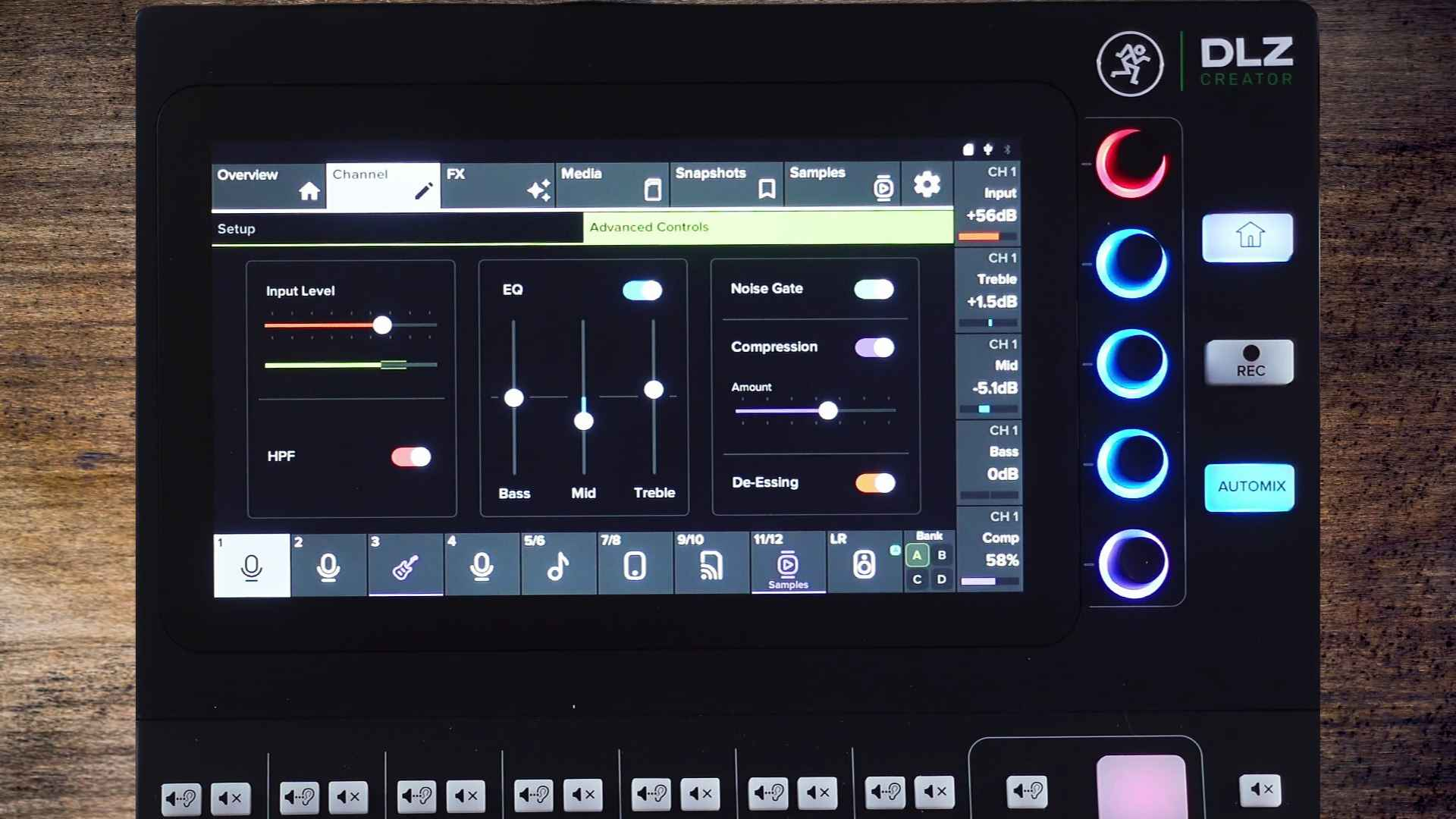 When you go into Advanced Controls, you will get access to some simplified audio processing. This includes a high-pass filter for eliminating low-frequency rumbles, a basic 3-band EQ, a noise gate, compression, and de-essing. While these features can be activated, their adjustability is somewhat limited.
Pro Mode
The Pro Mode unlocks the full potential of the DLZ Creator. This mode is designed for experienced users who want total control and customization of the system to achieve their desired sound. It's like having a professional digital audio workstation at your fingertips, with the ability to fine-tune every aspect of your audio.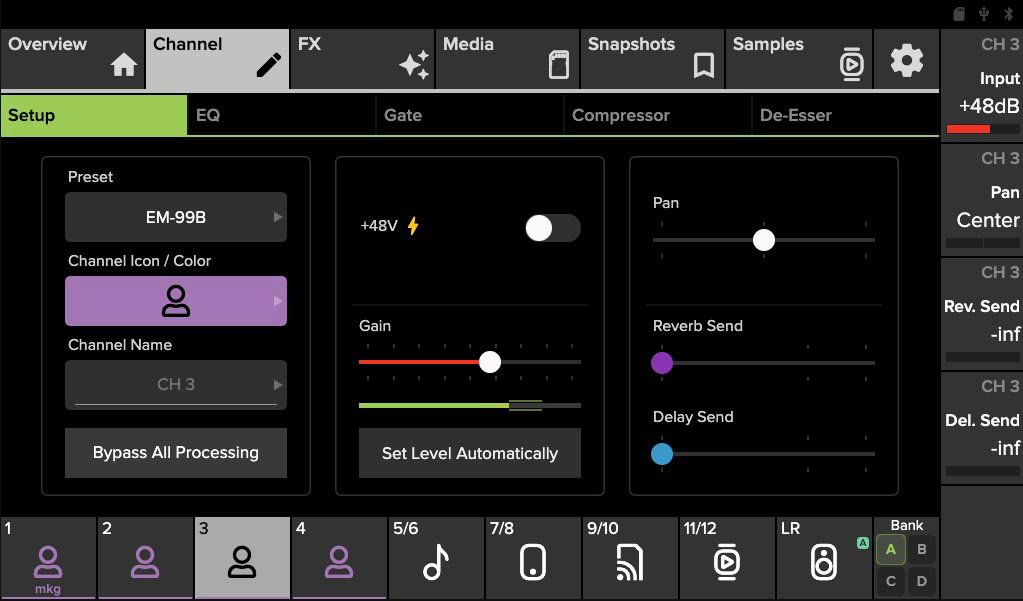 The Pro Mode channel setup looks very similar to the Enhanced Mode channel setup. However, you get additional features and controls; you can pan the audio left or right and adjust the reverb and delay levels.
You will also notice that instead of getting a single Advanced Controls tab, you will have access to individual tabs for each audio processing function for EQ, noise gate, compressor, and de-esser.
Equalizer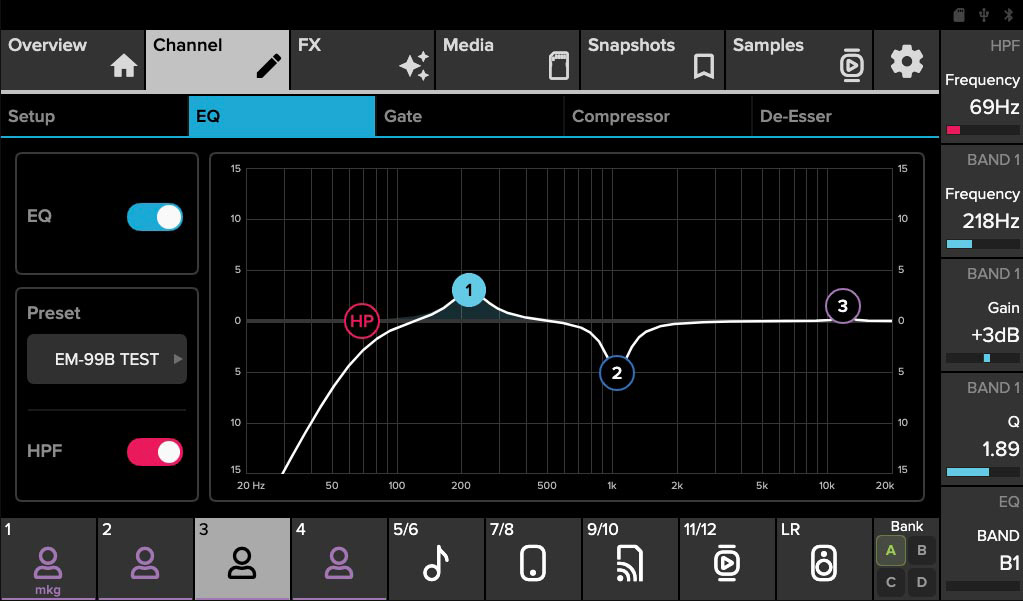 In one glance, you can immediately see the equalizer setup in the Pro Mode looks significantly more professional than the simple 3-band EQ of the Enhanced Mode.
You can turn on the high-pass filter (HPF) and adjust the frequency where the audio starts to cut off using the quick control knob to the right of the touch display. The frequency, gain, and bandwidth (Q) of the individual 3 bands can also be adjusted using the quick control knobs. You can even make adjustments to the equalizer bands using the touch display.
Noise Gate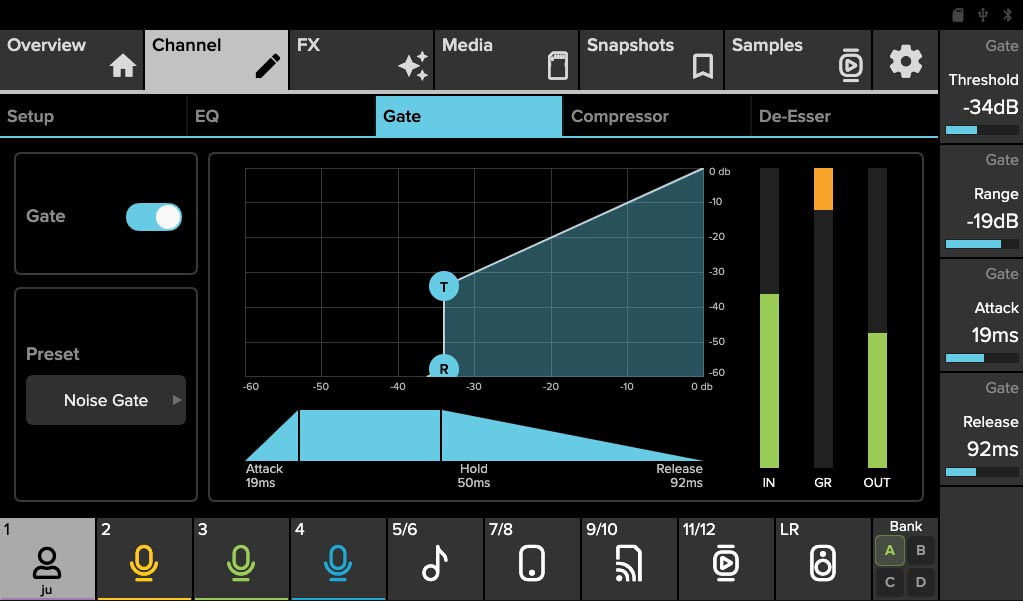 While Enhanced Mode only offers a toggle for the noise gate, Pro Mode presents a comprehensive noise gate graph. This provides more granular control over the threshold, range, attack, and release, which can be adjusted using the quick control knobs.
Noise gates are used to minimize leakage from open microphones. They work by muting signals below a certain threshold while allowing those above it to pass through. The range reduces signals below the threshold by a set amount, while the attack, hold, and release controls how quickly the gate opens and closes.
Compressor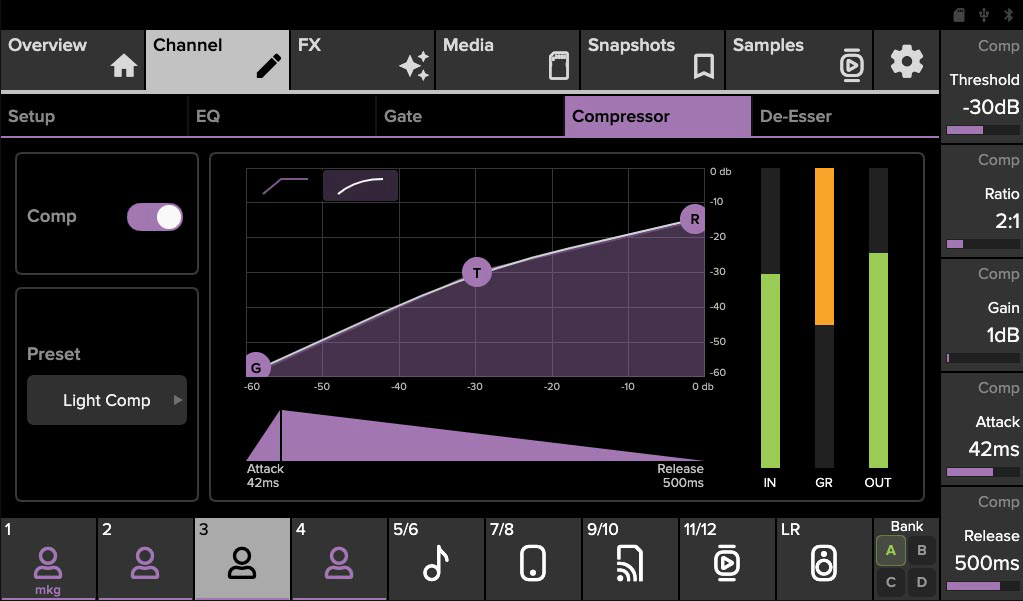 Similar to the previous audio processors, you get a lot of adjustability with the compressor over here. As the name suggests, compressors are used for compressing audio by a certain ratio, especially in areas that are too loud. They are great for balancing the loud and soft parts of your audio without simply cutting the peaks of loud parts like a hard limiter.
De-Esser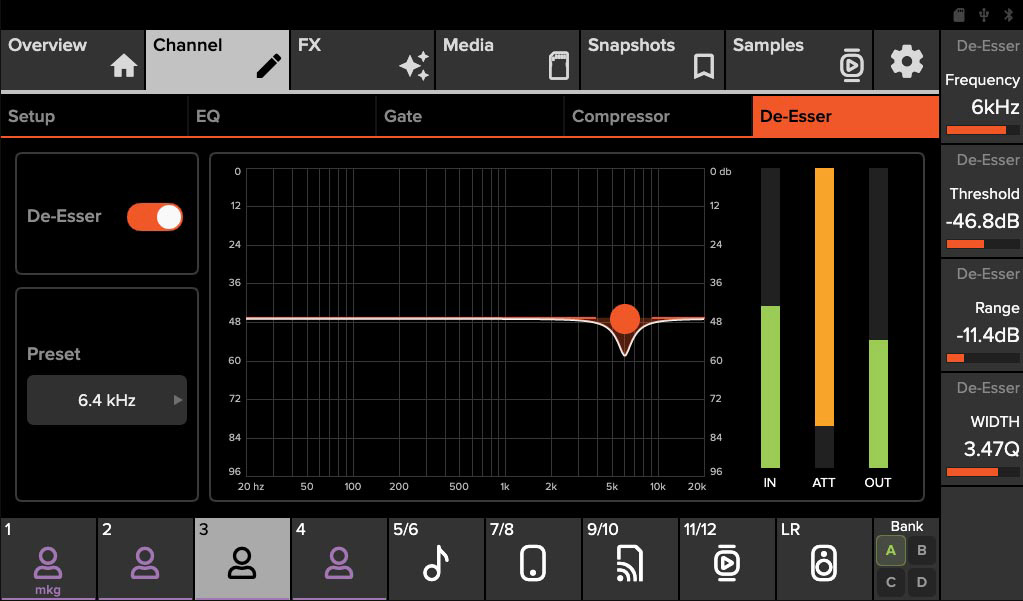 And lastly, we have the de-esser which is a specific kind of compressor that eliminates high frequencies and sibilance, which are harsh sounds like "ess", "z", "ch", "j", "sh", and "ts". Generally, these sibilant sounds are found in the 3-8 kHz range.
Recording Features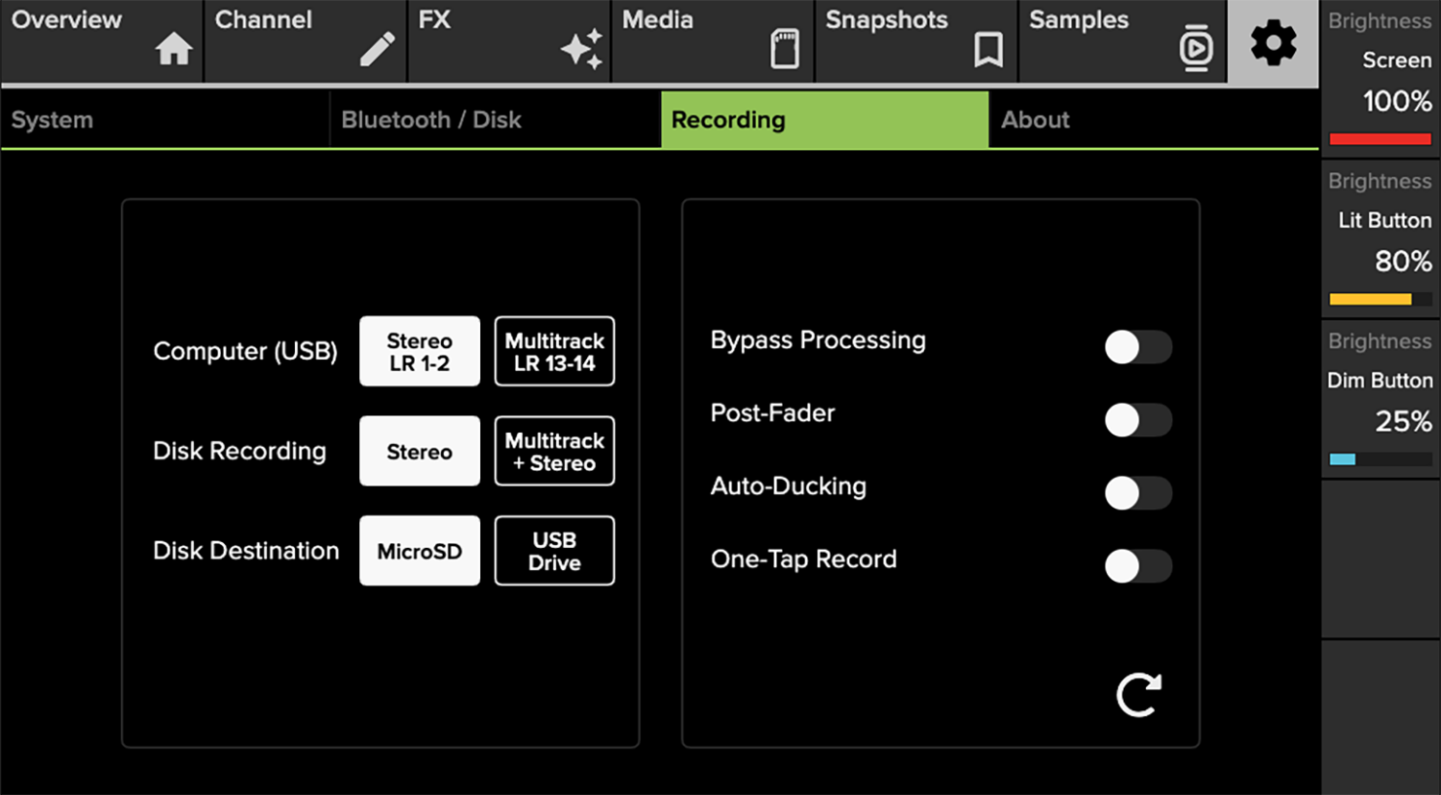 The Mackie DLZ Creator gives you several useful recording features, such as bypass processing and post-fader for instances where you want raw, unprocessed audio so that you can do post-production editing.
One essential feature that DLZ Creator lacks is an auto-mute feature for speakers when the faders are up, a feature that is readily available in the RODECaster Pro II. This should be a fundamental feature, especially since the Mackie DLZ Creator is designed for beginners. The absence of an auto-mute speaker function can lead to audio from the speakers bleeding into the microphones, causing loud and uncomfortable feedback for listeners.
Moreover, the lack of an auto-mute speaker function renders post-fader recording ineffective when listening through speakers. To prevent feedback into the microphones, you would mute the master fader, but this would also mute the post-fader recording; hence you can't record post-fader when using speakers.
Multi-Track Audio
Besides stereo recording, you also get the option to record multitrack audio to your computer via USB. However, its convoluted setup process to stream multitrack audio during online conference calls on Teams on Skype will have you scratching your head in frustration.
The DLZ Creator sends the main stereo outputs to USB channels 13 and 14 for multi-track recording. However, most conferencing apps, like Teams, are a bit myopic and only recognize USB Channel 1 as the audio input source. You'll have to set the 'Computer (USB)' to 'Stereo' instead of 'Multitrack + LR 13-14' to make your voice heard.
But what if you still want to do multitrack recordings while chatting away online? You'll need to select 'Stereo' for 'Computer (USB)' and then record multitrack through a USB flash drive or microSD card. It's a bit of a hassle, but that's the only way at the moment.
Also, beginners might struggle to extract recordings for individual audio files when using multitrack recording because only poly WAV files are produced when using the multitrack recording.
Auto-Ducking
The one standout recording feature is Auto-Ducking. I'm sure you've been to events where loud music is playing in the background, and the music suddenly drops when a person speaks into a microphone, which is auto-ducking in action!
When engaged, this function automatically reduces the volume of all channels except channel 1. However, it does not affect the multi-track outputs. The volume reduction is gradual, not immediate, and is audible via headphones and the main LR output.
Once speaking on channel 1 ceases, all other channels return to their previous levels. This feature is particularly useful in events where background music or other audio needs to be temporarily subdued during speech.
Final Verdict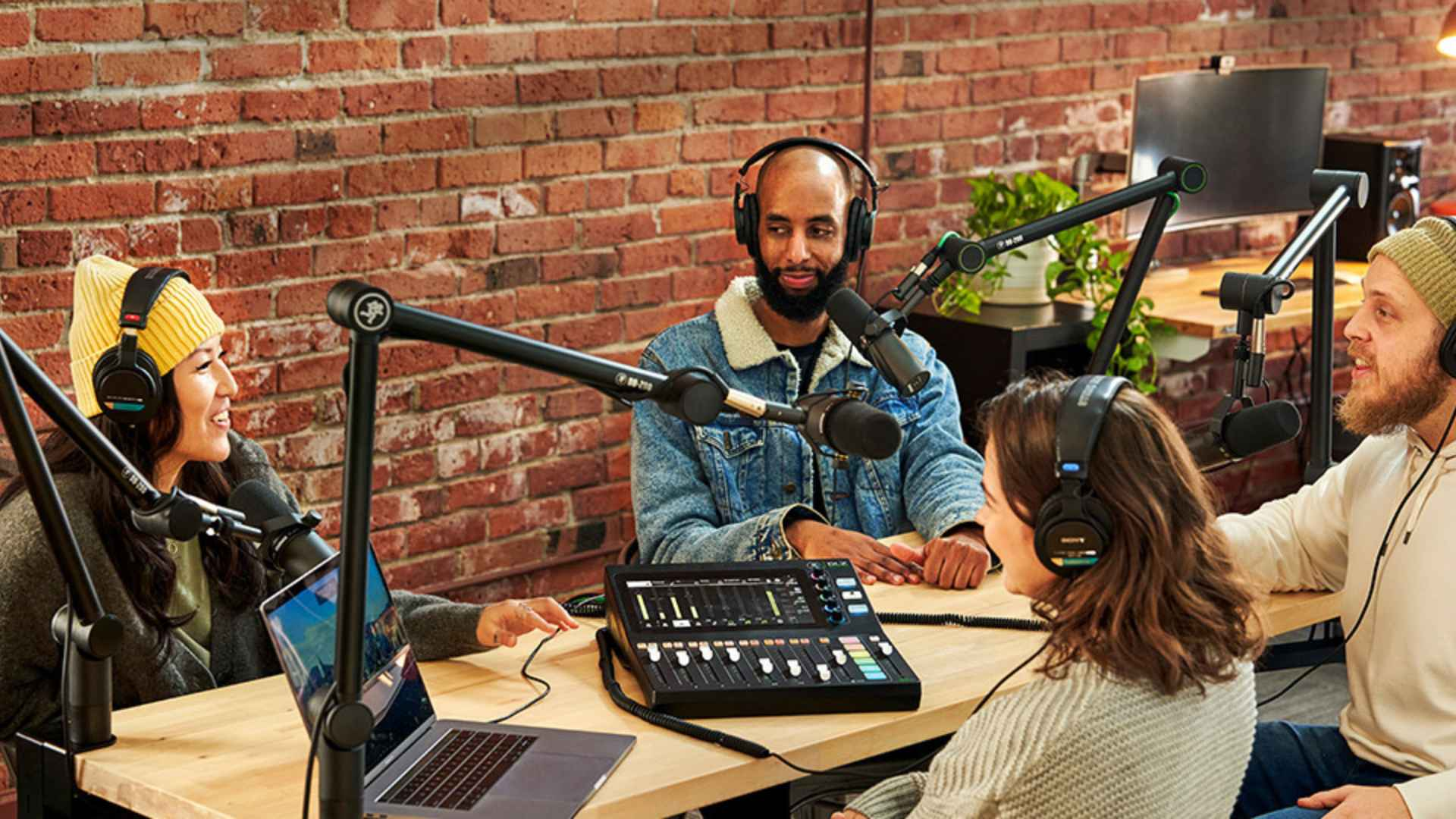 The Mackie DLZ Creator, priced at $799, is a robust and feature-rich audio mixer. Its professional-grade construction, impressive sound quality, and the large touch display are commendable.
However, it falls short in areas like call handling, fader customization, and multitrack recording during online conference calls. The absence of an auto-mute speaker function is a significant oversight that can lead to audio issues.
While it has potential, its current limitations make it less appealing compared to more customizable alternatives like the RODECaster Pro II. It's a promising product that could become a top choice with further firmware updates and refinements. For now, it's worth considering for those willing to navigate its complexities.
Production Information
Specifications
Sample Rate: 48 kHz (Higher is Better)
Bit Depth: 24 bit (Higher is Better)
Preamplifier Gain Range: 80 dB (Higher is Better)
Equivalent Input Noise: -143.4 dBV (More Negative is Better)
Analog Input: 4 x balanced/unbalanced combo jacks with 48V phantom power, 1 x balanced/unbalanced 1/4″ stereo jack, 1 x 1/8″ stereo jack
Analog Output: 1 x balanced/unbalanced 1/4″ stereo jack, 4 x stereo headphone jacks
USB Connectivity: 14×4 USB-C audio interface to Mac/PC
Network Connectivity: Bluetooth, Ethernet 100/1000
Recording Storage: MicroSDHC, microSDXC, USB-A removable drive (FAT32 – minimum 100MB/s)
Weight (kg): 2.8kg
Dimension (mm): 216(H) x 386(W) x 399(D)
Accessories: power adapter, USB-C to USB-A cable
---
Features
DLZ Mix Agent to guide you through setup and configuration
DLZ Control Modes for different levels of difficulty
Auto Mix automatically reduces channel levels when not receiving a signal
10.1" HD touch display with anti-glare coating
Five dynamically color-coded quick control dials
Nine 100mm faders with assignable input sources
Backlight buttons to mute, solo, trigger samples and effects, and navigate the display
Professional audio processing
Multitrack recording and stereo playback
Mix-minus capability over USB or Bluetooth connectivity
Hard power switch and locking power connector
---