BOSS Gigcaster 8 Review: The Ultimate Mixer for Musicians
BOSS has been a leading player in the music industry for decades, producing top-notch pedals, effects processors, and amplifiers. However, 2023 marks the first time BOSS has emerged as a strong contender in digital mixers with the all-new BOSS Gigcaster 8. This positions it against longstanding competitor products such as the RODECaster Pro, Tascam Mixcast 4, and the Zoom Podtrak P8.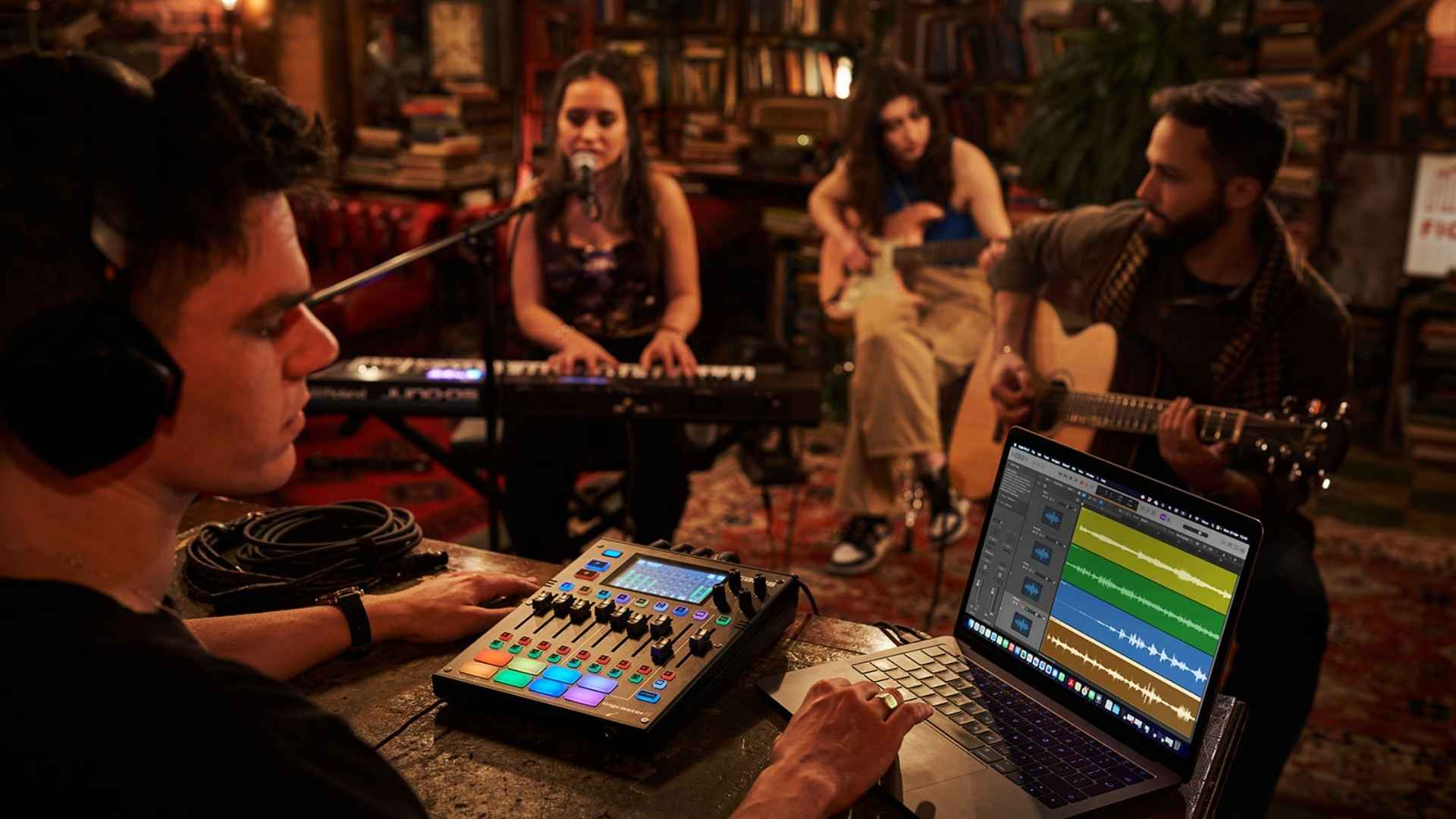 Designed with the modern musician in mind, the Gigcaster 8 audio streaming mixer is a versatile tool that caters to a variety of needs. Whether you're a guitarist seeking the perfect tone, a podcaster looking for crystal-clear audio, or a live streamer aiming to captivate your audience, this streaming mixer can do it all.
So, if you're ready to take your audio game to the next level, join us as we walk you through this comprehensive BOSS Gigcaster 8 review. We'll explore its features, discuss its strengths and weaknesses, and help you decide if it's the right digital mixer for you.
At a Glance
The BOSS Gigcaster 8 is a powerful all-in-one USB audio interface, streaming mixer, and audio processor with real-time effects control designed for podcasters, streamers, and especially musicians. It offers a robust eight-channel audio mixer, high-quality 32-bit floating-point processing, and a multitude of connectivity options.
The streaming mixer stands out with its flagship-quality BOSS amps and effects, dedicated vocal effects, and customizable sound pads. It also supports hands-free operation via optional BOSS footswitches and a dedicated app for parameter editing. With its intuitive touch display, lightweight design, and recording capabilities, the Gigcaster 8 mixer is a versatile and professional tool for unleashing creative ideas in your online content.
---
---
Build Quality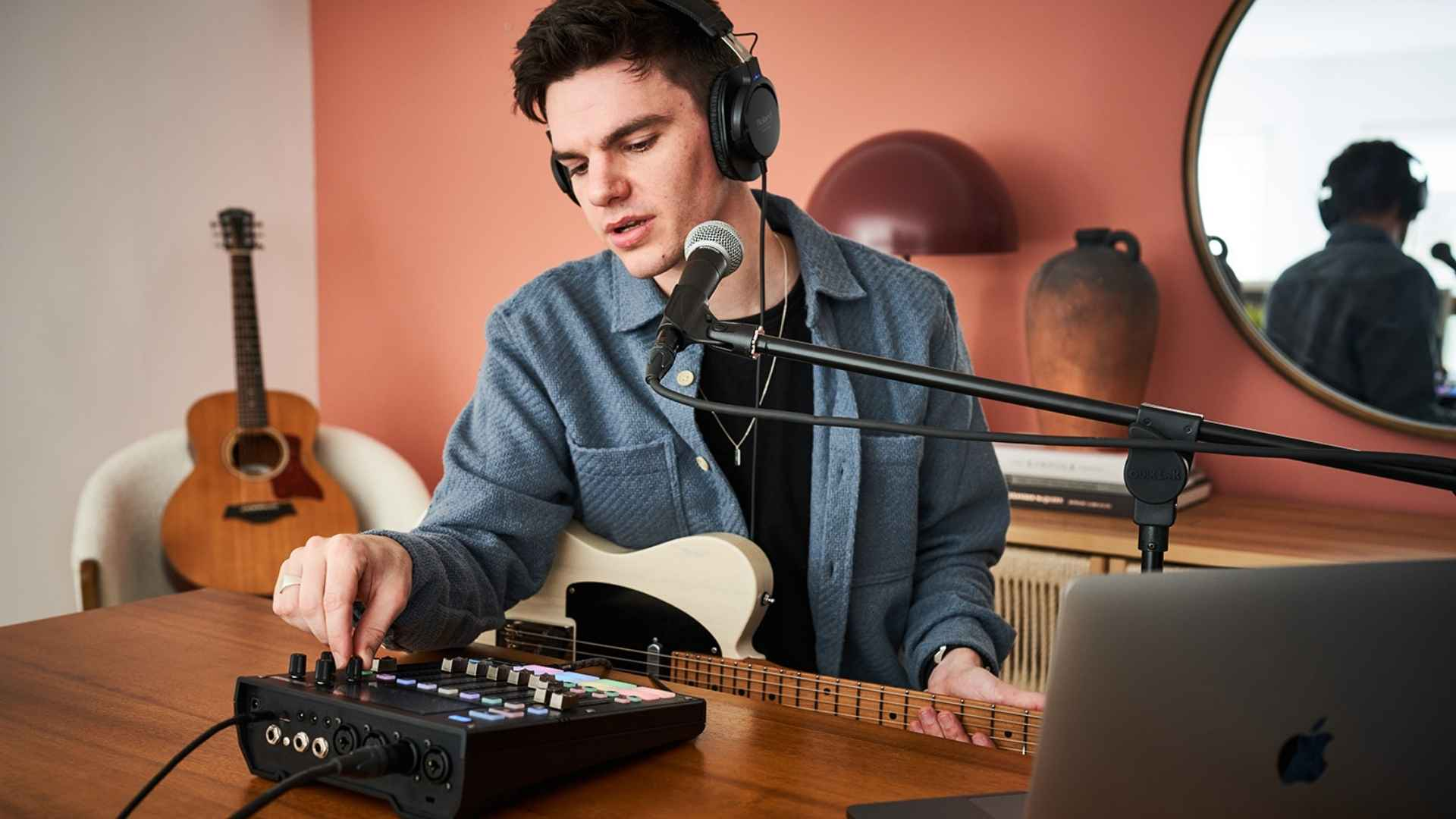 Upon initial interaction with the BOSS Gigcaster 8 audio streaming mixer, one is immediately struck by the high-quality plastic construction. This is not the typical fragile plastic found in everyday items. Instead, it is a robust, durable material that conveys a sense of solidity and reliability, a testament to BOSS's commitment to quality.
The device is adorned with a sleek, all-black finish with a matte texture, exuding sophistication, and professionalism. The soft silicone buttons, a subtle yet significant feature, provide excellent tactile feedback, ensuring precision with every press.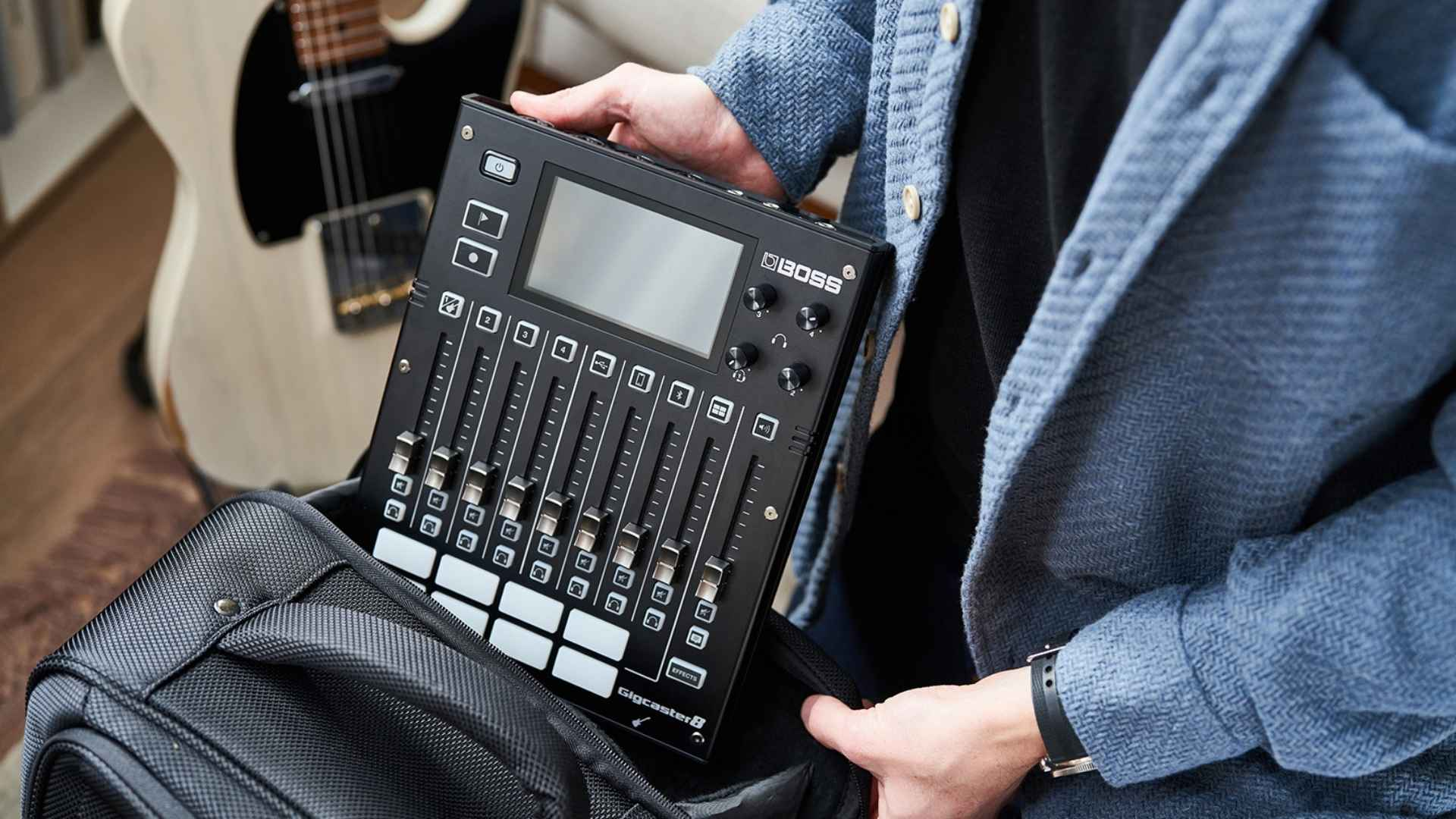 Despite its robust construction, the Gigcaster 8 mixer is surprisingly compact and lightweight, weighing a mere 1.36 kg. This is significantly lighter than its competitors, the RODECaster Pro II and the Mackie DLZ Creator, which weigh 1.96 kg and 2.8 kg, respectively. This lightness does not compromise its performance but enhances its portability, making it an ideal choice for musicians on the move or those with space constraints when setting up a home music studio.
A notable design feature of the Gigcaster 8 mixer is the power cable slot located at the base of the streaming mixer. This thoughtful addition allows for efficient cable management, contributing to a neat and organized workspace.
Number and Types of I/O Ports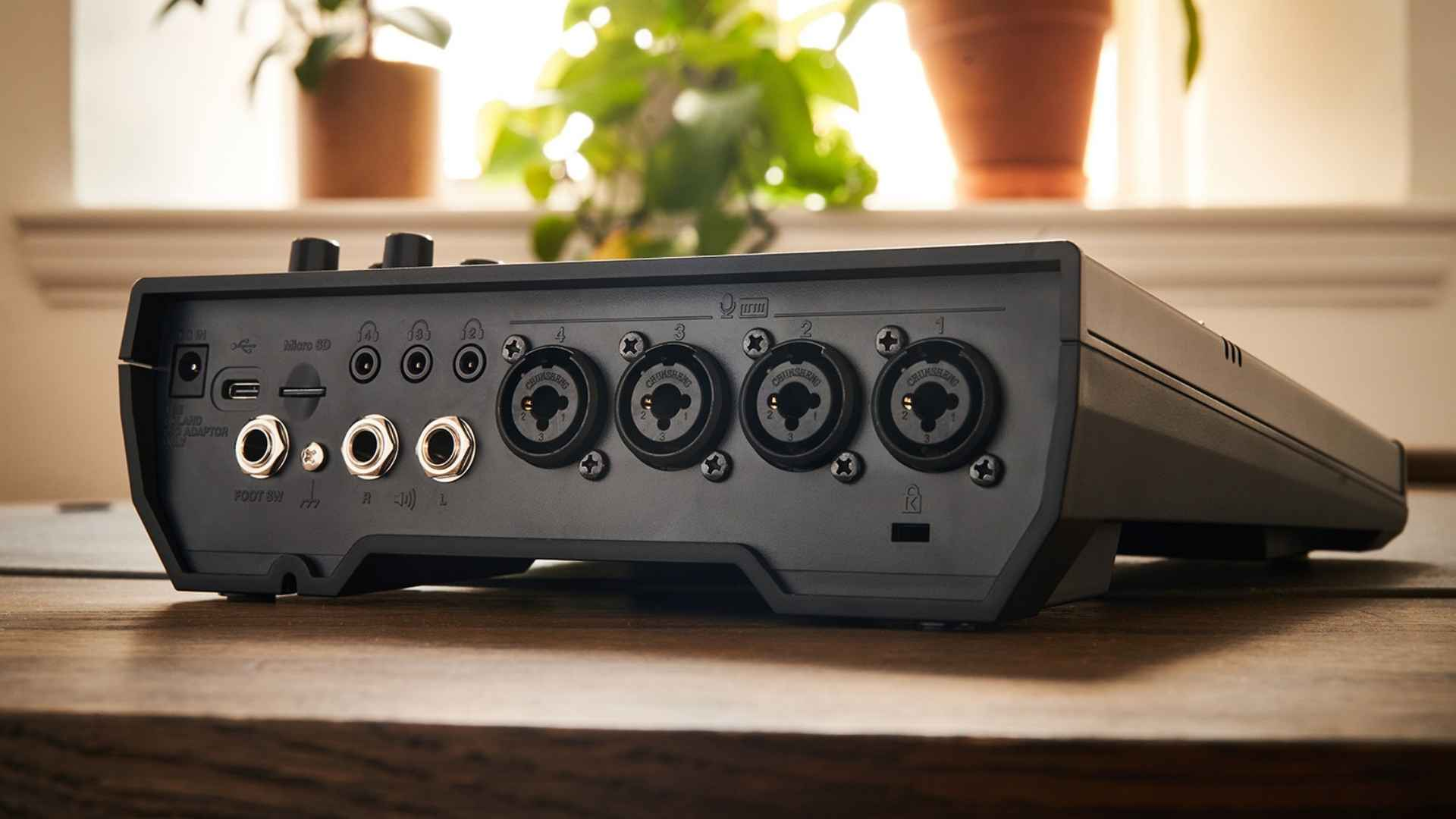 The BOSS Gigcaster 8 audio streaming mixer is equipped with four XLR/TRS combo jacks for connecting microphones and instruments, and phantom power can also be provided for condenser mics. These inputs feature high-grade preamps with low noise and an expansive gain range (+70 dB), ensuring optimal audio capture.
It also has a built-in onboard stereo microphone that can be used for recording acoustic instruments or when using the talkback function.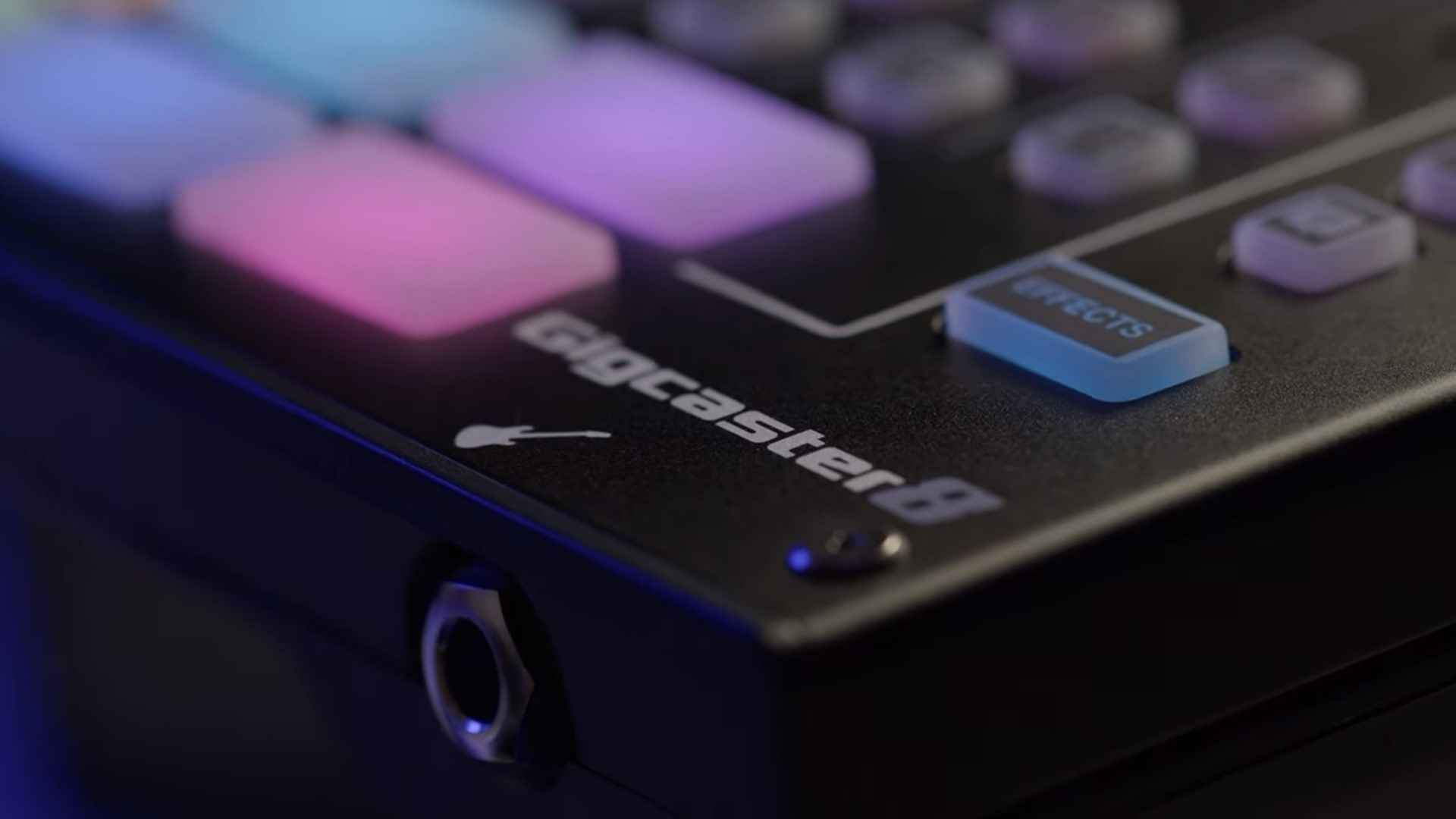 For musicians utilizing guitars or basses, the BOSS Gigcaster 8 mixer provides a dedicated high-impedance input at the front for direct connection.
On the output side, the BOSS Gigcaster 8 mixer is equipped with four headphone outputs, each with dedicated EQs in the headphones settings. This allows for precise monitoring of the mix, ensuring optimal audio quality.
Additionally, a front-panel headphones output supports a headset mic or inline mic, catering to a variety of recording scenarios.
Connectivity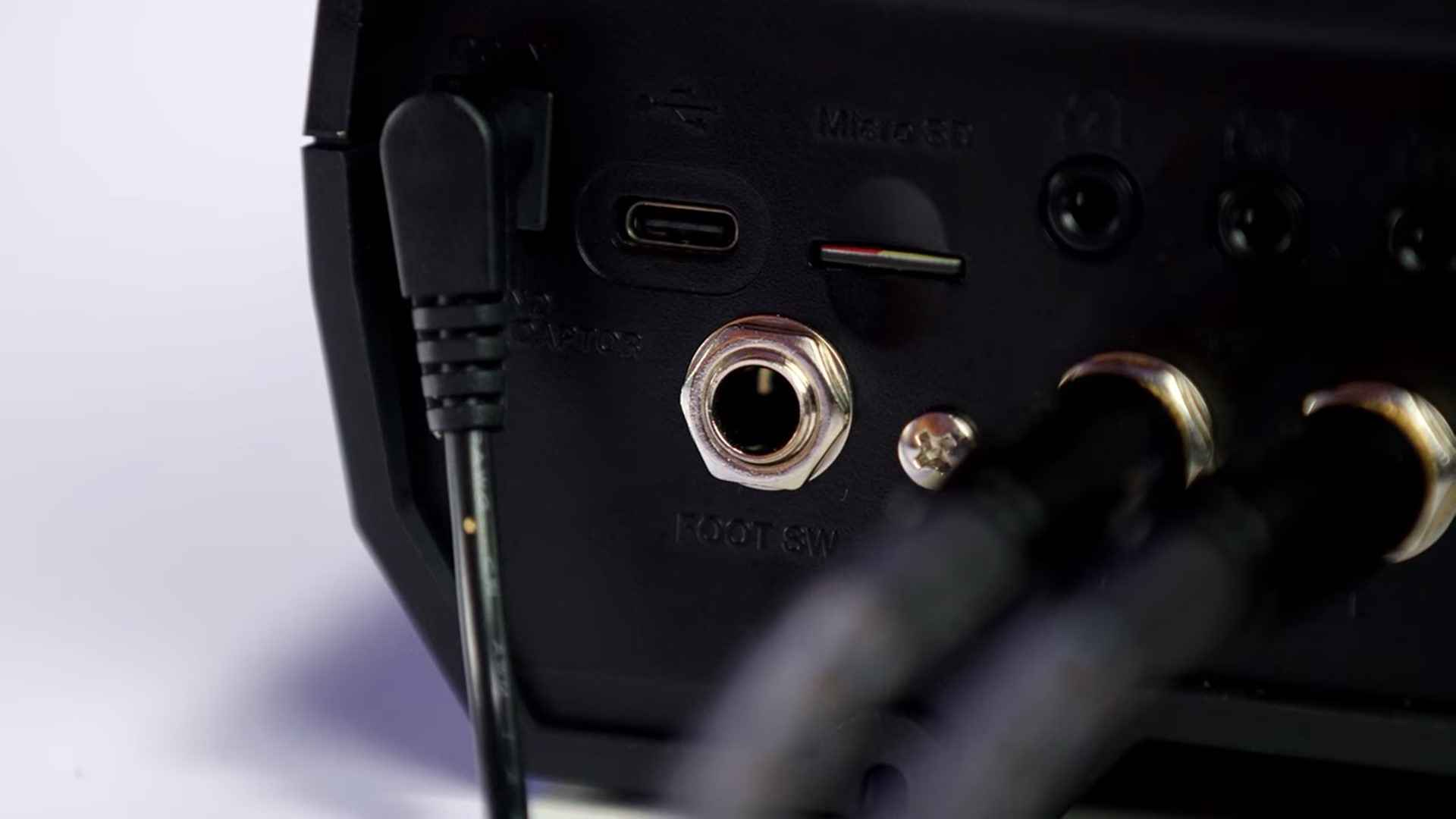 The BOSS Gigcaster 8 audio streaming mixer has a USB-C port that allows it to function as a 20×14 USB audio interface, facilitating multitrack recording in music production software. This feature, combined with the ability to record live stereo or multitrack audio (32-bit/48 kHz) to an optional microSD card, provides users with a multitude of recording options.
One of the distinguishing features of the BOSS Gigcaster 8 mixer is its use of 32-bit floating-point bit depth. While 24-bits is more than sufficient for most applications, the 32-bit floating-point bit depth offers additional advantages. It allows for the capture of extremely loud sounds, which can then be attenuated below clipping signal levels in post-production.
Furthermore, it enables the volumes of very quiet audio to be increased without raising the noise floor. This feature ensures a higher degree of flexibility and control in the recording process, enhancing the overall audio quality.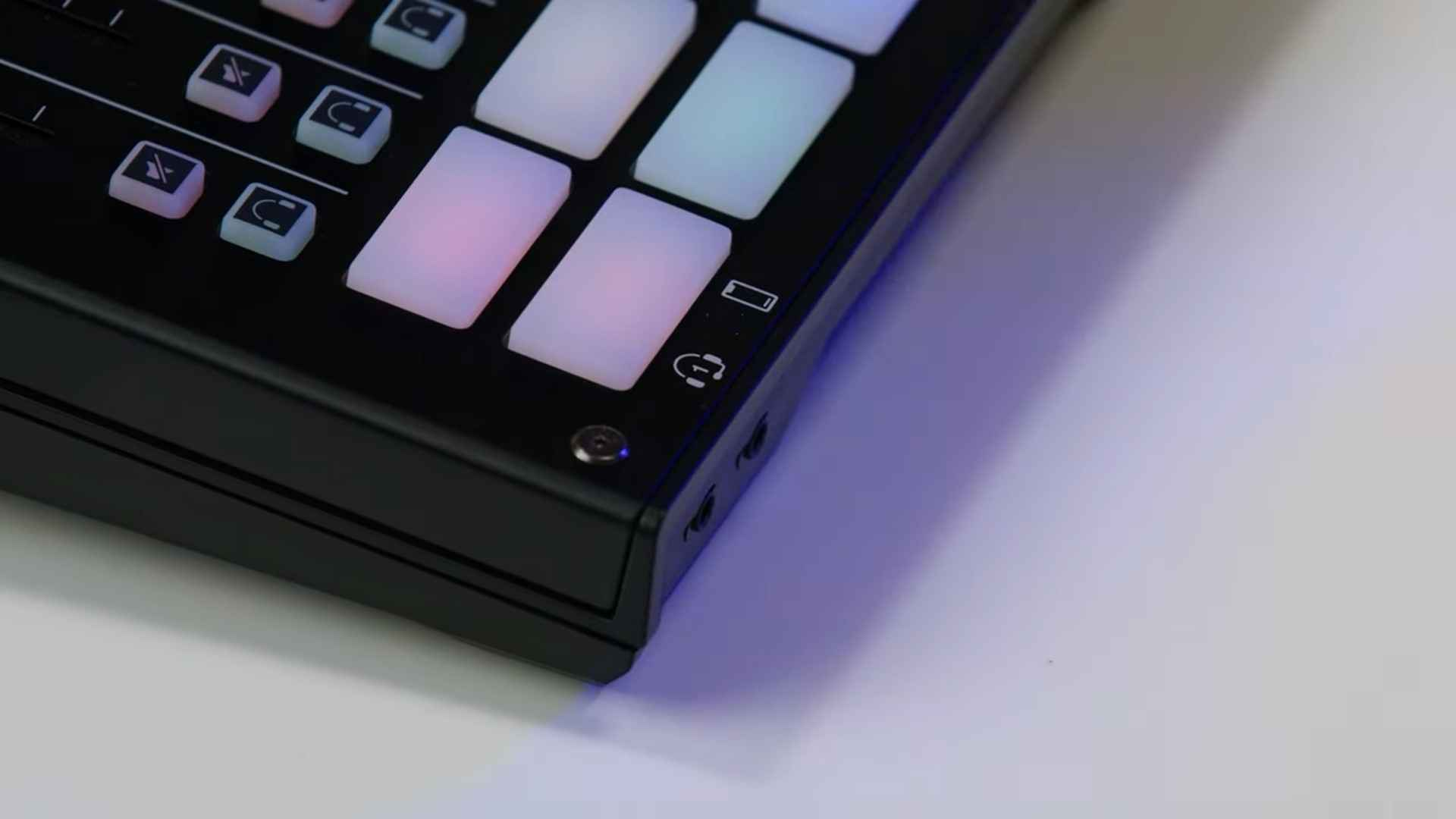 The BOSS Gigcaster 8 mixer further extends its connectivity options with dedicated stereo channels for remote guests and mobile device audio via Bluetooth connectivity or a mobile device jack at the front. This feature allows adding guest speakers or background music into the mix, providing users with a high degree of flexibility.
Touch Display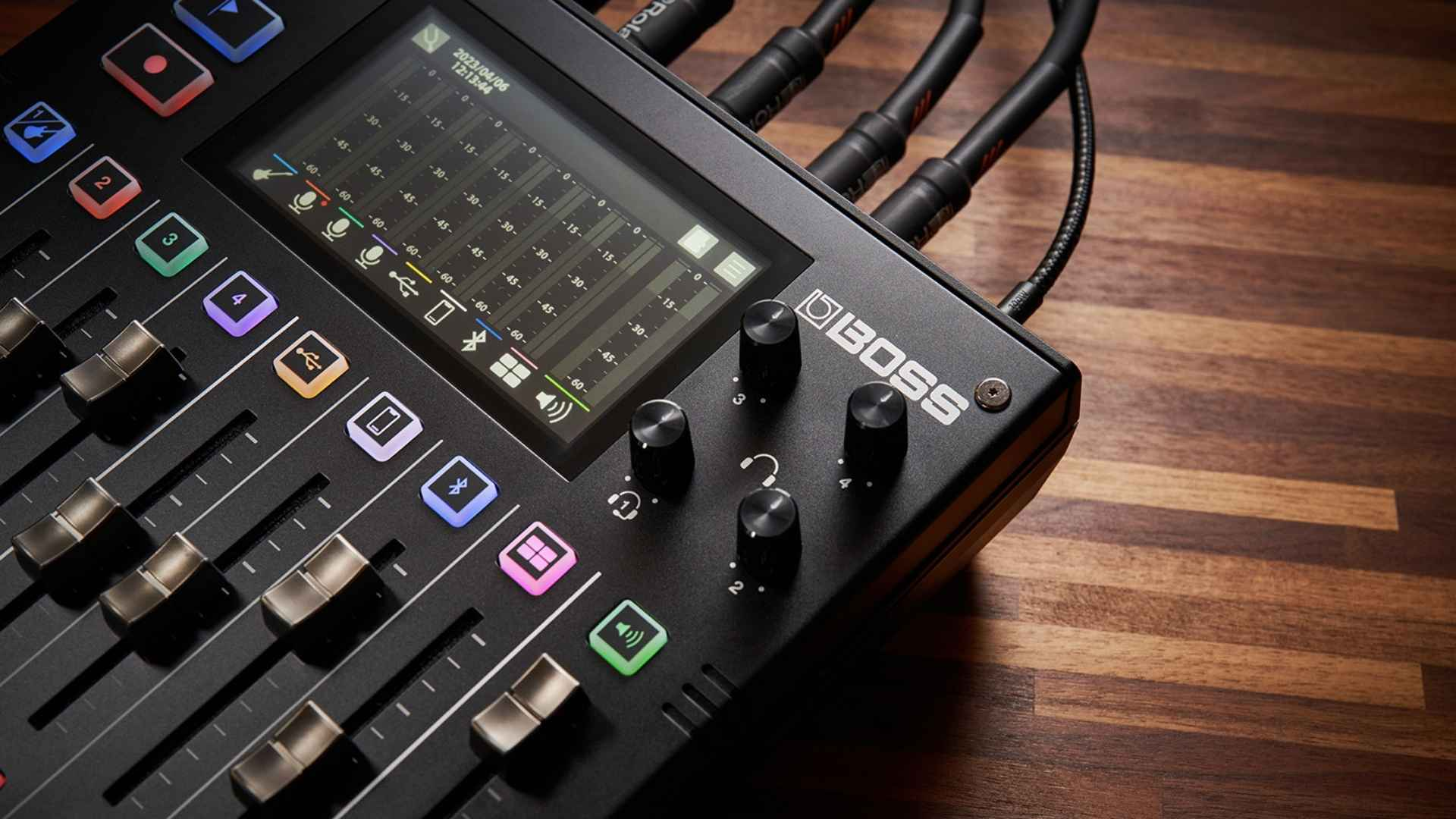 The BOSS Gigcaster 8 audio streaming mixer has a 4.3-inch color touchscreen that serves as the central command hub, providing an intuitive interface that simplifies the operation of the mixer's extensive functionalities.
However, it is worth noting that the screen size is rather small compared to its competitors, such as the RODECaster Pro II and the Mackie DLZ Creator. Furthermore, the responsiveness of the touch display could be improved. Navigating through the various features and settings on a small and not-so-responsive touch display can be challenging, with issues such as failure to register presses. Also, the scroll bar is particularly small and challenging to interact with.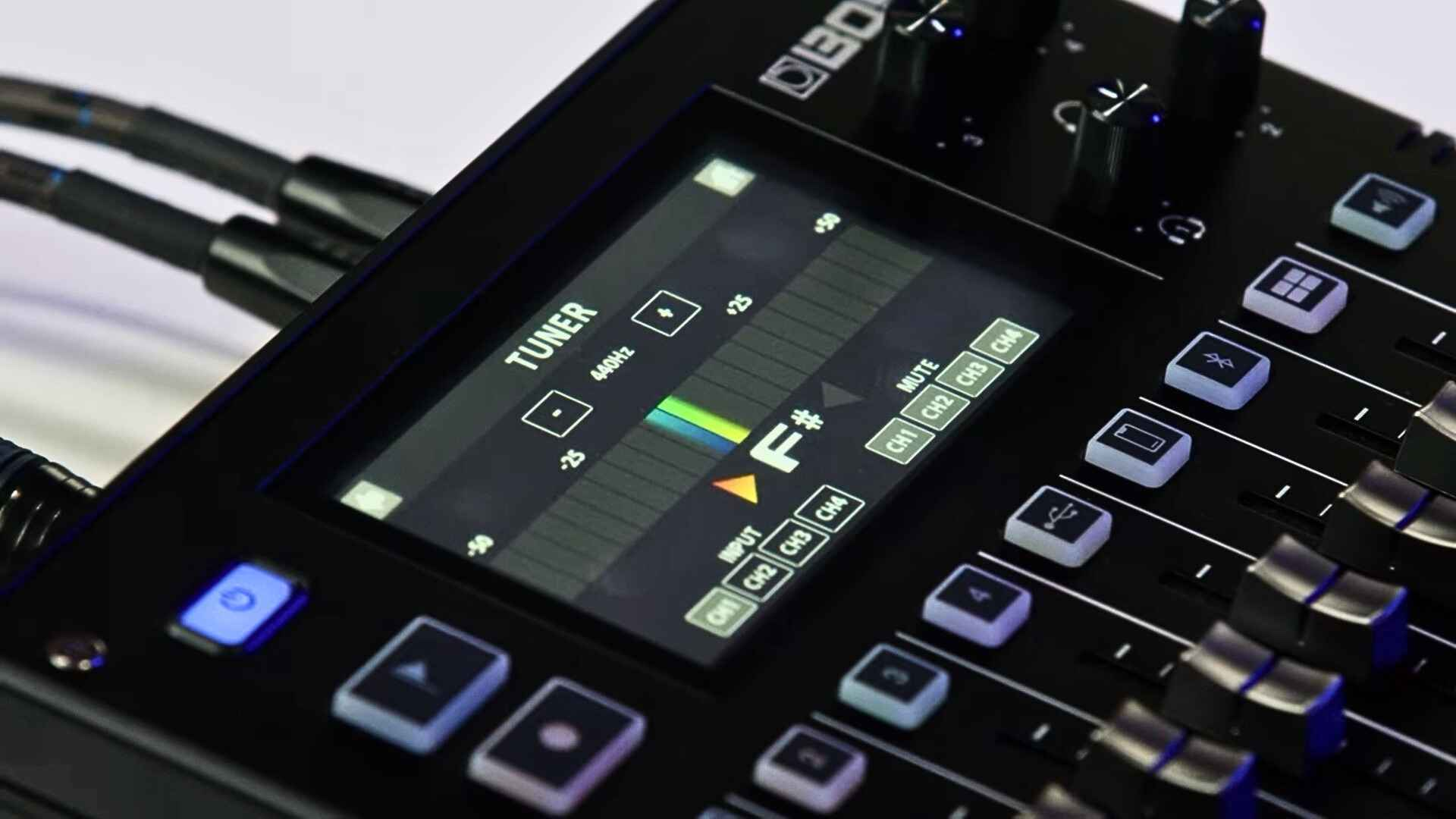 Despite these minor drawbacks, the touchscreen does offer several unique features. For instance, a guitar tuner icon is conveniently located on the top left of the home page. This brings users to a guitar tuner with a visually appealing graphical display, a useful tool for musicians who need to quickly tune their instruments during a performance or recording session.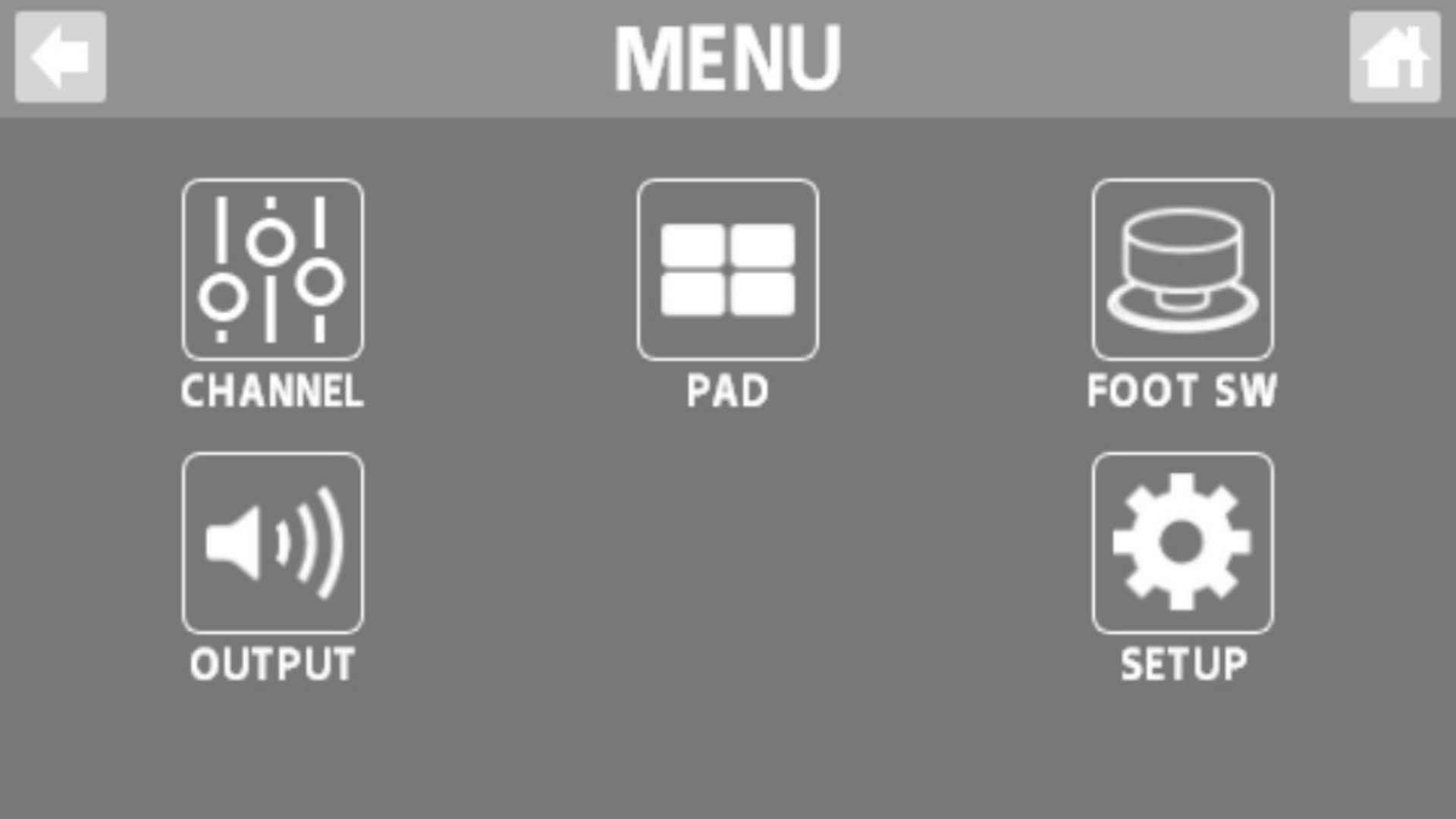 Additionally, the 'Hamburger Menu' icon at the top right of the home page provides access to the BOSS Gigcaster 8's sub-menus. These include channels, sound pads, footswitch, output setting, and setup page. This feature further enhances the user experience by providing a structured and organized interface for accessing the various functionalities of the streaming mixer.
Eight Channels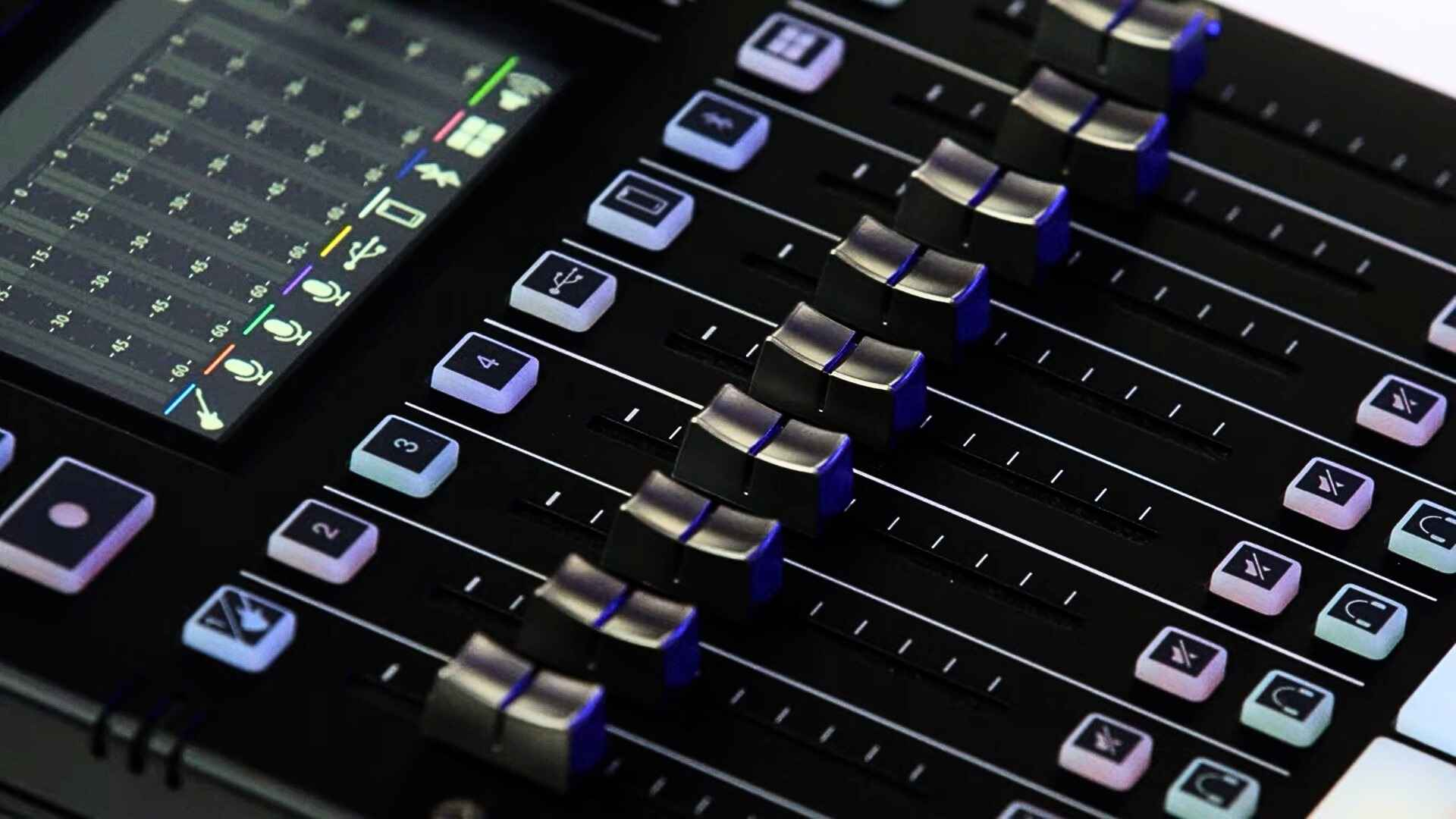 The BOSS Gigcaster 8 audio streaming mixer has eight channels for inputs controlled by dedicated physical faders, mute buttons, monitor buttons, and channel edit buttons, providing high control and customization.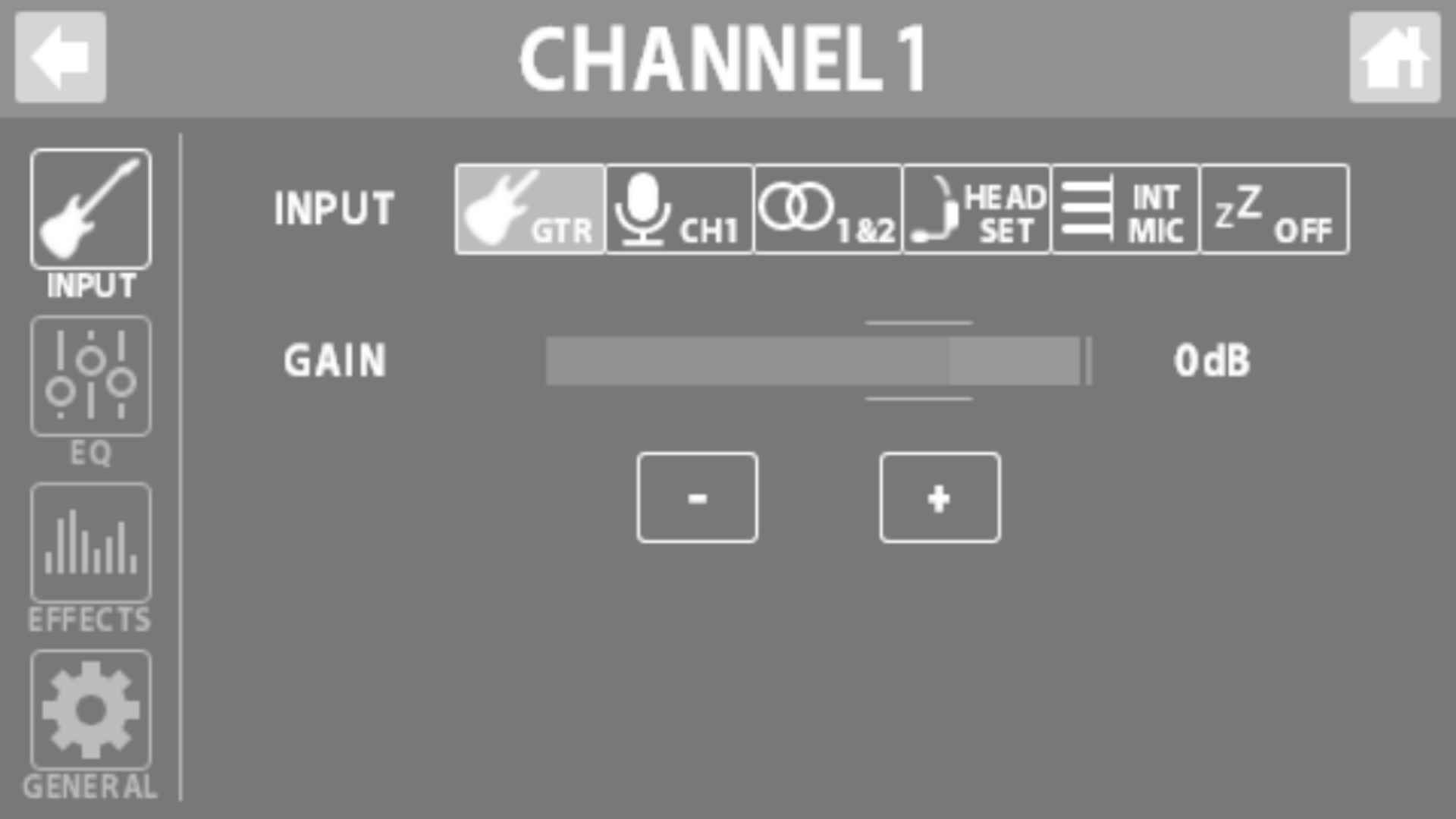 Upon pressing the channel edit button above the fader, you are transported to a screen where you can set up the channel to your liking. Each channel can be assigned various audio sources. For instance, channels 1 to 4 can be assigned a microphone, stereo line input, the mixer's internal mic, or a headset. The gain for each input channel can be adjusted, with a helpful marker on the meter indicating the optimal gain setting.
Additionally, Channel 1 offers the option of assigning a guitar source, as it can receive audio from the high-impedance guitar jack at the front. Also, channels 1 and 2 can be linked to form a stereo pair, with channel 1 feeding into the left channel and channel 2 into the right.
Channels 4, 5, 6, and 8 are assigned the USB, mobile device, Bluetooth, and sound pad audio sources, respectively.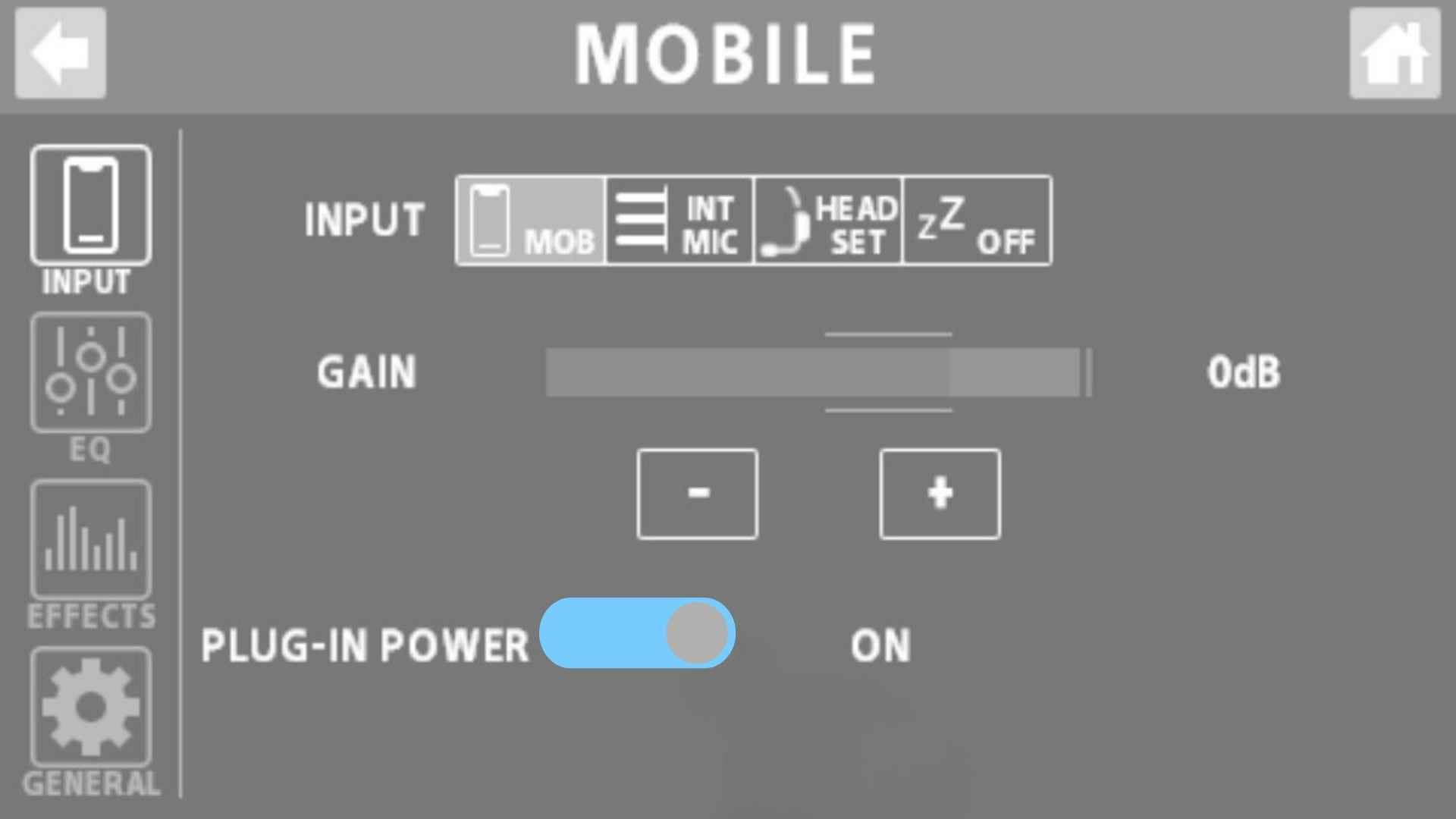 Some of these audio inputs can have specific parameters enabled. For example, 48V phantom power can be activated for microphone inputs using a condenser mic. If you have an external mic that requires plug-in power through a 3.5mm jack, such as shotgun microphones like the RODE VideoMic Go II or RODE Video Micro, you can plug the mic into the mobile jack and activate 'plug-in power' when 'mobile' is selected as the input source for channel 6.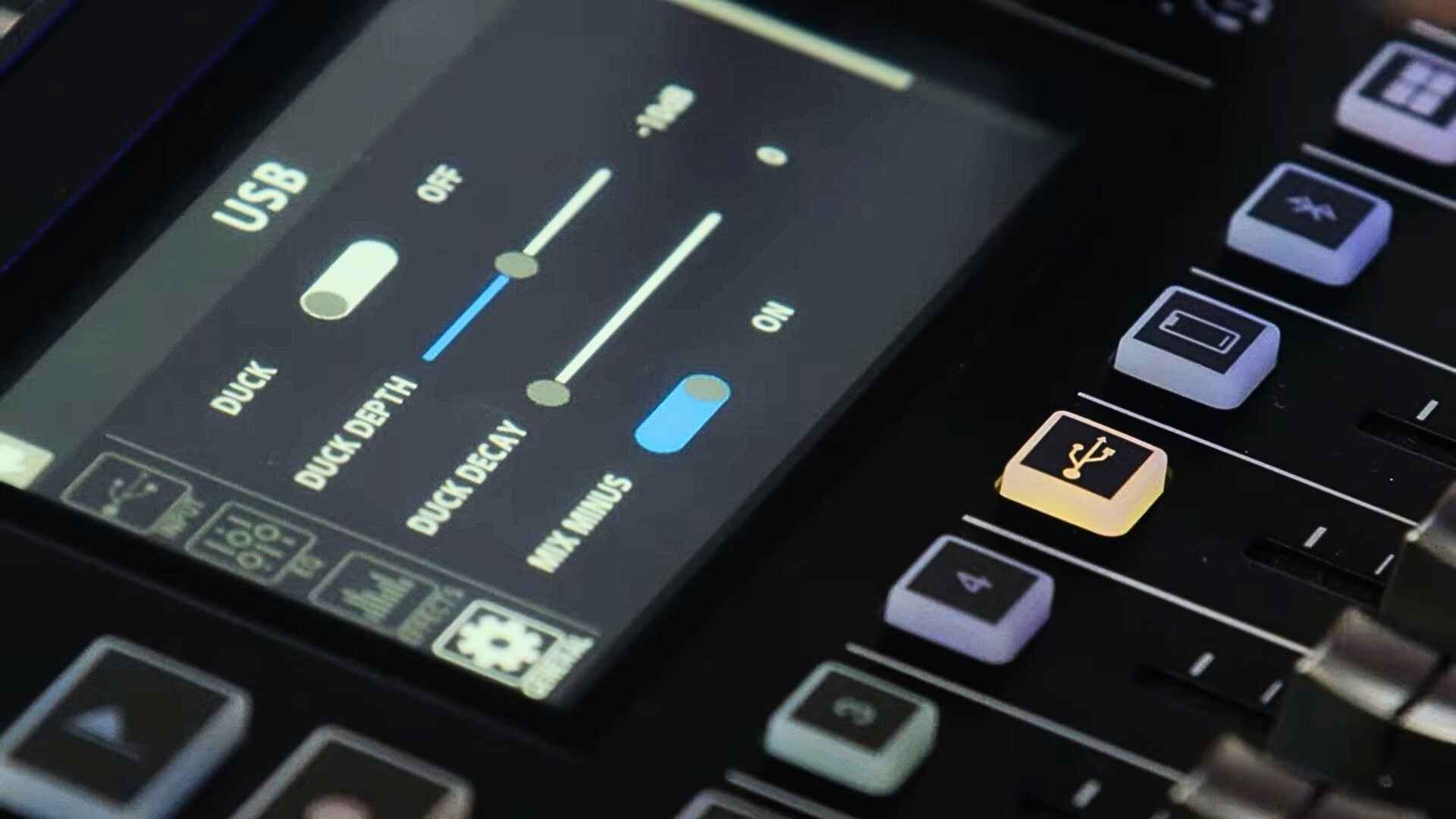 The BOSS Gigcaster 8 mixer also offers auto-ducking and mix-minus for USB, mobile, and Bluetooth connectivity. The mix-minus feature removes output audio from a channel that can both receive audio input and give audio output, preventing remote guests from hearing their own voices with a slight delay.
Auto-ducking is a fantastic feature that attenuates the volume of background music when speakers on channels 1 to 4 are talking. Unlike the RODECaster Pro II, the BOSS Gigcaster 8 mixer gives you control over the Ducking parameters like the 'Duck Depth' and 'Depth Decay.'
There is also a basic-looking EQ configuration page for each channel setup, but don't let its simplicity fool you. It requires some experience in tweaking EQ to utilize fully, so it may not be beginner-friendly. However, for those with the know-how, it offers another level of customization.
Lastly, there is a page to configure guitar or vocal effects, a key feature of the BOSS Gigcaster 8 mixer that we will delve into later.
Effects Button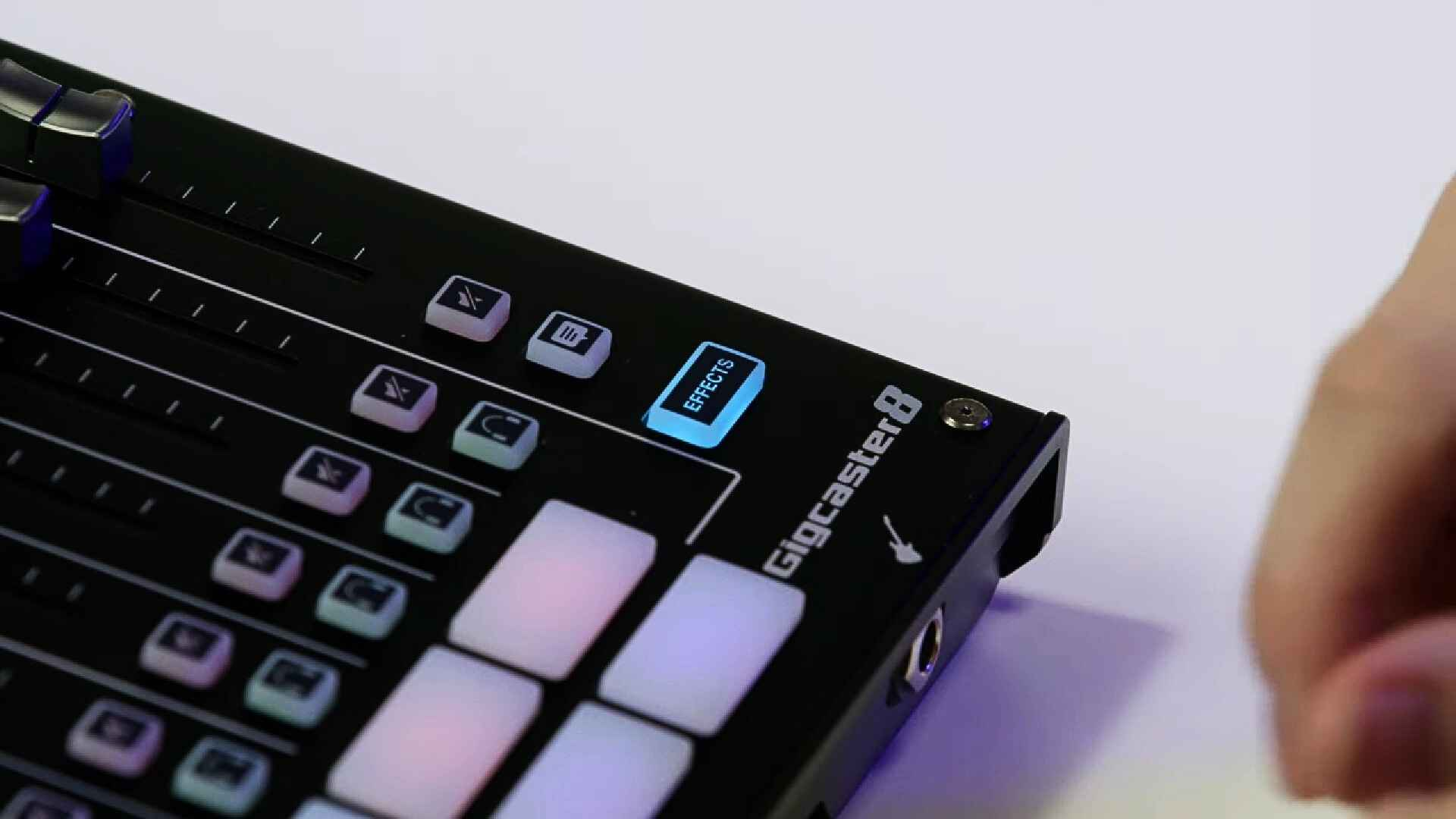 One of the most outstanding features of the BOSS Gigcaster 8 mixer is its audio processing which can be accessed by the 'Effects Button' at the bottom right of the digital mixer.
This feature is like having a multi-effects processor that incorporates BOSS's flagship-level GT-1000 guitar effects processor, offering a plethora of effects such as overdrive, distortion, tremolo, chorus, delay, and reverb.
The VE series vocal processor is also included, providing singing and vocal effects like harmonizers, vibrato, pitch correction, and radio effects. This makes the Gigcaster 8 mixer an amazing device for recording vocal covers, especially when used with a professional vocal microphone.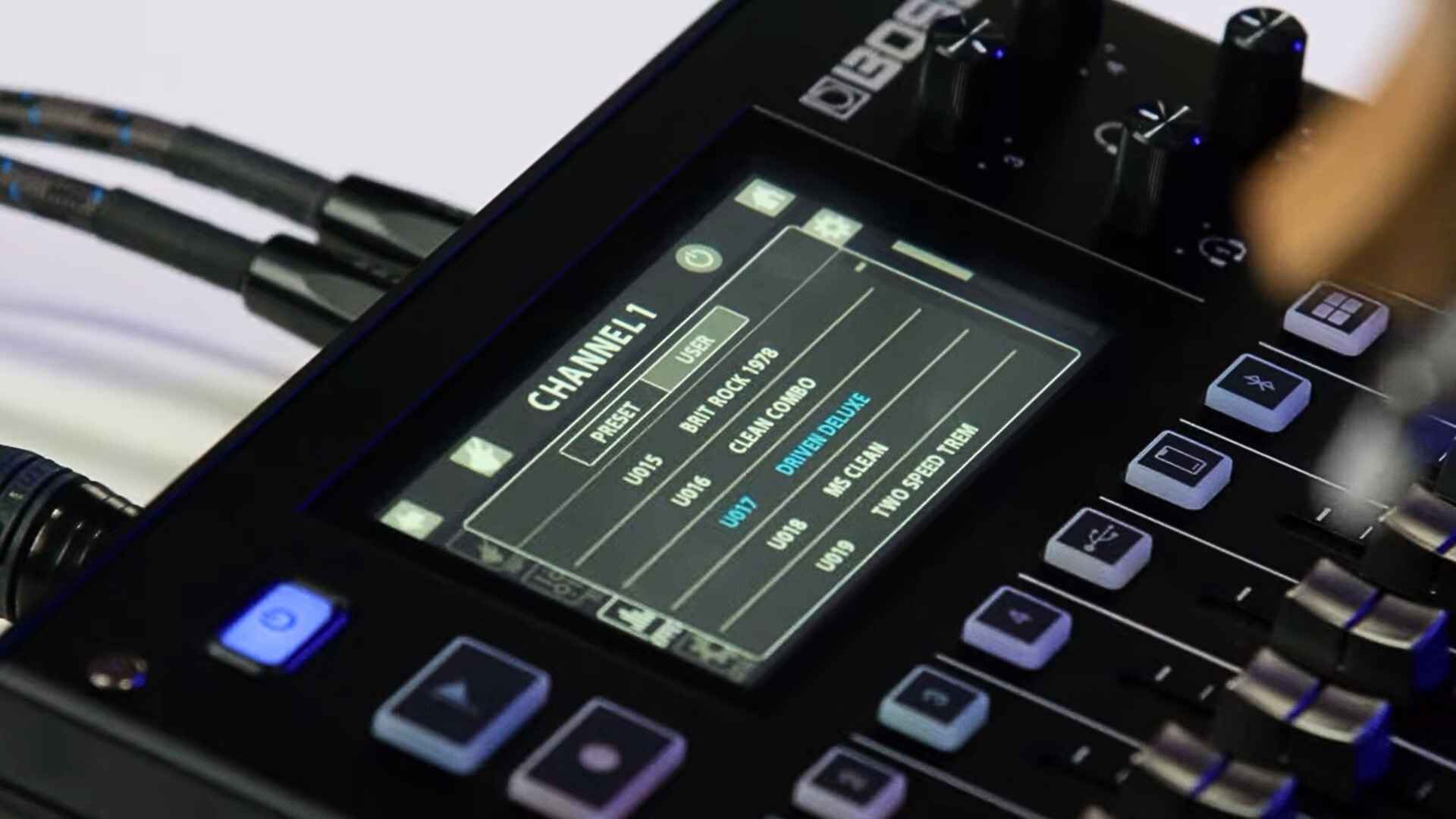 Out of the box, the BOSS Gigcaster 8 mixer comes equipped with 100 guitar effect patches, 30 singing effect patches, 30 talking effect patches, and 200 customizable user effect patches.
It's important to note that an effect patch is not a single effect, but a set of audio effects, providing a vast array of sound-shaping options. These effect patches combine various effects, allowing quick and efficient cycling through different presets to achieve the desired sound rather than arduously setting up an effect patch on your own.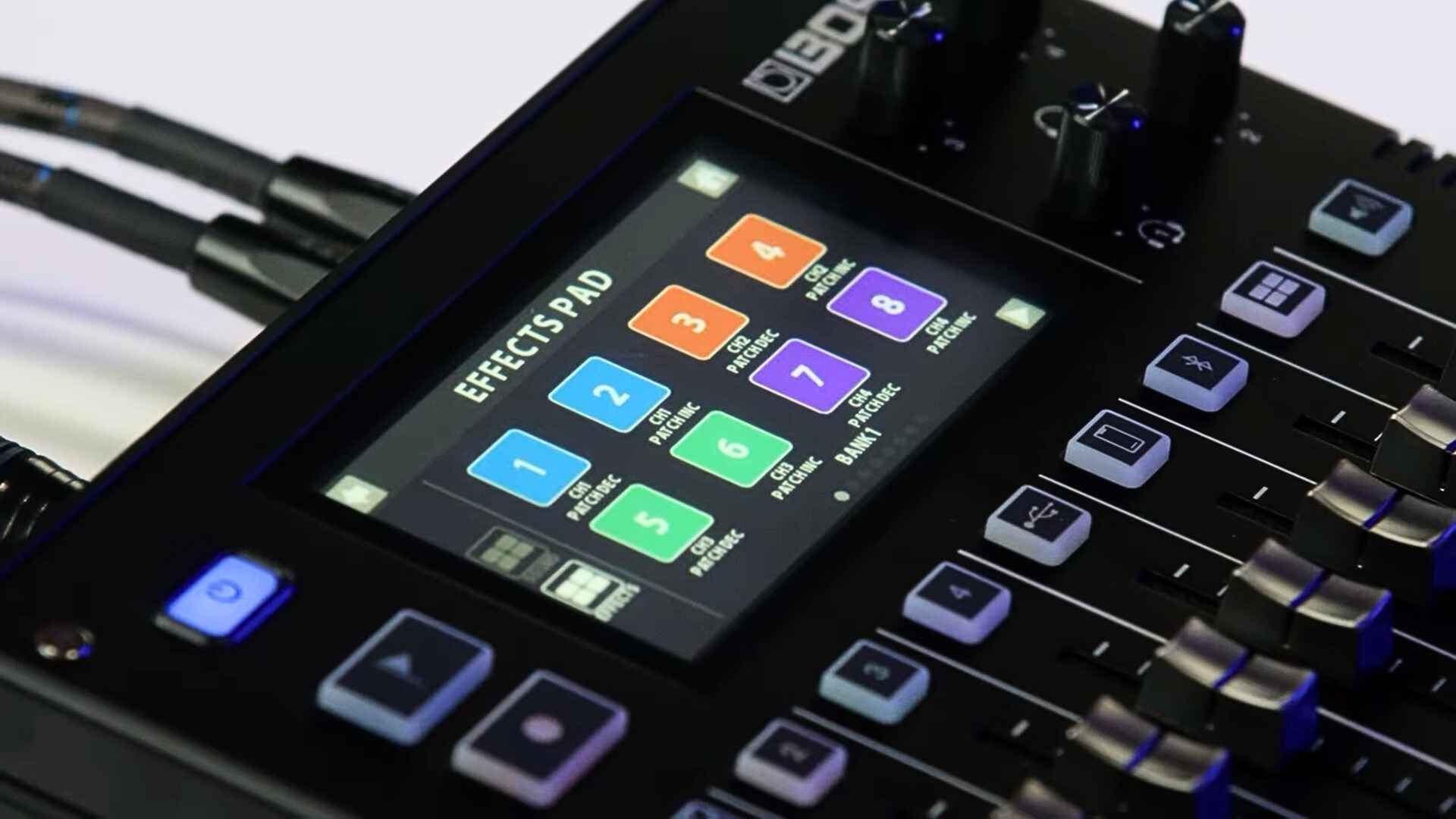 When the Effects Button is pressed, the BOSS Gigcaster 8 mixer goes into Effects Mode, and the eight sound pads change color to match the colors of the soft silicone buttons for channels 1 to 4, which are also reflected on the touchscreen. For example, the two sound pads at the bottom left will turn green which is for controlling the effect patch for input channel 3. In Effects Mode, pressing the sound pad will toggle the effect patches for the channel associated with the sound pad.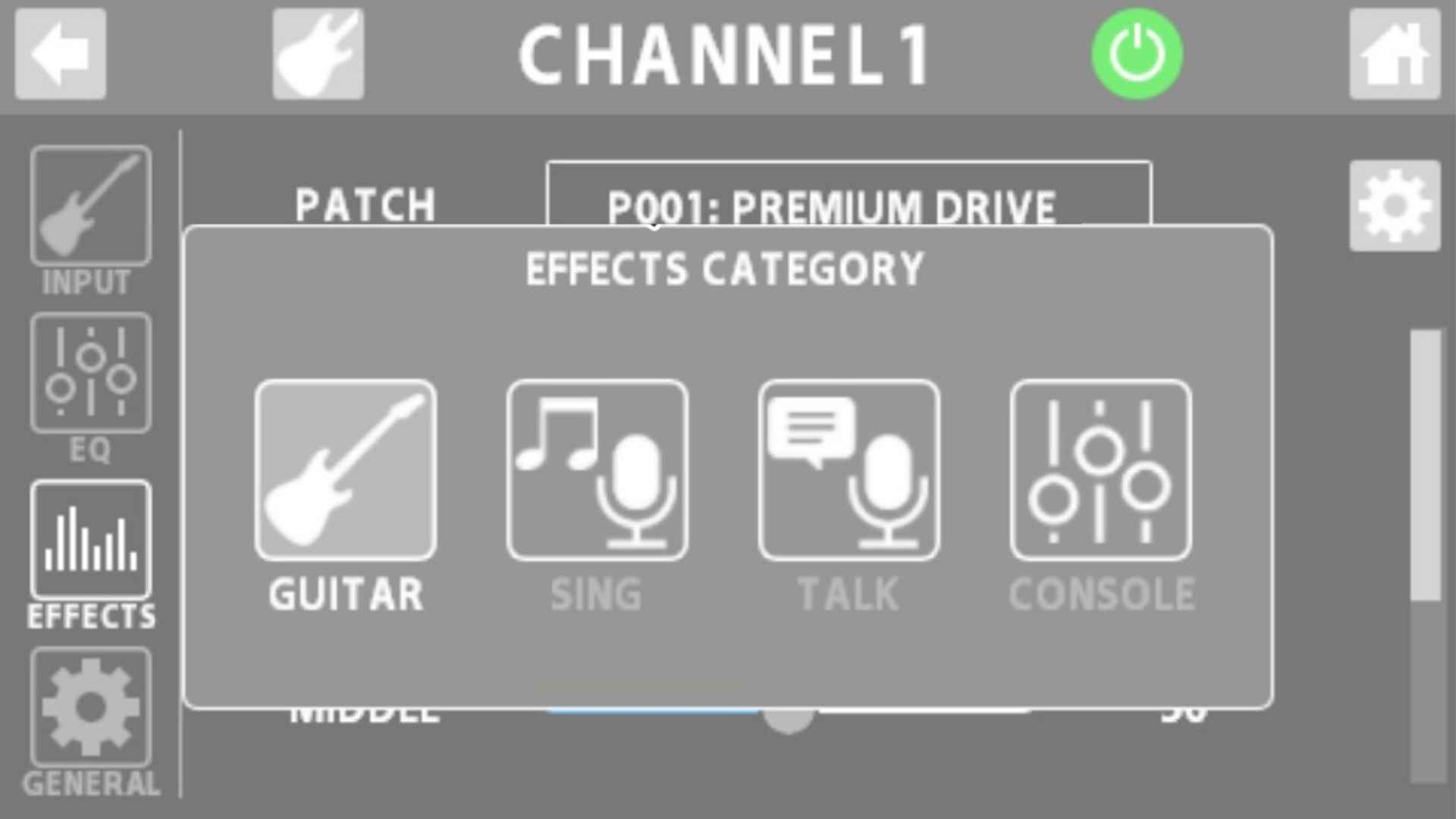 In the Effects Mode, touching the 'effects category' icon on the display lets you choose between guitar, singing, talking, or console effects. It's worth noting that only channel 1 has access to guitar effects, and only channels 1 and 2 have access to singing effects.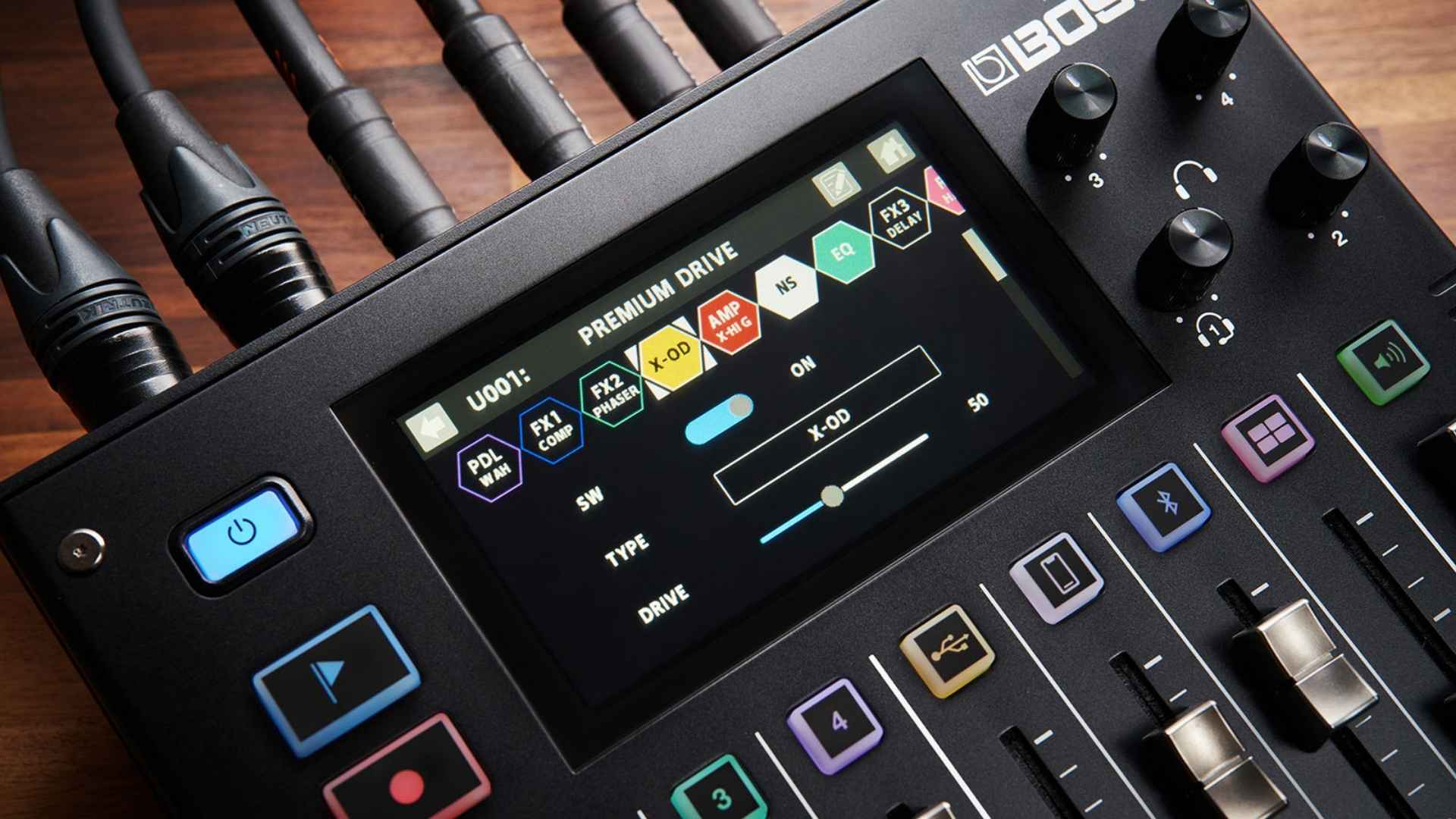 The Effect Patch page, accessible by pressing the gear settings icon in Effect Mode or by pressing and holding the channel edit button above the fader, allows for detailed customization of your signal chain. Here, you can arrange the order of the effects, activate or deactivate them, and adjust the parameters of each effect, much like you would on a physical guitar pedalboard.
Sound Pads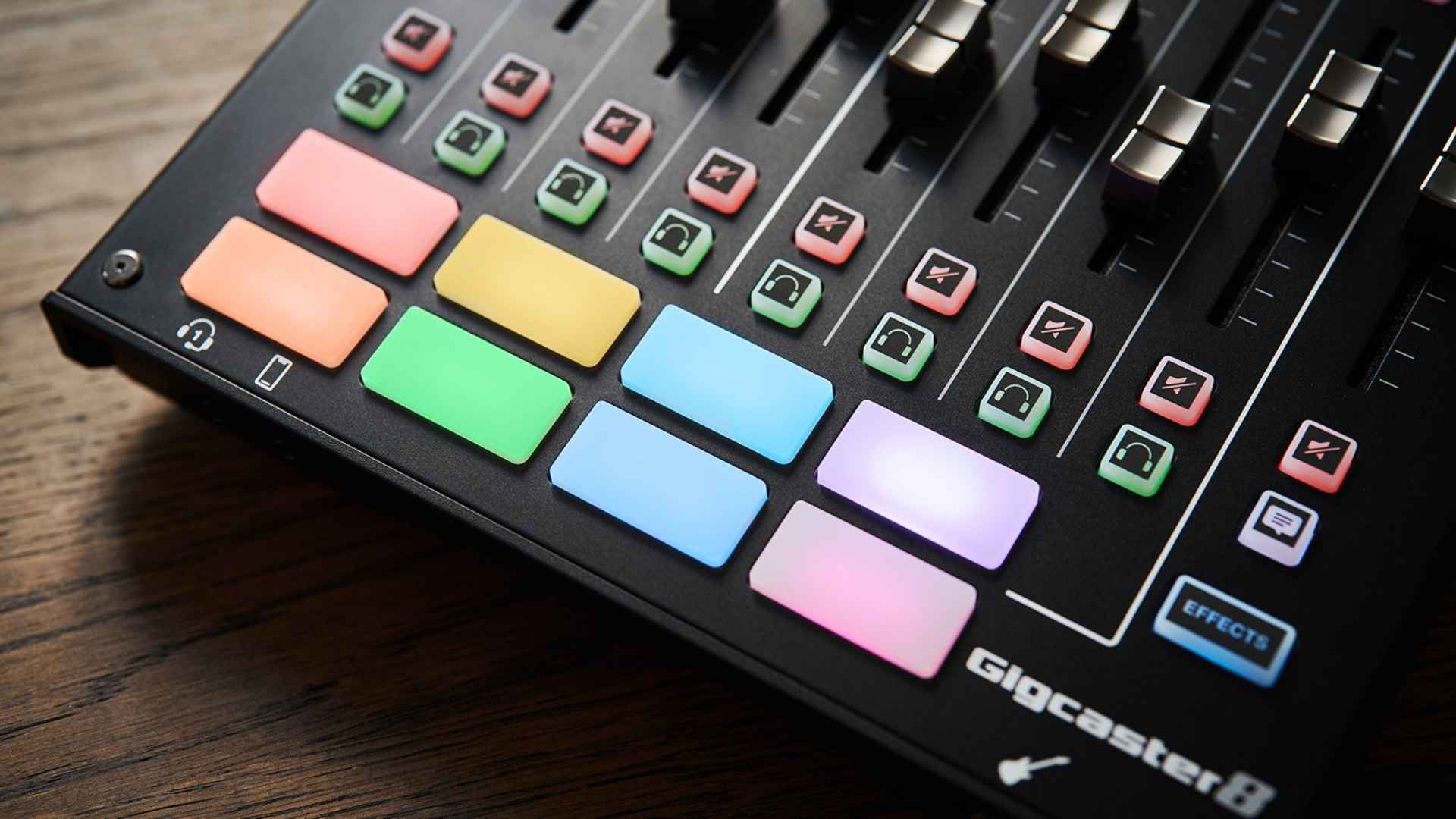 The eight assignable pads for sound samples and effects are another distinguishing feature of the BOSS Gigcaster 8 mixer. These sound pads are not just for triggering theme songs, sound effects, sample loops, and backing tracks. They also have the capability to send MIDI commands to OBS Studios over USB, allowing you to switch scenes or change cameras seamlessly during your live performances or recordings.
The BOSS Gigcaster 8 mixer provides eight pad banks, each containing eight samples, with a total of 64 pre-loaded samples. These samples range from the sound of clapping to an air horn, church bells, and more, providing a wide array of sound effects to enhance your audio content. Some samples require you to hold the pad for continuous audio playback, while others are triggered with a single press.
Moreover, you can establish your own custom libraries using the Gigcaster 8 App, further expanding the mixer's versatility.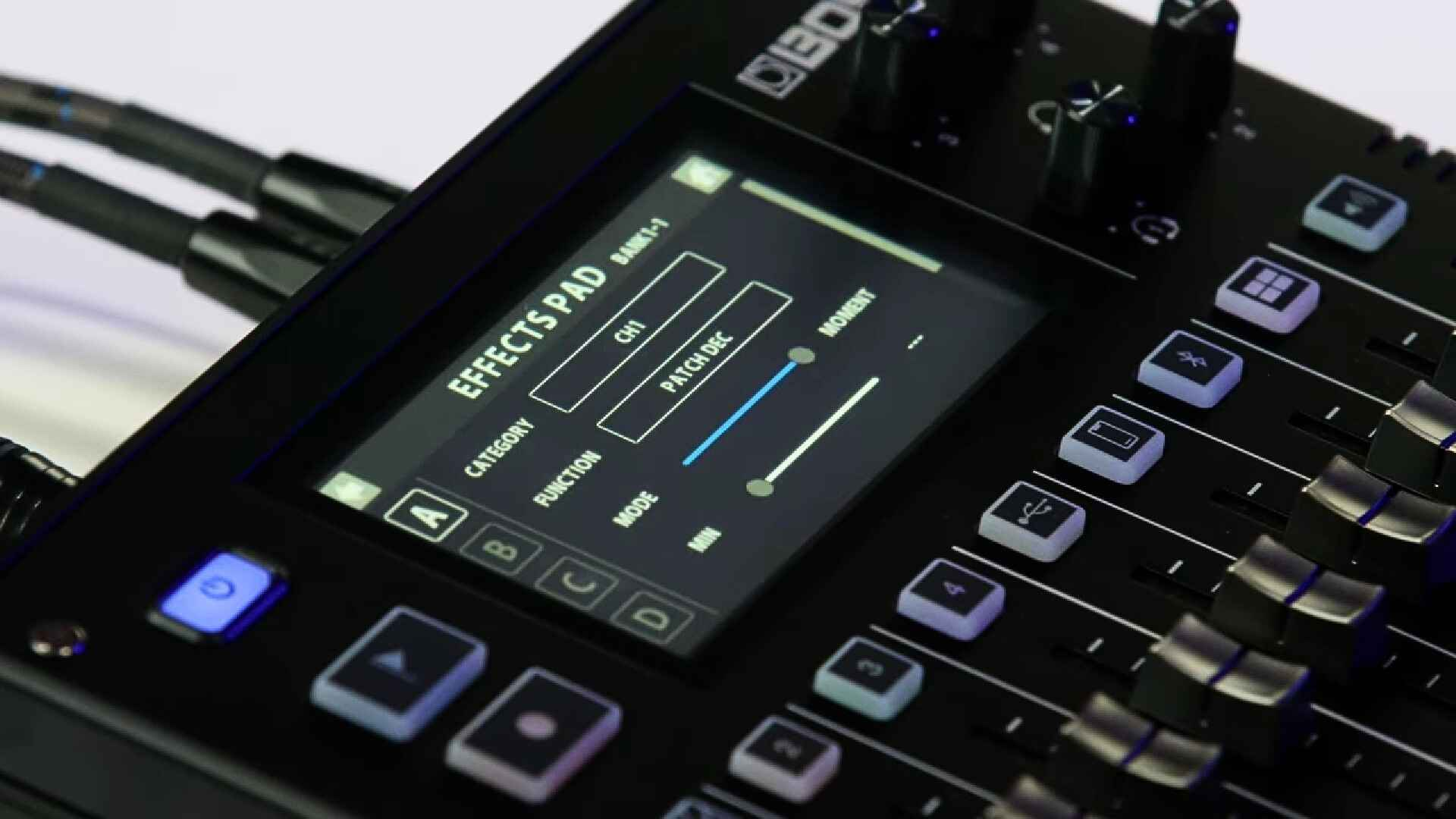 As mentioned above, the sound pads can transition to Effects Mode by pressing the 'Effects button' at the bottom right of the streaming mixer. In the Effects Mode, each pad can be assigned up to four functions (A-D), including preset selection and bypass, providing a versatile tool in your musical repertoire.
The Gigcaster 8 mixer accommodates control of pad assignments via external footswitches for those who prefer to maintain contact with their instruments.
Footswitch Control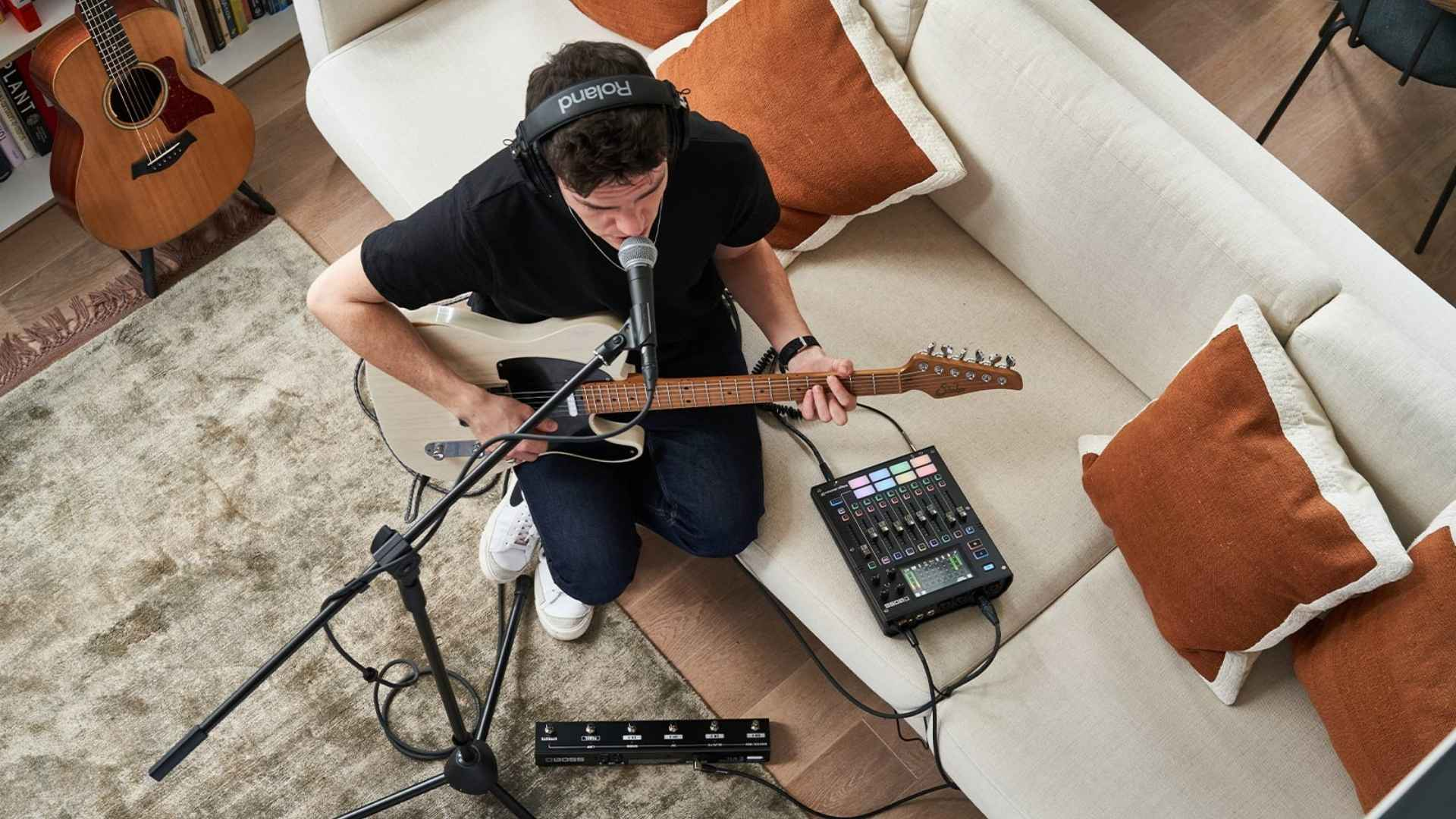 The BOSS Gigcaster 8 mixer offers an additional layer of control through its footswitch compatibility, a feature that sets it apart from many other digital mixers. This functionality is particularly beneficial for musicians actively performing with their instruments and require hands-free operation. This means you can keep your hands on your instrument and your eyes on your audience (or your chat feed) while your feet take care of business.
The Gigcaster 8 mixer is compatible with a variety of BOSS footswitches, including the FS-6 dual footswitch, the FS-5 footswitch, and expression pedals such as the FV-500H and FV-500L. For those seeking a more comprehensive control solution, the GA-FC foot controller is an excellent choice by providing six stompbox pedals with four functions for each pedal.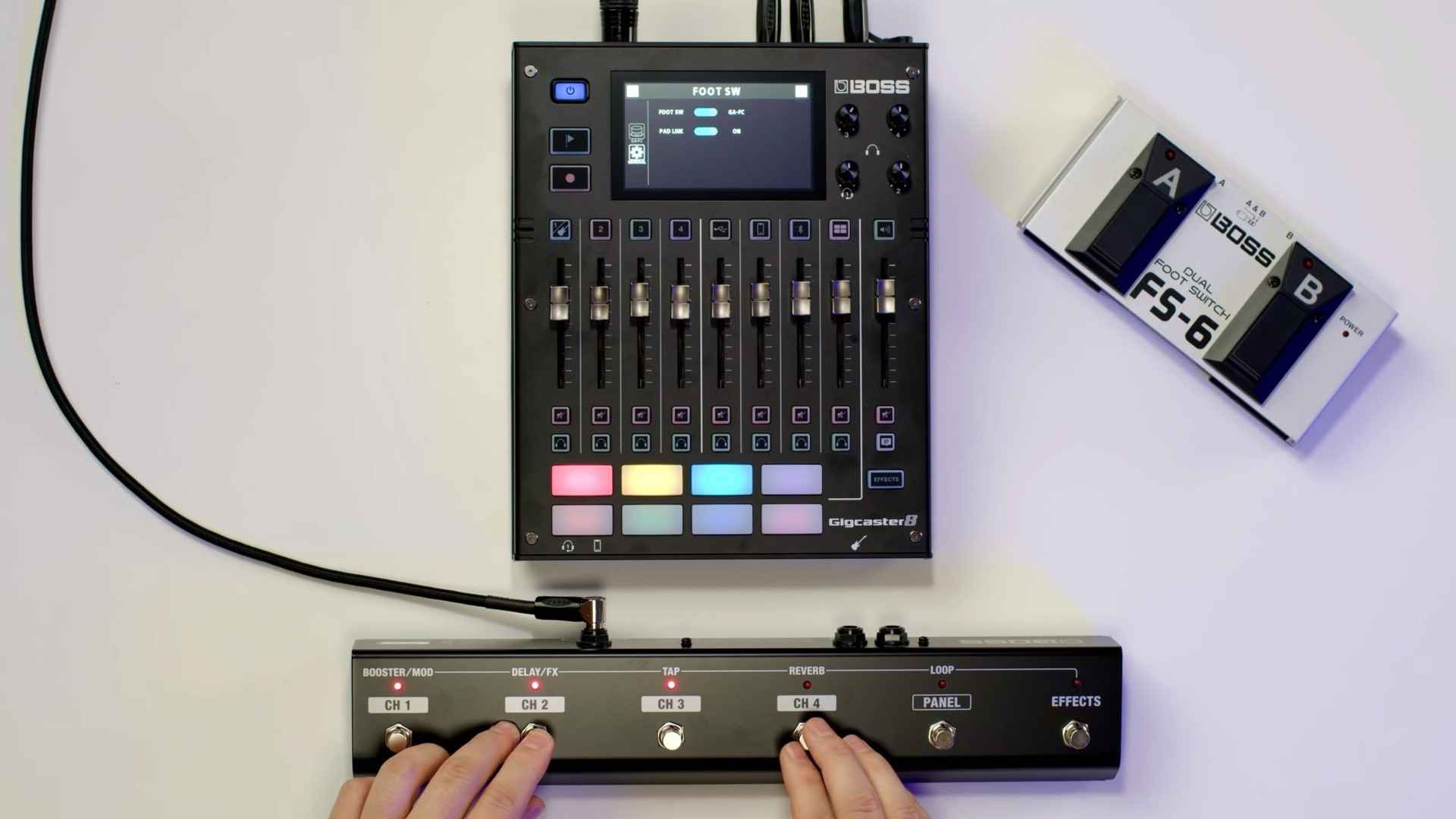 One of the standout features of the footswitch compatibility is the ability to map the footswitches to the sound pads of the Gigcaster 8 mixer using the Pad Link. This allows musicians to trigger sound samples or switch to the Effects mode to change guitar effects using the GA-FC, providing a seamless integration of control that can significantly enhance live performances.
Recording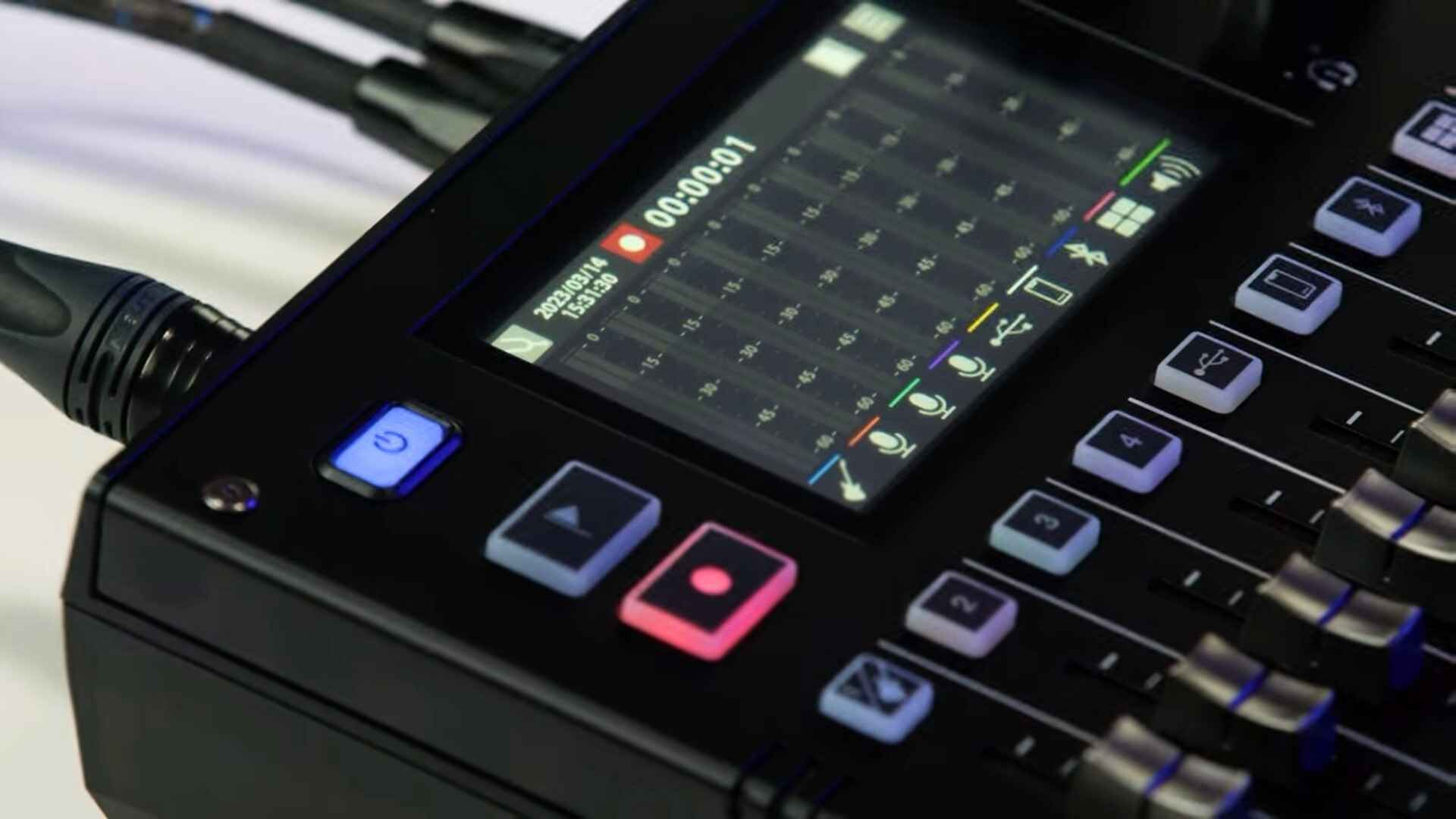 The BOSS Gigcaster 8 mixer is equipped with a soft silicone 'Record' button, conveniently located at the top left of the streaming mixer. This button is designed for ease of use: a single press initiates recording, a subsequent tap pauses it, and a prolonged hold ceases the recording. This intuitive design eliminates the need for complex operations during a performance.
Above the record button, users will find a 'flag' button. This feature allows for the placement of markers within the recording to denote significant moments, such as the commencement and conclusion of a song or a noteworthy solo. This function serves as a valuable tool for musicians, providing a streamlined method for pinpointing and revisiting key segments of a performance.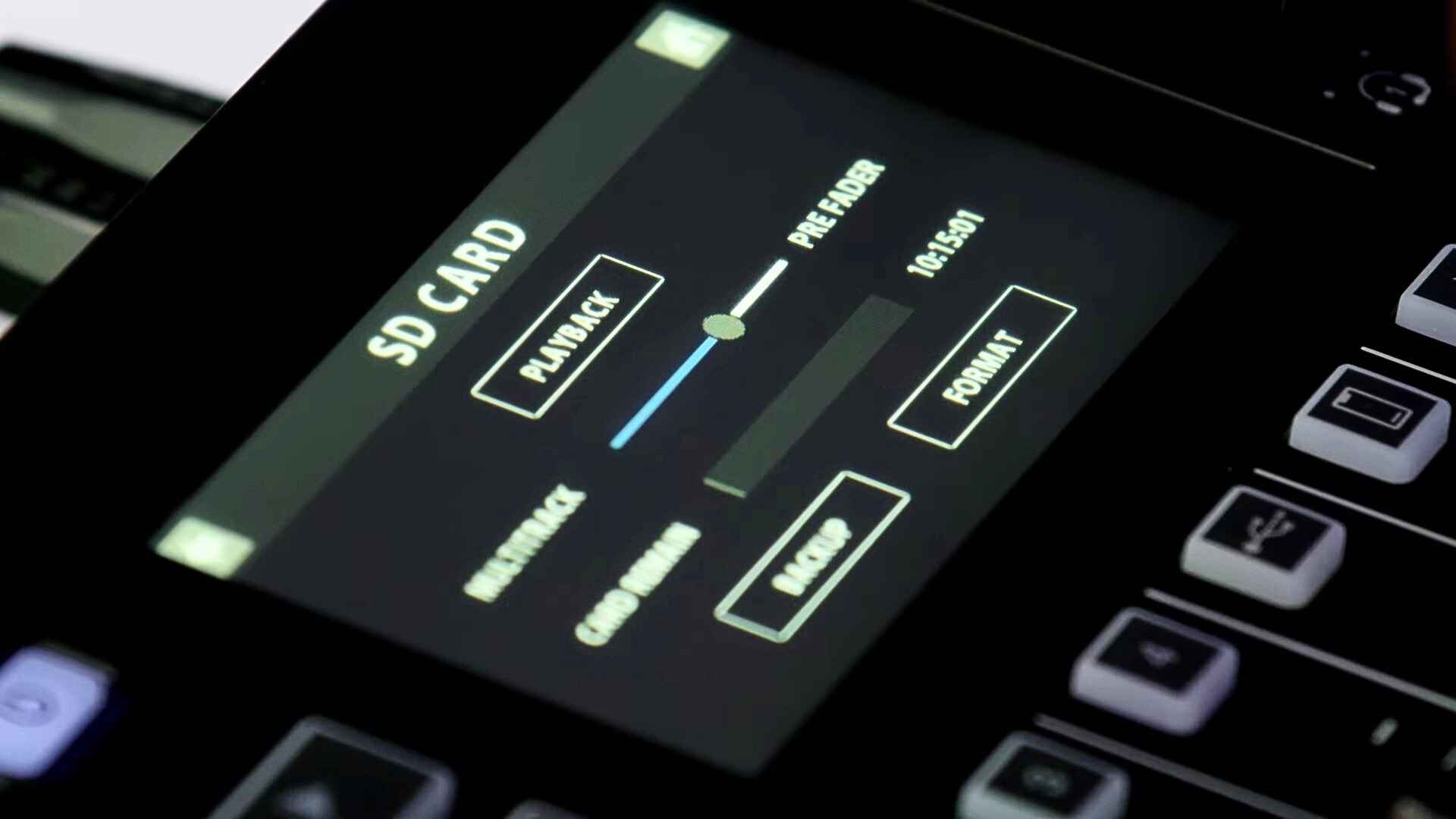 By tapping the SD Card icon at the top right of the touch display, users are directed to a page where they can format their microSD card, choosing whether activate options like multi-track with pre-fader or post-fader. This page also displays the remaining recording time available on the card.
Users have the option to record in stereo, multitrack, or multitrack with the pre-fader or post-fader activated. It is important to note that multitrack recording consumes a larger amount of storage while offering a more detailed audio capture, thereby reducing the available recording time.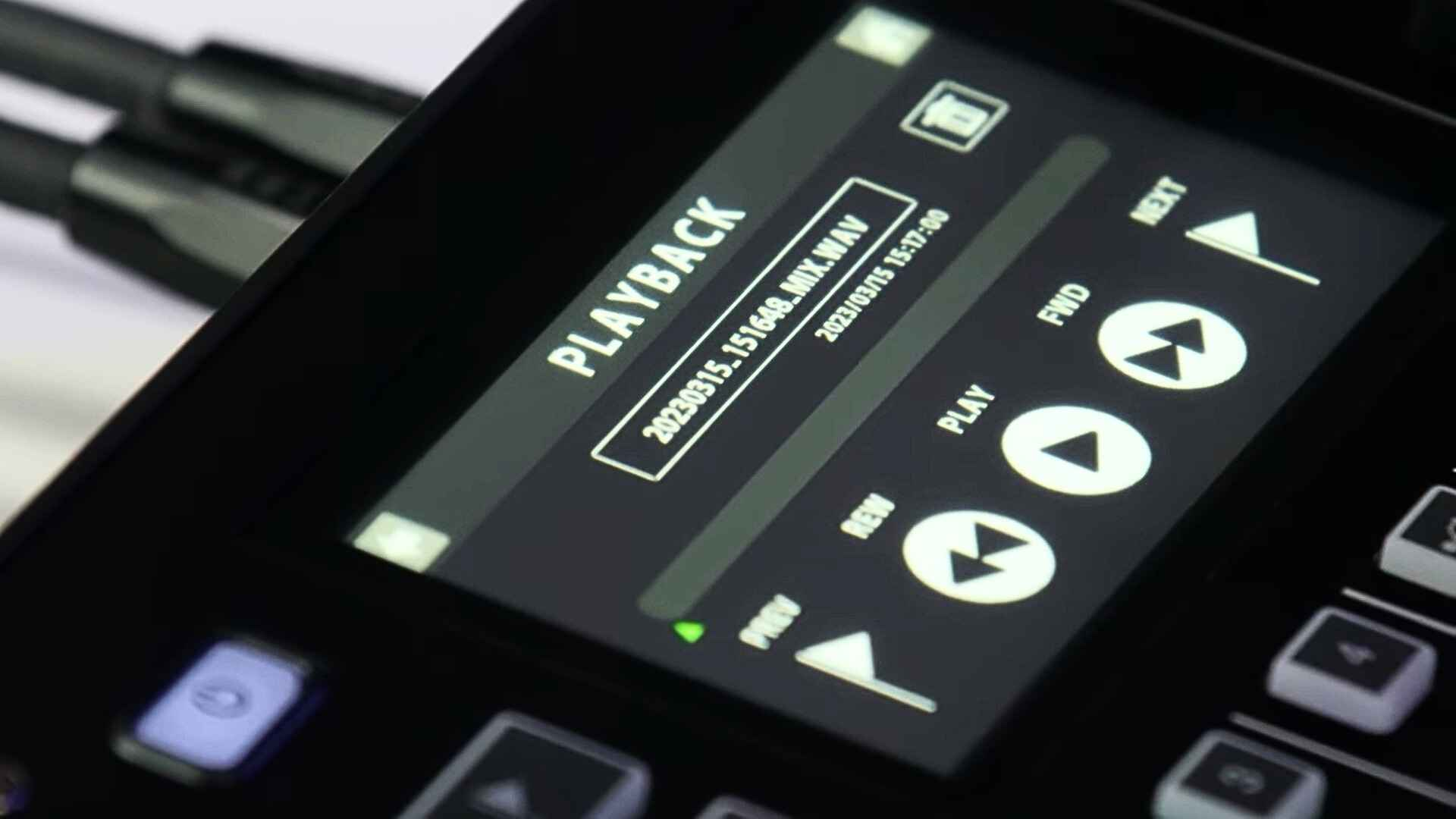 When selected, the 'playback' icon navigates to the playback screen where all flagged markings can be found. This feature facilitates easy access to highlighted sections of the recording, simplifying the review process.
Output Settings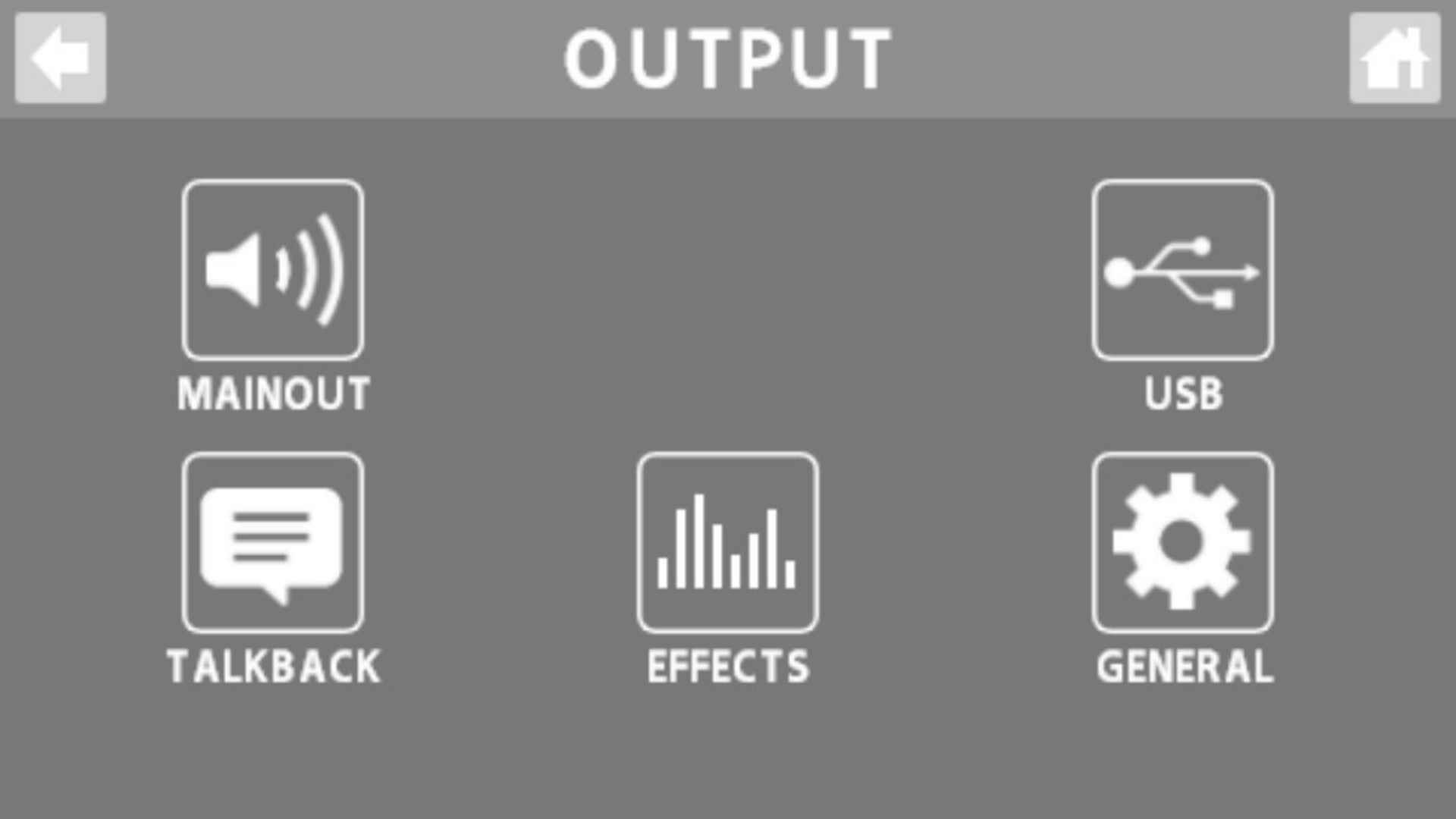 This section provides an in-depth exploration of the various options available to fine-tune your sound to the highest degree of precision.
To access the output settings, press the 'sound icon' above the physical master fader. This action opens a sub-menu that offers control over several aspects, including the main out, headphones, USB, and a function known as Talkback.
The settings for the main out, headphones, and USB allow final EQ adjustments and volume modifications. This level of control allows for a high degree of customization, ensuring optimal audio output.
The output effects settings offer additional control, allowing for the addition of compression, reverb, or changes to the key and BPM (beats per minute) of the effect patches. This feature provides further depth to the sound customization process.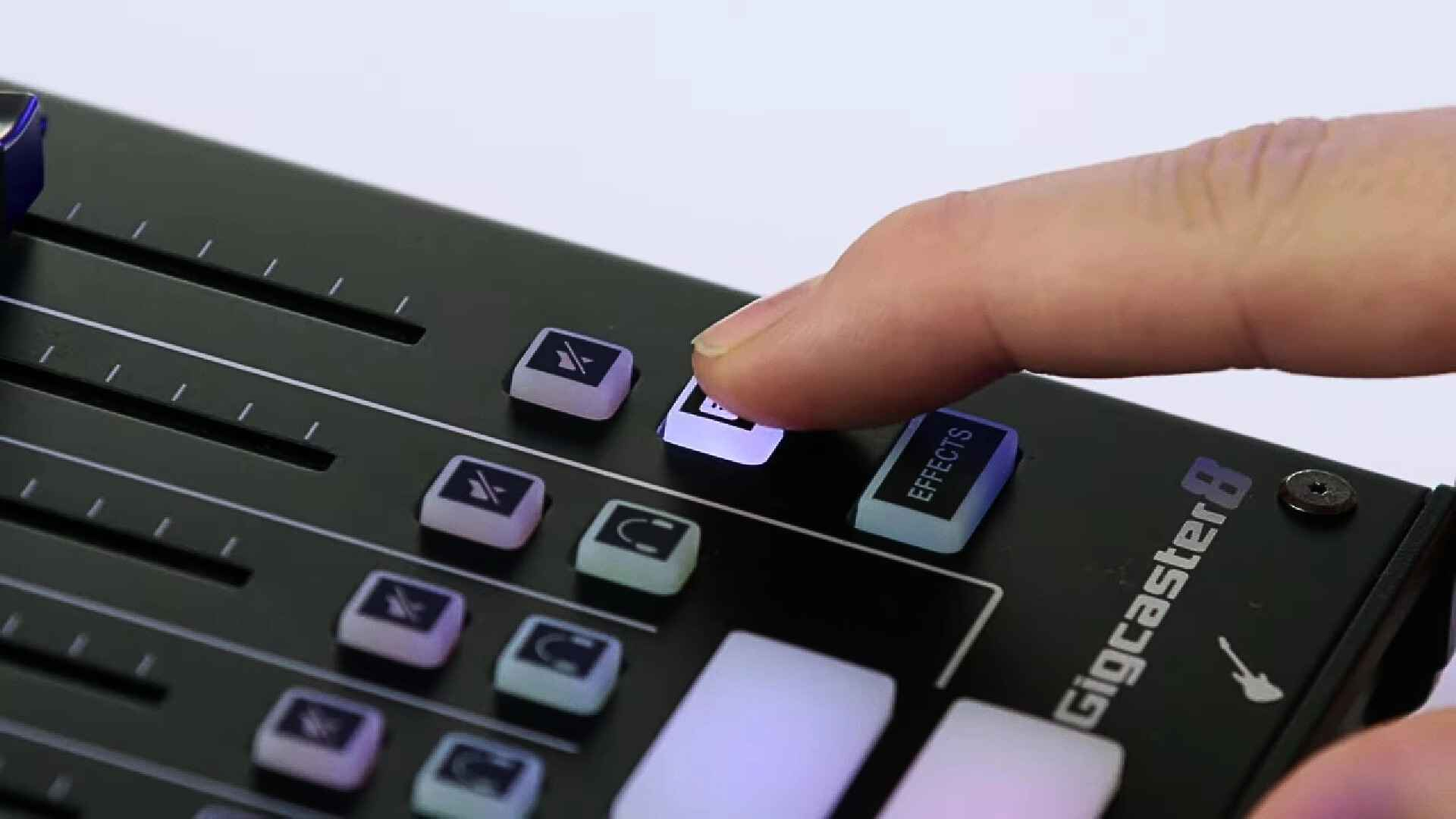 The Talkback function is a valuable feature that facilitates private communication between presenters. By engaging the Talkback button, located below the mute button of the master fader, and speaking into the mixer's built-in onboard stereo microphone or your headset, only the selected output channels will be able to hear you. This function enhances communication efficiency during live performances or recordings.
The general settings include a stream delay feature that helps to synchronize audio and video. This feature is particularly useful in live streaming or recording scenarios. However, this feature may not be necessary if you are directly connecting your main output to your camera.
Final Verdict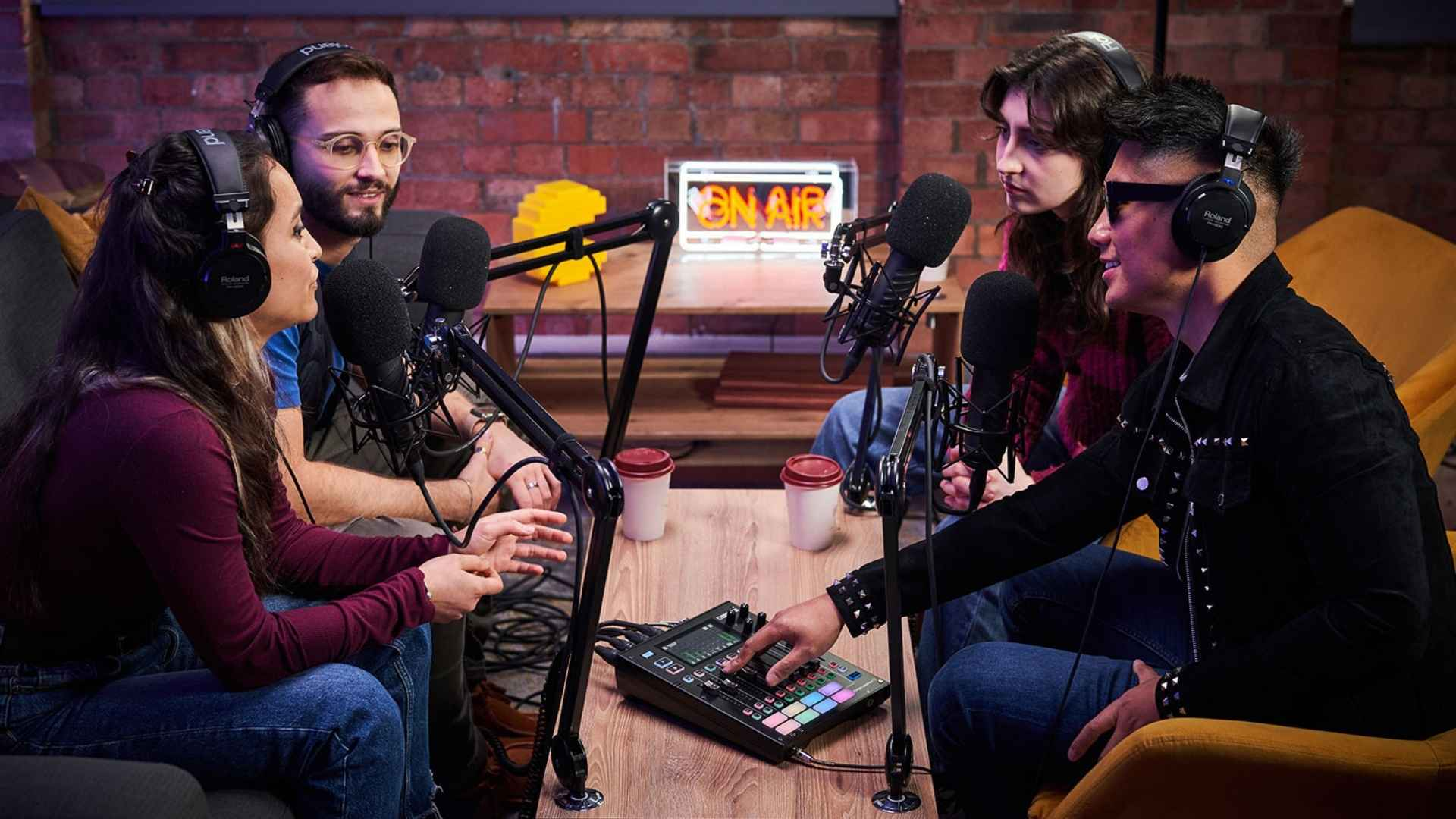 The BOSS Gigcaster 8 mixer is a robust and versatile streaming mixer that combines a USB audio interface and audio processor with real-time effects control, offering high-quality construction and a multitude of connectivity options.
Despite its compact size, it provides extensive control and customization with eight input channels, a variety of effects, and the ability to assign various audio sources to each channel. The touchscreen, although small, enhances the user experience.
The mixer's standout feature is its effects button, offering a wide range of audio effects. Additional features like customizable sound pads and footswitch control add to its versatility. The recording features are user-friendly, with options for stereo or multitrack recording.
While the touchscreen could be larger and more responsive, the Gigcaster 8 mixer, priced at $699.99, is a worthy investment. It is a reliable, versatile, high-quality mixer that competes well with other digital mixers like the RODECaster Pro II.
In conclusion, the BOSS Gigcaster 8 audio streaming mixer is a commendable selection for live recording sessions, music gigs, or as a component of your podcasting or streaming setup. It offers an optimal balance of quality, versatility, and value for money.
However, if you need a simple and more affordable device for connecting your XLR mics and instruments to your computer, we have some great recommendations for budget audio interfaces.
Production Information
Specifications
Sample Rate: 48 kHz (Higher is Better)
Bit Depth: 32-bit floating point (Higher is Better)
Preamplifier Gain Range: 70 dB (Higher is Better)
Equivalent Input Noise: No info (More Negative is Better)
Analog Input: 1/4″ guitar jack, 4 x balanced combo jack (XLR, 1/4-inch TRS phone) with 48V phantom power, 1 x mobile jack
Analog Output: 1 x 1/4″ stereo line output jack, 3 x headphone jack, 1 x footswitch jack
USB Connectivity: 20×14 USB-C to Mac/PC
Network Connectivity: Bluetooth
Recording Storage: MicroSD
Weight (kg): 1.36kg (3lbs)
Dimension (mm): 80(H) x 217(W) x 267(D)
Accessories: power adapter
---
Features
4.3-inch color intuitive touch display
High-impedance input for direct connection of a guitar or bass
Mobile device audio input via Bluetooth or mobile jack
Flagship BOSS GT-1000 guitar effects processor 100 guitar effects
VE-series vocal processor with 30 vocal effects, harmony, and voice transformer functions
Eight channels and master output with faders and mute buttons
Eight customizable pads for triggering sample playbacks, real-time effects, and streaming controls
Ducking function intuitively lowers background music when speech is detected.
Built-in onboard stereo microphone
Front-panel headphone jack supports a headset mic or inline mic
Record live stereo or multitrack audio to a DAW or optional microSD card
Works as a bus-powered USB audio interface
Supports BOSS footswitches, expression pedals, and foot controllers
Gigcaster 8 App for editing, backup, and audio file conversion
---